Self-Guided Adventure
Hot Springs & Countryside Honeymoon
12 Nights: from US$7714 per person (twin share)
Trip Code: HSCS
Japan's hot spring bathing culture and scenic countryside make it a wonderfully romantic setting for a honeymoon. Although at most onsen baths men and women bathe separately, we've chosen some wonderful ryokan inns with private outdoor hot springs for you to enjoy together. Read more >
The pinnacle of this honeymoon is a stay in the wonderful hot spring resort of Kinosaki Onsen. A little town full of traditional buildings and canals filled with koi carp, Kinosaki is home to seven bathhouses, all of which make use of the area's natural thermal springs. Your ryokan will give you yukata robes and geta sandals so you can clip-clop between bathhouses, a wonderful way to absorb traditional Japanese culture!
Your Kinosaki ryokan room will have a private hot spring bath for you to enjoy as a couple, as will your accommodation in Matsue. Matsue is a lovely coastal town known for its strong samurai history, impressive original castle and the fantastic Adachi art museum.
A romantic highlight of the trip is the sacred island of Miyajima: by day a busy tourist destination, by night a deserted oasis. We highly recommend an evening stroll to the water's edge to see the famous red torii gate of Itsukushima shrine lit up at night.
Of course, alongside these traditional retreats we've included modern boutique hotel stays in the must-see cities of Tokyo and Kyoto. In Tokyo we've included a day with a guide who can take you out to an izakaya or Japanese pub to help you decipher the menu and get the best from Japan's fantastic cuisine. In Kyoto you'll both have the opportunity to try on exquisite wedding kimono! With professional photographs included, this will be a fantastic honeymoon souvenir.
What's included
Twelve nights accommodation

Breakfast every day, three lunches and six evening meals

All transport between destinations

Private car airport transfers

Seven day first class (green) Japan Rail Pass

Manaca transport card with 2,500 yen credit for city transport

Private guides in Tokyo & Kyoto

Guided izakaya experience

Wedding kimono experience

Pocket WiFi device

Your personalised InsideJapan Info-Pack
What's NOT included:
International flights

Local transport (buses, subways, taxis) at any destination unless otherwise specified

Any entrance fees including those for shrines, temples and museums

Baggage handling and luggage forwarding
Trip Highlights
Stay in boutique hotels & top quality ryokan
Eat out at an izakaya

Enjoy private hot spring baths in Matsue & Kinosaki Onsen

Explore Kyoto's secret gardens with a private guide
Explore Tokyo with a private guide

Spend two nights on romantic Miyajima Island

Visit Matsue Adachi Art Museum

Try on a wedding kimono
For more information email us: [email protected] or call: + 44 117 244 3380
What, where, when and how...
Hot Springs & Countryside Honeymoon - 13 Days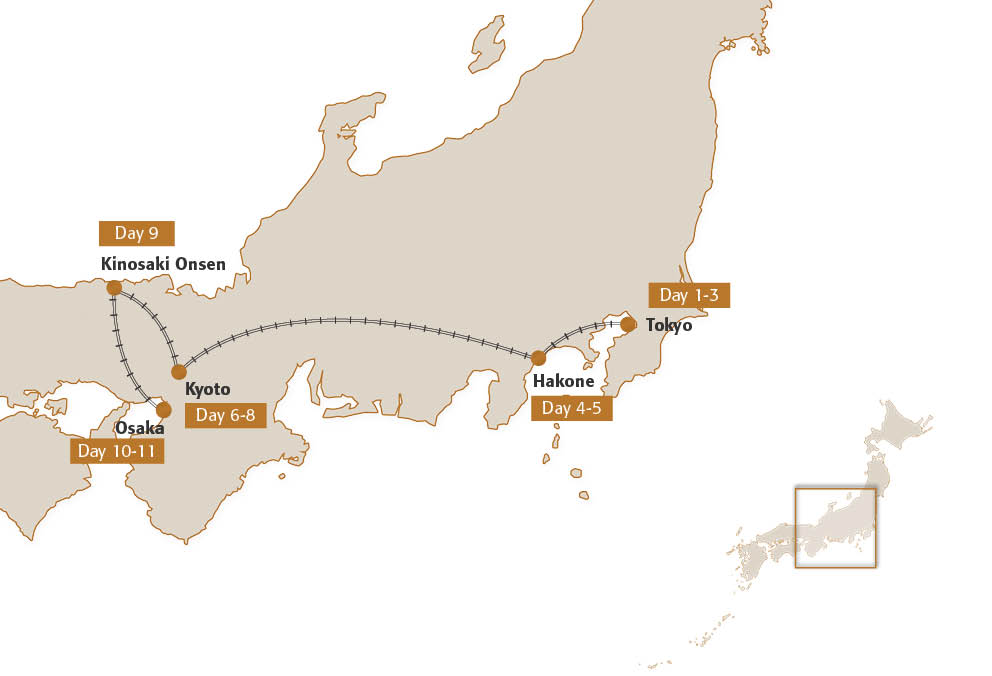 Hot Springs & Countryside Honeymoon - 13 Days - Day by Day
Hot Springs & Countryside Honeymoon - 13 Days - Accommodation
Hot Springs & Countryside Honeymoon - 13 Days - Experiences
Day 1-3

Welcome to Japan! Your honeymoon begins in style as you are taken by private car from Tokyo Narita Airport to your hotel in historic Asakusa.

On your first full day in the capital you'll have the services of a private guide who will show you the very best Tokyo has to offer. Meiji Shrine is a great place to start, with a beautiful forest setting and a Shinto wedding held here nearly every day! Nearby is the fashion district of Harajuku and Omotesando shopping street. For a romantic turn, take a trip to the historic Asakusa quarter and hop on a boat for a trip down the Sumida River.
On your second full day you'll have a free day to continue exploring Tokyo independently. We recommend a trip to the top of the Skytree, the newest addition to Tokyo's skyline, which may even reward you with views of Mount Fuji. In the early evening one of our Insider staff will meet and accompany you to an izakaya (Japanese-style pub) for dinner and drinks. Our Insider will be able to introduce you to Japanese dining etiquette and help you sample some fantastic Japanese dishes!

Overnight: Gate Hotel Kaminarimon

Day 4-5

Head to Miyajima - a wonderfully romantic spot for a honeymoon where you'll stay in a lovely ryokan with an ocean view.

Today you will hop aboard the world famous Shinkansen bullet train for a fairly long journey of around five hours to Hiroshima. From here it's an easy transfer by local train and ferry to the sacred island of Miyajima, where you'll be staying for the next two nights. Most tourists only visit the island during the day, so in the evening when the temples are illuminated you'll have Miyajima almost to yourselves. A delicious kaiseki dinner will be included at your accommodation on both nights of your stay.
On your second day in Miyajima you can continue relaxing on the island, possibly taking the cable car to the top of Mount Misen, or you can choose to hop across to the mainland to explore Hiroshima. As well as the sombre Peace Park and Museum, Hiroshima has some lovely gardens, the Mazda museum and a baseball stadium, all of which are well worth a look. Be sure to try the local specialty of okonomiyaki (savoury pancakes) for lunch!

Overnight: Kurayado Iroha

Day 6-7

Today you'll cross Japan's main land to the Japan Sea Coast by Shinkansen and limited express train, arriving at the "water city" of Matsue between Lake Shinji, Lake Nakaumi and the sea.

Your accommodation will be at a luxurious modern ryokan with your own private outdoor hot spring bath - so we wouldn't blame you for not leaving the ryokan today! A fabulous kaiseki spread will be included for dinner at your ryokan on both nights of your stay.
With a full day ahead to explore Matsue, we highly recommend visiting the Adachi Museum, a modern art gallery and fantastic Japanese garden in one. Other sights in Matsue include an original castle and a restored samurai district.

Overnight: Kai Izumo

Day 8

Today you'll meander along the Japan Sea Coast by train to Kinosaki Onsen, arriving in time to check in to a very traditional ryokan inn.

You'll be given yukata robes and geta sandals so that you can clip-clop between bathhouses in traditional Japanese style. In the early evening you'll head back to the ryokan for dinner and relax in your own private hot spring bath in preparation for your journey to Kyoto tomorrow.

Overnight: Nishimuraya Honkan

Day 9-11

Kyoto is the cultural heart of Japan and here you'll be staying in a wonderful boutique hotel on the edge of the Gion district.

At dusk today we recommend a walk through Gion, where with a bit of luck you'll spot a geisha scurrying between teahouse appointments!
On your first full day in Kyoto you're in for a treat as you'll be taken on a special garden tour of the city by a local, private guide. Rather than visiting all the crowded, über-popular locations, your guide will take you off the beaten tourist trail to Kyoto's lesser-known sights, including some beautiful Japanese gardens. Daitoku-ji Temple is one such secret spot: a wonderful temple complex with landscape and dry rock gardens rarely visited by overseas tourists.
With another full day in Kyoto, today we will arrange for you to visit Tondaya, a traditional machiya townhouse in the centre of the city. This old wooden house is full of history and after being given a guided tour you'll have the chance to try on traditional wedding kimono: pure white for the bride and formal black for the groom. Your make-up and dressing service will be included and you will learn how to take your vows in a traditional Japanese wedding ceremony. Photographs will be taken during the event and you will be presented with a photo album afterwards. Lunch is also included at the town house.

Overnight: The Screen

Day 12-13

Finally your honeymoon will come full circle as you return by Shinkansen to the capital.

To round off your honeymoon in style you'll be staying at the landmark Park Hyatt hotel made famous by the film Lost in Translation. Be sure to toast the trip with a cocktail at the iconic New York Bar!
Sadly your honeymoon must come to an end, and on your final morning a private car will take you back to Tokyo Narita Airport in time for your flight home.

Overnight: Park Hyatt
View all days
Day 1-3

Welcome to Japan! Your honeymoon begins in style as you are taken by private car from Tokyo Narita Airport to your hotel in historic Asakusa.

On your first full day in the capital you'll have the services of a private guide who will show you the very best Tokyo has to offer. Meiji Shrine is a great place to start, with a beautiful forest setting and a Shinto wedding held here nearly every day! Nearby is the fashion district of Harajuku and Omotesando shopping street. For a romantic turn, take a trip to the historic Asakusa quarter and hop on a boat for a trip down the Sumida River.
On your second full day you'll have a free day to continue exploring Tokyo independently. We recommend a trip to the top of the Skytree, the newest addition to Tokyo's skyline, which may even reward you with views of Mount Fuji. In the early evening one of our Insider staff will meet and accompany you to an izakaya (Japanese-style pub) for dinner and drinks. Our Insider will be able to introduce you to Japanese dining etiquette and help you sample some fantastic Japanese dishes!

Overnight: Gate Hotel Kaminarimon

Day 4-5

Head to Miyajima - a wonderfully romantic spot for a honeymoon where you'll stay in a lovely ryokan with an ocean view.

Today you will hop aboard the world famous Shinkansen bullet train for a fairly long journey of around five hours to Hiroshima. From here it's an easy transfer by local train and ferry to the sacred island of Miyajima, where you'll be staying for the next two nights. Most tourists only visit the island during the day, so in the evening when the temples are illuminated you'll have Miyajima almost to yourselves. A delicious kaiseki dinner will be included at your accommodation on both nights of your stay.
On your second day in Miyajima you can continue relaxing on the island, possibly taking the cable car to the top of Mount Misen, or you can choose to hop across to the mainland to explore Hiroshima. As well as the sombre Peace Park and Museum, Hiroshima has some lovely gardens, the Mazda museum and a baseball stadium, all of which are well worth a look. Be sure to try the local specialty of okonomiyaki (savoury pancakes) for lunch!

Overnight: Kurayado Iroha

Day 6-7

Today you'll cross Japan's main land to the Japan Sea Coast by Shinkansen and limited express train, arriving at the "water city" of Matsue between Lake Shinji, Lake Nakaumi and the sea.

Your accommodation will be at a luxurious modern ryokan with your own private outdoor hot spring bath - so we wouldn't blame you for not leaving the ryokan today! A fabulous kaiseki spread will be included for dinner at your ryokan on both nights of your stay.
With a full day ahead to explore Matsue, we highly recommend visiting the Adachi Museum, a modern art gallery and fantastic Japanese garden in one. Other sights in Matsue include an original castle and a restored samurai district.

Overnight: Kai Izumo

Day 8

Today you'll meander along the Japan Sea Coast by train to Kinosaki Onsen, arriving in time to check in to a very traditional ryokan inn.

You'll be given yukata robes and geta sandals so that you can clip-clop between bathhouses in traditional Japanese style. In the early evening you'll head back to the ryokan for dinner and relax in your own private hot spring bath in preparation for your journey to Kyoto tomorrow.

Overnight: Nishimuraya Honkan

Day 9-11

Kyoto is the cultural heart of Japan and here you'll be staying in a wonderful boutique hotel on the edge of the Gion district.

At dusk today we recommend a walk through Gion, where with a bit of luck you'll spot a geisha scurrying between teahouse appointments!
On your first full day in Kyoto you're in for a treat as you'll be taken on a special garden tour of the city by a local, private guide. Rather than visiting all the crowded, über-popular locations, your guide will take you off the beaten tourist trail to Kyoto's lesser-known sights, including some beautiful Japanese gardens. Daitoku-ji Temple is one such secret spot: a wonderful temple complex with landscape and dry rock gardens rarely visited by overseas tourists.
With another full day in Kyoto, today we will arrange for you to visit Tondaya, a traditional machiya townhouse in the centre of the city. This old wooden house is full of history and after being given a guided tour you'll have the chance to try on traditional wedding kimono: pure white for the bride and formal black for the groom. Your make-up and dressing service will be included and you will learn how to take your vows in a traditional Japanese wedding ceremony. Photographs will be taken during the event and you will be presented with a photo album afterwards. Lunch is also included at the town house.

Overnight: The Screen

Day 12-13

Finally your honeymoon will come full circle as you return by Shinkansen to the capital.

To round off your honeymoon in style you'll be staying at the landmark Park Hyatt hotel made famous by the film Lost in Translation. Be sure to toast the trip with a cocktail at the iconic New York Bar!
Sadly your honeymoon must come to an end, and on your final morning a private car will take you back to Tokyo Narita Airport in time for your flight home.

Overnight: Park Hyatt
Close all days
Other trips you may like
Tokyo
Hakone
Nagoya
Kyoto
Matsue
Naoshima
Tokyo

The best of Japan's arts scene, from Naoshima "Art Island" to the Adachi Museum, with moderate accommodation and some delicious meals included.

15 nights: from US$3892 pp (twin share) Read more >

Tokyo
Nagano
Kusatsu
Minakami
Lake Chuzenji
Nikko
Tokyo

Discover splendid mountain scenery and hot spring towns in this intrepid driving itinerary along the famous Romantic Road.

10 nights: from US$3612 pp (twin share) Read more >

From ultra-modern Tokyo to the ancient capital of Kyoto via the hot springs of Hakone, this is a classic first-timer's trip to Japan.

9 nights: from US$2576 pp (twin share) Read more >