Self Guided Adventure
Hokkaido Fly-Drive
15 Nights: from US$4630 per person (twin share)
Trip Code: HFDC
The huge and sparsely populated island of Hokkaido is the focus of this unique, rural road trip. In the national parks of this northern outpost you will find rolling fields of lavender, crystal clear lakes and natural hot springs surrounded by soaring mountain landscapes. Read more >
Your first foray into Hokkaido will be Hakodate, where you will pick up your hire car. One of the first ports to open up to foreign visitors after Japan's period of seclusion, Hakodate enjoys a lasting legacy of churches and handsome European buildings.
At night, the views from the top of Mount Hakodate are spectacular. Take a cable car or drive to the top to survey the stunning night-time panorama, with the city lights twinkling right to the very edge of the Katedama peninsula as it disappears into the sea.
With smoking Shinzan Volcano setting the scene, Toya Onsen offers the chance to relax in natural hot springs and get out and about on foot or by bike.
Next you'll stop in the island's cosmopolitan capital, Sapporo, for the best beer in Japan and fabulous ramen noodles! With the annual snow festival in winter, beer festival in summer and plenty of sake breweries, the island's capital is a great destination at any time of year.
Central Hokkaido, home to the Daisetsuzan National Park, is famous for its lavender and poppy fields and its vast farmlands. Stunning views of Mount Asahidake enhance the flora of summer, the brightly coloured leaves of autumn and the snow-capped peaks of winter.
Whether you'd like to conquer the 16 volcanic peaks; admire the 24 km-long, vertiginous Sonkyo Gorge; trek through densely forested woodland or simply enjoy the hot springs and dramatic views, you're bound to enjoy your time in Japan's largest national park.
As you head east along the gently winding open roads of the Hokkaido countryside, the population dwindles and the land stretches out into the distance - from the hot springs of Kawayu Onsen and lakes of Akan National Park, to Shiretoko Peninsula and the fertile Kushiro marshlands.
Here, nature is in the ascendancy and you may spot bears, red-crowned cranes, whales, seals, deer, eagles and the famous Blakiston's fish owl.
What's included
15 nights' accommodation (four nights Japanese style)

Breakfast each morning and nine evening meals

Manaca transport card with 2,500 yen credit for local transport in Tokyo

Eight-hour private guide service in Tokyo and Sapporo

13 days' car hire in Hokkaido (Toyota Vitz or similar)

Domestic flights to and from Hokkaido

All transport between destinations

Your personalised InsideJapan Info-Pack

Airport transfers
What's NOT included:
International flights

Local transport (local buses, subways, taxis) except those covered by the included transport passes

Any entrance fees including those for temples, shrines and museums

Petrol (gas) and tolls for hire car

Baggage handling and luggage forwarding
Trip Highlights
Take in the night view from Mount Hakodate

Visit the crane sanctuaries in Tsurui

Discover the still-smoking Shinzan volcano
Hike at Mount Asahidake

Spend two nights in cosmopolitan Sapporo

Watch the nightly fireworks at Toya Onsen
For more information email us: [email protected] or call: 303 952 0379
What, where, when and how...
Hokkaido Fly-Drive - 16 Days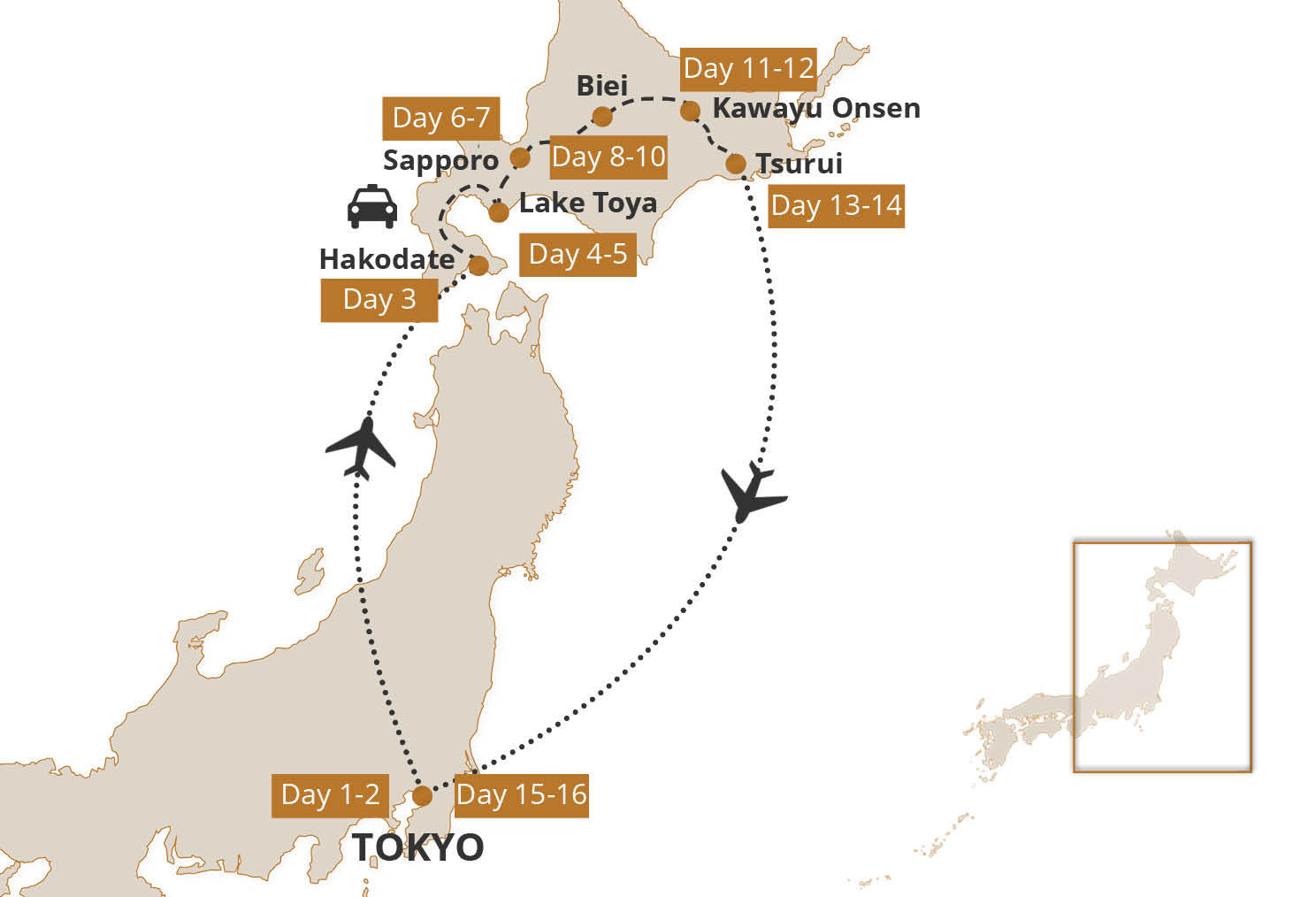 Hokkaido Fly-Drive - 16 Days - Day by Day
Hokkaido Fly-Drive - 16 Days - Accommodation
Day 1-2

Kick off your trip to Japan with a stay in Tokyo's historical Asakusa district, home to the city's oldest and best-loved temple.

Welcome to Japan! The first two nights of your trip will be spent in the historical Asakusa district, a bustling, market-like area of old Tokyo, giving you a glimpse of what life may have been like in the capital before the advent of skyscrapers and neon.

This neighbourhood is the perfect introduction to the city, with its combination of traditional wares, enticing food stalls and the striking Senso-ji Temple.

On your first full day in Japan you will have the services of a professional guide to show you the major hotspots and little-known treasures of Tokyo. Your itinerary is not fixed, so you can ask the guide to take you wherever you like – or just sit back and let them show you the ropes!

Overnight: Richmond Asakusa

Day 3

Fly north to Hokkaido where you'll begin your adventure in Hakodate, famous for its stunning night views across the city from up on the nearby mountain.

It's time to leave the main island of Honshu behind and start your northern adventure! Today you will fly from Tokyo Haneda Airport to Hakodate – the gateway to Hokkaido.

At Hakodate Airport you will pick up your hire car, equipped with sat-nav, and drive the short distance into this small and attractive port. Hakodate was one of the first ports in Japan to open itself to foreign visitors, which is why you will notice a number of European-style buildings and churches in the area.
Today it is most famous amongst the Japanese for its stunning night views across the city from nearby Mount Hakodate. Armed with sightseeing suggestions in your personalised Info-Pack, you will have the rest of the day today to relax in this laid back city.

Overnight: Nets Hakodate

Day 4-5

Make the 100-mile drive through the scenic expanse of Hokkaido to Toya Onsen, set against the backdrop of the still-smoking Showa Shinzan volcano.

Stop off at the Hakodate fish market this morning before setting off on the scenic drive to Toya Onsen in the Shikotsu Toya National Park. The 100-mile drive will take you via volcanic Lake Onuma, known for its 126 islands and smouldering Mount Komagatake, and around the attractive Uchiura Bay.

As with all of the drives in this itinerary, there are plenty of places to stop off en route. The national park itself is centred around a large and attractive lake, with the still-smoking Showa Shinzan volcano (Japan's youngest volcano) in the background.

There are a plethora of hikes to enjoy in this area as well as cycling routes and boat cruises. Dinner will be included at your Japanese-style hotel, where there are also a range of hot spring baths to try.

Well rested and ready for a full day in the national park, on day five you may wish to visit the infamous Mount Usu. Usu has garnered attention in recent years for its fiery temper – the last eruption occurred in 2000 and caused nearby residents to evacuate their homes!

If Usu leaves you cold, you could drive to nearby Lake Shikotsu where there are plenty of lovely hiking trails and the chance to wander around the crater of Mount Tarumae. Dinner will again be included at your hotel tonight.

Overnight: Kohantei Ryokan

Day 6-7

Explore Sapporo, a city filled with green open spaces, before spending a day with a private guide in the seaside town of Otaru.

80 miles from Toya Onsen is Hokkaido's most cosmopolitan city: Sapporo. The relaxed air, green parks, and tree-lined boulevards make this a modern Japanese city quite unlike any other.

There is plenty to see and do here, including attractive botanical gardens, Japan's most famous brewery (tours with free samples available!) and great views from the TV tower in Odori Park.

For your second day in Sapporo we will be arranging a private guide service – a great way to get to know the city and learn more about Hokkaido. You can take advantage of this time to explore the city further, or you could have your guide take you on a day trip to Otaru – a seaside town with a distinct Russian influence.

The glassworks shops, coffee shops, restaurants and shopping malls here have all been converted from stone- and brick-built warehouses, which were used for storage in the days when commerce flourished and the canal was crowded with jostling barges.

When night falls, oil lamps are lit along the cobbled streets, and it can almost feel as though you've been transported back in time.

Overnight: Richmond Sapporo Eki-mae

Day 8-10

Enjoy spectacular vistas across lavender and poppy fields as you make your way to Biei, the ideal base for some hiking and a visit to the nearby onsen hot springs.

Today you will head east into the plains of Biei, famous for its lavender and poppy fields and its vast farmlands. Use this opportunity to visit one or two of the area's art galleries, and to walk in the beautiful countryside surrounded by the panoramic backdrop of the Daisetsuzan mountain range.

You can enjoy Biei throughout the year, with snow-capped mountains in spring, beautiful flowers and blue sky in the summer, autumn leaves and bright yellow blossoms in autumn, and pure white powder snow in winter. Here you will be staying in a small, family-run inn complete with home-cooked meals on every night of your stay.

Using Biei as your base, we recommend spending day nine of your itinerary visiting Mount Asahidake. There are numerous walking trails in this area, including a route that takes you to the top of Hokkaido's highest mountain – helped by a cable car most of the way if you wish!

Your climb will be rewarded with dramatic views over steaming volcanic pools, and after your day's activities you can sit back and relax in the hot spring bath at your accommodation.

We recommend tackling the smaller peak of Tokachi-dake on day ten. Tokachi-dake is the highest active volcano in Hokkaido and is a little off the usual tourist routes, so you'll probably have the place largely to yourself.

The mountain has two water sources: one clear and one rusty in colour. Nearby Fukiage spa offers free, open-air hot spring baths where you can sink into these hot, healing waters overlooking the stunning views of the gorge.

Overnight: Pension Hozuki

Day 11-12

Continue east for a stay in Kawayu Onsen, located in a stunning national park filled with beautiful lakes and mountain scenery.

Continuing east across Hokkaido today, you will reach the hot springs and attractive lakes of Kawayu Onsen. It is a 137-mile drive, but again there are lots of scenic spots where you can stop off en route.

Kawayu Onsen is a unique spa town near Mashu-ko, lauded by many as Japan's most beautiful lake. Entirely protected, without a single building along its pristine shores, Lake Mashu can only be viewed from two designated lookout points.

The deep volcanic caldera lake is often blanketed with a thin layer of fog, making for atmospheric and beautiful views – although sometimes the fog can be so thick you can't see it at all! Dinner will be included at your hotel by Lake Kussharo on both nights of your stay in Kawayu Onsen.

After a good night's sleep you will have a further day to explore the national park. On a clear day you even can see as far as the Daisetsuzan National Park from the peak of Mount Akan!

There are a number of small mountains to explore near Kawayu Onsen and you can also visit Lake Kohan where you'll find some fascinating museums about the Ainu people, indigenous residents of this northern island. This is one of the largest Ainu settlements in Hokkaido so it's a great place to try Ainu cuisine and learn about their culture.

Overnight: Kitafukuro

Day 13-14

Watch the amazing mating rituals of the Japanese cranes at one of Tsurui's nature reserves.

From Kawayu Onsen it is an hour's drive to Tsurui, your next destination and home to a number of crane reserves.

Japanese cranes, or tancho (which literally means "red head"), were once thought to be extinct in Japan due to overhunting and habitat destruction. However, in 1926, a group of about 20 birds was discovered in the marshes around Kushiro. With conservation efforts they have since made a dramatic recovery and now number more than 1,000 birds.

After a night in your Tsurui hotel, where a delicious dinner will be included, you will have a full day to spend at the crane sanctuaries in the area. The cranes are spectacular to watch as they dance in pairs, with seemingly choreographed dips and jumps.

The birds are best seen in the winter as they gather at their feeding sites to perform these mating dances. Dinner will once again be included at your accommodation for your final night in Tsurui.

Overnight: Woody Hotel & Restaurant Yumekobo

Day 15-16

Return to Tokyo for a final night in energetic Shinjuku – the perfect contrast to the vast expanses of Hokkaido and a great place to spend your last night in Japan.

Today it is time to head back to Japan's main island for a final night in the energetic capital – worlds away from the peace and quiet of Hokkaido!

Use this chance to catch up on anything you may have missed in Tokyo the first time round before spending your last night in the Shinjuku district, Tokyo's business and entertainment hub.

You will certainly have time for some last minute souvenir shopping and a museum or gallery before it's time to leave.

Sadly, your adventures in Japan have come to an end and it is time to head home. You will be picked up at your hotel by a shuttle bus which will take you to Tokyo' Narita Airport in plenty of time for your flight home.

Overnight: Citadines Shinjuku
View all days
Day 1-2

Kick off your trip to Japan with a stay in Tokyo's historical Asakusa district, home to the city's oldest and best-loved temple.

Welcome to Japan! The first two nights of your trip will be spent in the historical Asakusa district, a bustling, market-like area of old Tokyo, giving you a glimpse of what life may have been like in the capital before the advent of skyscrapers and neon.

This neighbourhood is the perfect introduction to the city, with its combination of traditional wares, enticing food stalls and the striking Senso-ji Temple.

On your first full day in Japan you will have the services of a professional guide to show you the major hotspots and little-known treasures of Tokyo. Your itinerary is not fixed, so you can ask the guide to take you wherever you like – or just sit back and let them show you the ropes!

Overnight: Richmond Asakusa

Day 3

Fly north to Hokkaido where you'll begin your adventure in Hakodate, famous for its stunning night views across the city from up on the nearby mountain.

It's time to leave the main island of Honshu behind and start your northern adventure! Today you will fly from Tokyo Haneda Airport to Hakodate – the gateway to Hokkaido.

At Hakodate Airport you will pick up your hire car, equipped with sat-nav, and drive the short distance into this small and attractive port. Hakodate was one of the first ports in Japan to open itself to foreign visitors, which is why you will notice a number of European-style buildings and churches in the area.
Today it is most famous amongst the Japanese for its stunning night views across the city from nearby Mount Hakodate. Armed with sightseeing suggestions in your personalised Info-Pack, you will have the rest of the day today to relax in this laid back city.

Overnight: Nets Hakodate

Day 4-5

Make the 100-mile drive through the scenic expanse of Hokkaido to Toya Onsen, set against the backdrop of the still-smoking Showa Shinzan volcano.

Stop off at the Hakodate fish market this morning before setting off on the scenic drive to Toya Onsen in the Shikotsu Toya National Park. The 100-mile drive will take you via volcanic Lake Onuma, known for its 126 islands and smouldering Mount Komagatake, and around the attractive Uchiura Bay.

As with all of the drives in this itinerary, there are plenty of places to stop off en route. The national park itself is centred around a large and attractive lake, with the still-smoking Showa Shinzan volcano (Japan's youngest volcano) in the background.

There are a plethora of hikes to enjoy in this area as well as cycling routes and boat cruises. Dinner will be included at your Japanese-style hotel, where there are also a range of hot spring baths to try.

Well rested and ready for a full day in the national park, on day five you may wish to visit the infamous Mount Usu. Usu has garnered attention in recent years for its fiery temper – the last eruption occurred in 2000 and caused nearby residents to evacuate their homes!

If Usu leaves you cold, you could drive to nearby Lake Shikotsu where there are plenty of lovely hiking trails and the chance to wander around the crater of Mount Tarumae. Dinner will again be included at your hotel tonight.

Overnight: Kohantei Ryokan

Day 6-7

Explore Sapporo, a city filled with green open spaces, before spending a day with a private guide in the seaside town of Otaru.

80 miles from Toya Onsen is Hokkaido's most cosmopolitan city: Sapporo. The relaxed air, green parks, and tree-lined boulevards make this a modern Japanese city quite unlike any other.

There is plenty to see and do here, including attractive botanical gardens, Japan's most famous brewery (tours with free samples available!) and great views from the TV tower in Odori Park.

For your second day in Sapporo we will be arranging a private guide service – a great way to get to know the city and learn more about Hokkaido. You can take advantage of this time to explore the city further, or you could have your guide take you on a day trip to Otaru – a seaside town with a distinct Russian influence.

The glassworks shops, coffee shops, restaurants and shopping malls here have all been converted from stone- and brick-built warehouses, which were used for storage in the days when commerce flourished and the canal was crowded with jostling barges.

When night falls, oil lamps are lit along the cobbled streets, and it can almost feel as though you've been transported back in time.

Overnight: Richmond Sapporo Eki-mae

Day 8-10

Enjoy spectacular vistas across lavender and poppy fields as you make your way to Biei, the ideal base for some hiking and a visit to the nearby onsen hot springs.

Today you will head east into the plains of Biei, famous for its lavender and poppy fields and its vast farmlands. Use this opportunity to visit one or two of the area's art galleries, and to walk in the beautiful countryside surrounded by the panoramic backdrop of the Daisetsuzan mountain range.

You can enjoy Biei throughout the year, with snow-capped mountains in spring, beautiful flowers and blue sky in the summer, autumn leaves and bright yellow blossoms in autumn, and pure white powder snow in winter. Here you will be staying in a small, family-run inn complete with home-cooked meals on every night of your stay.

Using Biei as your base, we recommend spending day nine of your itinerary visiting Mount Asahidake. There are numerous walking trails in this area, including a route that takes you to the top of Hokkaido's highest mountain – helped by a cable car most of the way if you wish!

Your climb will be rewarded with dramatic views over steaming volcanic pools, and after your day's activities you can sit back and relax in the hot spring bath at your accommodation.

We recommend tackling the smaller peak of Tokachi-dake on day ten. Tokachi-dake is the highest active volcano in Hokkaido and is a little off the usual tourist routes, so you'll probably have the place largely to yourself.

The mountain has two water sources: one clear and one rusty in colour. Nearby Fukiage spa offers free, open-air hot spring baths where you can sink into these hot, healing waters overlooking the stunning views of the gorge.

Overnight: Pension Hozuki

Day 11-12

Continue east for a stay in Kawayu Onsen, located in a stunning national park filled with beautiful lakes and mountain scenery.

Continuing east across Hokkaido today, you will reach the hot springs and attractive lakes of Kawayu Onsen. It is a 137-mile drive, but again there are lots of scenic spots where you can stop off en route.

Kawayu Onsen is a unique spa town near Mashu-ko, lauded by many as Japan's most beautiful lake. Entirely protected, without a single building along its pristine shores, Lake Mashu can only be viewed from two designated lookout points.

The deep volcanic caldera lake is often blanketed with a thin layer of fog, making for atmospheric and beautiful views – although sometimes the fog can be so thick you can't see it at all! Dinner will be included at your hotel by Lake Kussharo on both nights of your stay in Kawayu Onsen.

After a good night's sleep you will have a further day to explore the national park. On a clear day you even can see as far as the Daisetsuzan National Park from the peak of Mount Akan!

There are a number of small mountains to explore near Kawayu Onsen and you can also visit Lake Kohan where you'll find some fascinating museums about the Ainu people, indigenous residents of this northern island. This is one of the largest Ainu settlements in Hokkaido so it's a great place to try Ainu cuisine and learn about their culture.

Overnight: Kitafukuro

Day 13-14

Watch the amazing mating rituals of the Japanese cranes at one of Tsurui's nature reserves.

From Kawayu Onsen it is an hour's drive to Tsurui, your next destination and home to a number of crane reserves.

Japanese cranes, or tancho (which literally means "red head"), were once thought to be extinct in Japan due to overhunting and habitat destruction. However, in 1926, a group of about 20 birds was discovered in the marshes around Kushiro. With conservation efforts they have since made a dramatic recovery and now number more than 1,000 birds.

After a night in your Tsurui hotel, where a delicious dinner will be included, you will have a full day to spend at the crane sanctuaries in the area. The cranes are spectacular to watch as they dance in pairs, with seemingly choreographed dips and jumps.

The birds are best seen in the winter as they gather at their feeding sites to perform these mating dances. Dinner will once again be included at your accommodation for your final night in Tsurui.

Overnight: Woody Hotel & Restaurant Yumekobo

Day 15-16

Return to Tokyo for a final night in energetic Shinjuku – the perfect contrast to the vast expanses of Hokkaido and a great place to spend your last night in Japan.

Today it is time to head back to Japan's main island for a final night in the energetic capital – worlds away from the peace and quiet of Hokkaido!

Use this chance to catch up on anything you may have missed in Tokyo the first time round before spending your last night in the Shinjuku district, Tokyo's business and entertainment hub.

You will certainly have time for some last minute souvenir shopping and a museum or gallery before it's time to leave.

Sadly, your adventures in Japan have come to an end and it is time to head home. You will be picked up at your hotel by a shuttle bus which will take you to Tokyo' Narita Airport in plenty of time for your flight home.

Overnight: Citadines Shinjuku
Close all days
Other trips you may like
Tokyo
Kanazawa
Shirakawago
Takayama
Matsumoto
Tsumago
Kyoto
Tokyo

Discover traditional Japan through its beautiful ryokan inns, delicious cuisine and a range of cultural experiences on this superior itinerary.

14 nights: from US$5859 pp (twin share) Read more >

Fukuoka
Nagasaki
Unzen
Kumamoto
Kurokawa Onsen
Kagoshima
Yakushima
Fukuoka

If you're an adventurous traveller who wants to discover a side of Japan rarely seen by outsiders, this itinerary could be the one for you.

14 nights: from US$3658 pp (twin share) Read more >

Tokyo
Nikko
Sendai
Nyuto Onsen
Kakunodate
Mount Haguro
Sado Island
Tokyo

Journey through the lush rural landscapes of Tohoku, the region that stretches 500 miles north from Tokyo, on this superior two-week itinerary.

14 nights: from US$5616 pp (twin share) Read more >