Self Guided Adventure
Winter Bird Watching
10 Nights: from US$3575 per person (twin share)
Trip Code: BIRD01
Steller's Sea Eagles, Red-Crowned Cranes and Blakiston's Fish Owls are just some of the many rare species to be spotted in Hokkaido during Japan's winter season. Our flexible independent travel itinerary includes two full days with birding guides and the very best lodging locations. Read more >
Japan is a wonderful winter destination and, for birdwatchers in particular, it offers a unique chance to see a number of rare species. As well as giving you some time to explore the capital, this itinerary will take you north to the little-visited island of Hokkaido - a veritable twitchers' paradise.
You will be accompanied for two days by a specialist guide, and each of your accommodations and destinations has been carefully chosen to help you make the most of the bird-watching opportunities and scenery on this spectacular island.
Staying in Tokyo for the first two nights you'll have numerous birding options including Ueno Park, where the Shinobazu-no-ike Lotus Pond is home to thousands of wild waterfowl between October and March, and the Yatsu Higata mud flats in Tokyo Bay, an important stop-off point for migratory birds.
During your stay in the capital a local expert guide will accompany you for a day trip to Ukishima Marsh and Choshi Port in Chiba prefecture - famous for reed bed birds. You will also have plenty of opportunity to get to know the city itself, from the traditional Asakusa district at the start of the trip to the flashing pachinko parlours and cacophonic karaoke establishments of Shinjuku at the end.

The bulk of this trip will be spent exploring Japan's northern island of Hokkaido, the second-largest and least-developed of Japan's four main islands. Rarely visited by overseas tourists, Hokkaido harbours a plethora of rare wildlife. To give you the flexibility to explore this great expanse of rural Japan you'll be travelling by hire car with built-in sat-nav.
The first stop on your Hokkaido adventure is Tsurui, home to Japan's very best crane sanctuaries. Here you can catch the Red-crowned cranes performing their mating dance in winter - a magical sight in the silent snow fields around your lodgings.
A local birding expert will take you to the best viewing places for the cranes, as well as for the Meadow Bunting and Pallas's Rosefinch, also native to the area.
Wild Shiretoko Peninsula then offers an icebreaker cruise (a chance to see the magnificent Steller's Sea Eagles up close) and is a great destination for searching out Blackiston's Fish Owls.
This ten-night itinerary offers brilliant bird-watching opportunities combined with the very best of Tokyo's history and culture.
Recommended Dates
We recommend taking this itinerary in January, February or March for the best bird-watching opportunities. It is however possible to take this itinerary at any time of year - please discuss with us subtle itinerary changes to ensure the optimum trip outside of winter.
What's included
Ten nights' accommodation (three nights Japanese style)

Breakfast each morning and five evening meals

Airport transfers

Transport between destinations (including domestic flights)

Manaca transport card with 2,500 yen credit for use on local transport in Tokyo

Birding guides in Tokyo and Tsurui

Icebreaker cruise in Rausu

Hire car on Hokkaido Island (six days)

Your personalised InsideJapan Info-Pack
What's NOT included:
International flights

Local transport (buses, subways, taxis) at any destination unless otherwise specified

Any entrance fees including those for shrines, temples and museums

Baggage handling - you will be expected to carry your own bags for the duration of the trip

Fuel and tolls while using the hire car
Trip Highlights
Watch the mating dance of the Red-crowned cranes

Spot the Blackiston's Fish Owl

Look out for a Steller's Sea Eagle
Take an icebreaker cruise

Explore Tsurui with a local birding expert

Drive around stunning Hokkaido
For more information email us: [email protected] or call: 303 952 0379
What, where, when and how...
Winter Bird Watching - 11 Days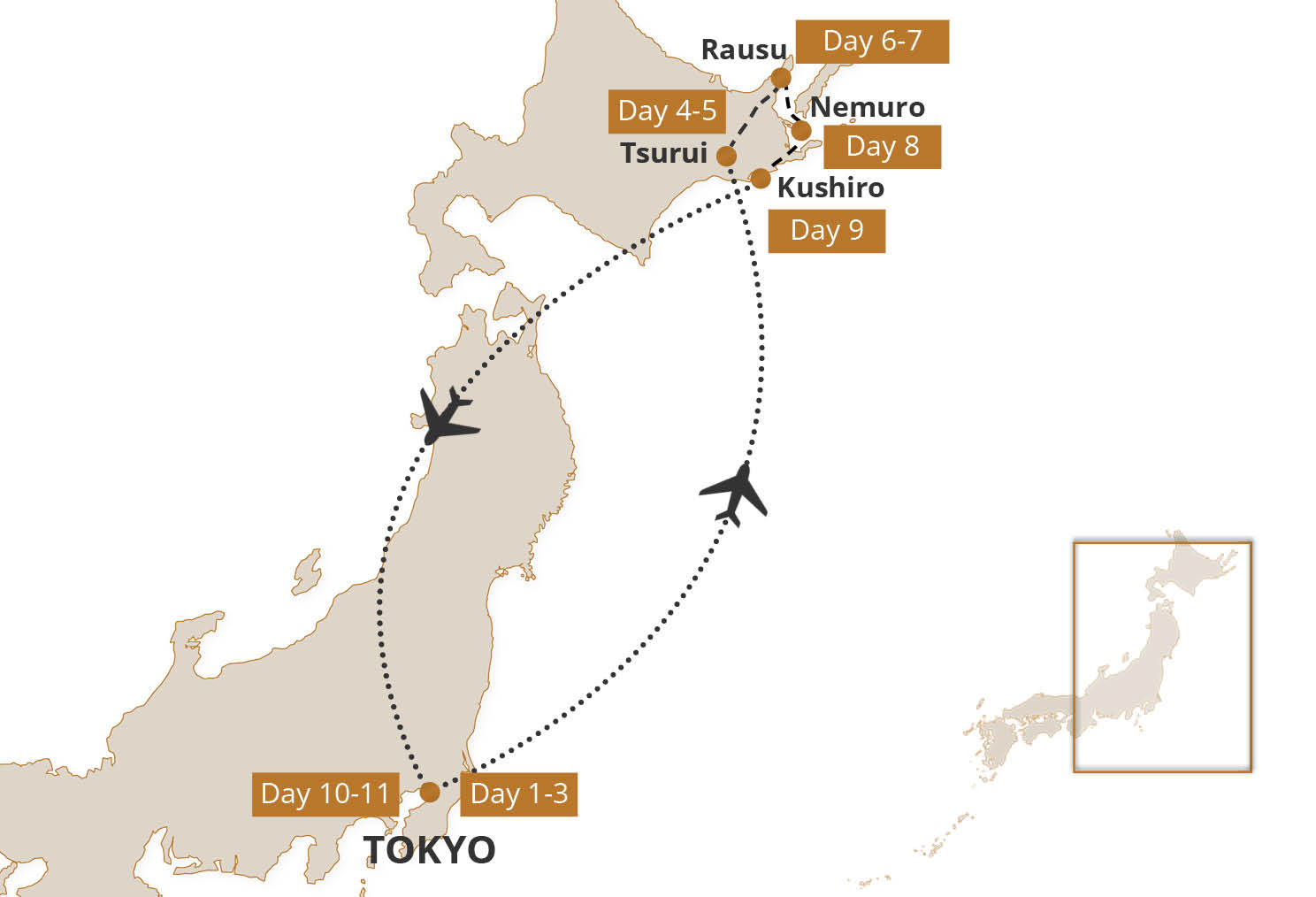 Destinations
Winter Bird Watching - 11 Days - Day by Day
Winter Bird Watching - 11 Days - Accommodation
Winter Bird Watching - 11 Days - Experiences
Day 1-3

Begin your adventure with a stay in Tokyo, where you'll find a surprising number of bird-watching opportunities amongst the city skyscrapers

Welcome to Japan! After you have checked in to your hotel today you will be free to start exploring Tokyo. You will be based in Asakusa, Tokyo's most traditional district and home to the city's oldest temple: Senso-ji.

We suggest wandering around the market streets here or heading over to Harajuku for some great people-watching around Yoyogi Park.

On your first full day in Tokyo you'll have the chance to head to Ueno Park, not far from your hotel, where the lotus pond is home to wild waterfowl, wading birds, gulls and the rare Baer's Pochard.

The Yatsu Higata mud flats of Tokyo Bay are great for spotting wading birds, and a visit to Kasai Rinkai Park could introduce you to the Saunder's Gull, the Black-faced Spoonbill and more. The itinerary for today will be completely flexible and should you prefer to spend the day exploring the city itself your Info-Pack will be full of great suggestions.

For your second full day in Tokyo you will be taking a day excursion with a local Tokyo birding expert. Destinations for today will include Ukishima Marsh and Choshi Port – famous for reed bed birds. If there are any other destinations you'd like to visit you need only let us know and we will pass on your preferences to the guide.

Overnight: Asakusa Via Inn

Day 4-5

Fly to Hokkaido and make your way to Tsurui, where you'll watch the majestic Red-crowned cranes as they perform their elaborate winter mating rituals

Leaving Tokyo behind, today you will fly from Haneda Airport to Hokkaido. After picking up your pre-arranged hire car, you will make the one-hour drive to Tsurui, where your lodgings will be at a small inn next to the tancho (Japanese Crane) sanctuaries.

Your accommodation is owned by an enthusiastic birdwatcher, so you are sure to be looked after extremely well and receive plenty of advice for your bird-watching tomorrow. A traditional Japanese dinner will be included in your stay here.

After recharging your batteries at your ryokan inn, you will have a full day in Tsurui to visit the area's nature reserves with a guide who is a park ranger, birding expert and nature photographer. In these sanctuaries you will have the privilege of seeing the Red-crowned crane, or tancho, the largest and most distinctive species in the crane family, standing at an average 1.5 metres tall with a wingspan of 2.5 metres.

In winter, these cranes perform an elaborate mating ritual involving a coordinated dance comprised of bowing, jumping, running, throwing grass in the air and flapping wings – truly an amazing spectacle to watch! Dinner will be included at your accommodation again tonight.

Overnight: Hickory Wind Lodge

Day 6-7

Explore one of Japan's last surviving wilderness areas and spot Steller's Sea Eagles as you take an exciting icebreaker cruise on the Sea of Okhotsk

Today you will drive 150 km east to the Shiretoko Peninsula, one of Japan's few surviving wilderness areas. You will be staying in Rausu, a small fishing town famous for its Steller's Sea Eagles, where your accommodation will be a Japanese-style ryokan inn with a warming, hearty dinner included on both nights of your stay.

Although quite basic, this inn is famous amongst birdwatchers as it is frequented by a pair of Blackiston's Fish Owls and offers an almost unique chance to see these incredible birds up close.

After your first night in Rausu you will be taking an icebreaker cruise off the Shiretoko Pensinula. This is sure to be an exhilarating experience and to provide some fantastic photo opportunities!

Boarding a small icebreaker, you will be sailing out amongst the floes of the Sea of Okhotsk, where the vast numbers of Steller's Sea Eagles gathering on the ice are a breathtaking sight to behold. The cruise lasts for around two hours, after which you can spend the rest of the day exploring the area using your hire car.

Overnight: Washi no Yado

Day 8

Drive from Rausu to Nemuro, where you'll have a chance to spot wading birds and sea eagles and pick up some tips at your specialist birdwatchers' lodgings

Departing from Rausu today, you will drive three hours south to Nemuro, a small town near Lake Furen.

Here you will have the chance to spend the afternoon spotting wading birds and sea eagles before retiring to your accommodation – another specialist birdwatchers' lodgings and the perfect place to pick up some of the latest news of sightings and some local tips. A Japanese-style dinner will be included as part of your stay this evening.

Overnight: Nature Inn Furen

Day 9

Spend your final night in Hokkaido exploring the city museum and harbour area in the small city of Kushiro

Today will be your last day in Hokkaido before your return to Tokyo. Your day will begin with the 111 km drive west to Kushiro, a journey that offers some absolutely stunning views of the Hokkaido countryside.

You can spend your last night exploring this small city, checking out the Fisherman's Wharf area and having dinner at one of the many restaurants on the harbour side. The city museum, meanwhile, is a great place to find out about the area's natural history.

Overnight: Crown Hills Kushiro

Day 10-11

Fly back to Tokyo for one final night in the metropolis – the perfect counterpoint to the deserted wastes of Hokkaido

After driving to Kushiro airport and dropping off your car, you will return to Tokyo by plane for a final night in Shinjuku, the entertainment and business hub of Japan's exciting capital city.

This bustling area will be a striking contrast to the emptiness of Hokkaido, and provides lots of last-minute shopping and superb food options to round off a fantastic trip.

Sadly your bird-watching adventures in Japan must come to an end, and on your final morning you will use the vouchers provided in your Info-Pack to travel back to Tokyo's Narita Airport by limousine bus. Have a safe journey home.

Overnight: Sunroute Plaza Shinjuku
View all days
Day 1-3

Begin your adventure with a stay in Tokyo, where you'll find a surprising number of bird-watching opportunities amongst the city skyscrapers

Welcome to Japan! After you have checked in to your hotel today you will be free to start exploring Tokyo. You will be based in Asakusa, Tokyo's most traditional district and home to the city's oldest temple: Senso-ji.

We suggest wandering around the market streets here or heading over to Harajuku for some great people-watching around Yoyogi Park.

On your first full day in Tokyo you'll have the chance to head to Ueno Park, not far from your hotel, where the lotus pond is home to wild waterfowl, wading birds, gulls and the rare Baer's Pochard.

The Yatsu Higata mud flats of Tokyo Bay are great for spotting wading birds, and a visit to Kasai Rinkai Park could introduce you to the Saunder's Gull, the Black-faced Spoonbill and more. The itinerary for today will be completely flexible and should you prefer to spend the day exploring the city itself your Info-Pack will be full of great suggestions.

For your second full day in Tokyo you will be taking a day excursion with a local Tokyo birding expert. Destinations for today will include Ukishima Marsh and Choshi Port – famous for reed bed birds. If there are any other destinations you'd like to visit you need only let us know and we will pass on your preferences to the guide.

Overnight: Asakusa Via Inn

Day 4-5

Fly to Hokkaido and make your way to Tsurui, where you'll watch the majestic Red-crowned cranes as they perform their elaborate winter mating rituals

Leaving Tokyo behind, today you will fly from Haneda Airport to Hokkaido. After picking up your pre-arranged hire car, you will make the one-hour drive to Tsurui, where your lodgings will be at a small inn next to the tancho (Japanese Crane) sanctuaries.

Your accommodation is owned by an enthusiastic birdwatcher, so you are sure to be looked after extremely well and receive plenty of advice for your bird-watching tomorrow. A traditional Japanese dinner will be included in your stay here.

After recharging your batteries at your ryokan inn, you will have a full day in Tsurui to visit the area's nature reserves with a guide who is a park ranger, birding expert and nature photographer. In these sanctuaries you will have the privilege of seeing the Red-crowned crane, or tancho, the largest and most distinctive species in the crane family, standing at an average 1.5 metres tall with a wingspan of 2.5 metres.

In winter, these cranes perform an elaborate mating ritual involving a coordinated dance comprised of bowing, jumping, running, throwing grass in the air and flapping wings – truly an amazing spectacle to watch! Dinner will be included at your accommodation again tonight.

Overnight: Hickory Wind Lodge

Day 6-7

Explore one of Japan's last surviving wilderness areas and spot Steller's Sea Eagles as you take an exciting icebreaker cruise on the Sea of Okhotsk

Today you will drive 150 km east to the Shiretoko Peninsula, one of Japan's few surviving wilderness areas. You will be staying in Rausu, a small fishing town famous for its Steller's Sea Eagles, where your accommodation will be a Japanese-style ryokan inn with a warming, hearty dinner included on both nights of your stay.

Although quite basic, this inn is famous amongst birdwatchers as it is frequented by a pair of Blackiston's Fish Owls and offers an almost unique chance to see these incredible birds up close.

After your first night in Rausu you will be taking an icebreaker cruise off the Shiretoko Pensinula. This is sure to be an exhilarating experience and to provide some fantastic photo opportunities!

Boarding a small icebreaker, you will be sailing out amongst the floes of the Sea of Okhotsk, where the vast numbers of Steller's Sea Eagles gathering on the ice are a breathtaking sight to behold. The cruise lasts for around two hours, after which you can spend the rest of the day exploring the area using your hire car.

Overnight: Washi no Yado

Day 8

Drive from Rausu to Nemuro, where you'll have a chance to spot wading birds and sea eagles and pick up some tips at your specialist birdwatchers' lodgings

Departing from Rausu today, you will drive three hours south to Nemuro, a small town near Lake Furen.

Here you will have the chance to spend the afternoon spotting wading birds and sea eagles before retiring to your accommodation – another specialist birdwatchers' lodgings and the perfect place to pick up some of the latest news of sightings and some local tips. A Japanese-style dinner will be included as part of your stay this evening.

Overnight: Nature Inn Furen

Day 9

Spend your final night in Hokkaido exploring the city museum and harbour area in the small city of Kushiro

Today will be your last day in Hokkaido before your return to Tokyo. Your day will begin with the 111 km drive west to Kushiro, a journey that offers some absolutely stunning views of the Hokkaido countryside.

You can spend your last night exploring this small city, checking out the Fisherman's Wharf area and having dinner at one of the many restaurants on the harbour side. The city museum, meanwhile, is a great place to find out about the area's natural history.

Overnight: Crown Hills Kushiro

Day 10-11

Fly back to Tokyo for one final night in the metropolis – the perfect counterpoint to the deserted wastes of Hokkaido

After driving to Kushiro airport and dropping off your car, you will return to Tokyo by plane for a final night in Shinjuku, the entertainment and business hub of Japan's exciting capital city.

This bustling area will be a striking contrast to the emptiness of Hokkaido, and provides lots of last-minute shopping and superb food options to round off a fantastic trip.

Sadly your bird-watching adventures in Japan must come to an end, and on your final morning you will use the vouchers provided in your Info-Pack to travel back to Tokyo's Narita Airport by limousine bus. Have a safe journey home.

Overnight: Sunroute Plaza Shinjuku
Close all days
Other trips you may like
Tokyo
Kanazawa
Shirakawago
Takayama
Matsumoto
Tsumago
Kyoto
Tokyo

A budget 14-night adventure taking you into the heart of old Japan, with traditional accommodation and visits to the historic cities of Tokyo & Kyoto.

14 nights: from US$2743 pp (twin share) Read more >

Tokyo
Kanazawa
Shirakawago
Takayama
Matsumoto
Tsumago
Kyoto
Tokyo

A classic 14-night adventure introducing the traditional side of Japan, from Japanese-style inns to time-honoured cuisine and ancient temples.

14 nights: from US$3120 pp (twin share) Read more >

Tokyo
Akajima
Ishigaki
Yonaguni
Tokyo

Enjoy a stay in Tokyo before jetting south to enjoy some of the very best dives that the subtropical Okinawan islands have to offer.

13 nights: from US$4433 pp (twin share) Read more >