Self-Guided Adventure
Tohoku (Group Tour Add-On)
5 Nights: from US$897 per person (twin share)
Trip Code: AOTC
There's still so much left to see. Spend a few nights in historical Nikko, final resting place of Japan's most famous shogun, followed by a trip further north to explore the intriguing city of Sendai and the nearby highlights of Matsushima Bay or the Yamadera temple complex. Read more >
Your Small Group Tour Hands On Japan is coming to a close, so what better way to finish your time in Japan than with an extension in Tohoku?

In this add-on module you will travel independently from Tokyo to Nikko for two nights, then further north to Sendai, the largest city in the Tohoku region, for an additional two nights before returning to Tokyo. Nikko is famous for the intricately decorated Tosho-gu Shrine, a UNESCO World Heritage Site and the mausoleum of Tokugawa Ieyasu, the first shogun of the Tokugawa Shogunate which ruled from 1603-1868. We want you to get the most out of your visit here, so we've arranged for you to have the services of a local professional guide for a fascinating private half day tour.

History isn't all that Nikko has to offer; the sprawling Nikko National Park has sunlit forests and impressive waterfalls and mountains, and you could easily spend several days here exploring off the beaten track.

You will then spend two nights in the northern city of Sendai, home to around 1 million people. Sendai is perhaps most known these days for being the closest city to the epicentre of the devastating earthquake in 2011. At InsideJapan we are keen to help contribute to revitalising the economy of the Tohoku area by encouraging visitors to travel there and learn more about this often overlooked, charming corner of the country.

On your second day you can either continue to explore Sendai or you can venture further afield to the pine-clad islands of Matsushima, or west to the temple complex of Yamadera perched high on a cliff top.

At the end of this extension you will return for a last day and night in Tokyo before heading home. On your final morning you'll take the Narita Express train out to Narita Airport, but if you would rather fly from Haneda Airport just let us know and we can alter plans accordingly.
Notes
This extension package is designed to be bolted on to one of our Small Group Tours. It works best when combined with Hands On Japan. Please note that the extension is Self-Guided. This means you will not be travelling in a group or with a tour leader, but full instructions including details of your journeys and directions to your accommodation will be included in your complimentary InsideJapan Tours' Info-Pack.
What's included
Five nights' accommodation

Breakfast every day

All transport between destinations

Airport transfer to Narita Airport at the end of your trip

Half day private guide service in Nikko

Your personalised InsideJapan Info-Pack
What's NOT included:
International flights

Local transport (buses, subways, taxis) at any destinations

Any entrance fees including those for shrines, temples and museums

Baggage handling - you will be expected to carry your own bags for the duration of the trip
Trip Highlights
Spend half a day with a local professional guide to learn about the history of Nikko

Speed north on the bullet train to Sendai

Venture on a day trip to Matsushima Bay or the cliff-top Yamadera temple complex
Visit the spectacular waterfalls and lakes of Nikko National Park

Soak up the friendly, cosmopolitan atmosphere of Sendai, Tohoku's largest city

Have a final night in vibrant Shinjuku
For more information email us: [email protected] or call: + 44 117 244 3380
What, where, when and how...
Tohoku (Group Tour Add-On) - 6 Days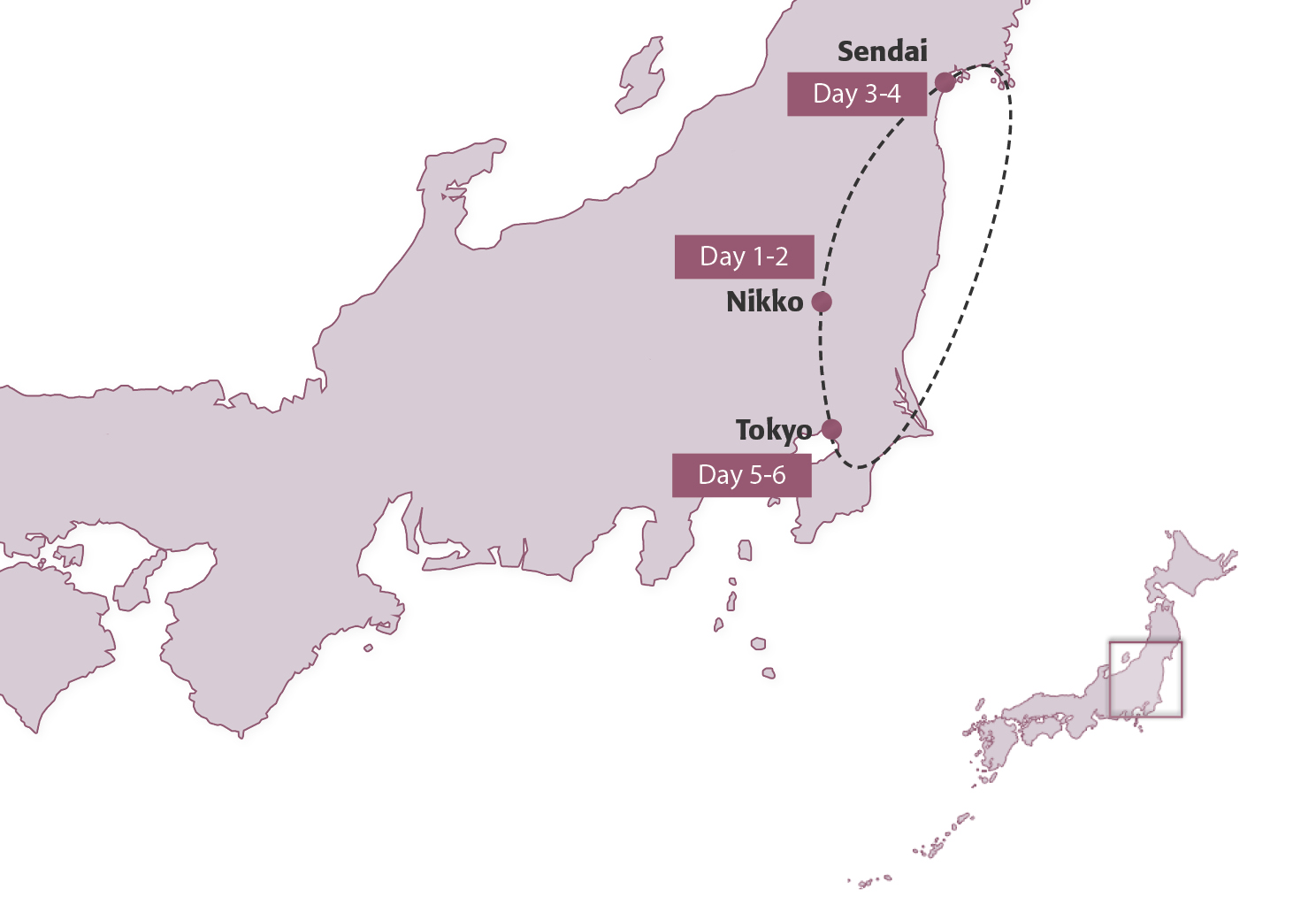 Destinations
Tohoku (Group Tour Add-On) - 6 Days - Day by Day
Tohoku (Group Tour Add-On) - 6 Days - Accommodation

Tohoku (Group Tour Add-On) - 6 Days - Experiences
Day 1-2

Leave the big city behind and head north for two days of historic shrines and peaceful nature in Nikko National Park.

After saying goodbye to your tour leader and group in Tokyo, you will make your way by train north to Nikko. We'll extend your Japan Rail Passes to cover the additional trains and will provide full instructions for each self-guided journey. From the window of the train you can watch as the city falls away and is replaced by the sight of rice fields and forests as you head deeper into Tochigi Prefecture on your two hour ride.
Your hotel is located right next to the station, making it a very convenient base for your two days there. Upon arrival at Nikko Station you will be met by your local guide who is eager to share their wealth of knowledge about the Nikko area with you during your half day tour. You will certainly visit Tosho-gu Shrine which is one of the most lavishly decorated shrines in Japan, so be sure to take your time to look closely at the myriad intricate embellishments on the dozen buildings of the shrine complex.
On the following day you will have a day at leisure to explore further afield in Nikko National Park. Kegon Falls is particularly impressive, and nearby Lake Chuzenji, the highest lake in Japan, makes for a pleasant walk and has some lovely lakeview restaurants offering local specialities. If one last hot spring experience sounds enticing, you can while away a leisurely afternoon in the hot spring town of Yumoto Onsen where the hot water bubbles up from Yunodaira marsh.

Overnight: Nikko Station Classic

Day 3-4

Fall in love with the northern charm of Sendai then take a day trip to the pine-covered islands of Matsushima or the scenic mountain temple of Yamadera.

The journey from Nikko to Sendai is an easy two hour ride with one change at Utsunomiya where you'll hop aboard the bullet train to speed further north. Sendai has an intriguing mix of modern culture in the form of Sendai Mediatheque, a complex housing art exhibits, and historical buildings such as Zuihoden Mausoleum where the feudal lord Date Masamune and his family is buried.
We have several suggestions for day trips from Sendai using your included Japan Rail Pass. To the east is the pine-covered islands dotting Matsushima Bay, and it is well-loved owing to its centuries-long status as one of the top three scenic ocean views of Japan, along with Itsukushima Shrine in Hiroshima and Amanohashidate in Kyoto. If you'd prefer to head into the hills, we recommend Yamadera, a temple complex just across the border in Yamagata Prefecture. It's famous for its beautiful temple buildings perched on the mountain, and it's where Matsuo Bassho, one of Japan's most famous poets, composed some of his best haiku poetry.

Overnight: Hotel Vista Sendai

Day 5-6

Make your way back to Tokyo where you can indulge in your favourite food or a bit of shopping surrounded by the bright lights of Shinjuku.

The bullet train ride from Sendai back to Tokyo will take just over two hours, and after arrival you will have the rest of the day to spend as you please in this vibrant city. Your hotel is located in the lively Shinjuku district where you will have easy access to the huge number of eateries and bars, like Golden Gai and its veritable maze of dinky watering holes, or you can roam further afield to nearby Shibuya or other areas of the city.
On the following morning you'll use your Japan Rail Passes one last time on the Narita Express out to Narita Airport, or if it's more convenient to fly from Haneda Airport we can adjust arrangements to suit your needs.

Overnight: Sunroute Plaza Shinjuku
View all days
Day 1-2

Leave the big city behind and head north for two days of historic shrines and peaceful nature in Nikko National Park.

After saying goodbye to your tour leader and group in Tokyo, you will make your way by train north to Nikko. We'll extend your Japan Rail Passes to cover the additional trains and will provide full instructions for each self-guided journey. From the window of the train you can watch as the city falls away and is replaced by the sight of rice fields and forests as you head deeper into Tochigi Prefecture on your two hour ride.
Your hotel is located right next to the station, making it a very convenient base for your two days there. Upon arrival at Nikko Station you will be met by your local guide who is eager to share their wealth of knowledge about the Nikko area with you during your half day tour. You will certainly visit Tosho-gu Shrine which is one of the most lavishly decorated shrines in Japan, so be sure to take your time to look closely at the myriad intricate embellishments on the dozen buildings of the shrine complex.
On the following day you will have a day at leisure to explore further afield in Nikko National Park. Kegon Falls is particularly impressive, and nearby Lake Chuzenji, the highest lake in Japan, makes for a pleasant walk and has some lovely lakeview restaurants offering local specialities. If one last hot spring experience sounds enticing, you can while away a leisurely afternoon in the hot spring town of Yumoto Onsen where the hot water bubbles up from Yunodaira marsh.

Overnight: Nikko Station Classic

Day 3-4

Fall in love with the northern charm of Sendai then take a day trip to the pine-covered islands of Matsushima or the scenic mountain temple of Yamadera.

The journey from Nikko to Sendai is an easy two hour ride with one change at Utsunomiya where you'll hop aboard the bullet train to speed further north. Sendai has an intriguing mix of modern culture in the form of Sendai Mediatheque, a complex housing art exhibits, and historical buildings such as Zuihoden Mausoleum where the feudal lord Date Masamune and his family is buried.
We have several suggestions for day trips from Sendai using your included Japan Rail Pass. To the east is the pine-covered islands dotting Matsushima Bay, and it is well-loved owing to its centuries-long status as one of the top three scenic ocean views of Japan, along with Itsukushima Shrine in Hiroshima and Amanohashidate in Kyoto. If you'd prefer to head into the hills, we recommend Yamadera, a temple complex just across the border in Yamagata Prefecture. It's famous for its beautiful temple buildings perched on the mountain, and it's where Matsuo Bassho, one of Japan's most famous poets, composed some of his best haiku poetry.

Overnight: Hotel Vista Sendai

Day 5-6

Make your way back to Tokyo where you can indulge in your favourite food or a bit of shopping surrounded by the bright lights of Shinjuku.

The bullet train ride from Sendai back to Tokyo will take just over two hours, and after arrival you will have the rest of the day to spend as you please in this vibrant city. Your hotel is located in the lively Shinjuku district where you will have easy access to the huge number of eateries and bars, like Golden Gai and its veritable maze of dinky watering holes, or you can roam further afield to nearby Shibuya or other areas of the city.
On the following morning you'll use your Japan Rail Passes one last time on the Narita Express out to Narita Airport, or if it's more convenient to fly from Haneda Airport we can adjust arrangements to suit your needs.

Overnight: Sunroute Plaza Shinjuku
Close all days
Other trips you may like
Tokyo
Kawaguchiko
Matsumoto
Obuse
Kanazawa
Kyoto
Tsumago
Tokyo

Journey across Honshu Island to visit the towns and landscapes depicted in the ukiyo-e woodblock prints of Hokusai and Hiroshige.

15 nights: from US$6448 pp (twin share) Read more >

Iiyama
Togarinozawa Onsen

Lace up your hiking boots for a three-day hike along the Sekida Mountain's Shin-Etsu Trail.

3 nights: from US$1040 pp (twin share) Read more >

Takahara
Nonaka
Yunomine Onsen
Koguchi
Kii-Katsuura

A challenging five-night walking module introducing the ancient trails of the Kumano Kodo pilgrimage network.

5 nights: from US$1781 pp (twin share) Read more >