Self-Guided Adventure
Mountains & Monkeys (Group Tour Add-On)
4 Nights: from US$949 per person (twin share)
Trip Code: AOMMC
Trade cities for nature with this four night extension in Nagano Prefecture, home to some of the best scenery in Japan. Visit the castle city of Matsumoto, learn more about the origins of Japanese Buddhism at Zenko-ji Temple in Nagano, and meet the snow monkeys in the forests of Yudanaka. Read more >
You've delved deep into both the popular and traditional culture of Japan during your Small Group Tour, J-Pop & Go, so why don't you explore a different side to the country with this Self-Guided extension?

By now you're adept at using the fantastic public transport, so in this add-on you will travel independently from Tokyo to Matsumoto and Nagano for three nights, before heading back to the capital for a final night. Nagano is the fourth biggest prefecture in Japan and it's home to the majestic Japanese Alps, fantastic hot springs, and lots of great food such as Shinshu beef and oyaki buckwheat dumplings filled with savoury vegetables, sweet pumpkin, or tasty anko beans.

In keeping with the "Self-Guided" name, we will equip you with the information to go out and explore the sights on your own, such as Yudanaka where the snow monkeys while away their time in the sulphurous hot spring baths in the mountains. But we also don't want to leave you completely on your own, so we've included a tasty soba making class in Matsumoto near the "Black Crow Castle" where you can learn about, make, and eat your own soba noodles.

After spending some time in the mountains, we've booked you a last night in Shinjuku in Tokyo so you can fill up on some delicious food and drink in the welcoming, wonderfully ramshackle bars of Golden Gai, or treat yourself to a last spot of shopping. Need some more ideas? Have a look through your complimentary Info-Pack to get some of our best Insider recommendations.

On your final morning, you'll take the Narita Express train out to Narita Airport in plenty of time for your flight. If you'd prefer to fly from Haneda Airport instead, don't hesitate to get in touch with us and we can alter arrangements to suit your plans.
Notes
This extension package is designed to be bolted on to one of our Small Group Tours. It works best when combined with J-Pop & Go. Please note that the extension is Self-Guided. This means you will not be travelling in a group or with a tour leader, but full instructions including details of your journeys and directions to your accommodation will be included in your complimentary InsideJapan Tours' Info-Pack.
What's included
Four nights' accommodation

Breakfast every day

All transport between destinations

Soba making class in Matsumoto

Airport transfer to Narita Airport at the end of your trip

Your personalised InsideJapan Info-Pack
What's NOT included:
International flights

Local transport (buses, subways, taxis) at any destinations

Any entrance fees including those for shrines, temples and museums

Baggage handling - you will be expected to carry your own bags for the duration of the trip
Trip Highlights
Visit the famous "Black Crow Castle" of Matsumoto

Meet the famous snow monkeys at the hot spring pools in Yudanaka

Journey into the majestic mountains of Nagano Prefecture
Learn how to make (and eat!) soba in a traditional noddle shop

Pay your respects at Zenko-ji Temple in Nagano which has 1200 years of history

Take in the bright lights of Shinjuku one last time
For more information email us: [email protected] or call: + 44 117 244 3380
What, where, when and how...
Mountains & Monkeys (Group Tour Add-On) - 5 Days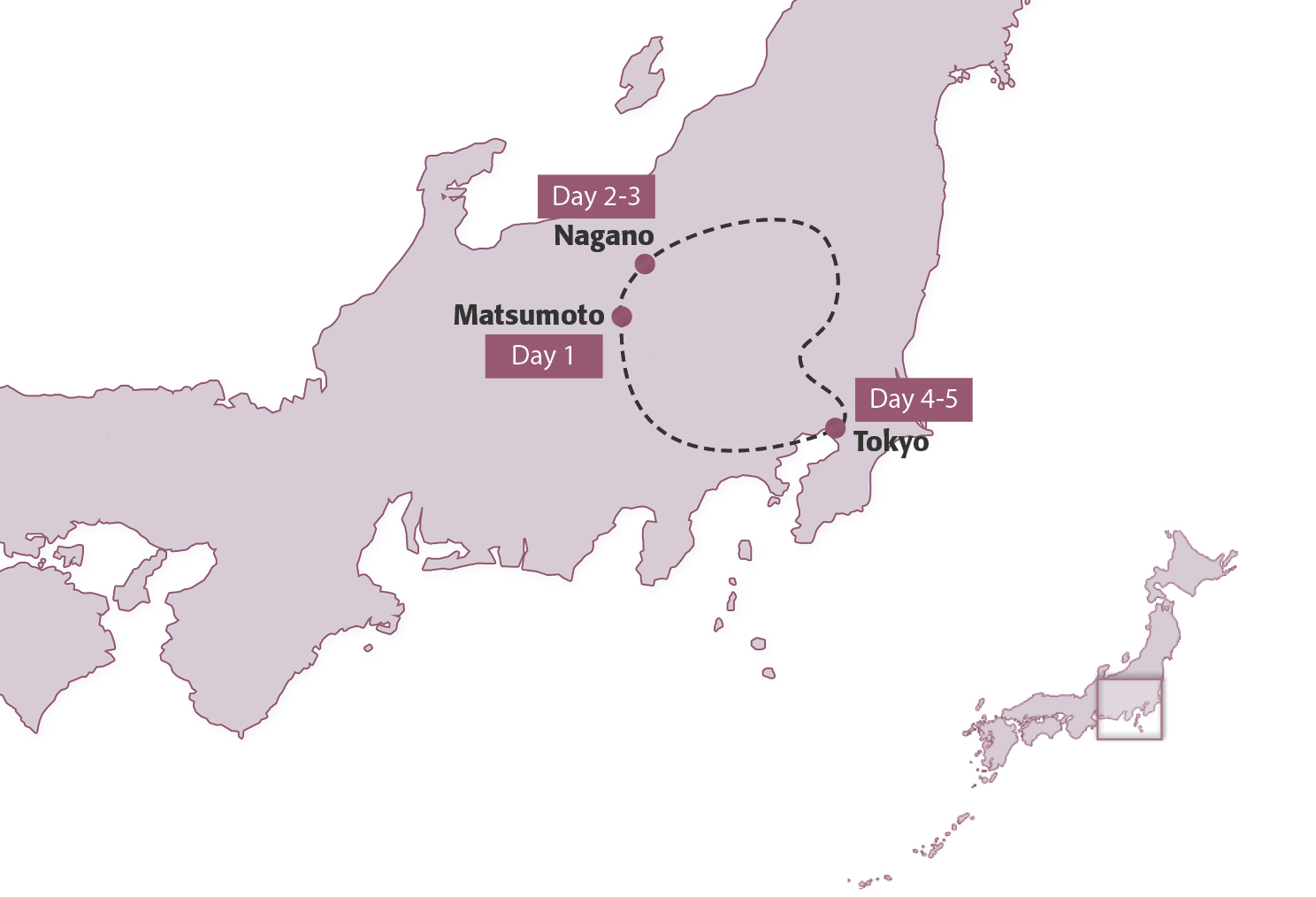 Destinations
Mountains & Monkeys (Group Tour Add-On) - 5 Days - Day by Day
Mountains & Monkeys (Group Tour Add-On) - 5 Days - Accommodation

Mountains & Monkeys (Group Tour Add-On) - 5 Days - Experiences
Day 1

Jump on the train and head north for three days of mountains, monkeys, and heaps of local food, starting in Matsumoto with its mysterious black castle.

Today you'll say your final goodbyes to your tour leader and group in Tokyo and head to Shinjuku Station to take the direct express train north to Matsumoto. (We'll extend your Japan Rail Pass so it covers all the train journeys in this add-on package.) If the weather is on your side, you'll be able to see Mount Fuji along the way, as well as the peaks of the Japanese Alps as you draw closer to your destination. Matsumoto is the second largest city in Nagano Prefecture and is most famous for its unique black castle which is one of the most complete original castles in Japan.
You'll have the afternoon to explore the old Nakamachi District or if you fancy some culture you can take a 10 minute taxi ride out to the woodblock print museum. Matsumoto has some great little bars if you want to try local beers or Japanese whisky which has been enjoying a lot of popularity recently.
On the following morning we've arranged a soba making class for you where you'll learn how to make the tasty noodles from scratch. Once your class is over, you can return to the station and continue your Self-Guided Adventure north.

Overnight: Richmond Matsumoto

Day 2-3

Journey further north to Nagano City and learn about the origins of Buddhism in Japan, then venture east into the mountains to meet the famous snow monkeys of Yudanaka.

The journey north to Nagano takes about 55 minutes, and the views of the mountains out the left side of the train is really spectacular. When you arrive free you're to explore Nagano as you please – if you want some hints of what to do, have a look at your Info-Pack for ideas. Zenkoji Temple, one of the most important temples in Japan, is well worth a visit. On your second day in Nagano we've prepared information for you to head out on a daytrip to see the monkeys in Jigokudani Monkey Park in Yudanaka, to the northeast. The walk through the forest to the tiny hot spring village where the monkeys live is quiet and picturesque, and the route is flat and well-maintained. You might even be escorted along the way by one or two adventurous monkeys! The monkeys roam free throughout the village but most of them spend the day around or in the hot spring pools at the top of the valley, wallowing in the steaming water or chasing each other over the rocks. You're not allowed to enter the baths with the monkeys, but there are other "humans-only" hot spring facilities in the village if you want to have a soak.
Please note that there's only snow on the ground during the winter months (usually December to March), but the monkeys do play around the pools all year round.

Overnight: Metropolitan Hotel

Day 4-5

You've seen the mountains and monkeys, so now it's time to return to Tokyo to spend your final night in the bright lights of Shinjuku.

It's time to return to Tokyo on the bullet train from Nagano. It's a quick train ride, only 1 hour 40 minutes, so you'll have a good amount of time to do any last shopping or eating in Tokyo before your flight home the following day. Is there a particular restaurant you'd love to eat at, or one last cultural experience you're eager to do? Let us know and we'll do our best to arrange something for you.
On your final morning you can use your Japan Rail Pass one last time to take the Narita Express train out to Narita Airport. If you'd prefer to fly out of Haneda Airport instead, please let us know and we can provide alternative arrangements for you.

Overnight: Sunroute Plaza Shinjuku
View all days
Day 1

Jump on the train and head north for three days of mountains, monkeys, and heaps of local food, starting in Matsumoto with its mysterious black castle.

Today you'll say your final goodbyes to your tour leader and group in Tokyo and head to Shinjuku Station to take the direct express train north to Matsumoto. (We'll extend your Japan Rail Pass so it covers all the train journeys in this add-on package.) If the weather is on your side, you'll be able to see Mount Fuji along the way, as well as the peaks of the Japanese Alps as you draw closer to your destination. Matsumoto is the second largest city in Nagano Prefecture and is most famous for its unique black castle which is one of the most complete original castles in Japan.
You'll have the afternoon to explore the old Nakamachi District or if you fancy some culture you can take a 10 minute taxi ride out to the woodblock print museum. Matsumoto has some great little bars if you want to try local beers or Japanese whisky which has been enjoying a lot of popularity recently.
On the following morning we've arranged a soba making class for you where you'll learn how to make the tasty noodles from scratch. Once your class is over, you can return to the station and continue your Self-Guided Adventure north.

Overnight: Richmond Matsumoto

Day 2-3

Journey further north to Nagano City and learn about the origins of Buddhism in Japan, then venture east into the mountains to meet the famous snow monkeys of Yudanaka.

The journey north to Nagano takes about 55 minutes, and the views of the mountains out the left side of the train is really spectacular. When you arrive free you're to explore Nagano as you please – if you want some hints of what to do, have a look at your Info-Pack for ideas. Zenkoji Temple, one of the most important temples in Japan, is well worth a visit. On your second day in Nagano we've prepared information for you to head out on a daytrip to see the monkeys in Jigokudani Monkey Park in Yudanaka, to the northeast. The walk through the forest to the tiny hot spring village where the monkeys live is quiet and picturesque, and the route is flat and well-maintained. You might even be escorted along the way by one or two adventurous monkeys! The monkeys roam free throughout the village but most of them spend the day around or in the hot spring pools at the top of the valley, wallowing in the steaming water or chasing each other over the rocks. You're not allowed to enter the baths with the monkeys, but there are other "humans-only" hot spring facilities in the village if you want to have a soak.
Please note that there's only snow on the ground during the winter months (usually December to March), but the monkeys do play around the pools all year round.

Overnight: Metropolitan Hotel

Day 4-5

You've seen the mountains and monkeys, so now it's time to return to Tokyo to spend your final night in the bright lights of Shinjuku.

It's time to return to Tokyo on the bullet train from Nagano. It's a quick train ride, only 1 hour 40 minutes, so you'll have a good amount of time to do any last shopping or eating in Tokyo before your flight home the following day. Is there a particular restaurant you'd love to eat at, or one last cultural experience you're eager to do? Let us know and we'll do our best to arrange something for you.
On your final morning you can use your Japan Rail Pass one last time to take the Narita Express train out to Narita Airport. If you'd prefer to fly out of Haneda Airport instead, please let us know and we can provide alternative arrangements for you.

Overnight: Sunroute Plaza Shinjuku
Close all days
Other trips you may like
An amazing week at perhaps Japan's top winter sports resort. Fantastic snow conditions and a vibrant international atmosphere.

8 nights: from US$2366 pp (twin share) Read more >

Iiyama
Togarinozawa Onsen

Lace up your hiking boots for a three-day hike along the Sekida Mountain's Shin-Etsu Trail.

3 nights: from US$1040 pp (twin share) Read more >

Tokyo
Matsumoto
Tsumago
Narai
Kyoto
Yunomine Onsen
Koguchi
Nachi
Osaka

From sacred pilgrimage trails to ancient samurai routes, this itinerary showcases some of the best multi-day hiking routes in Japan.

14 nights: from US$3458 pp (twin share) Read more >