Self-Guided Adventure
Kumano Kodo (Group Tour Add-On)
5 Nights: from US$962 per person (twin share)
Trip Code: AOKKE
Just because our Walking the Nakasendo Small Group Tour is finished, it doesn't mean you have to leave too! How about extending your stay with a Self-Guided trip to the Kumano Kodo in the Kii Peninsula, as well as a few extra nights' stay in Osaka? Read more >
It's the end of your Small Group Tour, but you don't have to go home just yet. You've hiked the Shin-Etsu Trail, walked the Nakasendo Way, and traced the trails of the Yamanobe-no-Michi, so how about venturing to the Kii Peninsula to walk along one of Japan's most sacred trails, the Kumano Kodo pilgrimage route?
This extension module fits perfectly after the Walking the Nakasendo & Beyond Small Group Tour. After bidding farewell to your group and tour leader, we'll provide you with reserved seat tickets for you to use on the bullet train down to Osaka where you will spend one night before heading south to start the hiking trail.
The Kumano Kodo is a network of ancient pilgrimage routes crossing the Kii Peninsula, and it's been designated a UNESCO World Heritage Site. It's twinned with the Camino de Santiago pilgrim ways in the northwest of Spain and if you complete both routes you can become a "Dual Pilgrim". You will follow certain scenic portions of the route and you'll stay at traditional ryokan with relaxing hot spring baths along the way. Highlights of the route include Nachi Falls, the tallest waterfall in Japan, and scenic temples.
At the end of your trip we've added a final night back in the bright lights of Osaka. You can do a final spot of shopping for some great souvenirs, head to Dotonbori Street with its plethora of street food stalls and restaurants serving up Osaka's best food, or have a relaxing evening in your hotel with its hot spring baths - take your pick!

What's included
Five nights' accommodation, three evening meals and two lunches

Breakfast every day

All transport between destinations

Orientation for hiking Kumano Kodo

Airport transfer at the end of your trip

Luggage transfer for some portions of the hiking route

Your personalised InsideJapan Info-Pack
What's NOT included:
International flights

Local transport (buses, subways, taxis) at any destination unless otherwise specified

Any entrance fees including those for shrines, temples and museums

Some baggage handling - you will be expected to carry your own bags to the start and end of the hiking route
Trip Highlights
Hike the ancient Kumano Kodo pilgrimage route

Visit the spectacular Nachi Shrine and waterfall

Spend an extra two nights in Osaka, Japan's foodie capital
Soak in the soothing hot spring waters of Yunomine Onsen

Stay in traditional ryokan inns
For more information email us: [email protected] or call: + 44 117 244 3380
What, where, when and how...
Kumano Kodo (Group Tour Add-On) - 6 Days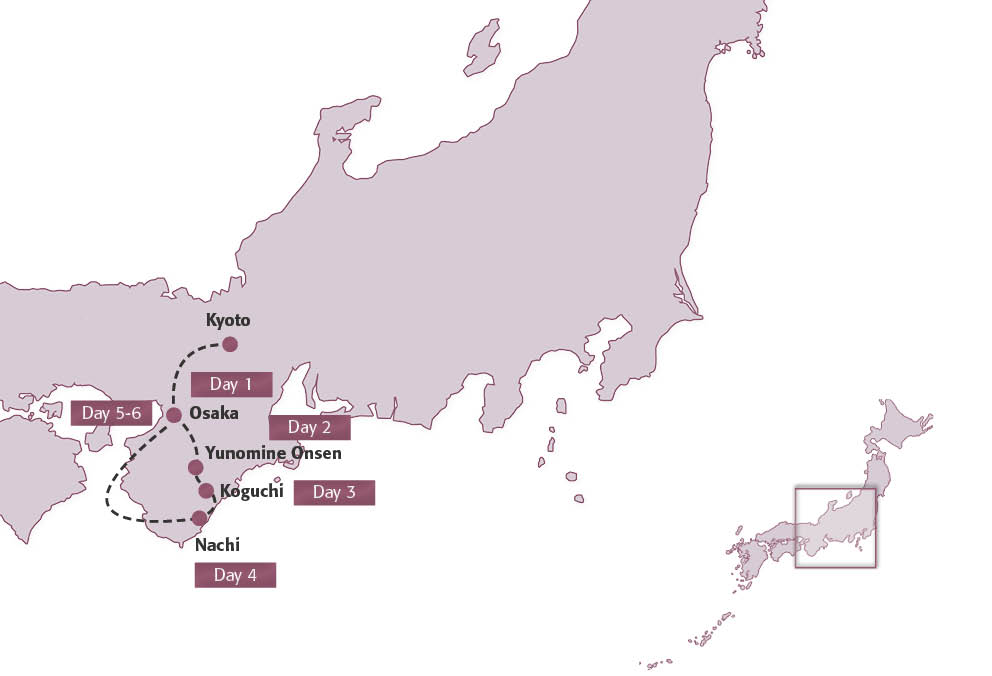 Destinations
Kumano Kodo (Group Tour Add-On) - 6 Days - Day by Day
Kumano Kodo (Group Tour Add-On) - 6 Days - Accommodation
Kumano Kodo (Group Tour Add-On) - 6 Days - Experiences
Day 1

Venture west to vibrant Osaka and explore its famous food scene.

On the first day of your Self-Guided journey you'll jump on the train and head west to Osaka, home to some of Japan's best food.
The hotel we've chosen for you is ideally located close to Osaka Station but also only a short subway journey from Nanba and he famous Dotonbori Street and Osaka's most delicious street food. This new hotel is modern and comfortable, and has hot spring baths for you to relax in before you start your hiking trip the following day.

Overnight: Hotel Intergate Osaka Umeda

Day 2

Set off in the footsteps of pilgrims as you begin your journey along the Kumano Kodo route, and experience rustic Japanese hospitality in a lovely ryokan inn.

Today is the start of your journey along the ancient Kumano Kodo pilgrimage route. After making your way from Osaka to Kii-Tanabe on a Limited Express train, you'll start the day with an 30 minute orientation about the hiking trails with a knowledgeable English speaking guide to make sure you're confident about the route ahead. The member of staff will provide you with plenty of maps and bus timetables to ensure that you're all prepared for your Self-Guided Adventure. Before setting off on the next leg of your journey, don't forget to have a spot of lunch in Kii-Tanabe before you go – the area is famous for seafood so you'll be sure to have a delicious meal.
After lunch you will take a bus for around 1.5 hours from Kii-Tanabe to Yunomine Onsen (all of the details will be provided in your Info-Pack) where you can drop off your luggage at your ryokan. Free of suitcases, you can then enjoy the 1.5 hour hike from Yunomine Onsen along the Dainichi-goe route and over Mount Dainichi, passing pretty shrines along the way. At the top is the sacred Kumano Hongo Taisha main shrine, which is one of the three grand shrines of Kumano. After the hike you can take a quick 10 minute bus back to Yunomine Onsen in plenty of time for dinner at your ryokan.
Yunomine Onsen has almost 2000 years of history, and you'll be staying at a lovely traditional inn with wonderful hot spring baths for you to relax in.

Overnight: Adumaya Ryokan

Day 3

Hike through peaceful forests and walk along ridges on the Kogumotori-goe trail of the Kumano Kodo route.

Your accommodation will send you off with a Japanese-style lunchbox for you to enjoy on the hike today. Before leaving you will send your luggage ahead to your next accommodation in Koguchi, so make sure you have everything you will need for the day with you. A short bus ride will take you to Ukegawa, and from there you will start the leisurely 5.5 hour hike south on the Kogumotori-goe section of the route. The majority of the hike is through the leafy forests, but along the way we recommend taking a breather at Hyakken-gura lookout for spectacular views out over the Kumano Mountains.
After a day of walking you'll be ready for a quiet evening at your accommodation tonight where your luggage will be waiting for you. Rest up and get ready for an active day of hiking tomorrow.

Overnight: Shizen-no-Ie

Day 4

The longest day lies ahead of you with an 8 hour walk along the Ogumotori-goe trail, passing moss-covered Boddhisatva statues, and witness the vast expanse of the Pacific Ocean from Funami-Toge Pass. You will be rewarded with the incredible Nachi Falls at the end of the hike.

After sending your luggage onwards to your next destination, you will set off on your final day of hiking along the Ogumotori-goe trail, which is 14.5km and takes around 7-8 hours to complete. Between Echizen-toge Pass and Funami-toge Pass keep a look out for the 33 stone Boddhisatva statues in small shrines, many of which are covered in green moss. At the top of the mountain on the Funami-toge Pass you'll be rewarded with stunning views of the Pacific Ocean.
Today's hiking ends at Nachi where you can visit Seiganto-ji Temple and see the iconic Pagoda in front of Nachi Falls, the highest waterfall in Japan. Mitaki Sanso, where you will stay for your final night on the Kumano Kodo trail, is the only accommodation on Mount Nachi. With views of Nachi Falls and the elegant Nachi Taisha Shrine, you couldn't ask for a better location.

Overnight: Mitaki Sanso

Day 5-6

Bid farewell to the ancient forests and sacred trails of the Kumano Kodo pilgrimate route and head back to the hustle and bustle of Osaka for your final unforgettable night in Japan.

It's time to swap sacred trails for city life; today you'll journey back to the buzz of Osaka where you'll spend your last night in Japan back at the same hotel as before. If you're still craving a last savoury okonomiyaki pancake or some freshly made takoyaki octopus balls, go for a stroll along Dotonbori, or browse through the Info-Pack for some extra restaurant recommendations. If you haven't seen it yet, Osaka Castle is worth a visit for a last bit of cultural sightseeing, or you can enjoy a bit of shopping along the covered Shinsaibashi shopping arcade.
On day six we'll provide reserved seat tickets for you on the Nanaki Rapit Osaka train out to Osaka Kansai Airport in plenty of time for your flight home. If you would prefer to fly home from a Tokyo airport, please let us know and we can make additional arrangements for you.

Overnight: Hotel Intergate Osaka Umeda
View all days
Day 1

Venture west to vibrant Osaka and explore its famous food scene.

On the first day of your Self-Guided journey you'll jump on the train and head west to Osaka, home to some of Japan's best food.
The hotel we've chosen for you is ideally located close to Osaka Station but also only a short subway journey from Nanba and he famous Dotonbori Street and Osaka's most delicious street food. This new hotel is modern and comfortable, and has hot spring baths for you to relax in before you start your hiking trip the following day.

Overnight: Hotel Intergate Osaka Umeda

Day 2

Set off in the footsteps of pilgrims as you begin your journey along the Kumano Kodo route, and experience rustic Japanese hospitality in a lovely ryokan inn.

Today is the start of your journey along the ancient Kumano Kodo pilgrimage route. After making your way from Osaka to Kii-Tanabe on a Limited Express train, you'll start the day with an 30 minute orientation about the hiking trails with a knowledgeable English speaking guide to make sure you're confident about the route ahead. The member of staff will provide you with plenty of maps and bus timetables to ensure that you're all prepared for your Self-Guided Adventure. Before setting off on the next leg of your journey, don't forget to have a spot of lunch in Kii-Tanabe before you go – the area is famous for seafood so you'll be sure to have a delicious meal.
After lunch you will take a bus for around 1.5 hours from Kii-Tanabe to Yunomine Onsen (all of the details will be provided in your Info-Pack) where you can drop off your luggage at your ryokan. Free of suitcases, you can then enjoy the 1.5 hour hike from Yunomine Onsen along the Dainichi-goe route and over Mount Dainichi, passing pretty shrines along the way. At the top is the sacred Kumano Hongo Taisha main shrine, which is one of the three grand shrines of Kumano. After the hike you can take a quick 10 minute bus back to Yunomine Onsen in plenty of time for dinner at your ryokan.
Yunomine Onsen has almost 2000 years of history, and you'll be staying at a lovely traditional inn with wonderful hot spring baths for you to relax in.

Overnight: Adumaya Ryokan

Day 3

Hike through peaceful forests and walk along ridges on the Kogumotori-goe trail of the Kumano Kodo route.

Your accommodation will send you off with a Japanese-style lunchbox for you to enjoy on the hike today. Before leaving you will send your luggage ahead to your next accommodation in Koguchi, so make sure you have everything you will need for the day with you. A short bus ride will take you to Ukegawa, and from there you will start the leisurely 5.5 hour hike south on the Kogumotori-goe section of the route. The majority of the hike is through the leafy forests, but along the way we recommend taking a breather at Hyakken-gura lookout for spectacular views out over the Kumano Mountains.
After a day of walking you'll be ready for a quiet evening at your accommodation tonight where your luggage will be waiting for you. Rest up and get ready for an active day of hiking tomorrow.

Overnight: Shizen-no-Ie

Day 4

The longest day lies ahead of you with an 8 hour walk along the Ogumotori-goe trail, passing moss-covered Boddhisatva statues, and witness the vast expanse of the Pacific Ocean from Funami-Toge Pass. You will be rewarded with the incredible Nachi Falls at the end of the hike.

After sending your luggage onwards to your next destination, you will set off on your final day of hiking along the Ogumotori-goe trail, which is 14.5km and takes around 7-8 hours to complete. Between Echizen-toge Pass and Funami-toge Pass keep a look out for the 33 stone Boddhisatva statues in small shrines, many of which are covered in green moss. At the top of the mountain on the Funami-toge Pass you'll be rewarded with stunning views of the Pacific Ocean.
Today's hiking ends at Nachi where you can visit Seiganto-ji Temple and see the iconic Pagoda in front of Nachi Falls, the highest waterfall in Japan. Mitaki Sanso, where you will stay for your final night on the Kumano Kodo trail, is the only accommodation on Mount Nachi. With views of Nachi Falls and the elegant Nachi Taisha Shrine, you couldn't ask for a better location.

Overnight: Mitaki Sanso

Day 5-6

Bid farewell to the ancient forests and sacred trails of the Kumano Kodo pilgrimate route and head back to the hustle and bustle of Osaka for your final unforgettable night in Japan.

It's time to swap sacred trails for city life; today you'll journey back to the buzz of Osaka where you'll spend your last night in Japan back at the same hotel as before. If you're still craving a last savoury okonomiyaki pancake or some freshly made takoyaki octopus balls, go for a stroll along Dotonbori, or browse through the Info-Pack for some extra restaurant recommendations. If you haven't seen it yet, Osaka Castle is worth a visit for a last bit of cultural sightseeing, or you can enjoy a bit of shopping along the covered Shinsaibashi shopping arcade.
On day six we'll provide reserved seat tickets for you on the Nanaki Rapit Osaka train out to Osaka Kansai Airport in plenty of time for your flight home. If you would prefer to fly home from a Tokyo airport, please let us know and we can make additional arrangements for you.

Overnight: Hotel Intergate Osaka Umeda
Close all days
Other trips you may like
Kakunodate
Mount Haguro
Ginzan Onsen
Sendai
Tokyo

Discover the highlights of rural Tohoku in this week-long add-on itinerary - samurai towns, hot spring villages, and sacred mountains.

7 nights: from US$2210 pp (twin share) Read more >

This classic itinerary introduces the best of Japan with a manga and anime twist - from Studio Ghibli to interactive art at teamLab to Kyoto's International Manga Museum.

10 nights: from US$2678 pp (twin share) Read more >

Tokyo
Nikko
Sendai
Nyuto Onsen
Kakunodate
Mount Haguro
Tokyo

Journey through the lush rural landscapes of Tohoku, the region that stretches 500 miles north from Tokyo, on this superior two-week itinerary.

13 nights: from US$5512 pp (twin share) Read more >