Self-Guided Adventure
Ishigaki Beach Extension (Group Tour Add-On)
6 Nights: from US$3055 per person (twin share)
Trip Code: AOIBES
Say farewell to Honshu as you travel from Osaka to the island haven of Ishigaki for four blissful nights and some incredible water sports, then journey back to Tokyo for a last unforgettable night in Japan. Read more >
Your Spirit of Honshu Small Group Tour may be over, but rather than heading straight home, how about extending your stay with a Self-Guided trip? Travel first to Osaka, the foodie capital of Japan, for one night - then onwards to the subtropical island paradise of Ishigaki for a little bit of rest and relaxation, followed by a final night in the buzzing metropolis of Tokyo.

You will probably be adept at getting around Japan by the end of your Small Group Tour, so in this extension you will travel independently from Kyoto down to Osaka and then on to Ishigaki. This time you'll not only travel on Japan's fabulous trains, but also take domestic flights to and from Ishigaki as well as using a rental car to explore the island, which is by far the easiest way of getting around. Please note that it is necessary for you to obtain an International Driving Permit in your home country before travelling to Japan.

Ishigaki is an island in the Yaeyama archipelago in Okinawa, about 1,950km from Tokyo and nearer to Taiwan than Okinawa Island. It is home to pristine white sand beaches, clear waters teeming with marine life from coral reefs in Kabira Bay to manta rays, and jungle-covered mountains. Ishigaki is the perfect place for relaxing after your Small Group Tour, and the variety of marine sports available means that you won't ever get bored. If you would like to arrange scuba-diving or another experience, please let us know and we can book that for you. We also recommend a day trip by boat to neighbouring Iriomote Island to meet the native wildcats and kayak through the lush mangrove forests, or a trip to Taketomi Island which has plenty of white sandy beaches for relaxing.

After four nights in Okinawa you will return to Honshu to spend your final night in Tokyo. We've arranged for you to be in the vibrant Shinjuku area where you will have the pick of delicious restaurants, lively bars, and sprawling department stores to do a last bit of shopping.

On your final morning we will arrange a private car to take your from your hotel to Narita Airport in plenty of time for your flight home.
Notes
This extension package is designed to be bolted on to one of our Small Group Tours. It works best when combined with Spirit of Honshu. Please note that the extension is Self-Guided. This means you will not be travelling in a group or with a tour leader, but full instructions including details of your journeys and directions to your accommodation will be included in your complimentary InsideJapan Tours' Info-Pack.
What's included
Six nights' accommodation

Breakfast every day

Domestic flights to and from Ishigaki

Car rental on Ishigaki

All transport between destinations

Airport transfer to Narita Airport at the end of your trip

Your personalised InsideJapan Info-Pack
What's NOT included:
International flights

Local transport (buses, subways, taxis) at any destinations

Any entrance fees including those for shrines, temples and museums

Baggage handling - you will be expected to carry your own bags for the duration of the trip
Trip Highlights
Tuck in to Osaka's moreish street food amid the lights of Dotonbori Street

Relax in style on the white beaches of Ishigaki

Take a day trip to Iriomote Island and discover its pristine beaches, meandering hiking trails, and native wildcats
Explore Ishigaki Island in your own rental car and marvel at the clear waters of Kabira Bay or the lush mangrove jungles

Try out scuba diving or meet the manta rays on an optional trip

Enjoy a final night in Tokyo's buzzing Shinjuku district
For more information email us: [email protected] or call: + 44 117 244 3380
What, where, when and how...
Ishigaki Beach Extension (Group Tour Add-On) - 7 Days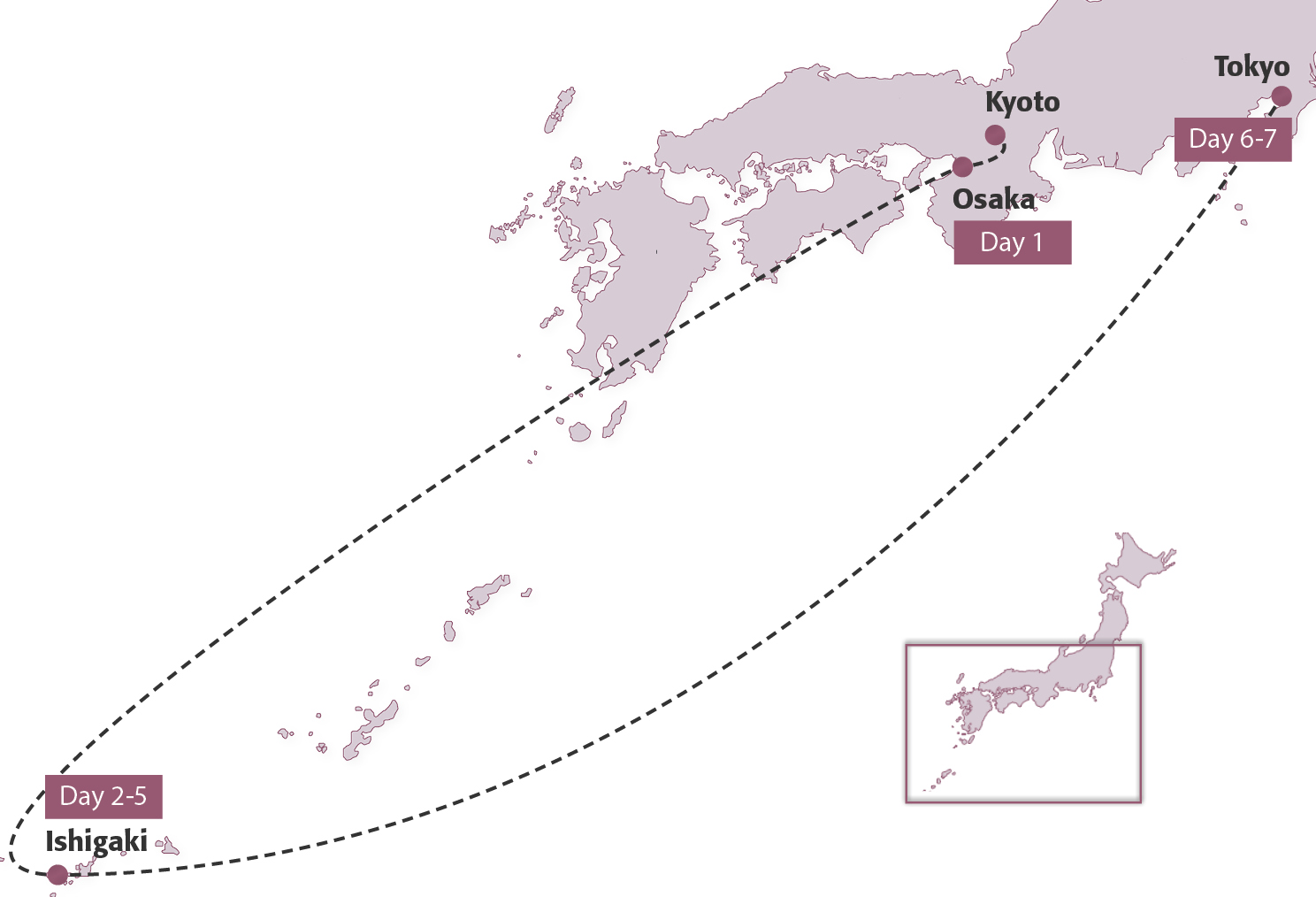 Destinations
Ishigaki Beach Extension (Group Tour Add-On) - 7 Days - Day by Day
Ishigaki Beach Extension (Group Tour Add-On) - 7 Days - Accommodation

Ishigaki Beach Extension (Group Tour Add-On) - 7 Days - Experiences
Day 1

Tuck into delicious street food as you amble down the neon-lit streets of Dotonbori and Nanba, or simply enjoy the views from your skyscraper hotel.

After parting with your tour group and leader in Kyoto, we've arranged a private car to take you the hour journey south to your hotel in Osaka, a city brimming with energy and friendliness and some of the best street food in Japan. In the morning you will take the comfortable limited express train to Kansai International Airport in time for your three hour flight to Ishigaki Island.

Overnight: Royal Park Iconic Osaka Midosuji

Day 2-5

Relax by the pool or take a dip in the ocean, try your hand at thrilling marine sports, or explore the verdant jungles of Ishigaki and Iriomote Island.

Your rental car will be waiting for you on arrival at the new airport, and the drive to your resort hotel takes about 50 minutes. The resort has lots of excellent facilities, such as indoor and outdoor pools, a spa, hot spring baths, and two restaurants serving healthy Okinawan cuisine, meaning you will always have a place to relax during your four night stay. On your doorstep you'll have Fusaki Beach and there are countless other beautiful beaches for watching the sun set or enjoying a bit of privacy, so head out in your car to explore.
For the next three days you will be free to explore Ishigaki and the neighbouring islands of Iriomote and Taketomi as you please. There are so many outdoor activities available to you on the islands, from snorkelling in clear turquoise waters, to swimming with manta rays, to hiking through the jungles or exotic bird-watching near Mount Omoto-dake. As the "Self-Guided" name suggests, we give you the opportunity to discover your own adventure in Ishigaki, but if you'd like for us to arrange any activities on the island, please don't hesitate to ask.

Overnight: Fusaki Resort Village

Day 6-7

Leave the beaches behind and return to Tokyo for your final unforgettable night in Japan.

Your midday flight will get you back to Tokyo mid-afternoon, and from Haneda Airport you can enjoy the luxury of a private car to take you to the Gate Tokyo for your last stay in this incredible city. The non-stop metropolis of Tokyo might be a bit of a shock after the peaceful island life of Ishigaki, but take it in your stride and make the most of the huge array of restaurants and bars in the Yurakucho area for a fantastic meal out.
On the following morning a private car will take your from your hotel to the airport. Have a safe flight home!

Overnight: Gate Hotel Tokyo
View all days
Day 1

Tuck into delicious street food as you amble down the neon-lit streets of Dotonbori and Nanba, or simply enjoy the views from your skyscraper hotel.

After parting with your tour group and leader in Kyoto, we've arranged a private car to take you the hour journey south to your hotel in Osaka, a city brimming with energy and friendliness and some of the best street food in Japan. In the morning you will take the comfortable limited express train to Kansai International Airport in time for your three hour flight to Ishigaki Island.

Overnight: Royal Park Iconic Osaka Midosuji

Day 2-5

Relax by the pool or take a dip in the ocean, try your hand at thrilling marine sports, or explore the verdant jungles of Ishigaki and Iriomote Island.

Your rental car will be waiting for you on arrival at the new airport, and the drive to your resort hotel takes about 50 minutes. The resort has lots of excellent facilities, such as indoor and outdoor pools, a spa, hot spring baths, and two restaurants serving healthy Okinawan cuisine, meaning you will always have a place to relax during your four night stay. On your doorstep you'll have Fusaki Beach and there are countless other beautiful beaches for watching the sun set or enjoying a bit of privacy, so head out in your car to explore.
For the next three days you will be free to explore Ishigaki and the neighbouring islands of Iriomote and Taketomi as you please. There are so many outdoor activities available to you on the islands, from snorkelling in clear turquoise waters, to swimming with manta rays, to hiking through the jungles or exotic bird-watching near Mount Omoto-dake. As the "Self-Guided" name suggests, we give you the opportunity to discover your own adventure in Ishigaki, but if you'd like for us to arrange any activities on the island, please don't hesitate to ask.

Overnight: Fusaki Resort Village

Day 6-7

Leave the beaches behind and return to Tokyo for your final unforgettable night in Japan.

Your midday flight will get you back to Tokyo mid-afternoon, and from Haneda Airport you can enjoy the luxury of a private car to take you to the Gate Tokyo for your last stay in this incredible city. The non-stop metropolis of Tokyo might be a bit of a shock after the peaceful island life of Ishigaki, but take it in your stride and make the most of the huge array of restaurants and bars in the Yurakucho area for a fantastic meal out.
On the following morning a private car will take your from your hotel to the airport. Have a safe flight home!

Overnight: Gate Hotel Tokyo
Close all days
Other trips you may like
Tokyo
Kanazawa
Shirakawago
Takayama
Matsumoto
Tsumago
Kyoto
Tokyo

A classic 14-night adventure introducing the traditional side of Japan, from Japanese-style inns to time-honoured cuisine and ancient temples.

14 nights: from US$4303 pp (twin share) Read more >

From ultra-modern Tokyo to the ancient capital of Kyoto via the hot springs of Hakone, this is a classic first-timer's trip to Japan.

9 nights: from US$2678 pp (twin share) Read more >

Tokyo
Hakone
Kyoto
Taketomi
Tokyo

A luxury honeymoon combining iconic cities, stunning countryside and relaxing subtropical beaches

14 nights: from US$16315 pp (twin share) Read more >