Self-Guided Adventure
Theme Park Family Adventure
12 Nights: from US$11746 (per family)
Trip Code: TP
Japan has a huge range of amazing theme parks and this itinerary ticks off the very best. You'll discover Japan's take on Western classics like Disney and Universal Studios, as well as some more home-grown theme parks - from the hot springs of SpaWorld to the rollercoasters of Fuji-Q Highland. Read more >
This holiday starts and ends in Tokyo, allowing you two full days to visit not one but two Disney resorts. Disneyland offers classic Disney modelled on the US version, whilst Disneysea is the only one of its kind in the world: a resort with all your favourite Disney characters and a marine theme. The rides at Disneysea are also higher, faster and scarier!
Also in Tokyo you'll visit the wonderful Studio Ghibli Museum, a shrine to Hayao Miyazaki's anime films such as Spirited Away and Princess Mononoke, and Sanrio Puroland - home to all things Hello Kitty. A day trip from the capital will also take you to the exhilarating roller-coasters of Fuji-Q Highland, located in the shadow of majestic Mount Fuji.
Kyoto boasts a fantastic day out in the Toei Eiga Mura, a theme park and movie set in one. Here you can explore film sets depicting old Edo Period streets, a traditional courthouse and a geisha "floating world." There are daily samurai stunt shows and you can even dress up as a ninja or geisha.
The third city on this itinerary is Osaka, home to Universal Studios Japan where a new Harry Potter attraction is about to open. Whilst in Osaka we also highly recommend a visit to SpaWorld, where you can spend a day relaxing in hot spring baths. Men and women have separate floors for the onsen areas, but the whole family can come together for the top floor water park complete with whirlpools and water slides.
We wouldn't want you to miss out on classic sightseeing whilst in Japan, so this holiday also includes a day with a private guide in Tokyo and a guided cycle tour of Kyoto. In Kyoto your accommodation will be a beautifully renovated machiya, a traditional townhouse converted into a self-catering family lodging.
Pricing: This trip is priced for a family of four (based on two adults, one teenager and one child aged 6-11)
What's included
12 nights' accommodation

Breakfast every day (excluding during your townhouse stay in Kyoto)

Manaca card with 2,500 yen credit for city transport

Seven-day Japan Rail Pass

Half-day cycling tour in Kyoto

Entrance to Toei Movie Park in Kyoto

Entrance to Osaka SpaWorld

Tickets to Universal Studios

Tickets to Tokyo Disneyland

Tickets to Hello Kitty Sanrio Puroland

Tickets to Fuji-Q Highland rollercoaster park

Tickets to the Studio Ghibli Museum

Eight-hour private guide service in Tokyo

Pocket WiFi device

Your personalised InsideJapan Tours Info-Pack
What's NOT included:
International flights

Any extra local transport (subways, taxis, buses) unless covered by the included passes

Any entrance fees (including those for temples, shrines and museums) unless otherwise specified

Baggage handling & luggage forwarding
Trip Highlights
Meet your favourite Disney characters

Take a day trip to Fuji-Q Highland

Relax in SpaWorld's hot spring baths

Stay in a traditional Kyoto townhouse

Take a cycle tour around Kyoto
Explore the Studio Ghibli Museum

Ride the rollercoasters at Universal Studios Japan

Dress up as a samurai at Toei Eiga Mura

Explore Tokyo with a private guide
For more information email us: [email protected] or call: + 44 117 244 3380
What, where, when and how...
Theme Park Family Adventure - 13 Days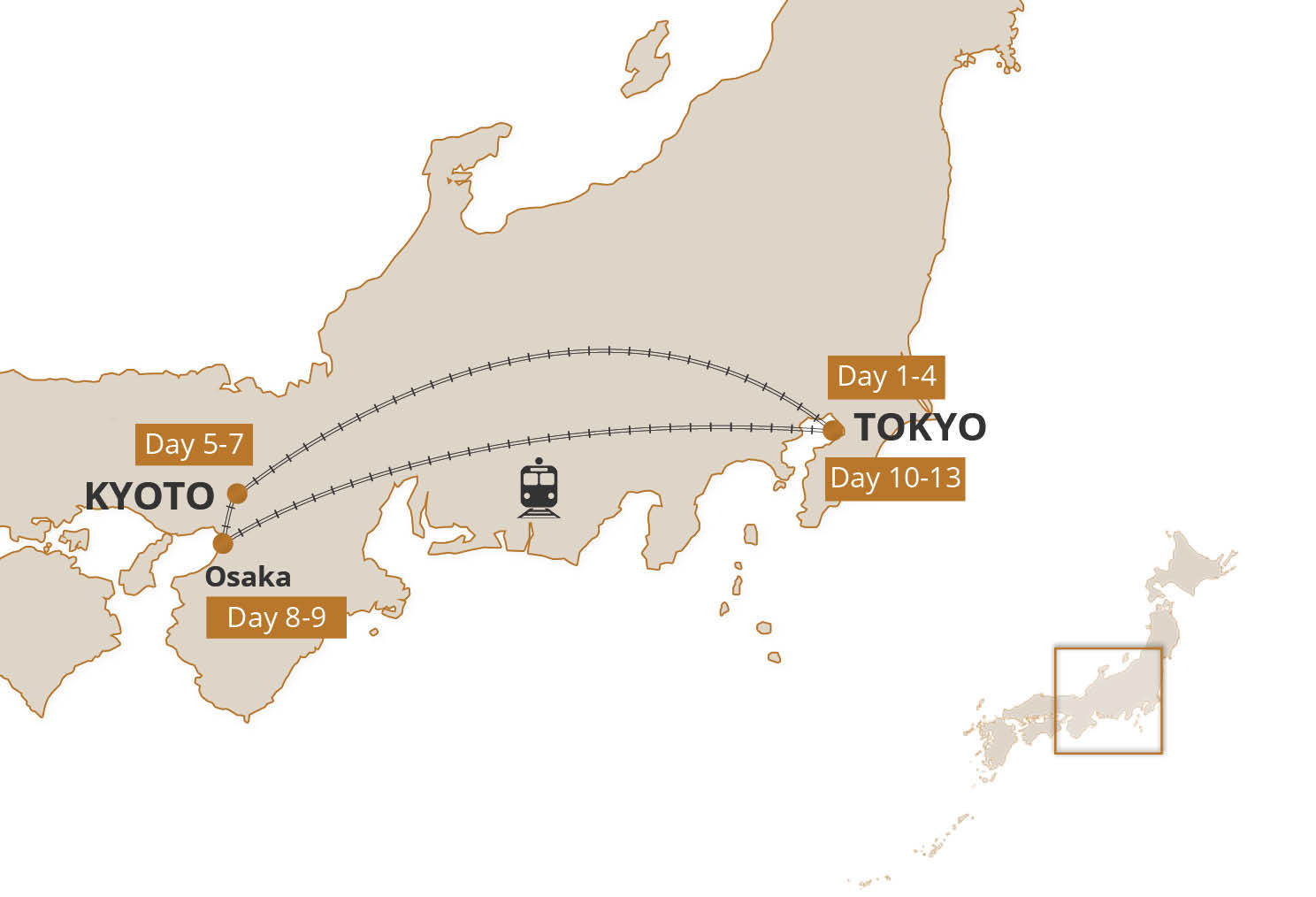 Destinations
Theme Park Family Adventure - 13 Days - Day by Day
Theme Park Family Adventure - 13 Days - Accommodation
Theme Park Family Adventure - 13 Days - Experiences
Day 1-4

Konnichiwa and welcome to Japan! To kick off your theme park tour of Japan you'll be staying in Tokyo's historical Asakusa district, which means there's a lot to see on the hotel doorstep.

For a great introduction to Tokyo, you'll have a private guide at your disposal for eight hours on your first full day in the capital. We can either plan a sightseeing itinerary for you in advance or you can just see what you feel like doing on the day. Either way, your guide will have lots of suggestions - from electronics shopping in Akihabara, to the teenage fashions of Harajuku, to taking in the views from the top of the 634m Skytree.
On day three, a 30-minute subway journey from your hotel will bring you to Disneyland! Have a great time with Mickey, Minnie and all you favourite characters as you try all the rides at this most famous of theme parks.
After enjoying Disneyland, your next day will be spent next-door at Disneysea. Disneysea is the only resort of its kind in the world: Disney with an "under the sea" theme! The park has seven different areas including a Venetian town, Amazonian jungle and American waterfront. There are daily fireworks and boat shows, and the rollercoasters here are more adventurous than at Disneyland, so it's worth visiting this park second!

Overnight: Mimaru Apartment Hotel

Day 5-7

Today you'll travel from Tokyo to Kyoto on the world-famous Shinkansen bullet train, which takes only two-and-a-half hours to cover over 500km.

In Kyoto you'll be staying in a traditional machiya townhouse that has been lovingly restored and converted into a self-catering cottage. Near the machiya is a little supermarket so you can shop for ingredients and feel part of the local neighbourhood.
Although surrounded by mountains on three sides, most of Kyoto City is nice and flat, making a great place to explore by bike. You'll pick up bikes and meet your cycle guide by Kyoto Station today before spending the best part of the day exploring Kyoto's pretty backstreets, taking in some famous temples as well as some lesser-known sights. This tour can be tailored to your interests, so let us know if there's anything you don't want to miss!
Whilst in Kyoto, don't miss Toei Eiga Mura. This is a theme park and movie set in one, where many samurai films and TV dramas are still shot. The park is made up of film sets including old Edo Period streets, a courthouse and a police box, whilst staff dressed in period costumes guide visitors around. Be sure to check out the ninja maze, haunted house and the samurai stunt show!

Overnight: Machiya Residence

Day 8-9

A 20 minute hop on the Shinkansen bullet train and you'll swap Kyoto for the bustling metropolis of Osaka, famous for its down-to-earth attitude and great food.

After all the busy sightseeing you've done so far on this holiday, you deserve some relaxation - and Osaka's SpaWorld is the perfect place. Here you'll find a huge range of hot spring baths, Jacuzzis, saunas, hot tubs and steam rooms on separate men's and women's floors - whilst on the top floor there's a big water park that the whole family can enjoy together.
After a day of splashing about it's time for a visit to Universal Studios Japan, a park full of rollercoasters and movie themes with different zones based on iconic classics including Jurassic Park, ET and Spiderman. And a new Harry Potter attraction too!

Overnight: Cross Hotel Osaka

Day 10-13

Today it's back to Tokyo on the Shinkansen bullet train.

You'll spend the next three nights in the capital's exciting Shinjuku district, surrounded by the huge skyscrapers and glittering neon lights that characterise this city in the world's imagination. We've included a Ghibli-themed bus tour which includes tickets to the Ghibli Museum. This interactive museum is dedicated to the wonderful world of Miyazaki animations, including gems such as Howl's Moving Castle and Spirited Away.
You'll also visit Sanrio Puroland, home to the famous cat with no mouth: Kitty-chan of Hello Kitty fame! Yes, it's a riot of cutesy kitsch that only Japan could pull off, but trust us - it's a whole lot of fun even if the gigantic Kitty puppets are a little bit frightening. You can learn all about Kitty-chan, explore her house, see a Kitty show and shop for fantastic Kitty souvenirs.
The final theme park of this family holiday definitely has the best location. Situated by Lake Kawaguchi with Mount Fuji as a picture-perfect backdrop, Fuji-Q Highland is the place for rollercoasters. With world record holders for the fastest acceleration, most inversions and steepest rollercoaster - this park is not for the faint hearted! We have included return bus tickets from Shinjuku Station to Fuji-Q, which takes around two hours each way.
Sadly your time in Japan must come to an end, and on your final morning you'll take the airport limousine bus service direct to Tokyo Narita Airport in time for your flight home.

Overnight: Sunroute Plaza Shinjuku
View all days
Day 1-4

Konnichiwa and welcome to Japan! To kick off your theme park tour of Japan you'll be staying in Tokyo's historical Asakusa district, which means there's a lot to see on the hotel doorstep.

For a great introduction to Tokyo, you'll have a private guide at your disposal for eight hours on your first full day in the capital. We can either plan a sightseeing itinerary for you in advance or you can just see what you feel like doing on the day. Either way, your guide will have lots of suggestions - from electronics shopping in Akihabara, to the teenage fashions of Harajuku, to taking in the views from the top of the 634m Skytree.
On day three, a 30-minute subway journey from your hotel will bring you to Disneyland! Have a great time with Mickey, Minnie and all you favourite characters as you try all the rides at this most famous of theme parks.
After enjoying Disneyland, your next day will be spent next-door at Disneysea. Disneysea is the only resort of its kind in the world: Disney with an "under the sea" theme! The park has seven different areas including a Venetian town, Amazonian jungle and American waterfront. There are daily fireworks and boat shows, and the rollercoasters here are more adventurous than at Disneyland, so it's worth visiting this park second!

Overnight: Mimaru Apartment Hotel

Day 5-7

Today you'll travel from Tokyo to Kyoto on the world-famous Shinkansen bullet train, which takes only two-and-a-half hours to cover over 500km.

In Kyoto you'll be staying in a traditional machiya townhouse that has been lovingly restored and converted into a self-catering cottage. Near the machiya is a little supermarket so you can shop for ingredients and feel part of the local neighbourhood.
Although surrounded by mountains on three sides, most of Kyoto City is nice and flat, making a great place to explore by bike. You'll pick up bikes and meet your cycle guide by Kyoto Station today before spending the best part of the day exploring Kyoto's pretty backstreets, taking in some famous temples as well as some lesser-known sights. This tour can be tailored to your interests, so let us know if there's anything you don't want to miss!
Whilst in Kyoto, don't miss Toei Eiga Mura. This is a theme park and movie set in one, where many samurai films and TV dramas are still shot. The park is made up of film sets including old Edo Period streets, a courthouse and a police box, whilst staff dressed in period costumes guide visitors around. Be sure to check out the ninja maze, haunted house and the samurai stunt show!

Overnight: Machiya Residence

Day 8-9

A 20 minute hop on the Shinkansen bullet train and you'll swap Kyoto for the bustling metropolis of Osaka, famous for its down-to-earth attitude and great food.

After all the busy sightseeing you've done so far on this holiday, you deserve some relaxation - and Osaka's SpaWorld is the perfect place. Here you'll find a huge range of hot spring baths, Jacuzzis, saunas, hot tubs and steam rooms on separate men's and women's floors - whilst on the top floor there's a big water park that the whole family can enjoy together.
After a day of splashing about it's time for a visit to Universal Studios Japan, a park full of rollercoasters and movie themes with different zones based on iconic classics including Jurassic Park, ET and Spiderman. And a new Harry Potter attraction too!

Overnight: Cross Hotel Osaka

Day 10-13

Today it's back to Tokyo on the Shinkansen bullet train.

You'll spend the next three nights in the capital's exciting Shinjuku district, surrounded by the huge skyscrapers and glittering neon lights that characterise this city in the world's imagination. We've included a Ghibli-themed bus tour which includes tickets to the Ghibli Museum. This interactive museum is dedicated to the wonderful world of Miyazaki animations, including gems such as Howl's Moving Castle and Spirited Away.
You'll also visit Sanrio Puroland, home to the famous cat with no mouth: Kitty-chan of Hello Kitty fame! Yes, it's a riot of cutesy kitsch that only Japan could pull off, but trust us - it's a whole lot of fun even if the gigantic Kitty puppets are a little bit frightening. You can learn all about Kitty-chan, explore her house, see a Kitty show and shop for fantastic Kitty souvenirs.
The final theme park of this family holiday definitely has the best location. Situated by Lake Kawaguchi with Mount Fuji as a picture-perfect backdrop, Fuji-Q Highland is the place for rollercoasters. With world record holders for the fastest acceleration, most inversions and steepest rollercoaster - this park is not for the faint hearted! We have included return bus tickets from Shinjuku Station to Fuji-Q, which takes around two hours each way.
Sadly your time in Japan must come to an end, and on your final morning you'll take the airport limousine bus service direct to Tokyo Narita Airport in time for your flight home.

Overnight: Sunroute Plaza Shinjuku
Close all days
Other Family trips you may like
Tokyo
Hakone
Osaka
Kyoto
Takayama
Kamikochi
Tokyo

Classic Japan is a two-week trip that promises to introduce you to Japan's most iconic destinations and experiences.

13 nights: US$5655 Read more >

Tokyo
Kanazawa
Noto Peninsula
Japan Alps
Nagano
Kusatsu
Minakami
Lake Chuzenji
Tokyo

Pile into your rental car for an unforgettable family adventure around Japan, including the Japan Alps, and the outdoor adventure mecca of Minakami.

14 nights: from US$19222 (per family) Read more >

Enjoy an easy-breezy trip to Japan on this two-centre family holiday.

10 nights: from US$8960 (per family) Read more >