Self-Guided Adventure
InsideJapan's Manga & Anime
10 Nights: from US$2268 per person (twin share)
Trip Code: MANGAE
Our manga & anime itinerary is an excitement-packed ten-night tour of the best of Japan from the perspective of an anime-lover. Combine visits to hyper-modern Tokyo and Osaka with historic Kyoto, visiting the country's best manga and anime museums along the way. Read more >
Your adventure begins with plenty of time in Tokyo to explore Akihabara "electric town", browse the model shops of Nakano Broadway and see the cosplay kids in Harajuku. You will be staying within walking distance of Akihabara - the spiritual home of every otaku anime fan in Japan!
Tickets to the fabulous Ghibli Museum just outside Tokyo are included - an absolute must for fans of Hayao Miyazaki, the creator of iconic films such as Spirited Away and Princess Mononoke.
As well as visiting the capital, you will travel west on the bullet train to visit Kyoto and Osaka. These cities are essential to any trip to Japan, and you'll have the chance to explore the temples and gardens of traditional Kyoto before being catapulted back into modernity as you wander amongst the giant plastic crabs and immense neon signs of Osaka's Dotonbori district.
In Kyoto, we recommend stopping at the International Manga Museum between visiting the historical sights. We have included tickets to the Toei Movie Park, where you can dress as a geisha, samurai or ninja and explore some authentic Japanese film sets.
What's included
Ten nights' accommodation in Japan

Breakfast every day

All transport between destinations incl. airport transfers

Seven-day Japan Rail Pass

Manaca transport card with 2,500 yen credit for city transport

Walking tour of the Gion geisha district

Ghibli fan bus tour including Ghibli Museum entry

Toei Movie Village tickets

Your personalised InsideJapan Info-Pack
What's NOT included:
International flights

Local transport (buses, subways, taxis) at any destination unless otherwise specified

Any entrance fees unless otherwise specified

Baggage handling and luggage forwarding
Trip Highlights
Try our Tokyo Mystery Game to discover the capital's hidden corners

Visit the Studio Ghibli Museum

Take a trip on the bullet train
Discover Kyoto's Gion geisha district

Soak up the vibrant Osaka nightlife

Visit Kyoto's International Manga Museum
For more information email us: [email protected] or call: + 44 117 244 3380
What, where, when and how...
InsideJapan's Manga & Anime - 11 Days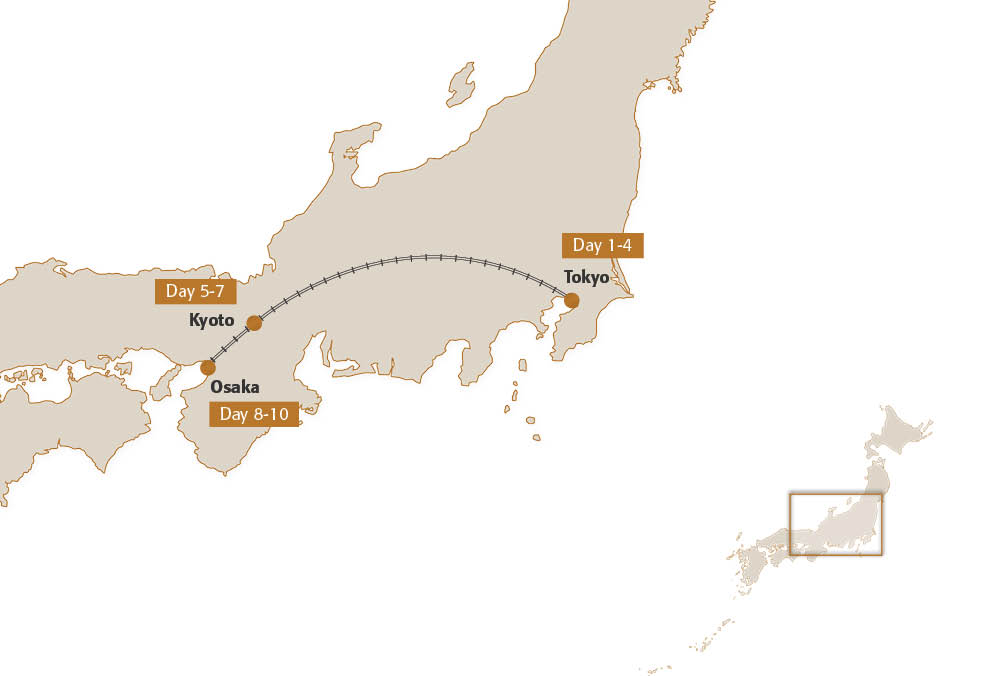 Destinations
InsideJapan's Manga & Anime - 11 Days - Day by Day
InsideJapan's Manga & Anime - 11 Days - Accommodation
InsideJapan's Manga & Anime - 11 Days - Experiences
Day 1-3

Stand in the shadow of a Gundam Wing suit in Odaiba or lunch like an otaku at an Akihabara maid café.

Welcome to Japan! On arrival you will take a train to your hotel in Akihabara, where the best of Tokyo's manga and anime shops are right on your doorstep. The famous Mandarake shop, packed with outrageous costumes, wigs, comics and collectors' models, is a short walk away, whilst Don Quijote, Liberty 8 and Gamerz just around the corner are all well worth exploring.

On your first full day in the capital we've included all the clues you'll need for our Tokyo Mystery Game! It's a scavenger hunt designed that starts in Ueno Park that will take you to some of Tokyo's secret corners - see if you can solve all the puzzles. Of course there's tons more to explore in Tokyo from the Odaiba area with its "life-sized" Gundam Wing suit and the futuristic Miraikan Museum, or the outlandish fashions on the streets of ultra-trendy Harajuku.

On your third day in Tokyo you will be free to further explore the city or make a day trip using the included Japan Rail Pass. You might consider visiting the giant stone Buddha and Zen temples of coastal Kamakura, heading north to Nikko's ornate temple complex, or perhaps a day of hiking at Mount Takao. Or why not have lunch at a maid café – famous haunt of Japan's otaku (geek) population? We can direct you to our favourite cafés. We can also arrange an optional three-hour workshop for you today at Tokyo's premier anime drawing school – just ask us for details.

Overnight: Dormy Inn Akihabara

Day 4-5

Visit the International Manga Museum and wander through film sets at the Toei Movie Park in Kyoto.

The Shinkansen bullet train will whisk you on to Kyoto today, Japan's former Imperial capital and its permanent cultural heart. This afternoon will be free for you to explore the city – we recommend visiting the excellent Kyoto International Manga Museum before making the most of the city's nightlife.

On one of your evenings in Kyoto you'll join a group walking tour of the Gion geisha district. The expert guide will explain the history and culture of the mysterious world of the geisha. With a bit of luck you may even see a geisha, so don't forget your camera!

To round off your time in Kyoto we've thrown in tickets for the Toei Movie Village – where you can become a ninja for the afternoon and explore some real Japanese film sets!

Overnight: Daiwa Roynet Kyoto Shijo Karasuma

Day 6-8

Discover Osaka's larger-than-life Dotonbori district, visit the hometown of a manga grand master and be amazed by the eccentric exertions of the Takarazuka Revue.

Today you will make the short journey to Osaka, arguably Japan's most exciting and vibrant modern city. Famous for its food and for its colourful local dialect, Osaka is bold, brash and a great place to have fun.

We recommend wandering the Dotonbori area, packed with top-notch bars and restaurants, huge plastic models and even huger neon signs. The Umeda Sky Building is also worth a visit, with its space-age architecture and fantastic views of the city.

On your second full day in Osaka, you may like to make use of your Japan Rail Pass to head to Takarazuka City, just outside Osaka where you can explore the Osamu Tezuka Manga Museum.

Overnight: Hotel Intergate Osaka Umeda

Day 9-11

Round off your trip with a visit to the Studio Ghibli Museum for an insight into the work of one of Japan's finest animators.

Today you will hop on the Shinkansen bullet train once more and head back to Tokyo for a final two-night stay in the metropolis. This time your base will be the trendy Shibuya area – great for shopping, people-watching and exploring the area. Not far from Shibuya is Nakano Broadway, a suburban arcade that rivals Akihabara as a centre for manga and anime enthusiasts.

On your final full day in the country you'll take a very special Ghibli inspired bus tour. Founded by master animators Hayao Miyazaki and Isao Takahata, Studio Ghibli has produced some of the finest works of animation ever to come out of Japan. When Miyazaki's Spirited Away scooped an Oscar for Best Animated Film in 2002, Studio Ghibli shot to international fame and millions of people across the globe were introduced to anime for the first time. The tour includes entry to the Ghibli Museum. Called "Let's get lost together", the museum allows you to wander through Miyazaki's imagination to a world where anything is possible and the surreal and sublime are to be found around every corner.

Finally it is time for you to head home, and you will travel by bus to Tokyo's Narita Airport in plenty of time for your departure flight. Have a safe journey home.

Overnight: Sequence Miyashita Park
View all days
Day 1-3

Stand in the shadow of a Gundam Wing suit in Odaiba or lunch like an otaku at an Akihabara maid café.

Welcome to Japan! On arrival you will take a train to your hotel in Akihabara, where the best of Tokyo's manga and anime shops are right on your doorstep. The famous Mandarake shop, packed with outrageous costumes, wigs, comics and collectors' models, is a short walk away, whilst Don Quijote, Liberty 8 and Gamerz just around the corner are all well worth exploring.

On your first full day in the capital we've included all the clues you'll need for our Tokyo Mystery Game! It's a scavenger hunt designed that starts in Ueno Park that will take you to some of Tokyo's secret corners - see if you can solve all the puzzles. Of course there's tons more to explore in Tokyo from the Odaiba area with its "life-sized" Gundam Wing suit and the futuristic Miraikan Museum, or the outlandish fashions on the streets of ultra-trendy Harajuku.

On your third day in Tokyo you will be free to further explore the city or make a day trip using the included Japan Rail Pass. You might consider visiting the giant stone Buddha and Zen temples of coastal Kamakura, heading north to Nikko's ornate temple complex, or perhaps a day of hiking at Mount Takao. Or why not have lunch at a maid café – famous haunt of Japan's otaku (geek) population? We can direct you to our favourite cafés. We can also arrange an optional three-hour workshop for you today at Tokyo's premier anime drawing school – just ask us for details.

Overnight: Dormy Inn Akihabara

Day 4-5

Visit the International Manga Museum and wander through film sets at the Toei Movie Park in Kyoto.

The Shinkansen bullet train will whisk you on to Kyoto today, Japan's former Imperial capital and its permanent cultural heart. This afternoon will be free for you to explore the city – we recommend visiting the excellent Kyoto International Manga Museum before making the most of the city's nightlife.

On one of your evenings in Kyoto you'll join a group walking tour of the Gion geisha district. The expert guide will explain the history and culture of the mysterious world of the geisha. With a bit of luck you may even see a geisha, so don't forget your camera!

To round off your time in Kyoto we've thrown in tickets for the Toei Movie Village – where you can become a ninja for the afternoon and explore some real Japanese film sets!

Overnight: Daiwa Roynet Kyoto Shijo Karasuma

Day 6-8

Discover Osaka's larger-than-life Dotonbori district, visit the hometown of a manga grand master and be amazed by the eccentric exertions of the Takarazuka Revue.

Today you will make the short journey to Osaka, arguably Japan's most exciting and vibrant modern city. Famous for its food and for its colourful local dialect, Osaka is bold, brash and a great place to have fun.

We recommend wandering the Dotonbori area, packed with top-notch bars and restaurants, huge plastic models and even huger neon signs. The Umeda Sky Building is also worth a visit, with its space-age architecture and fantastic views of the city.

On your second full day in Osaka, you may like to make use of your Japan Rail Pass to head to Takarazuka City, just outside Osaka where you can explore the Osamu Tezuka Manga Museum.

Overnight: Hotel Intergate Osaka Umeda

Day 9-11

Round off your trip with a visit to the Studio Ghibli Museum for an insight into the work of one of Japan's finest animators.

Today you will hop on the Shinkansen bullet train once more and head back to Tokyo for a final two-night stay in the metropolis. This time your base will be the trendy Shibuya area – great for shopping, people-watching and exploring the area. Not far from Shibuya is Nakano Broadway, a suburban arcade that rivals Akihabara as a centre for manga and anime enthusiasts.

On your final full day in the country you'll take a very special Ghibli inspired bus tour. Founded by master animators Hayao Miyazaki and Isao Takahata, Studio Ghibli has produced some of the finest works of animation ever to come out of Japan. When Miyazaki's Spirited Away scooped an Oscar for Best Animated Film in 2002, Studio Ghibli shot to international fame and millions of people across the globe were introduced to anime for the first time. The tour includes entry to the Ghibli Museum. Called "Let's get lost together", the museum allows you to wander through Miyazaki's imagination to a world where anything is possible and the surreal and sublime are to be found around every corner.

Finally it is time for you to head home, and you will travel by bus to Tokyo's Narita Airport in plenty of time for your departure flight. Have a safe journey home.

Overnight: Sequence Miyashita Park
Close all days
Other trips you may like
The constant bad economic news has been getting everyone a bit down, so we've created this bargain seven-night Japanese getaway to beat the blues!

7 nights: from US$1428 pp (twin share) Read more >

Tokyo
Matsumoto
Takayama
Kanazawa
Kyoto
Mount Koya
Osaka

A classic 13-night itinerary that promises a mouthwatering introduction to Japanese cuisine, from sushi to soba and everything in between.

13 nights: from US$3500 pp (twin share) Read more >

Takahara
Nonaka
Yunomine Onsen
Koguchi
Kii-Katsuura

A challenging five-night walking module introducing the ancient trails of the Kumano Kodo pilgrimage network.

5 nights: from US$1624 pp (twin share) Read more >