Self-Guided Adventure
Kumano Kodo Four-Night Module (Intermediate Hiking)
4 Nights: from US$1521 per person (twin share)
Trip Code: KK005
This walking module offers five days exploring part of the Kumano Kodo, one of the most beautiful and mystical corners of Japan, with some moderately challenging walking opportunities and plenty of chances to relax and appreciate your surroundings. Read more >
The Kumano Kodo is the name given to a network of ancient pilgrimage routes covering the Kii Peninsula, a mountainous area to the south of Kyoto that encompasses Wakayama, Nara and Mie Prefectures. For over a millennium these routes have been trodden continuously by pilgrims from a variety of different religious and social backgrounds, from peasants to retired emperors, leaving the Kumano Kodo with an exceedingly rich spiritual and cultural heritage.
During your time on the Kii Peninsula you'll visit all three of the great shrines of the Kumano Kodo: Hongu Taisha, Hayatama Taisha and Nachi Taisha. These shrines are known collectively as the Kumano Sanzan and form the spritual heart of the area. The pilgrimage trails connect the Kumano Sanzan with other religious hotspots at Yoshino, Omine, Mount Koya and even Ise - Shintoism's most sacred site.
Between reliving history at these important religious landmarks you'll walk amongst towering cryptomeria trees, past bamboo groves and terraced fields, through tiny villages and across high mountain passes. You'll float down the Kumano River on an open-top boat, soak in some of the country's finest onsen baths, stay in traditional Japanese accommodation and marvel at the tallest waterfall in Japan.
The Kumano Kodo is an area not to be missed: a beautiful and atmospheric region that combines great religious and historical importance with outstanding natural beauty and a peaceful, traditional way of life.
What's included
Four nights Japanese-style accommodation (One night fully en suite, two nights with en suite toilet, one night shared bathroom facilities)

Breakfast every day, four dinners and three bento lunchboxes

Kumano Kodo orientation and guidebook

All train travel between destinations

Same-day luggage shuttle services between destinations on the Kumano Kodo

Traditional boat cruise on the Kumano River

Pocket WiFi device

Personalised InsideJapan Info-Pack
What's NOT included:
Local transport between destinations, including all buses

Any entrance fees, including those for shrines, temples and onsen
Trip Highlights
Sample kaiseki cuisine
Soak in some of Japan's finest onsen hot spring baths

Stay in Takahara, the "village in the mist"

Walk the Daimonzaka cobblestone road
Stay at traditional Japanese-style accommodation

Visit all three of the Kumano Sanzan sacred shrines

Marvel at Japan's tallest waterfall
For more information email us: [email protected] or call: + 44 117 244 3380
What, where, when and how...
Kumano Kodo Four-Night Module (Intermediate Hiking) - 5 Days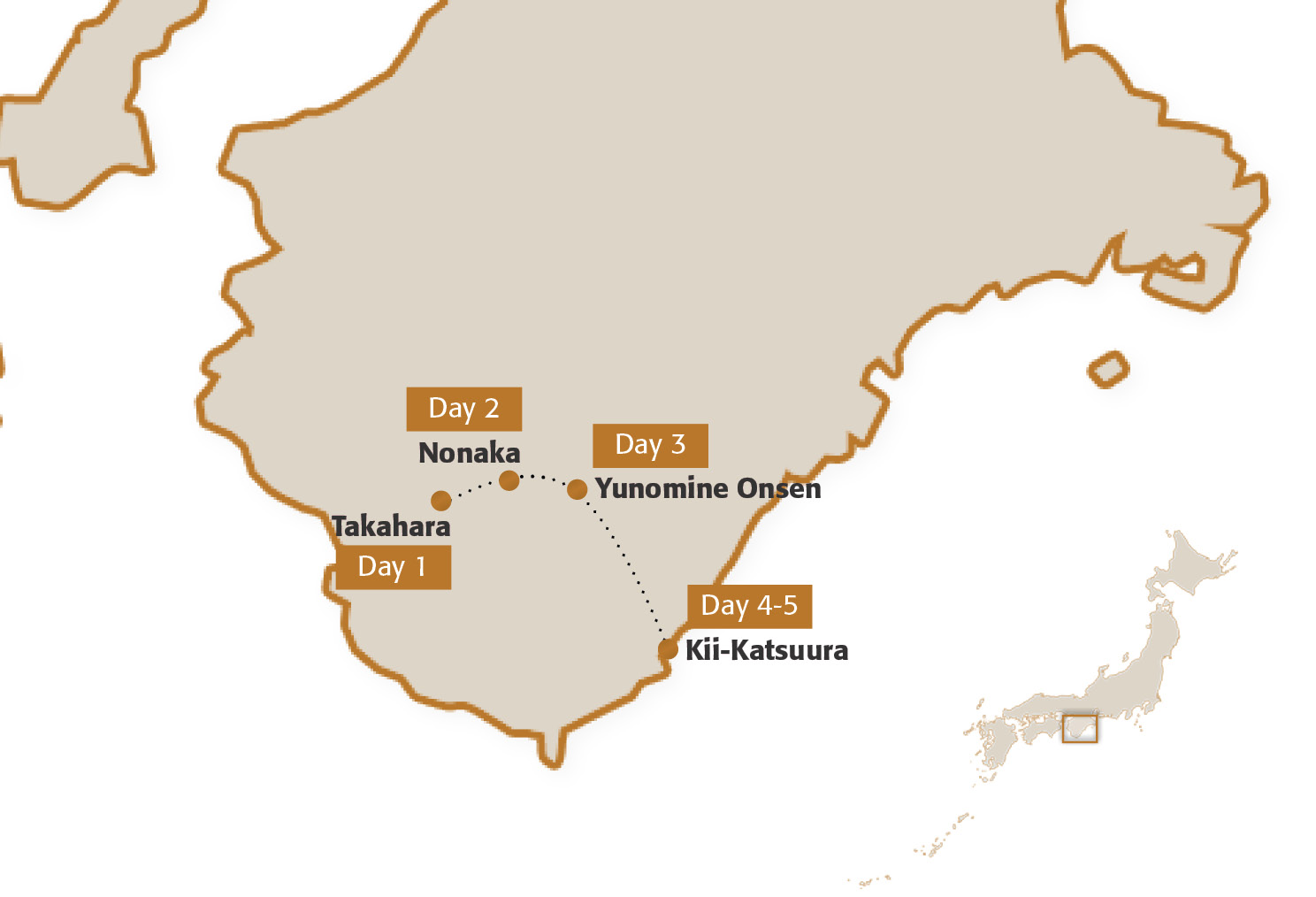 Kumano Kodo Four-Night Module (Intermediate Hiking) - 5 Days - Day by Day
Kumano Kodo Four-Night Module (Intermediate Hiking) - 5 Days - Accommodation
Kumano Kodo Four-Night Module (Intermediate Hiking) - 5 Days - Experiences
Day 1

Today you will catch the train from Kyoto to Kii-Tanabe, a small coastal city and for centuries the main access point for the Kumano Kodo trails.

Here you'll have a short orientation session before grabbing a bite to eat and catching the bus to Takijiri-Oji.

The small village of Takijiri-Oji is the point at which you'll begin your exploration of the Kumano Kodo proper. Today you'll walk the 3.7 km through ancient forest filled with giant camphor trees and sacred caves to Takahara, a ridge-top settlement above the clouds where you'll be spending your first night in the mountains.

Your accommodation in Takahara commands sweeping views of the surrounding Hatenashi Mountain Range, with a top-quality kaiseki dinner made from local produce and a bento lunchbox provided to keep you going on your hike tomorrow.

Overnight: Kiri-no-Sato Takahara Lodge

Day 2

Today you will be undertaking the long hike from Takahara to Nonaka, a 14 km route that will take you past the ruins of the Uwada-jaya Teahouse and across the Hashiori-toge Pass, with its Gyubadoji statue of one of the first pilgrim emperors.

You'll be treated to stunning views of the surrounding countryside from various points along the way before eventually arriving in Nonaka, a tiny hamlet perched on tiered terraces on the side of a mountain.

Tonight you'll stay at a Japanese-style minshuku inn run by a professional chef who has worked in restaurants all over Japan – so you can be sure that your included dinner will be a delight!

Overnight: Minshuku Tsugizakura

Day 3

From Nonaka it is a challenging 21 km hike to Hongu Taisha, the very heart of the Kumano Kodo and the region's most important shrine.

If you don't feel like hiking all this way there are plenty of buses that can help you cut down the walking time to suit your preference and ability. There are no restaurants on the way so your lunch will be a bento lunchbox prepared by your minshuku in Nonaka.

After exploring the Kumano Hongu Taisha you'll take the bus onwards to Yunomine Onsen, one of the oldest spa towns in Japan. Here you can rest your aching muscles in the only functioning UNESCO World Heritage hot spring bath in the country, before tucking in to another delicious kaiseki spread at your minshuku accommodation tonight.

Overnight: Yunomineso

Day 4-5

You'll begin your day on day four with a leisurely boat trip along the Kumano River to Hatayama Taisha, the second of the three great shrines. This is how pilgrims traditionally approached the shrine and should be a lovely relaxing morning!

Lunch today will be another included bento lunchbox delivered to your minshuku in Yunomine before your departure this morning.

After visiting the shrine it's a short train ride from nearby Shingu to Kii-Katsuura, where you'll be staying at a large, Japanese-style hotel right on the water. After another wonderful included dinner of fresh local seafood and we highly recommend finishing off the evening in the hotel's hot spring baths overlooking the bay.

After returning to Kii-Katsuura town this morning you'll catch a bus to Daimonzaka Chushajo, from whence you'll make the one-hour walk to the Kumano Nachi Taisha: the last of the Kumano Kodo's three great shrines. This walk takes you part of the way along the Daimonzaka, an impressive 600 m cobbled stairway with a total of 267 stairs, lined with towering Japanese cedar and bamboo groves.

Nachi Taisha, the culmination of today's walk, boasts a magnificent red pagoda and stands against the striking backdrop of Nachi-no-Otaki: Japan's tallest waterfall. Take some time to marvel at this amazing sight before taking the bus back to Kii-Katsuura Station, from where it's a four-hour train ride around the peninsula to Osaka.

Overnight: Katsuura Gyoen
View all days
Day 1

Today you will catch the train from Kyoto to Kii-Tanabe, a small coastal city and for centuries the main access point for the Kumano Kodo trails.

Here you'll have a short orientation session before grabbing a bite to eat and catching the bus to Takijiri-Oji.

The small village of Takijiri-Oji is the point at which you'll begin your exploration of the Kumano Kodo proper. Today you'll walk the 3.7 km through ancient forest filled with giant camphor trees and sacred caves to Takahara, a ridge-top settlement above the clouds where you'll be spending your first night in the mountains.

Your accommodation in Takahara commands sweeping views of the surrounding Hatenashi Mountain Range, with a top-quality kaiseki dinner made from local produce and a bento lunchbox provided to keep you going on your hike tomorrow.

Overnight: Kiri-no-Sato Takahara Lodge

Day 2

Today you will be undertaking the long hike from Takahara to Nonaka, a 14 km route that will take you past the ruins of the Uwada-jaya Teahouse and across the Hashiori-toge Pass, with its Gyubadoji statue of one of the first pilgrim emperors.

You'll be treated to stunning views of the surrounding countryside from various points along the way before eventually arriving in Nonaka, a tiny hamlet perched on tiered terraces on the side of a mountain.

Tonight you'll stay at a Japanese-style minshuku inn run by a professional chef who has worked in restaurants all over Japan – so you can be sure that your included dinner will be a delight!

Overnight: Minshuku Tsugizakura

Day 3

From Nonaka it is a challenging 21 km hike to Hongu Taisha, the very heart of the Kumano Kodo and the region's most important shrine.

If you don't feel like hiking all this way there are plenty of buses that can help you cut down the walking time to suit your preference and ability. There are no restaurants on the way so your lunch will be a bento lunchbox prepared by your minshuku in Nonaka.

After exploring the Kumano Hongu Taisha you'll take the bus onwards to Yunomine Onsen, one of the oldest spa towns in Japan. Here you can rest your aching muscles in the only functioning UNESCO World Heritage hot spring bath in the country, before tucking in to another delicious kaiseki spread at your minshuku accommodation tonight.

Overnight: Yunomineso

Day 4-5

You'll begin your day on day four with a leisurely boat trip along the Kumano River to Hatayama Taisha, the second of the three great shrines. This is how pilgrims traditionally approached the shrine and should be a lovely relaxing morning!

Lunch today will be another included bento lunchbox delivered to your minshuku in Yunomine before your departure this morning.

After visiting the shrine it's a short train ride from nearby Shingu to Kii-Katsuura, where you'll be staying at a large, Japanese-style hotel right on the water. After another wonderful included dinner of fresh local seafood and we highly recommend finishing off the evening in the hotel's hot spring baths overlooking the bay.

After returning to Kii-Katsuura town this morning you'll catch a bus to Daimonzaka Chushajo, from whence you'll make the one-hour walk to the Kumano Nachi Taisha: the last of the Kumano Kodo's three great shrines. This walk takes you part of the way along the Daimonzaka, an impressive 600 m cobbled stairway with a total of 267 stairs, lined with towering Japanese cedar and bamboo groves.

Nachi Taisha, the culmination of today's walk, boasts a magnificent red pagoda and stands against the striking backdrop of Nachi-no-Otaki: Japan's tallest waterfall. Take some time to marvel at this amazing sight before taking the bus back to Kii-Katsuura Station, from where it's a four-hour train ride around the peninsula to Osaka.

Overnight: Katsuura Gyoen
Close all days
Other trips you may like
Tokyo
Hakone
Kyoto
Hiroshima
Osaka
Takayama
Tokyo

A classic two-week itinerary covering some of Japan's most iconic locations, including Tokyo, Kyoto and Mount Fuji.

14 nights: from US$4147 pp (twin share) Read more >

An amazing week at perhaps Japan's top winter sports resort. Fantastic snow conditions and a vibrant international atmosphere.

8 nights: from US$2366 pp (twin share) Read more >

Iiyama
Togarinozawa Onsen

Feel a sense of achievement as you complete all six days and 70km of the Shin-Etsu Trail.

6 nights: from US$1885 pp (twin share) Read more >