Self-Guided Adventure
Cruise Add-On: Ports to Peaks
13 Nights: from US$5330 per person (twin share)
Trip Code: CAOS2
Now that your cruise is over it's time to head inland on this trip through the Alps that starts among the bright lights of the capital before taking in the castle city of Matsumoto, alpine Takayama, the traditional cities of Kanazawa and Kyoto, and a dip in the hot springs of Hakone. Read more >
Your adventure through the mountain regions and historic cities of Japan begins at Yokohama Port where a private car will be waiting for you to disembark the cruise ship before whisking you in comfort to your hotel in Asakusa, the traditional district of Tokyo. On your first full day in the capital we'll arrange for a private English-speaking guide to help you make the most of your time exploring everything Tokyo has to offer.

Matsumoto is your first stop on your alpine journey. This town is famous for its striking 'Black Crow' castle and deceptively simple yet tasty local food, such as soba buckwheat noodles and savoury oyaki dumplings. As the birthplace of eccentric modern artist Yayoi Kusama, Matsumoto is also home to several great museums, including one dedicated to ukiyo-e woodblock prints.

A highway bus will take you on the next part of the trip through the Alps to Takayama, a small market town with a wonderfully preserved merchant district where you'll feel like you stepped into the past. A privately arranged food and culture walk is the best way to see the town and try out the tasty local produce, including sake.

After another scenic bus journey you'll have a stop-off in the postcard-perfect village of Shirakawago, noteworthy for its iconic sloping thatched roof farmhouses. Then it's back on the bus for the final ride through the Northern Alps to the garden city of Kanazawa. With its carefully preserved samurai and geisha districts and the exquisite landscape garden Kenrokuen, Kanazawa is the perfect place for enjoying a taste of quintessential Japan.

For the next three nights you'll be in Kyoto, the city of a thousand temples. A private guide will again help you make the most out of your time and together you can navigate the city to see all the famous sights and a few lesser known gems. We'll also arrange for you to have a private walking tour of the atmospheric Gion geisha district where you might be able to spot a maiko or geisha darting between teahouses if you're lucky. Your third day in Kyoto will be at leisure, so you might like to make a day trip to nearby Nara which was once the capital of Japan.

Continue your journey on the Shinkansen bullet train as you speed east to Odawara, the gateway to Hakone National Park in the foothills of Mount Fuji. Your third guide will accompany you as you make full use of the array of transport that crisscross Hakone, from mountain trains to ropeways to a kitschy yet scenic ?pirate ship' cruise across Lake Ashi - where you might be able to glimpse Mount Fuji if the weather is on your side.


Your trip will come full circle as you round off your Japan adventure back in Tokyo, this time among the bright lights of the Shinjuku entertainment district. On your final morning a private car will take you in comfort out to the airport in plenty of time for your onward flight.
What's included
13 nights' accommodation (including 2 nights' in Japanese accommodation)

Breakfast every day and two dinners

Transport between destinations unless otherwise specified

Transfers by private car from Yokohama Port and to the airport

Eight-hour private guide service in Tokyo

Two-day Hakone Freepass

Eight-hour private guide service in Hakone

Private walking tour of Kyoto's Gion geisha district

Full day private guide service in Kyoto

Private food & culture walk in Takayama

Pocket WiFi device

Your personalized InsideJapan Tours Info-Pack
What's NOT included:
International flights

Any entrance fees including those for museums, shrines, and temples unless otherwise specified

Baggage handling and luggage forwarding unless otherwise specified
Trip Highlights
Speed around on the Shinkansen bullet train

Take in the mountain views in Matsumoto and Takayama

Visit the picturesque hamlet of Shirakawago
Soak in the hot spring baths of Hakone

Explore traditional temples and backstreets in Kyoto

Admire Kenrokuen landscape garden
For more information email us: [email protected] or call: + 44 117 244 3380
What, where, when and how...
Cruise Add-On: Ports to Peaks - 14 Days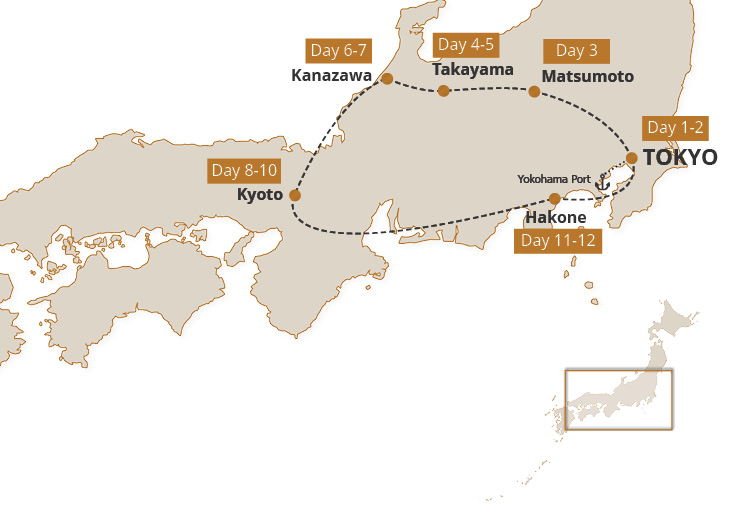 Cruise Add-On: Ports to Peaks - 14 Days - Day by Day
Cruise Add-On: Ports to Peaks - 14 Days - Accommodation
Cruise Add-On: Ports to Peaks - 14 Days - Experiences
Day 1-2

Welcome to Japan!

After disembarking at Yokohama Port, a private car will be waiting to take you in comfort to your accommodation in the Asakusa area of Tokyo, an historic district full of traditional streets and the city's oldest temple, Sensoji. You'll have the rest of the day to find your feet as your explore the surrounding area, or you might like to throw yourself headfirst into the culinary delight of Japanese cuisine – the choice is yours.

On your first full day in the city a private English-speaking guide will meet you at your hotel to take you on a day to remember through the city. Your guide will be able to introduce all the major sights, but if you have any specific requests of things you'd like to see or do, let us know and we can pass it on to your guide to help you personalize your day.

Overnight: Gate Hotel Kaminarimon

Day 3

Marvel at the striking Black Crow castle

You would have seen plenty of ocean views during your cruise, so now it's time to head into the mountains. Matsumoto is an old castle town known for its iconic black castle, one of the finest remaining feudal castles in the country. While in town, be sure to try out the local cuisine; we highly recommend a bowl of freshly made soba noodles which can be enjoyed hot or cold depending on the season.

Overnight: Buena Vista Hotel

Day 4-5

Journey by bus through the Alps

This morning you'll take a highway bus for the 2.5 hour ride through the mountains to the alpine town of Takayama. On your second day there we'll arrange for you to have a private food and culture tour that will take you through the wonderfully preserved wooden merchant districts where you can stop to try out some of the tasty delicacies, or even a cup of locally brewed sake.

Takayama will be your first chance to enjoy a stay at a traditional ryokan inn, complete with futon bedding spread on tatami mat flooring, hot spring baths, and kaiseki course cuisine.

Overnight: Tanabe Ryokan

Day 6-7

Stroll through exquisite Kenrokuen gardens

Another two bus rides await you today, the first of which will take you to the thatched roof village of Shirakawago, deep in the mountains of Gifu Prefecture. You can spend a few hours wandering around and taking in the atmosphere of this picture-perfect village. If you're feeling adventurous you can walk or hop on the bus up to the viewing point that offers a wonderful panorama over the valley.

The second of the bus journeys will bring you to the garden city of Kanazawa, located a short way from the Japan Sea – which means fresh seafood abounds. Kanazawa was fortunately spared bombing in World War II and a walk through the carefully preserved geisha and samurai districts is just like stepping back in time. Continuously lauded as one of the top three gardens in Japan, the landscape garden Kenrokuen is well worth a visit at any time of year.

Overnight: Kanazawa Tokyu

Day 8-10

Temple-hop through the ancient capital

On your first evening in Kyoto a private walking tour of the Gion district will introduce you to one of the most intriguing sides of Japanese culture; the enigmatic world of geisha. If you're lucky you might even be able to spot a maiko (trainee geisha) as she darts between tea houses.

A guide will spend the next day with you to help you make the most out of your day in Kyoto. The city is home to more temples, shrines, and scenic spots than you could hope to explore in a month of living there, but your guide will ensure you visit the must-see places on your list, as well as introduce some secret places off the usual tourist path.

The following day will be at leisure, so you can either continue exploring Kyoto at your own pace or perhaps head out of the city on a day trip to nearby Nara, which used to be the capital in the 8th century. As well as being home to several UNESCO World Heritage temples and shrines including impressive Todai-ji, Nara also has a large population of curious deer who are rather fond of interrupting picnics.

Overnight: Mitsui Garden Shinmachi Bettei

Day 11-12

Refresh in the hot spring baths

This morning will be your first journey on the famed Shinkansen bullet train as you travel east to Hakone in the foothills of Mount Fuji. The best way to see Hakone is by using your included Hakone Freepass on the varied transportation network that criss-crosses the valley, from buses to a ropeway to a cruise across Lake Ashi – keep your fingers crossed for views of the notoriously shy Mount Fuji. Your third guide of the trip will be with you today to help you navigate the sightseeing loop. In addition to scenic vistas, Hakone is also known for its variety of museums and galleries, and we highly recommend spending an hour or two at the fascinating Open Air Museum, full of thought-provoking sculptures and a small Picasso gallery.

In Hakone you'll be staying in a Japanese-style hotel, which cleverly mixes Western comforts with hot spring baths, Japanese décor, and fusion kaiseki cuisine.

Overnight: Kowakien Tenyu

Day 13-14

Explore the bright lights of Shinjuku

Explore the bright lights of Shinjuku All aboard the 'Romance Car' limited express train for the journey back to Tokyo for your final day of sightseeing, shopping, or simply relaxing – the choice is yours. This time you'll be staying in the vibrant Shinjuku district which is chock full of great places to enjoy a final meal in Japan. If there's anything in particular you'd love to see or do before leaving Japan, do let us know and we can make the arrangements for you.

Sadly all good things must come to an end, and today a private car will pick you up and take you out to the airport for your flight home.

Overnight: Century Southern Tower
View all days
Day 1-2

Welcome to Japan!

After disembarking at Yokohama Port, a private car will be waiting to take you in comfort to your accommodation in the Asakusa area of Tokyo, an historic district full of traditional streets and the city's oldest temple, Sensoji. You'll have the rest of the day to find your feet as your explore the surrounding area, or you might like to throw yourself headfirst into the culinary delight of Japanese cuisine – the choice is yours.

On your first full day in the city a private English-speaking guide will meet you at your hotel to take you on a day to remember through the city. Your guide will be able to introduce all the major sights, but if you have any specific requests of things you'd like to see or do, let us know and we can pass it on to your guide to help you personalize your day.

Overnight: Gate Hotel Kaminarimon

Day 3

Marvel at the striking Black Crow castle

You would have seen plenty of ocean views during your cruise, so now it's time to head into the mountains. Matsumoto is an old castle town known for its iconic black castle, one of the finest remaining feudal castles in the country. While in town, be sure to try out the local cuisine; we highly recommend a bowl of freshly made soba noodles which can be enjoyed hot or cold depending on the season.

Overnight: Buena Vista Hotel

Day 4-5

Journey by bus through the Alps

This morning you'll take a highway bus for the 2.5 hour ride through the mountains to the alpine town of Takayama. On your second day there we'll arrange for you to have a private food and culture tour that will take you through the wonderfully preserved wooden merchant districts where you can stop to try out some of the tasty delicacies, or even a cup of locally brewed sake.

Takayama will be your first chance to enjoy a stay at a traditional ryokan inn, complete with futon bedding spread on tatami mat flooring, hot spring baths, and kaiseki course cuisine.

Overnight: Tanabe Ryokan

Day 6-7

Stroll through exquisite Kenrokuen gardens

Another two bus rides await you today, the first of which will take you to the thatched roof village of Shirakawago, deep in the mountains of Gifu Prefecture. You can spend a few hours wandering around and taking in the atmosphere of this picture-perfect village. If you're feeling adventurous you can walk or hop on the bus up to the viewing point that offers a wonderful panorama over the valley.

The second of the bus journeys will bring you to the garden city of Kanazawa, located a short way from the Japan Sea – which means fresh seafood abounds. Kanazawa was fortunately spared bombing in World War II and a walk through the carefully preserved geisha and samurai districts is just like stepping back in time. Continuously lauded as one of the top three gardens in Japan, the landscape garden Kenrokuen is well worth a visit at any time of year.

Overnight: Kanazawa Tokyu

Day 8-10

Temple-hop through the ancient capital

On your first evening in Kyoto a private walking tour of the Gion district will introduce you to one of the most intriguing sides of Japanese culture; the enigmatic world of geisha. If you're lucky you might even be able to spot a maiko (trainee geisha) as she darts between tea houses.

A guide will spend the next day with you to help you make the most out of your day in Kyoto. The city is home to more temples, shrines, and scenic spots than you could hope to explore in a month of living there, but your guide will ensure you visit the must-see places on your list, as well as introduce some secret places off the usual tourist path.

The following day will be at leisure, so you can either continue exploring Kyoto at your own pace or perhaps head out of the city on a day trip to nearby Nara, which used to be the capital in the 8th century. As well as being home to several UNESCO World Heritage temples and shrines including impressive Todai-ji, Nara also has a large population of curious deer who are rather fond of interrupting picnics.

Overnight: Mitsui Garden Shinmachi Bettei

Day 11-12

Refresh in the hot spring baths

This morning will be your first journey on the famed Shinkansen bullet train as you travel east to Hakone in the foothills of Mount Fuji. The best way to see Hakone is by using your included Hakone Freepass on the varied transportation network that criss-crosses the valley, from buses to a ropeway to a cruise across Lake Ashi – keep your fingers crossed for views of the notoriously shy Mount Fuji. Your third guide of the trip will be with you today to help you navigate the sightseeing loop. In addition to scenic vistas, Hakone is also known for its variety of museums and galleries, and we highly recommend spending an hour or two at the fascinating Open Air Museum, full of thought-provoking sculptures and a small Picasso gallery.

In Hakone you'll be staying in a Japanese-style hotel, which cleverly mixes Western comforts with hot spring baths, Japanese décor, and fusion kaiseki cuisine.

Overnight: Kowakien Tenyu

Day 13-14

Explore the bright lights of Shinjuku

Explore the bright lights of Shinjuku All aboard the 'Romance Car' limited express train for the journey back to Tokyo for your final day of sightseeing, shopping, or simply relaxing – the choice is yours. This time you'll be staying in the vibrant Shinjuku district which is chock full of great places to enjoy a final meal in Japan. If there's anything in particular you'd love to see or do before leaving Japan, do let us know and we can make the arrangements for you.

Sadly all good things must come to an end, and today a private car will pick you up and take you out to the airport for your flight home.

Overnight: Century Southern Tower
Close all days
Other trips you may like
Tokyo
Kanazawa
Shirakawago
Takayama
Matsumoto
Tsumago
Kyoto
Tokyo

Discover traditional Japan through its beautiful ryokan inns, delicious cuisine and a range of cultural experiences on this superior itinerary.

14 nights: from US$7436 pp (twin share) Read more >

Tokyo
Nikko
Sendai
Nyuto Onsen
Kakunodate
Mount Haguro
Tokyo

Journey through the lush rural landscapes in Tohoku, a land steeped in tradition and mystery, on this classic two-week itinerary.

13 nights: from US$3419 pp (twin share) Read more >

Enjoy an easy-breezy trip to Japan on this two-centre family holiday.

10 nights: from US$6929 (per family) Read more >