Self-Guided Adventure
Cruise Add-On: Oceans to Onsen
4 Nights: from US$1781 per person (twin share)
Trip Code: CAOS1
After enjoying your cruise you can spend four nights in Japan, getting beneath the surface of Tokyo and relaxing in the onsen baths in mountainous Hakone. Read more >
After your ocean adventures, why not enjoy four nights in Japan exploring the capital city and nearby Hakone, in the foothills of Mount Fuji? This cruise add-on may be short of time but it's big on exploring, allowing you to get beneath the surface of the capital city while also enjoying a break from the bright lights.

Upon arrival in Yokohama Port you'll head straight to Tokyo, the city that never sleeps. We'll arrange a private English-speaking guide to help you make the most of your time in the capital, and ensure you get to see all the highlights and hidden spots.

Next up is an overnight trip west to Hakone, situated over 700m above sea level to the southeast of Mount Fuji. Hakone has historically been the destination of choice for Tokyoites seeking a relaxing hot spring break, and accompanied by a private guide and armed with your Hakone Freepass, you can enjoy exploring the area with its multitude of great museums using the extensive and quirky transportation network - from cable cars to pirate ships, Hakone has it all.

Then it'll be back to Tokyo for a last day and night at leisure. You might want to pick up a last souvenir in one of the mega shopping districts or tuck into a meal to remember at one of the numerous Michelin-starred restaurants, or perhaps do a last spot of sightseeing in the traditional Asakusa district.

At the end of the trip a private car will take you in comfort out to Narita Airport in time for your flight home.
What's included
Four nights' accommodation

Breakfast each morning and dinner in Hakone

Transport between destinations unless otherwise specified

Transfers by private car from Yokohama Port and to the airport

Two-day Hakone Freepass

Eight-hour private guide service in Tokyo

Eight-hour private guide service in Hakone

Pocket WiFi device

Your personalized InsideJapan Tours Info-Pack
What's NOT included:
International flights

Any entrance fees including those for museums, shrines, and temples unless otherwise specified

Baggage handling and luggage forwarding unless otherwise specified
Trip Highlights
Marvel at the neon lights of Shinjuku's skyscraper district

Explore Tokyo with the help of your private guide

Tuck into kaiseki course cuisine
Soak in hot spring baths in Hakone

Take in the mountain scenery from the Hakone ropeway

Speed back to Tokyo on the Shinkansen bullet train
For more information email us: [email protected] or call: + 44 117 244 3380
What, where, when and how...
Cruise Add-On: Oceans to Onsen - 5 Days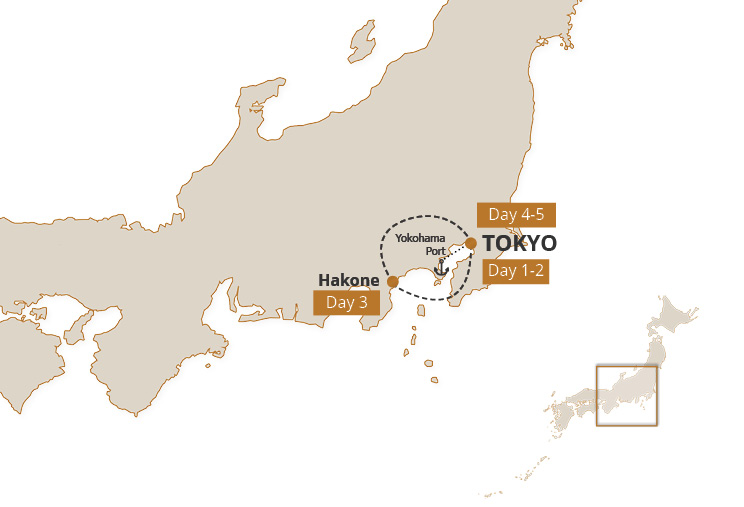 Destinations
Cruise Add-On: Oceans to Onsen - 5 Days - Day by Day
Cruise Add-On: Oceans to Onsen - 5 Days - Accommodation

Cruise Add-On: Oceans to Onsen - 5 Days - Experiences
Day 1-2

Discover the bright lights of Tokyo

Welcome to Japan! We will arrange for a private car to meet you at Yokohama Port to take you in comfort to your hotel in Tokyo. The rest of the day will be at leisure, allowing you to get your bearings and perhaps enjoy a tasty meal – the choice is yours.

On your first full day in the city you will the services of a private guide to show you the ropes. You can head to the major sightseeing areas such as traditional Asakusa with its historic Sensoji Temple, or Meiji Shrine located in a sprawling forest in the centre of the city; or your guide can get you firmly off the tourist track and show you the hidden spots known only to the locals. If you have any particular interests or if there are places you've always wanted to visit, let us know and we can pass that on to your guide to help you get the most out of your day.

You'll be staying in the vibrant Shinjuku district of Tokyo, which is chock full of great places to eat, shop, and drink, and it's well-connected for getting around to other parts of the city.

Overnight: Century Southern Tower

Day 3

Escape to Hakone for a relaxing hot spring break

A scenic train ride will take you out of Tokyo today to the hot spring resort of Hakone. Traditionally it's been a popular place for the residents of Tokyo to go for a spot of rest and relaxation, and there are still a number of historic ryokan inns dotted around the valley where you can enjoy the mineral-rich onsen baths.

One of the highlights of Hakone is using your Hakone Freepass on the quirky variety of transportation to take you around the valley, from mountain trains to ropeways to a 'pirate ship' across Lake Ashi. If you're lucky with the weather, you might even be able to catch a glimpse of Mount Fuji from the boat.

If you love a good museum, Hakone has you covered: it's home to some excellent museums, with our favourite being the Hakone Open Air Museum with its photo-worthy sculptures and small but impressive Picasso Gallery.

Tonight you will be staying at a Japanese-style hotel which mixes traditional Japanese décor with Western comforts, and fusion kaiseki course cuisine.

Overnight: Kowakien Tenyu

Day 4-5

Return to the capital for your final night

On your last full day in Japan you'll hop on the sleek Shinkansen bullet train for the journey back to Tokyo where you'll have the rest of the day at leisure to finish off any last bits of sightseeing, shopping, or eating that you missed at the beginning of the trip. If there's anything in particular you'd like to see or do, let us know and we can help organize it for you.

Sadly your time in Japan has to come to an end. We'll arrange for a private car to take you from your hotel out to the airport ready for your onward journey. We hope you have a safe flight.

Overnight: Century Southern Tower
View all days
Day 1-2

Discover the bright lights of Tokyo

Welcome to Japan! We will arrange for a private car to meet you at Yokohama Port to take you in comfort to your hotel in Tokyo. The rest of the day will be at leisure, allowing you to get your bearings and perhaps enjoy a tasty meal – the choice is yours.

On your first full day in the city you will the services of a private guide to show you the ropes. You can head to the major sightseeing areas such as traditional Asakusa with its historic Sensoji Temple, or Meiji Shrine located in a sprawling forest in the centre of the city; or your guide can get you firmly off the tourist track and show you the hidden spots known only to the locals. If you have any particular interests or if there are places you've always wanted to visit, let us know and we can pass that on to your guide to help you get the most out of your day.

You'll be staying in the vibrant Shinjuku district of Tokyo, which is chock full of great places to eat, shop, and drink, and it's well-connected for getting around to other parts of the city.

Overnight: Century Southern Tower

Day 3

Escape to Hakone for a relaxing hot spring break

A scenic train ride will take you out of Tokyo today to the hot spring resort of Hakone. Traditionally it's been a popular place for the residents of Tokyo to go for a spot of rest and relaxation, and there are still a number of historic ryokan inns dotted around the valley where you can enjoy the mineral-rich onsen baths.

One of the highlights of Hakone is using your Hakone Freepass on the quirky variety of transportation to take you around the valley, from mountain trains to ropeways to a 'pirate ship' across Lake Ashi. If you're lucky with the weather, you might even be able to catch a glimpse of Mount Fuji from the boat.

If you love a good museum, Hakone has you covered: it's home to some excellent museums, with our favourite being the Hakone Open Air Museum with its photo-worthy sculptures and small but impressive Picasso Gallery.

Tonight you will be staying at a Japanese-style hotel which mixes traditional Japanese décor with Western comforts, and fusion kaiseki course cuisine.

Overnight: Kowakien Tenyu

Day 4-5

Return to the capital for your final night

On your last full day in Japan you'll hop on the sleek Shinkansen bullet train for the journey back to Tokyo where you'll have the rest of the day at leisure to finish off any last bits of sightseeing, shopping, or eating that you missed at the beginning of the trip. If there's anything in particular you'd like to see or do, let us know and we can help organize it for you.

Sadly your time in Japan has to come to an end. We'll arrange for a private car to take you from your hotel out to the airport ready for your onward journey. We hope you have a safe flight.

Overnight: Century Southern Tower
Close all days
Other trips you may like
Nagasaki
Kagoshima
Yakushima
Kirishima National Park
Kumamoto
Kurokawa Onsen
Fukuoka

Discover the impressive landscapes and vibrant cities of Kyushu on this journey from the forests of Yakushima to Kurokawa Onsen's hot springs

13 nights: from US$5252 pp (twin share) Read more >

The best of Japan – with a manga and anime twist. Visit the Ghibli Museum, wander Kyoto's temples and explore "electric town" on this essential trip.

10 nights: from US$2249 pp (twin share) Read more >

Takahara
Nonaka
Yunomine Onsen
Kii-Katsuura

This intermediate walking module offers five days exploring part of the Kumano Kodo, one of the most beautiful and mystical corners of Japan.

4 nights: from US$1521 pp (twin share) Read more >