Self-Guided Adventure
Kyoto City of Culture (Group Tour Add-On)
3 Nights: from US$962 per person (twin share)
Trip Code: AOKCCC
Extend your Japan trip with three nights in Kyoto City, home to dazzling temples, traditional gardens and geisha teahouses. Read more >
After your Small Group Tour A Northern Soul finishes in Tokyo, why not extend your time in Japan with a self-guided trip to Kyoto?
This add-on module will see you travelling independently from Tokyo to Kyoto for three nights. Kyoto is Japan's cultural heart. Once the seat of the Emperor and the capital of Japan for more than a thousand years, the city is dotted with spectacular temples and shrines. In addition you'll find quintessential Japanese gardens, kimono merchants, traditional craft shops and geisha girls amid a bustling city home to some 1.5 million people.
We won't leave you totally alone to navigate all of that though! On your first full day we've included the services of a local professional guide who'll escort you beyond the inevitable crowds to some secret beauty spots. The guide will explain Kyoto's refined culture and exquisite food scene that's quite unlike the rest of Japan.
On your final morning, we'll arrange a shared shuttle bus to take you to the nearest international airport, Osaka Kansai, for your flight home. Alternatively, if you'd prefer to return to Tokyo and fly home from either Tokyo Narita or Tokyo Haneda Airports we can arrange a different transfer. Please contact us for this additional cost.
Notes
This extension package is designed to be bolted on to one of our Small Group Tours. It works best when combined with A Northern Soul. Please note that the extension is Self-Guided. This means you will not be travelling in a group or with a tour leader, but full instructions including details of your journeys and directions to your accommodation will be included in your complimentary InsideJapan Tours' Info-Pack.
What's included
Three nights' accommodation

Breakfast every day

Bullet train tickets from Tokyo to Kyoto

Airport transfer to Osaka Kansai Airport at the end of your trip

Full day with a private guide in Kyoto

Evening group walking tour of the Gion geisha district

Your personalised InsideJapan Info-Pack
What's NOT included:
International flights

Local transport (buses, subways, taxis) at any destinations

Any entrance fees including those for shrines, temples and museums

Baggage handling - you will be expected to carry your own bags for the duration of the trip
Trip Highlights
Speed west on the bullet train between Tokyo and Kyoto

Visit Kyoto's famous Golden Pavilion and Kiyomizu-dera temple

Explore Nishiki food market known as "Kyoto's kitchen"
Spend a day with a local professional guide to get to grips with Kyoto culture

Join a group walking tour of the Gion geisha district

Shop for traditional crafts and vintage kimono in downtown Kyoto
For more information email us: [email protected] or call: + 44 117 244 3380
What, where, when and how...
Kyoto City of Culture (Group Tour Add-On) - 4 Days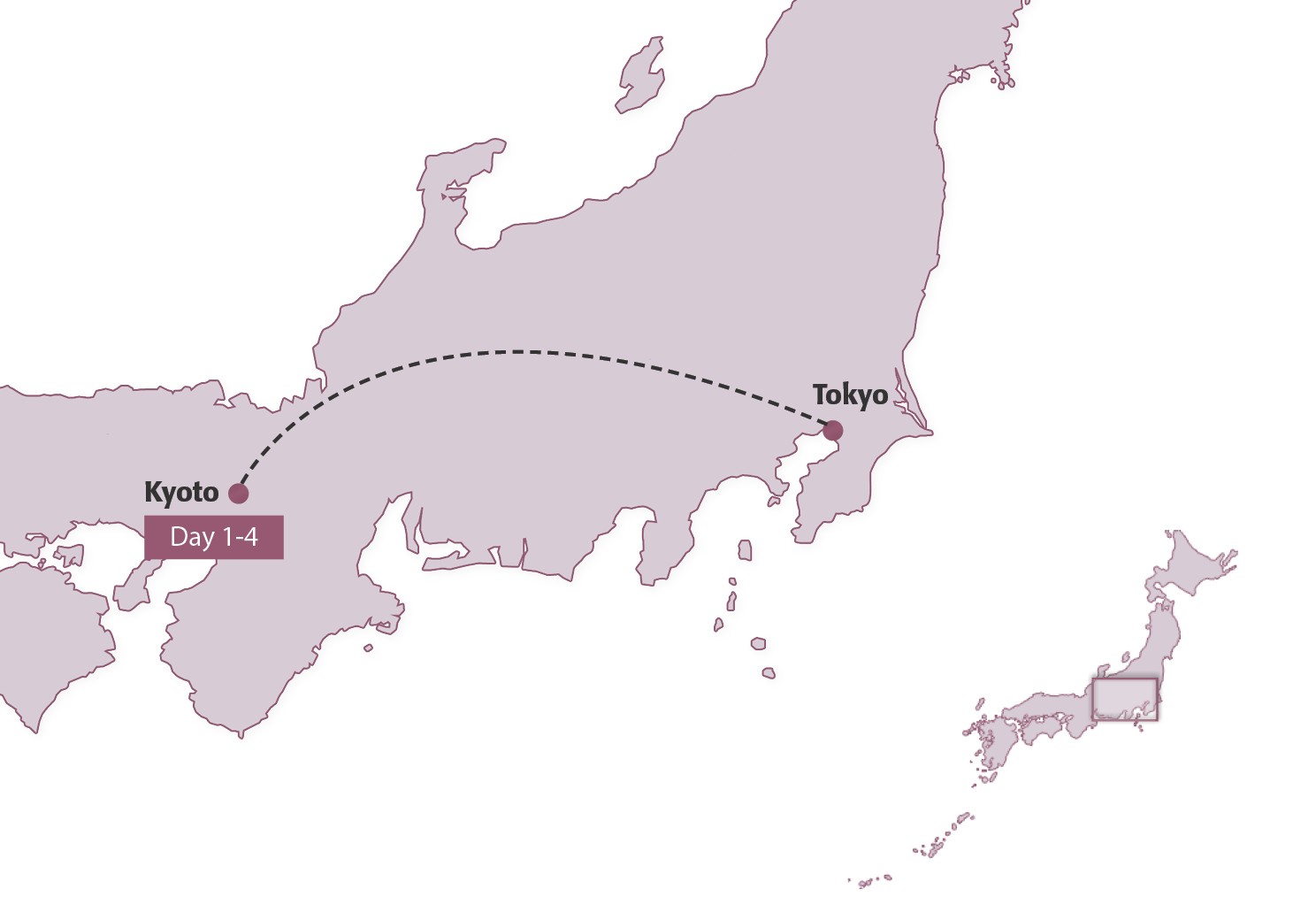 Kyoto City of Culture (Group Tour Add-On) - 4 Days - Day by Day
Kyoto City of Culture (Group Tour Add-On) - 4 Days - Accommodation

Kyoto City of Culture (Group Tour Add-On) - 4 Days - Experiences
Day 1-4

Hop on the bullet train and speed west for three days of temples, gardens and geisha in Kyoto

This morning you'll say goodbye to your tour leader and group in Tokyo and make your way to the bullet train station. We'll provide full instructions for this journey including reserved seat tickets on the train. Just outside Tokyo keep your eyes peeled for views of Mount Fuji from the right hand side of the train – weather permitting!
Two and a half hours later, you'll arrive into Kyoto Station. Your hotel is located in the city centre with a huge range of restaurants and shops on your doorstep.
On your first full day in Kyoto you'll have the services of a local professional guide to really help you get to grips with the city's extensive history and culture. Kyoto's is Japanese culture at its most refined – exquisite cuisine, dignified festivals, and a tightly woven web of customs and superstitions all play their part in shaping modern Kyoto life.
The next day you are free to continue exploring at your own pace. Check out the riverside suburb of Arashiyama – literally "storm mountain" – home to the famous bamboo groves and a tribe of monkeys. Or walk through the endless red tunnels at Fushimi Inari, a shrine in homage to the rice harvest in a part of town known for its sake production. You'll find many more sightseeing ideas in your complimentary Info-Pack.
In the evening we've included a group walking tour around Gion. With a bit of luck you may spot a geisha scurrying between teahouses in this picturesque corner of town.
On your final morning we'll arrange a shared shuttle bus transfer to Osaka Kansai International Airport. If you wish to return to Tokyo or fly home from another airport, please ask us to quote for alternative arrangements.

Overnight: Intergate Kyoto Shijo Shinmachi
View all days
Day 1-4

Hop on the bullet train and speed west for three days of temples, gardens and geisha in Kyoto

This morning you'll say goodbye to your tour leader and group in Tokyo and make your way to the bullet train station. We'll provide full instructions for this journey including reserved seat tickets on the train. Just outside Tokyo keep your eyes peeled for views of Mount Fuji from the right hand side of the train – weather permitting!
Two and a half hours later, you'll arrive into Kyoto Station. Your hotel is located in the city centre with a huge range of restaurants and shops on your doorstep.
On your first full day in Kyoto you'll have the services of a local professional guide to really help you get to grips with the city's extensive history and culture. Kyoto's is Japanese culture at its most refined – exquisite cuisine, dignified festivals, and a tightly woven web of customs and superstitions all play their part in shaping modern Kyoto life.
The next day you are free to continue exploring at your own pace. Check out the riverside suburb of Arashiyama – literally "storm mountain" – home to the famous bamboo groves and a tribe of monkeys. Or walk through the endless red tunnels at Fushimi Inari, a shrine in homage to the rice harvest in a part of town known for its sake production. You'll find many more sightseeing ideas in your complimentary Info-Pack.
In the evening we've included a group walking tour around Gion. With a bit of luck you may spot a geisha scurrying between teahouses in this picturesque corner of town.
On your final morning we'll arrange a shared shuttle bus transfer to Osaka Kansai International Airport. If you wish to return to Tokyo or fly home from another airport, please ask us to quote for alternative arrangements.

Overnight: Intergate Kyoto Shijo Shinmachi
Close all days
Other trips you may like
This superior 9 night itinerary introduces the best of Japan's iconic sights - from the skyscrapers of Tokyo to the ancient temples of Kyoto.

9 nights: from US$4732 pp (twin share) Read more >

Tokyo
Matsumoto
Hida Furukawa
Kanazawa
Kyoto
Mount Koya
Osaka

A classic 14-night itinerary that promises a mouthwatering introduction to Japanese cuisine, from sushi to soba and everything in between.

14 nights: from US$3978 pp (twin share) Read more >

Tokyo
Hakone
Kyoto
Taketomi
Tokyo

A luxury honeymoon combining iconic cities, stunning countryside and relaxing subtropical beaches

14 nights: from US$16315 pp (twin share) Read more >