Latest News
Monday, 8th April 2013

Japan's natural galleries: Works of art amidst nature, and nature as art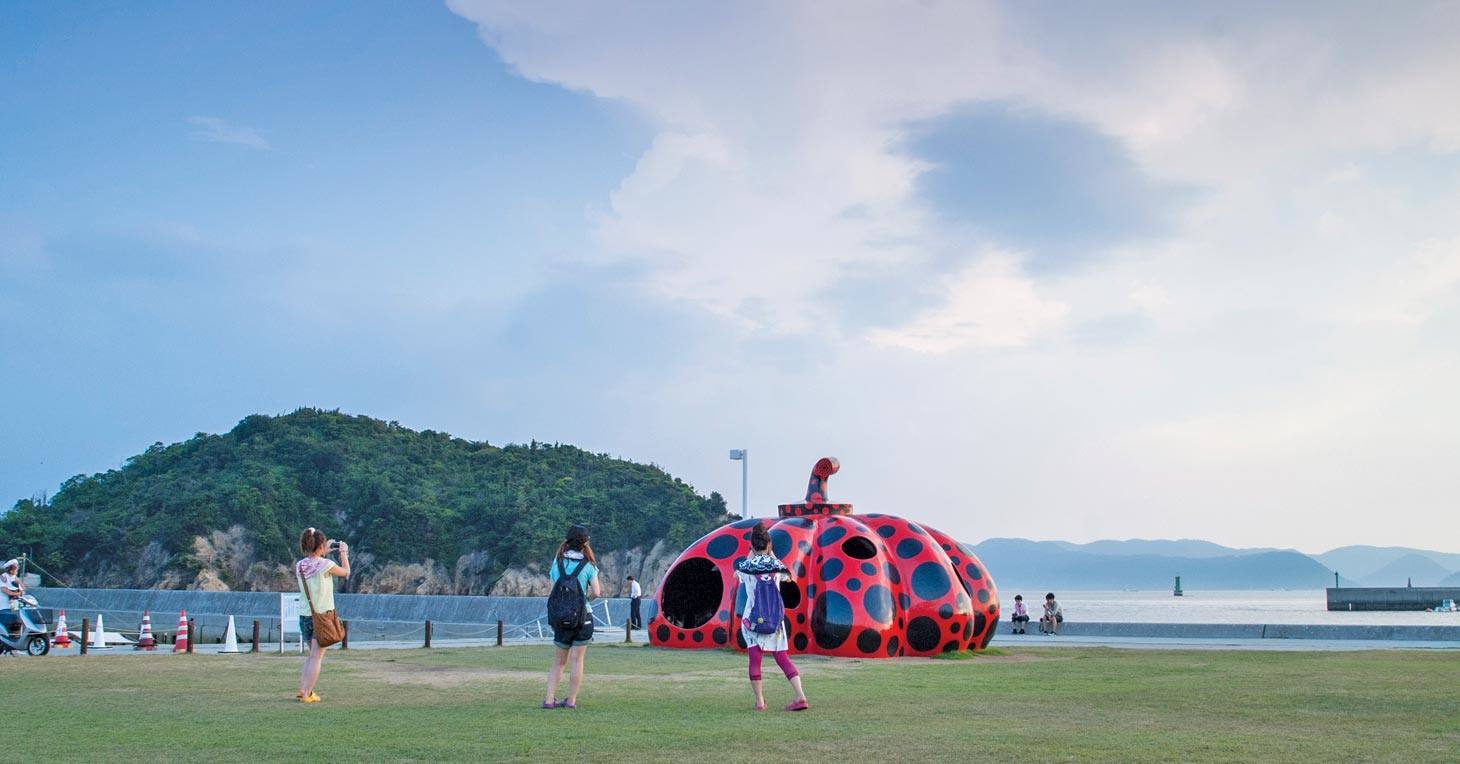 Feast your eyes on Japan's little-known visual arts scene and the natural aesthetic delights of her islands and mountains with the unique Setouchi Triennale Arts Festival and two new itineraries from InsideJapan Tours - the self-guided Japan Arts Trail and the escorted Historic Mountains Trail.

Setouchi Triennale Arts Festival
This is the second Setouchi Triennale Arts Festival, held in the spring, summer and autumn, from 20 March-21 April, 20 July-1 September and 5 October-4 November 2013. Featuring 75 artists' works across multiple islands that dot the Seto Inland Sea, this unique and natural gallery exhibits an eclectic spectrum of art by mainly Japanese artists and a sprinkling of international talent, whilst simultaneously showcasing a lesser-visited part of Japan. Appreciate an audio-visual installation on the island of Awashima, famous for its green-glowing fireflies, or see colourful paintings on historical Honjima, with a population of just 490; see huge objects made from rice straw on Shodoshima, famous for soya sauce and somen noodles, or visit Ogijima, where the land is precipitous and works of art are scattered within the maze of narrow alleyways that traverse the island's steep slopes.

Travel on a ten-night 'Art Island' self-guided package costing £1,382 pp (two sharing) including ten nights' accommodation, with three nights on the Seto Islands, all domestic transport, Setouchi Triennale Arts Festival Pass and private guide in Kyoto excludes flights.

Japan Arts Trail
For those who would like a broader experience of Japan's art world consider the new Japan Arts Trail, a suggested tailored 15-night journey, full of surprises. Visit rural areas where art has regenerated tourism as well as impressive metropolitan museums and be privy to expert knowledge from specialist guides in Tokyo and Kyoto. From ancient antiques, bold contemporary works and outdoor exhibitions to beautiful gardens, Zen temples and samurai castles, this trip is a true treasure trove.

The Japan Arts Trail itinerary costs from £1,930 pp (two sharing) including 15 nights' accommodation, daily breakfast, four evening meals, airport meet & greet, domestic transfers, eight hours of specialist guiding in Tokyo and Kyoto, InsideJapan Tours info pack, plus more; excludes flights.

Historic Mountain Trails
Be captivated by the natural beauty of Japan that exists in the Japan Alps and in the form of the sacred Mt Fuji, a perfectly symmetrical cone. InsideJapan Tours' new Historic Mountain Trails itinerary is a small group escorted tour (departing 7 July 2013) that includes a Mt Fuji climb, via the lesser-trodden Subashiri Trail, timed to summit at dawn.

Experience more spectacular mountain scenery in the Kiso Valley, situated on an ancient trading route that linked Kyoto and Edo (modern-day Tokyo) and in Kamikochi, home to three mountains and one active volcano, where terrains varies from flat to more challenging. With this itinerary, follow in the footsteps of samurai and pilgrims, past majestic waterfalls, through preserved post towns, in and out of lush forests, across rivers and past pretty ponds; and combine rural peaks and valleys with the backstreets of Kyoto and the neon of Tokyo.

Accommodation is a mixture of Western and Japanese, the latter always offering hot spring baths to soothe muscles after a day of hiking.
The Historic Mountain Trails itinerary costs from £2,100 pp (two sharing) including 13 nights' accommodation, daily breakfast, seven evening meals, cycling tour of Kyoto, airport meet & greet, all transfers, some luggage forwarding and full time services of a tour leader.


Related news stories:
Japanese women struggling to balance work with children, survey reveals (18th December 2012)
Yayoi Kusama exhibition to open in London (6th February 2012)
Staff at Japan Steel Works to take time off as orders decline (15th April 2013)