Spirit of Honshu
8 Nights: from US$5872
Trip Code: SOH
Starting with three nights in the hectic buzz that is Japan's capital city, your tour leader will help you navigate the whirlwind - accompanying you on a boat trip down the Sumida River, a visit to the serene Hamarikyu Gardens and maybe a night at a traditional izakaya restaurant.
Muse on the "see no evil, hear no evil, speak no evil" monkey carvings in Nikko's extravagant woodland temple complex. Feel dwarfed by the giant Buddha of Todai-ji and feed senbei crackers to the resident deer in the ancient capital of Nara.
Stay in a superb ryokan inn with seven varieties of hot spring bath on the stunning Izu Peninsula - a national park whose views of Mount Fuji, sweeping coastlines and forested interior make it the perfect antidote to the unrelenting crowds of Japan's cities. These are just some of the wonderful experiences you'll have on this short tour of Japan's main island.
Concluding your trip will be three days in Kyoto, Japan's undisputed cultural heart and a city with a very different character from Tokyo. Here it seems as though every sliding door conceals a bewitching garden or a lavish temple - but the real treat comes when you meet a maiko, or apprentice geisha. Geisha embody the mystery and refinement that Japanese culture is famous for, and this is a privileged chance to be in the company of one of these remarkable performers in person.
Throughout the tour you'll stay in superior accommodation, enjoying the very best in Japanese cuisine and travelling by first class rail and private transport.
If this sounds good and makes you want to see even more, why not extend your tour in Japan!
The tour leader will be staying at the first hotel for two nights before the tour starts so they will be available for advice if you choose to book pre tour nights. We recommend booking at least one extra night to check in and relax before the tour begins.
Important Information
Maximum Group Size: 14 people.

Single Supplement: This tour has a single supplement. This guarantees a single room throughout the tour.
Fitness: Even when not using public transport, sightseeing in Japan often involves walking between sights, climbing up steps in temples and being 'on the go' for much of the day. To enjoy any of our Small Group Tours you should be of moderate fitness, able to walk and climb stairs without difficulty and able to maintain a pace that is comfortable for the majority of the group.
Transport: Please note that some transfers are by public transport making use of Japan's first-rate transport network. However, you will have to carry your bags for short distances and some stations do not have escalators. We highly recommend that to make your stay more enjoyable you pack reasonably light. Large suitcases will be an inconvenience to you. A moderate case or bag with wheels are most appropriate for this tour.

Luggage: We highly recommend that to make your stay more enjoyable you pack reasonably light. Large suitcases will be an inconvenience to you. A small case or bag with wheels or a rucksack are most appropriate for this tour as you will have to carry your bags for short distances and some stations do not have escalators or elevators/lifts. You will also need a small overnight back-pack (for up to two nights) for use when we forward our main bags to the next location.

Accommodation: Rooms at the accommodation in Tokyo and Kyoto are fully en-suite. The rooms at the Japanese ryokan in Izu have an en-suite lavatory. There is no en-suite bath but all the hot spring baths can be used privately.

International Flights: This tour starts in Tokyo for arrivals at Tokyo Narita Airport or at Tokyo Haneda Airport and finishes in Kyoto for departures from Osaka Kansai Airport. Add-ons back to Tokyo can easily be arranged. Please ask us for details.
Check-in: Please note that rooms at the Tokyo hotel are available from 2pm. (You can, however, securely leave your luggage at the front desk at any time).


What's included
Full-time services of your tour leader

Eight nights' accommodation

Breakfast every day, one lunch and five evening meals

Arrival transfer by private car & departure transfer by shared taxi service

IC transport card with 2,500 yen credit for city transport

All transport between destinations in Japan

Ride on the Sumida River Bus & tea in Hamarikyu Gardens

Sightseeing in Nikko (including taxis, trains, entrance fees and expert local guide)

Two days sightseeing on the Izu Peninsula by private coach (entrance fees and lunch included)

Full day with an expert local guide in Kyoto (entrance fees included)

An exclusive audience with a Maiko, a trainee geisha

Day trip to Nara (including train tickets and entrance fees)

Your InsideJapan Info-Pack

Luggage forwarding from Izu to Kyoto

Shared portable Wi-Fi access throughout trip
What's NOT included:
International flights

Entrance fees (including temples, shrines and museums) unless otherwise specified

Baggage handling & luggage forwarding unless otherwise specified
Tour Price Information
Tour Price:

From US$5872

Single Supplement:

US$607
Extra Nights
Pre-Tour:

Twin Share pp US$162

Single pp US$202

Post-Tour:

Twin Share pp US$303

Single pp US$418
Tour Highlights
Feel dwarfed by Todai-ji's giant Buddha in Nara

Take in Tokyo by boat as you cruise down the Sumida River to Hamarikyu Gardens

Enjoy a private audience with an apprentice geisha in Kyoto
Stay in a luxury traditional ryokan with a delicious kaiseki dinner
Visit the extravagant woodland temple complex of Nikko

Marvel at the stunning coastline of Izu Peninsula, a less visited region of Japan

Enjoy a boat ride across Sagami bay with views of Mt Fuji

If all this sounds great and makes you want to see even more, why not extend your stay in Japan!
For more information email us: [email protected] or call: 303 952 0379
What, where, when and how...
Spirit of Honshu - 9 Days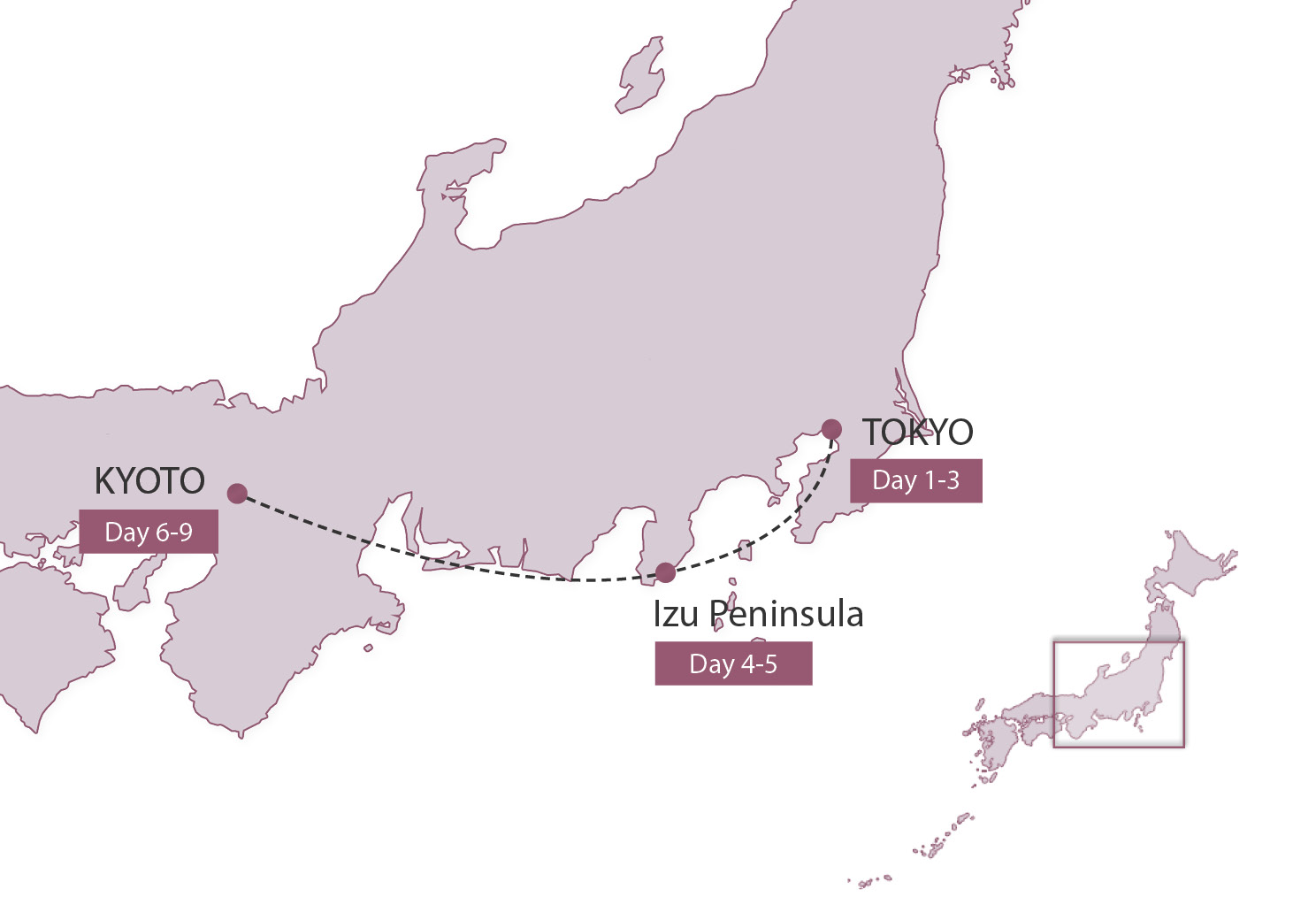 Destinations
Spirit of Honshu - 9 Days - Day by Day
Spirit of Honshu - 9 Days - Accommodation

Spirit of Honshu - 9 Days - Experiences
Spirit of Honshu - 9 Days - Booking
Single supplement from £450
Day 1-3

Discover Tokyo's highlights and take a day trip to Nikko, resting place of Japan's most famous shogun.

Welcome to Japan! Upon arrival at Tokyo's Narita or Haneda Airport you will be met by your driver and escorted by private car to you hotel in the Asakusa district. Your tour leader will be waiting to welcome you in the lobby when you arrive.
Asakusa is Tokyo's most traditional quarter, full of lively market stalls and home to the city's oldest temple, Senso-ji. This is a great place to begin exploring the city on your first afternoon. Later this evening, your tour leader will give a full trip briefing over an included welcome drink, then take you out for a first-night meal with your group, where you'll get a great introduction to Japanese food and etiquette – as well as some exciting information about the days ahead!
On day two of your trip you will take a tour of Tokyo by private coach, giving you a chance to explore the city's highlights. You'll cruise down the Sumida River from Asakusa to the lovely Hamarikyu Gardens; visit Meiji Shrine, set in the midst of a wooded park; wander the neon skyscraper district of Shinjuku; and admire the view from the top of the Metropolitan Government Building.
The evening will be free for you to explore the city under your own steam – your tour leader will have plenty of suggestions on how best to spend your time.
On day three of your tour you'll take a day trip to Nikko: resting-place of Japan's most important shogun, Tokugawa Ieyasu, and famous throughout Japan for its dazzlingly ornate architecture. Here you'll wander amongst elaborate shrines and temples set in a thickly forested national park, admire the carving of the "see-no-evil" monkeys and see the famous Shinkyo Bridge. Railway tickets, entrance fees and the services of an expert local guide will all be included in the tour today, and of course, your tour leader will be with you throughout.

Overnight: Asakusa View

Day 4-5

Tour the Izu Peninsula: a beautiful, mountainous area with excellent views of Mount Fuji (weather permitting!)

Today you will hop aboard a private coach bound for the Izu Peninsula, a strip of lush, mountainous land about 100 km (60 miles) to the southwest of Tokyo.
We'll be stopping en route at the newly reopened MOA Museum of Art and taking in the dramatic scenery from the Jikkoku Pass, which on clear days offers views of Mount Fuji.
For your two nights on the peninsula you will be staying at a luxurious ryokan, a traditional Japanese inn set in a beautiful woodland grove. Here you'll sleep on comfortable futon mattresses laid out on tatami mats, and have the chance to take advantage of the ryokan's impressive selection of natural hot spring baths. A top-quality kaiseki dinner will be included on both nights of your stay.
On day five, your adventure continues as you further explore the stunning Jogasaki with visits to Mt. Omuro and the picturesque harbour-side town of Shimoda. Again travelling by private coach, we'll ensure an early enough return to the ryokan for you to enjoy some relaxing down-time in your beautiful rooms and the soothing baths, before a second night of exquisite kaiseki food.

Overnight: Hanafubuki

Day 6-9

Visit Kyoto and Nara: two ancient imperial capitals packed with a dazzling array of shrines, temples and beautiful gardens.

On day six of your tour you will travel by private coach to the small town of Toi, where you will catch an hour-long ferry to Shimizu at the northern end of the peninsula. If the weather is clear, you'll be able to enjoy spectacular views of Mount Fuji as you make the trip across the bay.
From Shimizu you'll hop aboard the shinkansen bullet train and speed west at speeds of up to 320 kph (200 mph) to Kyoto, once Japan's imperial capital for over a millennium. Later your tour leader will take the group to one of their favourite local restaurants for an included dinner.
On day seven you'll have the services of a knowledgeable Kyoto local as well as your tour leader as you explore the ancient temples, shrines, gardens and teahouses of this magnificent city. Visit the stunning Golden Pavilion at Kinkaku-ji, have a Zen moment at Ryoan-ji's famous rock garden and explore the bamboo groves of Arashiyama – to name a few highlights.
Kyoto is well known as a centre of geisha culture, and this evening you will have an exclusive audience with a maiko (trainee geisha), during which you'll be able to ask questions, take photos and enjoy a rare window into a famously secretive and fascinating culture.
On day eight you will visit an even older capital city than Kyoto: nearby Nara. Nara is a well-preserved city with a small-town atmosphere and many historical treasures. Highlights today will include seeing the giant Buddha, housed in the largest wooden building in the world, and feeding shika senbei crackers to the vast herd of friendly deer that inhabit Nara Park.
Back in Kyoto you'll enjoy a farewell dinner with your group at one of the city's superb restaurants – a great chance to talk over your experiences and say goodbye to your companions and tour leader. The following morning you'll travel by shared taxi to Kansai Airport for your flight home.

Overnight: Okura Hotel Kyoto
View all days
Day 1-3

Discover Tokyo's highlights and take a day trip to Nikko, resting place of Japan's most famous shogun.

Welcome to Japan! Upon arrival at Tokyo's Narita or Haneda Airport you will be met by your driver and escorted by private car to you hotel in the Asakusa district. Your tour leader will be waiting to welcome you in the lobby when you arrive.
Asakusa is Tokyo's most traditional quarter, full of lively market stalls and home to the city's oldest temple, Senso-ji. This is a great place to begin exploring the city on your first afternoon. Later this evening, your tour leader will give a full trip briefing over an included welcome drink, then take you out for a first-night meal with your group, where you'll get a great introduction to Japanese food and etiquette – as well as some exciting information about the days ahead!
On day two of your trip you will take a tour of Tokyo by private coach, giving you a chance to explore the city's highlights. You'll cruise down the Sumida River from Asakusa to the lovely Hamarikyu Gardens; visit Meiji Shrine, set in the midst of a wooded park; wander the neon skyscraper district of Shinjuku; and admire the view from the top of the Metropolitan Government Building.
The evening will be free for you to explore the city under your own steam – your tour leader will have plenty of suggestions on how best to spend your time.
On day three of your tour you'll take a day trip to Nikko: resting-place of Japan's most important shogun, Tokugawa Ieyasu, and famous throughout Japan for its dazzlingly ornate architecture. Here you'll wander amongst elaborate shrines and temples set in a thickly forested national park, admire the carving of the "see-no-evil" monkeys and see the famous Shinkyo Bridge. Railway tickets, entrance fees and the services of an expert local guide will all be included in the tour today, and of course, your tour leader will be with you throughout.

Overnight: Asakusa View

Day 4-5

Tour the Izu Peninsula: a beautiful, mountainous area with excellent views of Mount Fuji (weather permitting!)

Today you will hop aboard a private coach bound for the Izu Peninsula, a strip of lush, mountainous land about 100 km (60 miles) to the southwest of Tokyo.
We'll be stopping en route at the newly reopened MOA Museum of Art and taking in the dramatic scenery from the Jikkoku Pass, which on clear days offers views of Mount Fuji.
For your two nights on the peninsula you will be staying at a luxurious ryokan, a traditional Japanese inn set in a beautiful woodland grove. Here you'll sleep on comfortable futon mattresses laid out on tatami mats, and have the chance to take advantage of the ryokan's impressive selection of natural hot spring baths. A top-quality kaiseki dinner will be included on both nights of your stay.
On day five, your adventure continues as you further explore the stunning Jogasaki with visits to Mt. Omuro and the picturesque harbour-side town of Shimoda. Again travelling by private coach, we'll ensure an early enough return to the ryokan for you to enjoy some relaxing down-time in your beautiful rooms and the soothing baths, before a second night of exquisite kaiseki food.

Overnight: Hanafubuki

Day 6-9

Visit Kyoto and Nara: two ancient imperial capitals packed with a dazzling array of shrines, temples and beautiful gardens.

On day six of your tour you will travel by private coach to the small town of Toi, where you will catch an hour-long ferry to Shimizu at the northern end of the peninsula. If the weather is clear, you'll be able to enjoy spectacular views of Mount Fuji as you make the trip across the bay.
From Shimizu you'll hop aboard the shinkansen bullet train and speed west at speeds of up to 320 kph (200 mph) to Kyoto, once Japan's imperial capital for over a millennium. Later your tour leader will take the group to one of their favourite local restaurants for an included dinner.
On day seven you'll have the services of a knowledgeable Kyoto local as well as your tour leader as you explore the ancient temples, shrines, gardens and teahouses of this magnificent city. Visit the stunning Golden Pavilion at Kinkaku-ji, have a Zen moment at Ryoan-ji's famous rock garden and explore the bamboo groves of Arashiyama – to name a few highlights.
Kyoto is well known as a centre of geisha culture, and this evening you will have an exclusive audience with a maiko (trainee geisha), during which you'll be able to ask questions, take photos and enjoy a rare window into a famously secretive and fascinating culture.
On day eight you will visit an even older capital city than Kyoto: nearby Nara. Nara is a well-preserved city with a small-town atmosphere and many historical treasures. Highlights today will include seeing the giant Buddha, housed in the largest wooden building in the world, and feeding shika senbei crackers to the vast herd of friendly deer that inhabit Nara Park.
Back in Kyoto you'll enjoy a farewell dinner with your group at one of the city's superb restaurants – a great chance to talk over your experiences and say goodbye to your companions and tour leader. The following morning you'll travel by shared taxi to Kansai Airport for your flight home.

Overnight: Okura Hotel Kyoto
Close all days
Latest from Twitter
Get set for a solo pilgrimage as you go in search of your spiritual side on the Kumano Kodo. Not quite ready to go… twitter.com/i/web/status/9…
Tokyo
Nikko
Karuizawa
Nagano
Kanazawa
Kyoto
Hakone
Tokyo

Coastal cities, alpine resorts, urban giants and national parks

14 nights: US$8066 Read more >