Small Group Tour
Geography in Tokyo
6 Nights: price on request
Trip Code: SCHOOLGEOG
The home of Mount Fuji, constant seismic activity, rapid urbanisation and ever expanding industry and population, Japan is the dream for geography students! Read more >
What's included
Full-time Tour Guide for the duration of your trip

Well-located accommodation

Return airport transfers in Japan

Breakfast and Dinner every day

Entrance fees to all the sightseeing mentioned in the itinerary

Mobile wireless devices for all teachers to ensure they can keep in contact

Free places for teachers based on a 1:10 ratio
What's NOT included:
Meals other than those detailed above

Local transport at each destination (taxis, buses, subways etc.) except where specified

Entrance fees to shrines, temples, museums etc. unless otherwise stated above

Baggage Handling unless explicitly stated above

Incidentals such as room service etc
Disclaimer Message: Please note: Prices displayed above are all "From" prices as individual prices vary depending on time of year travelling. For full pricing information on specific departures please speak to your Travel Consultant.
Tour Highlights
Explore the impressive G-Can flood surge tunnels

Take in views of Fuji from Hakone National Park

Sail across Lake Ashi on a pirate ship
Visit the advanced National Museum of Emerging Science and Innovation (the Miraikan)

Ride on the Sumida River Bus to Tokyo's Hamarikyu Gardens
For more information email us: [email protected] or call: + 44 117 244 3380
What, where, when and how...
Geography in Tokyo - 7 Days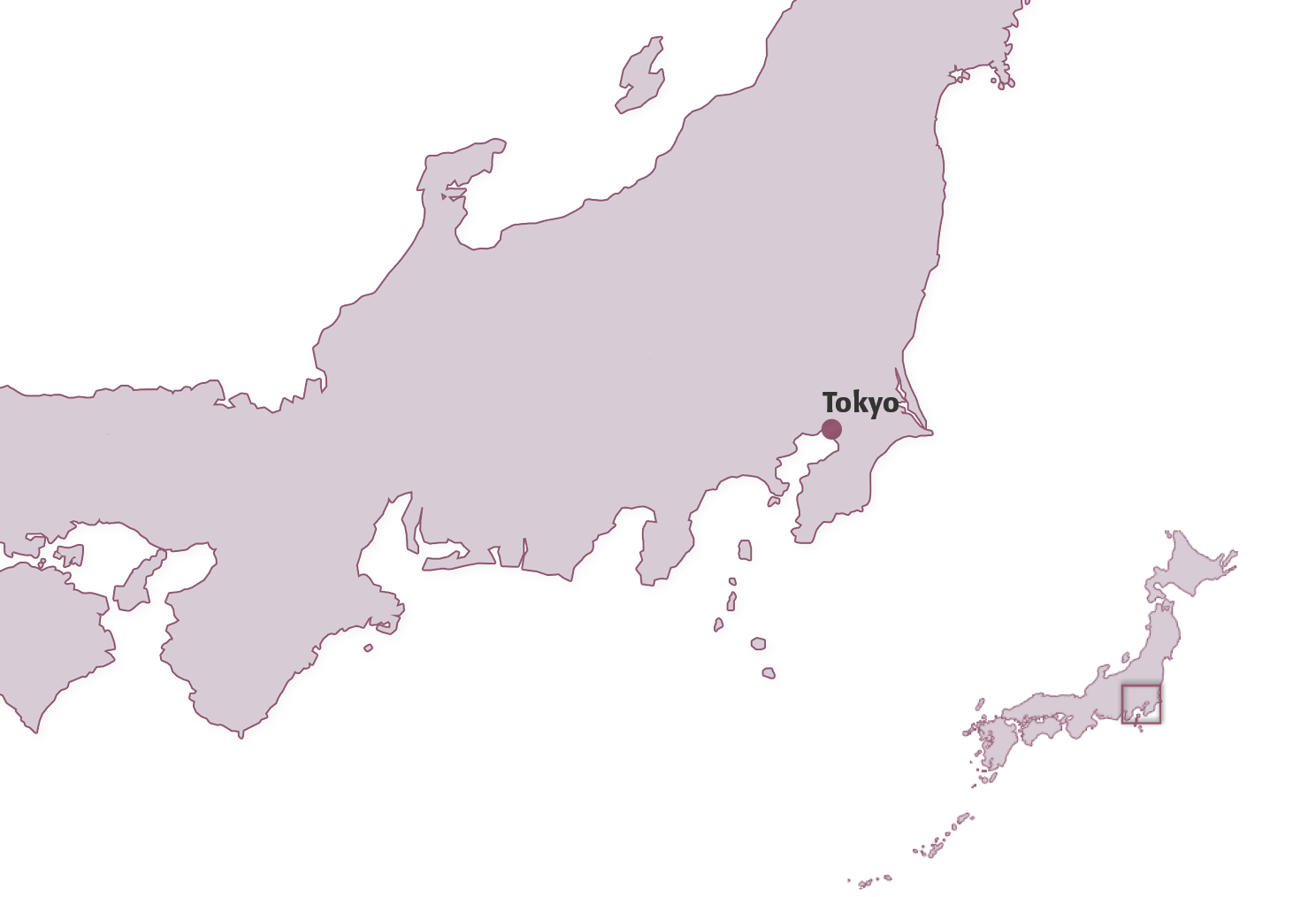 Geography in Tokyo - 7 Days - Day by Day
Geography in Tokyo - 7 Days - Accommodation

Geography in Tokyo - 7 Days - Experiences
Geography in Tokyo - 7 Days - Booking
Please contact us to get all the latest booking and date information
No single supplement! Guaranteed single room in Western style hotels.
Day 1-4

Day 1 – Depart UK This afternoon you will leave London on an overnight flight to Tokyo. The flight heads over Scandinavia and northern Russia, landing in Tokyo the following morning after a 12 hour journey.

Day 2 – Arrive Tokyo Welcome to Japan! On arrival at Narita Airport you will be met at the airport by your guide for the week, and transfer to your first hotel in Tokyo. Get your first taste of Japan this afternoon at the Tokyo Skytree Tower. Tokyo Skytree is by far the tallest structure in Japan and offers unparalleled views over Tokyo. On clear days you will be able to see Mount Fuji and beyond from either of the two 360 degree observation decks. But perhaps even more impressive will be the expanse of the metropolis in front of you - 30 million people going about their business. Seeing all of this through the glass floor of the deck is quite an experience!

Day 3 – Tokyo Your tour leaders will be leading a tour of Tokyo today starting out in Asakusa. Tokyo is renowned for its futuristic architecture, high-rise buildings and characteristic neon signage – but in Asakusa you'll find an old-fashioned atmosphere much more akin to the Tokyo of yesteryear. Visit Senso-ji, the oldest and best-loved temple in the city Ride on the Sumida River Bus to Hamarikyu Gardens in the centre of Tokyo. The entrance fee to the gardens is also included and your visit here gives you the chance to stroll around some beautiful scenery in central Tokyo. The pond here is the only remaining seawater pond within Tokyo, with water drawn from the bay. With the rise and fall of the tide, the sluice gate opens and shuts to regulate the water level. There are many different types of ocean water fish in the pond, including black mullet, sea bass, gobies and eels. Take the monorail across the rainbow bridge to the futuristic, man-made island of Odaiba. Spend some time at the advanced National Museum of Emerging Science and Innovation (called the Miraikan) home of the famous humanoid robot "Asimo". The "Create Your Future" permanent exhibition will encourage students to think about modern day innovation, sustainability and what the future holds for planet Earth.

Day 4 – Tokyo This morning you will head to the G-Can Flood Surge Tunnels. 50 metres beneath Tokyo lie colossal underground flood surge tunnels; a staggering feat of engineering. Over 4 miles long, the G-Can network of tunnels included super-powered pumps and huge tanks dedicated to keeping Tokyo dry during rainy season and in the case of flooding. Construction on the tunnels started in 1992 and the complex is still growing. The main tank, often likened to an underground temple, has been used as an atmospheric backdrop in many films and TV shows. This giant tank measures 25.4m x 177m x 78m, is supported by 59 gargantuan pillars and has seventy-eight 14,000 horsepower pumps to force water back into the Edogawa River. Later this afternoon, head to the bright neon-spangled skyscrapers of Shinjuku! This is the Tokyo of the imagination with flashing kanji signs, screaming pachinko parlours, karaoke bars, cat cafés, department stores, restaurants and izakaya all straining for space and rising skywards from the busy streets below.

Overnight: Dormy Inn Global Cabin Asakusa

Day 5

Once your private coach has reached Hakone National Park, your first stop is Owakudani Valley - the area around a crater created during the last eruption of Mount Hakone some 3000 years ago. Today, much of the area is an active volcanic zone where sulphurous fumes, hot springs and hot rivers can be experienced. Additionally, Owakudani has good views of Mount Fuji on clear days. On clear days Hakone Ropeway provides spectacular views of the surrounding mountains, and of course away in the distance the imperious Mt. Fuji - one of the world's most famous mountains and perhaps the most recognisable symbol of Japan. Just one of the many bizarre and surreal but utterly fantastic curve balls that Japan throws at you, the Lake Ashi pirate ships certainly make viewing Mount Fuji all the more memorable. However, Mount Fuji is very shy and if she happens to be hiding behind the cloud line, the ornate craftsmanship, life size pirate figurines and kitsch pirate paraphernalia provide some entertaining photo opportunities as a little consolation!

Overnight: Dormy Inn Global Cabin Asakusa

Day 6-7

Day 6 – Tokyo This morning you will be making a visit to the Tokyo Rinkai Disaster Prevention Park - In the event of a large-scale disaster, such as an earthquake centred below Tokyo, this park acts as a central base of operations for disaster prevention in the Tokyo Metropolitan Area. It houses emergency response facilities including local disaster management headquarters, as well as institutions that compile disaster-related information and coordinate emergency disaster measures This afternoon, pay a visit to the Kanto Earthquake Museum to find out more about the Great Kanto Earthquake which struck Tokyo in 1923 and destroyed 70% of Tokyo.

Day 7 – Depart Tokyo It's sayonara as the tour ends today and time to head home. Your guide will accompany you to the airport by coach transfer to make sure you are there in good time to check-in for your flight.

Overnight: Dormy Inn Global Cabin Asakusa
View all days
Day 1-4

Day 1 – Depart UK This afternoon you will leave London on an overnight flight to Tokyo. The flight heads over Scandinavia and northern Russia, landing in Tokyo the following morning after a 12 hour journey.

Day 2 – Arrive Tokyo Welcome to Japan! On arrival at Narita Airport you will be met at the airport by your guide for the week, and transfer to your first hotel in Tokyo. Get your first taste of Japan this afternoon at the Tokyo Skytree Tower. Tokyo Skytree is by far the tallest structure in Japan and offers unparalleled views over Tokyo. On clear days you will be able to see Mount Fuji and beyond from either of the two 360 degree observation decks. But perhaps even more impressive will be the expanse of the metropolis in front of you - 30 million people going about their business. Seeing all of this through the glass floor of the deck is quite an experience!

Day 3 – Tokyo Your tour leaders will be leading a tour of Tokyo today starting out in Asakusa. Tokyo is renowned for its futuristic architecture, high-rise buildings and characteristic neon signage – but in Asakusa you'll find an old-fashioned atmosphere much more akin to the Tokyo of yesteryear. Visit Senso-ji, the oldest and best-loved temple in the city Ride on the Sumida River Bus to Hamarikyu Gardens in the centre of Tokyo. The entrance fee to the gardens is also included and your visit here gives you the chance to stroll around some beautiful scenery in central Tokyo. The pond here is the only remaining seawater pond within Tokyo, with water drawn from the bay. With the rise and fall of the tide, the sluice gate opens and shuts to regulate the water level. There are many different types of ocean water fish in the pond, including black mullet, sea bass, gobies and eels. Take the monorail across the rainbow bridge to the futuristic, man-made island of Odaiba. Spend some time at the advanced National Museum of Emerging Science and Innovation (called the Miraikan) home of the famous humanoid robot "Asimo". The "Create Your Future" permanent exhibition will encourage students to think about modern day innovation, sustainability and what the future holds for planet Earth.

Day 4 – Tokyo This morning you will head to the G-Can Flood Surge Tunnels. 50 metres beneath Tokyo lie colossal underground flood surge tunnels; a staggering feat of engineering. Over 4 miles long, the G-Can network of tunnels included super-powered pumps and huge tanks dedicated to keeping Tokyo dry during rainy season and in the case of flooding. Construction on the tunnels started in 1992 and the complex is still growing. The main tank, often likened to an underground temple, has been used as an atmospheric backdrop in many films and TV shows. This giant tank measures 25.4m x 177m x 78m, is supported by 59 gargantuan pillars and has seventy-eight 14,000 horsepower pumps to force water back into the Edogawa River. Later this afternoon, head to the bright neon-spangled skyscrapers of Shinjuku! This is the Tokyo of the imagination with flashing kanji signs, screaming pachinko parlours, karaoke bars, cat cafés, department stores, restaurants and izakaya all straining for space and rising skywards from the busy streets below.

Overnight: Dormy Inn Global Cabin Asakusa

Day 5

Once your private coach has reached Hakone National Park, your first stop is Owakudani Valley - the area around a crater created during the last eruption of Mount Hakone some 3000 years ago. Today, much of the area is an active volcanic zone where sulphurous fumes, hot springs and hot rivers can be experienced. Additionally, Owakudani has good views of Mount Fuji on clear days. On clear days Hakone Ropeway provides spectacular views of the surrounding mountains, and of course away in the distance the imperious Mt. Fuji - one of the world's most famous mountains and perhaps the most recognisable symbol of Japan. Just one of the many bizarre and surreal but utterly fantastic curve balls that Japan throws at you, the Lake Ashi pirate ships certainly make viewing Mount Fuji all the more memorable. However, Mount Fuji is very shy and if she happens to be hiding behind the cloud line, the ornate craftsmanship, life size pirate figurines and kitsch pirate paraphernalia provide some entertaining photo opportunities as a little consolation!

Overnight: Dormy Inn Global Cabin Asakusa

Day 6-7

Day 6 – Tokyo This morning you will be making a visit to the Tokyo Rinkai Disaster Prevention Park - In the event of a large-scale disaster, such as an earthquake centred below Tokyo, this park acts as a central base of operations for disaster prevention in the Tokyo Metropolitan Area. It houses emergency response facilities including local disaster management headquarters, as well as institutions that compile disaster-related information and coordinate emergency disaster measures This afternoon, pay a visit to the Kanto Earthquake Museum to find out more about the Great Kanto Earthquake which struck Tokyo in 1923 and destroyed 70% of Tokyo.

Day 7 – Depart Tokyo It's sayonara as the tour ends today and time to head home. Your guide will accompany you to the airport by coach transfer to make sure you are there in good time to check-in for your flight.

Overnight: Dormy Inn Global Cabin Asakusa
Close all days