Luxury Japan
10 Nights: from US$14625
Trip Code: LJ
Luxury Japan is a deluxe-level Small Group Tour: we can ensure that you have access to the very best accommodation, cuisine, experiences and guiding at all stages of your trip.
The itinerary begins and ends in Tokyo, where you'll be able to survey the neon glimmering skyscrapers from the balcony of your hotel overlooking the Imperial Palace Gardens - a really unique and exclusive location to kick off a fabulous tour.
After a day in the capital you'll move on to the Fuji-Hakone-Izu National Park area. Here you'll enjoy the very best in Japanese hospitality - or omotenashi as it's called in Japan - at your choice of deluxe accommodation.
After two days to enjoy the charms of Mount Fuji and its environs you'll move on to spend three days exploring Kyoto, Japan's ancient city of culture, before paying a visit to the city of Kanazawa, which is home to one of the country's finest landscape gardens.
Finally your trip will bring you full circle as you return to the hustle and bustle of Tokyo for a final night at the elegant, high-rise Park Hyatt - immortalised by Scarlett Johansson and Bill Murray in the film Lost in Translation.
At every stage of your trip you'll enjoy private transfers, first-class rail travel, fine Japanese cuisine, private local guides and exclusive experiences - all whilst being accompanied by your dedicated InsideJapan senior tour leader, who will ensure that you never have to worry about a thing.
The tour leader will be staying at the first hotel for two nights before the tour starts so they will be available for advice if you choose to book pre tour nights. We recommend booking at least one extra night to check in and relax before the tour begins.
What's included
10 nights' accommodation

All transport between destinations in Japan including private airport transfers, first-class rail travel and private minibus transfers between most locations

Full-time services of your InsideJapan senior tour leader

Local expert guides for selected days in Tokyo, Kyoto and Kanazawa

Entrance fees for Kenrokuen Garden and Kanazawa Castle

Breakfast every day, eight lunches and eight evening meals

Drinks reception on your first night in Tokyo

Wine and Sake tasting at a restaurant in Tokyo

Entrance to the Tokyo SkyTree

Two-day Hakone Free Pass for local transport in the Hakone region

Entrance to Hakone Open-Air Museum

Tickets for the Hakone ropeway and a visit to Owakudani "Hell Valley"

Cruise across Lake Ashi

Visit to a trick box workshop in Moto Hakone

Early-morning visit to Arashiyama with a rickshaw ride through the bamboo grove and thirty-minute boat ride on the Hozugawa River and entrance to Tenryuji Temple

Entrance to Kinkakuji Golden Pavilion, Tofukuji and Sanjusangendo temples in Kyoto

Kimono dress-up session in Kyoto
Zazen meditation and tea ceremony experiences followed by a garden party with geisha entertainment, all at Gesshin-in Temple and accompanied by a professional photographer
Visit to Nomura samurai house in Kanazawa

Final night drinks reception at the Park Hyatt, Tokyo

Baggage handling, luggage forwarding and porterage throughout

Shared portable Wi-Fi access throughout trip
What's NOT included:
International flights

Any extra local transport (taxis, subways, buses) unless covered by the included transport passes

Any entrance fees (including those for temples, shrines and museums) unless otherwise specified
Tour Price Information
Tour Price:

From US$14625

Single Supplement:

From US$4667
Extra Nights
Pre-Tour:

Twin Share From US$397 pp

Single From US$752 pp

Post-Tour:

Twin Share From US$405 pp

Single From US$767 pp
Disclaimer Message: Please note: Prices displayed above are all "From" prices as individual prices vary depending on time of year travelling. For full pricing information on specific departures please speak to your Travel Consultant.
Tour Highlights
Look out over Tokyo's Imperial Palace Gardens from your private balcony at the Palace Hotel

Enjoy a wine and sake tasting session with a Tokyo expert

Take a cruise across Lake Ashi overlooked by Mount Fuji

Visit Kanazawa's 21st Century Museum of Contemporary Art
Attend a private garden party with geisha entertainment at Gesshin-in Temple

Choose your accommodation at one of Japan's most exclusive properties in Hakone

Explore Arashiyama with a rickshaw ride through its bamboo grove and a boat ride on the Hozugawa River

Admire outdoor sculpture art in Hakone's Open Air Museum
For more information email us: [email protected] or call: 303 952 0379
What, where, when and how...
Luxury Japan - 11 Days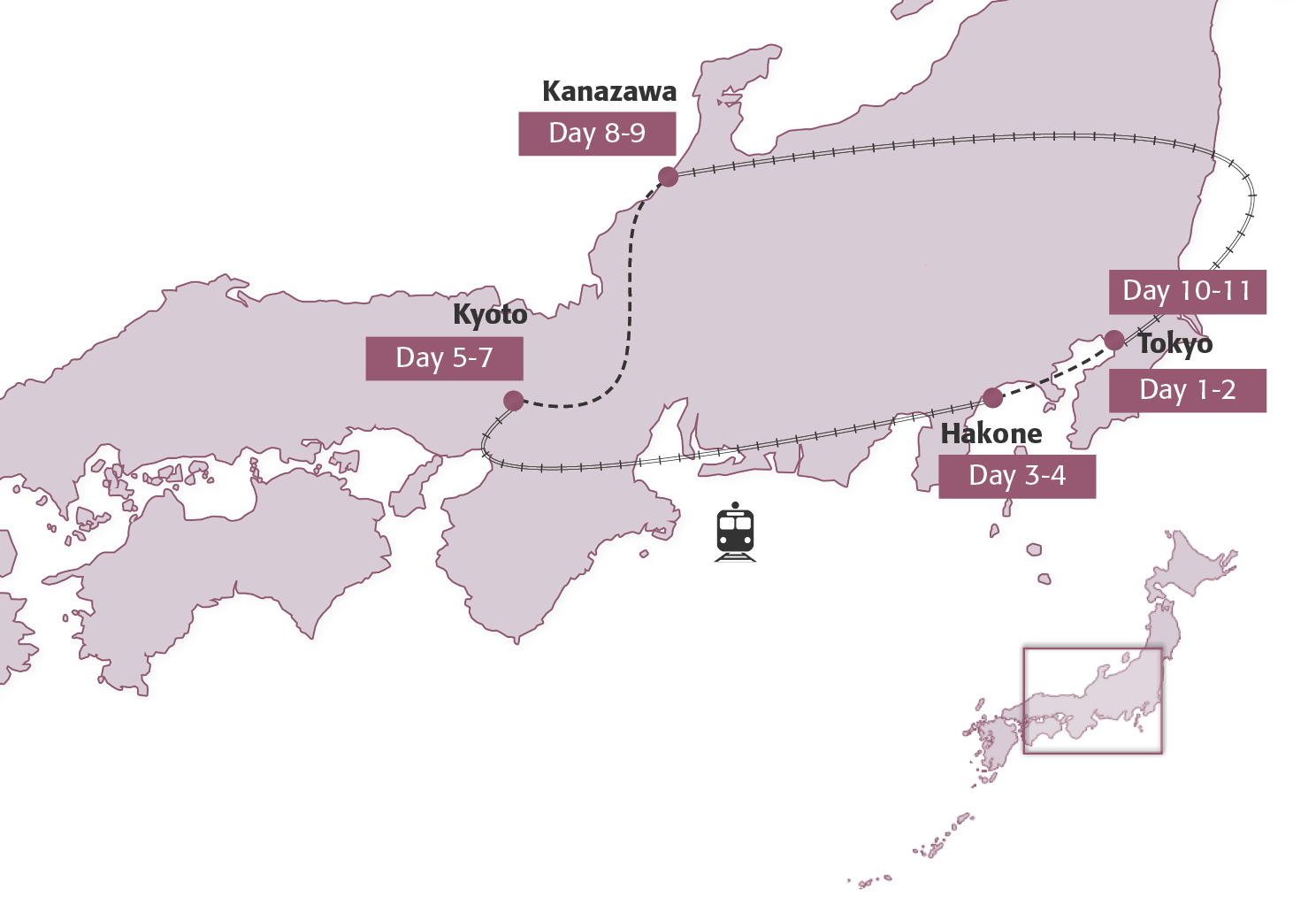 Destinations
Luxury Japan - 11 Days - Day by Day
Luxury Japan - 11 Days - Accommodation
Luxury Japan - 11 Days - Booking
Please contact us to get all the latest booking and date information
No single supplement! Guaranteed single room in Western style hotels.
Day 1-2

Feel like royalty as you begin your journey with two nights at the Palace Hotel with a private balcony overlooking the Imperial Palace Gardens.

As soon as you touch down at Tokyo's airport today you'll be met at arrivals and whisked away by private car to the Palace Hotel – where your neighbours will be the Japanese royal family! Your tour leader will be at the hotel for two days prior to the beginning of the tour, so if you choose to extend your stay in Japan they will be on hand to meet you and help you settle in.

On your first evening in the capital you'll enjoy a drinks reception and first-night meal. This is an excellent way to begin getting to know your tour leader and travelling companions whilst simultaneously getting a gentle introduction to Japan's cuisine.

On day two of your tour in addition to your tour leader, one of InsideJapan's expert private guides will join you for a half day of guiding in the big city. In the morning you'll explore Asakusa, Tokyo's most traditional district and home to the city's oldest temple, Senso-ji. before lunch at the top of the dizzying 634 m Skytree - the tallest tower in the world.

After lunch another of our selected guides will join you. A certified wine sommelier and food writer, she will take you for a backstreet tour of Tokyo and will accompany you for dinner, which will be at a wonderful local restaurant with wine and sake tasting included.

Overnight: Palace Tokyo

Day 3-4

Enjoy the stunning natural beauty of Mount Fuji and the Fuji-Hakone-Izu National Park while staying in your choice of accommodation.

On day three you'll leave the capital behind as you hop aboard a private coach for the journey to Hakone, part of the Fuji-Hakone-Izu National Park.

Here you'll have the choice to personalise your tour by choosing your preferred accommodation between two of the most exclusive properties in the area. Enjoy an elegant Western style resort or upgrade to a traditional Japanese ryokan inn; either way you'll enjoy the very best of Japanese hospitality, cuisine and hot spring baths.

After an included lunch on arrival your tour leader will take you to the outstanding Open-Air Museum, which houses artworks and sculptures by masters such as Henry Moore, Yayoi Kusama and Picasso – many of which stand outside amid the beautiful scenery of the national park. Afterwards you'll make your way by private bus to your accommodation and enjoy an included dinner there.

On day four of your tour you'll spend a full day sightseeing in the beautiful Hakone area, including a cruise across Lake Ashi (hopefully including spectacular Fuji views, if weather permits!)

After another included lunch in Moto Hakone, you'll visit a workshop where you'll learn how traditional wooden puzzle boxes are made, followed by an afternoon and evening at leisure.

Overnight: Your choice of Deluxe accommodation

Day 5-7

Attend an exclusive garden party, mingle with geisha and explore the many exquisite temples and shrines of Japan's former imperial capital.

On day five you will board the shinkansen bullet train, where you will be seated in first class for the journey from Odawara to Kyoto, capital city of Japan for over a millennium (from 794 to 1868). This illustrious history has left Kyoto with a vast wealth of temples, shrines and gardens, and a cultural heritage unrivalled by any other city in Japan.

On arrival in Kyoto you will have lunch with your group before checking-in at your hotel; the afternoon will be free at leisure to enjoy the facilities at your hotel or explore the local area as you wish. In the evening you will join your tour leader and group for dinner at a superb tempura restaurant.

On day six of your itinerary you will be joined by one of InsideJapan's expert private guides for a full day of sightseeing in Kyoto. First thing in the morning you will make your way to the Arashiyama district on the edge of the city, where you'll enjoy an atmospheric rickshaw ride through beautiful bamboo groves as well as a pleasant thirty-minute cruise on the Hozugawa River.

After a local lunch, a visit to the wonderful temple of Tenryuji – also located in the Arashiyama district. This afternoon you will have the option of follow your tour leader on a visit to Kinkakuji Golden Pavilion, one of Kyoto's most famous sights, or you can opt to break away from the group for more private time. Dinner will not be included this evening, so you are free to make your own arrangements – your tour leader will be happy to make recommendations and point you in the right direction.

On day seven you will have another full day in Kyoto with your tour leader and private guide. In the morning you will make your way by private bus to eastern Kyoto, where you'll admire the 1001 kannon statues of the Sanjusangendo; visit Tofuku-ji, one of the city's principal Zen temples; and explore the ten thousand red gates of Fushimi Inari Shrine, dedicated to the god of rice. Lunch will be included at one of your tour leader's favourite local restaurants.

After a little free time in the afternoon, dressers will visit you in your hotel room and help you put on kimono – traditional Japanese clothing. You will then make your way to Gesshin-in Temple . Here after a session of zazen meditation and a tea ceremony performance, the day will conclude with an exclusive garden party at the temple, during which you will be entertained by Kyoto geisha and accompanied by a professional photographer.

Dinner this evening will be at The Sodoh, a top-class Italian restaurant located in a wooded glade with beautiful Japanese-style décor.

Overnight: Four Seasons

Day 8-9

From Kyoto to "Little Kyoto": today you'll make your way to the garden city of Kanazawa, home to a fantastic variety of historical monuments including one of Japan's top landscape gardens.

Today you will begin your journey by private coach from Kyoto to Kanazawa, a lovely city located between the Japanese Alps and the Japan Sea coast. Along with Kyoto, Kanazawa was spared bombing during the Second World War thanks to its impressive cultural heritage, meaning that many historical areas survive intact to this day.

During your journey, you'll stop to visit Eihei-ji: an atmospheric temple hidden in the forests of Fukui Prefecture. After an included lunch en route, this afternoon you will have a first taste of the traditional teahouse districts Kanazawa is famous for. The city is also well known for the high quality of its seafood, and dinner this evening will be at a wonderful local sushi restaurant.

On day nine, you'll have a full day in Kanazawa to enjoy the city's many attractions. You'll be joined by a selected local guide for the full day, in which you'll pay an early-morning visit to Kenrokuen Garden (widely considered the finest in Japan) and Kanazawa Castle, explore the preserved samurai houses of the Nagamachi quarter, and visit one of the local artisans in their atelier to learn more about the yuzen silk dyeing or gold leaf techniques that still thrive here. Lunch will be included as part of your tour today, and your tour leader will have some excellent suggestions as to where to go for dinner.

Overnight: Nikko Hotel Kanazawa

Day 10-11

Return to Tokyo on the bullet train for a final night drinks reception and dinner.

On day eleven of your tour you will jump onboard the bullet train and speed across the country to Tokyo, where you will be spending your final night in Japan at the luxurious Mandarin Oriental Hotel. As the train journey takes just two-and-a-half hours, most of the day will be at leisure to do some last-minute shopping or see some of the Tokyo sights you missed on your first visit.

This evening you will toast the end of a wonderful trip with a private drinks reception and dinner. Perhaps afterwards you may wish to head to the Oriental Lounge on the 38th floor of your hotel to unwind whilst enjoying views of the city.

Finally on day 11 you will be collected from your hotel and escorted by private car to the airport for your flight home.

Overnight: Mandarin Oriental Tokyo
View all days
Day 1-2

Feel like royalty as you begin your journey with two nights at the Palace Hotel with a private balcony overlooking the Imperial Palace Gardens.

As soon as you touch down at Tokyo's airport today you'll be met at arrivals and whisked away by private car to the Palace Hotel – where your neighbours will be the Japanese royal family! Your tour leader will be at the hotel for two days prior to the beginning of the tour, so if you choose to extend your stay in Japan they will be on hand to meet you and help you settle in.

On your first evening in the capital you'll enjoy a drinks reception and first-night meal. This is an excellent way to begin getting to know your tour leader and travelling companions whilst simultaneously getting a gentle introduction to Japan's cuisine.

On day two of your tour in addition to your tour leader, one of InsideJapan's expert private guides will join you for a half day of guiding in the big city. In the morning you'll explore Asakusa, Tokyo's most traditional district and home to the city's oldest temple, Senso-ji. before lunch at the top of the dizzying 634 m Skytree - the tallest tower in the world.

After lunch another of our selected guides will join you. A certified wine sommelier and food writer, she will take you for a backstreet tour of Tokyo and will accompany you for dinner, which will be at a wonderful local restaurant with wine and sake tasting included.

Overnight: Palace Tokyo

Day 3-4

Enjoy the stunning natural beauty of Mount Fuji and the Fuji-Hakone-Izu National Park while staying in your choice of accommodation.

On day three you'll leave the capital behind as you hop aboard a private coach for the journey to Hakone, part of the Fuji-Hakone-Izu National Park.

Here you'll have the choice to personalise your tour by choosing your preferred accommodation between two of the most exclusive properties in the area. Enjoy an elegant Western style resort or upgrade to a traditional Japanese ryokan inn; either way you'll enjoy the very best of Japanese hospitality, cuisine and hot spring baths.

After an included lunch on arrival your tour leader will take you to the outstanding Open-Air Museum, which houses artworks and sculptures by masters such as Henry Moore, Yayoi Kusama and Picasso – many of which stand outside amid the beautiful scenery of the national park. Afterwards you'll make your way by private bus to your accommodation and enjoy an included dinner there.

On day four of your tour you'll spend a full day sightseeing in the beautiful Hakone area, including a cruise across Lake Ashi (hopefully including spectacular Fuji views, if weather permits!)

After another included lunch in Moto Hakone, you'll visit a workshop where you'll learn how traditional wooden puzzle boxes are made, followed by an afternoon and evening at leisure.

Overnight: Your choice of Deluxe accommodation

Day 5-7

Attend an exclusive garden party, mingle with geisha and explore the many exquisite temples and shrines of Japan's former imperial capital.

On day five you will board the shinkansen bullet train, where you will be seated in first class for the journey from Odawara to Kyoto, capital city of Japan for over a millennium (from 794 to 1868). This illustrious history has left Kyoto with a vast wealth of temples, shrines and gardens, and a cultural heritage unrivalled by any other city in Japan.

On arrival in Kyoto you will have lunch with your group before checking-in at your hotel; the afternoon will be free at leisure to enjoy the facilities at your hotel or explore the local area as you wish. In the evening you will join your tour leader and group for dinner at a superb tempura restaurant.

On day six of your itinerary you will be joined by one of InsideJapan's expert private guides for a full day of sightseeing in Kyoto. First thing in the morning you will make your way to the Arashiyama district on the edge of the city, where you'll enjoy an atmospheric rickshaw ride through beautiful bamboo groves as well as a pleasant thirty-minute cruise on the Hozugawa River.

After a local lunch, a visit to the wonderful temple of Tenryuji – also located in the Arashiyama district. This afternoon you will have the option of follow your tour leader on a visit to Kinkakuji Golden Pavilion, one of Kyoto's most famous sights, or you can opt to break away from the group for more private time. Dinner will not be included this evening, so you are free to make your own arrangements – your tour leader will be happy to make recommendations and point you in the right direction.

On day seven you will have another full day in Kyoto with your tour leader and private guide. In the morning you will make your way by private bus to eastern Kyoto, where you'll admire the 1001 kannon statues of the Sanjusangendo; visit Tofuku-ji, one of the city's principal Zen temples; and explore the ten thousand red gates of Fushimi Inari Shrine, dedicated to the god of rice. Lunch will be included at one of your tour leader's favourite local restaurants.

After a little free time in the afternoon, dressers will visit you in your hotel room and help you put on kimono – traditional Japanese clothing. You will then make your way to Gesshin-in Temple . Here after a session of zazen meditation and a tea ceremony performance, the day will conclude with an exclusive garden party at the temple, during which you will be entertained by Kyoto geisha and accompanied by a professional photographer.

Dinner this evening will be at The Sodoh, a top-class Italian restaurant located in a wooded glade with beautiful Japanese-style décor.

Overnight: Four Seasons

Day 8-9

From Kyoto to "Little Kyoto": today you'll make your way to the garden city of Kanazawa, home to a fantastic variety of historical monuments including one of Japan's top landscape gardens.

Today you will begin your journey by private coach from Kyoto to Kanazawa, a lovely city located between the Japanese Alps and the Japan Sea coast. Along with Kyoto, Kanazawa was spared bombing during the Second World War thanks to its impressive cultural heritage, meaning that many historical areas survive intact to this day.

During your journey, you'll stop to visit Eihei-ji: an atmospheric temple hidden in the forests of Fukui Prefecture. After an included lunch en route, this afternoon you will have a first taste of the traditional teahouse districts Kanazawa is famous for. The city is also well known for the high quality of its seafood, and dinner this evening will be at a wonderful local sushi restaurant.

On day nine, you'll have a full day in Kanazawa to enjoy the city's many attractions. You'll be joined by a selected local guide for the full day, in which you'll pay an early-morning visit to Kenrokuen Garden (widely considered the finest in Japan) and Kanazawa Castle, explore the preserved samurai houses of the Nagamachi quarter, and visit one of the local artisans in their atelier to learn more about the yuzen silk dyeing or gold leaf techniques that still thrive here. Lunch will be included as part of your tour today, and your tour leader will have some excellent suggestions as to where to go for dinner.

Overnight: Nikko Hotel Kanazawa

Day 10-11

Return to Tokyo on the bullet train for a final night drinks reception and dinner.

On day eleven of your tour you will jump onboard the bullet train and speed across the country to Tokyo, where you will be spending your final night in Japan at the luxurious Mandarin Oriental Hotel. As the train journey takes just two-and-a-half hours, most of the day will be at leisure to do some last-minute shopping or see some of the Tokyo sights you missed on your first visit.

This evening you will toast the end of a wonderful trip with a private drinks reception and dinner. Perhaps afterwards you may wish to head to the Oriental Lounge on the 38th floor of your hotel to unwind whilst enjoying views of the city.

Finally on day 11 you will be collected from your hotel and escorted by private car to the airport for your flight home.

Overnight: Mandarin Oriental Tokyo
Close all days
Tour Reviews
Great tour leader and outside guides. Excellent hotels and interesting restaurants. Went to places that we need would have known about on our own.

Read more >

Was a wonderful experience to an amazing country.People were so polite and friendly. We experienced things that some people never do in a life time.

Read more >
Tour Reviews
Great tour leader and outside guides. Excellent hotels and interesting restaurants. Went to places that we need would have known about on our own.

Read more >

Was a wonderful experience to an amazing country.People were so polite and friendly. We experienced things that some people never do in a life time.

Read more >
5.0 out of 5 from 2 reviews Show all Luxury Japan Reviews