Hands On Japan
14 Nights: from US$5530
Trip Code: HO
Food is one of the highlights of any trip to Japan, and this tour is no different. Besides a range of superb included meals, from a breakfast of the freshest sushi to a kaiseki feast in Kyoto, you'll also learn to make your own. In Takefu this means a soba noodle-making class, whilst at the Daio wasabi farm you'll make traditional pickles and perhaps try a taste of wasabi ice cream!
The creative arts are well represented, and as you continue your adventure you'll test your skills at pottery and roketsu cloth dyeing in Kyoto, traditional papermaking in Takefu and taiko drumming in Tokyo.
Enjoy superb natural scenery as you canoe through valleys and help farmers with their crops in Togari Nozawa Onsen, and attempt to achieve enlightenment during Zazen meditation in Eiheiji.
Japan is famous for its rich traditional heritage, and this tour offers you a window into a wide variety of cultural institutions. In Tokyo you'll attend a sumo tournament for a glimpse into a strictly regimented world that is much more spiritual than most outsiders realise.
Matsumoto offers the chance to climb to the top of the imposing "Black Crow" samurai castle, whilst in Kyoto you'll try Japanese green tea and be entertained by a maiko (apprentice geisha).
If this sounds good and makes you want to see even more, why not extend your tour in Japan!
Important Tour Information
Group Size: 4 - 14
Single Supplement: Single rooms are guaranteed at all night stops on this tour for those paying the single supplement.
Fitness: Even when not using public transport, sightseeing in Japan often involves walking between sights, climbing up steps in temples and being 'on the go' for much of the day. To enjoy any of our Small Group Tours you should be of moderate fitness, able to walk and climb stairs without difficulty and able to maintain a pace that is comfortable for the majority of the group.
Check-in: Please note that rooms at the Tokyo hotel are only available from 3pm. (You can, however, leave your luggage securely at the front desk at any time).

The tour leader will be staying at the first hotel for two nights before the tour starts so they will be available for advice if you choose to book pre tour nights. We recommend booking at least one extra night to check in and relax before the tour begins.
Transport: Please note that all transfers on this Japan tour are by public transport making use of Japan's first-rate transport network.
Luggage: We highly recommend that to make your stay more enjoyable you pack reasonably light. Large suitcases will be an inconvenience to you. A small case or bag with wheels or a rucksack are most appropriate for this tour as you will have to carry your bags for short distances and some stations do not have escalators or elevators/lifts. You will also need a small overnight bag for up to two nights (e.g. backpack), for use when we forward our main bags to the next location.
Accommodation: The hotels in Kyoto and in Tokyo and the ryokan in Takefu are equipped with full en-suite facilities (attached bath, shower and toilet). The rooms in Togarinozawa Onsen are equipped with a toilet and sink, bathing is communal (single sex) and NO private facilities. The ryokan in Matsumoto has its own natural hot-spring baths (single sex communal bathing) and NO private facilities. Clothes washing machines are available at the hotel in Kyoto.
Please note that in Japan, Twin rooms are very much the norm, and there are far fewer Double rooms available. Please understand that on this tour we are not able to offer double rooms at any of the locations.
International Flights: This tour starts and finishes in Tokyo for arrivals and departures at Tokyo Narita Airport or Tokyo Haneda Airport.
What's included
Full-time services of your InsideJapan tour leader

Your InsideJapan Info-Pack

14 nights' accommodation

Breakfast every day, ten evening meals and six lunches

Airport meet-and-greet plus transfers for arrival and departure

14-day Japan Rail Pass

IC transport card with 2,500 yen credit for city transport

Taiko drumming lesson

Sumida River boat ride & tea at Hamarikyu Gardens

Yakatabune boat ride with dinner in Tokyo

Sushi brunch in Tokyo

Stadium tickets to a sumo wrestling tournament

Farming experience (if the weather is fine)

Canoeing (fine weather) OR chopstick-making (wet)

Visit to Daio wasabi farm including lunch & pickle-making experience

Afternoon tea with a trainee geisha in Kyoto

Pottery experience with delivery fee to your home included

Roketsu cloth dyeing experience
Tondaya machiya visit in Kyoto with bento lunch

Knife sharpening and paper-making experiences

Soba noodle-making lesson

Shared portable Wi-Fi access throughout trip
What's NOT included:
International flights

Any local transport unless covered by the included transport passes

Any entrance fees (including temples, shrines and museums) unless otherwise specified

Baggage handling and luggage forwarding
Tour Price Information
Tour Price:

From US$5530

Single Supplement:

From US$350
Extra Nights
Pre-Tour:

Twin Share From US$140 pp

Single From US$179 pp

Post-Tour:

Twin Share From US$168 pp

Single From US$207 pp
Disclaimer Message: Please note: Prices displayed above are all "From" prices as individual prices vary depending on time of year travelling. For full pricing information on specific departures please speak to your Travel Consultant.
Tour Highlights
Visit the ukiyo-e woodblock print museum in Matsumoto

Visit Zenko-ji Temple, one of Japan's most important religious sites

Prepare your own soba noodles with an expert

Try your hand at pottery where postage of your masterpiece back home is included!

Learn the art of taiko drumming
Visit a traditional machiya townhouse for lunch in Kyoto
See sumo and take a cruise to Hamarikyu Gardens in Tokyo
Try your hand at traditional Japanese crafts: paper making, zazen meditation, cloth dyeing and more
If all this sounds great and makes you want to see even more, why not extend your stay in Japan!
You can also get Hands On in our other destinations: Vietnam, Cambodia and Burma. Ask us!
For more information email us: [email protected] or call: 303 952 0379
What, where, when and how...
Hands On Japan - 15 Days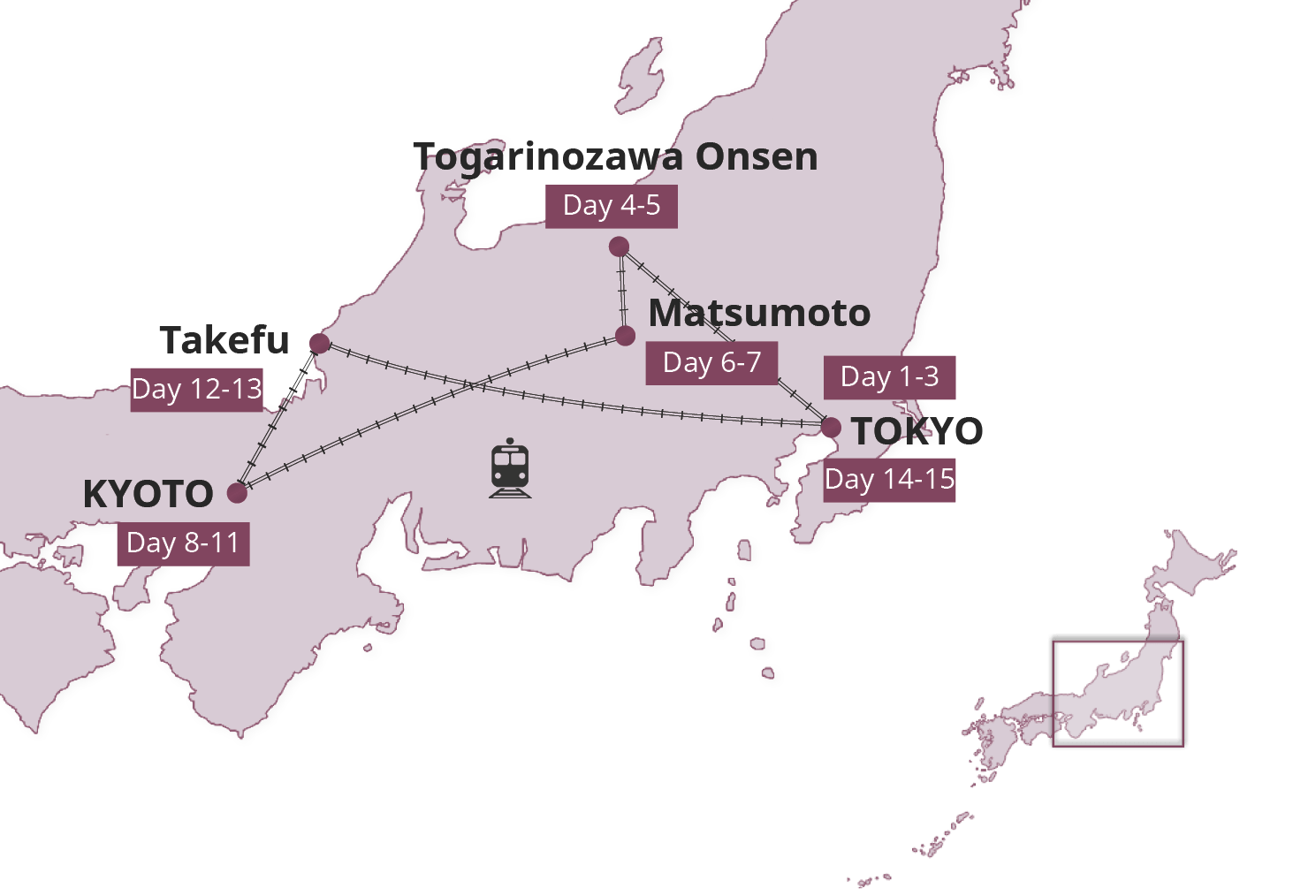 Hands On Japan - 15 Days - Day by Day
Hands On Japan - 15 Days - Accommodation
Hands On Japan - 15 Days - Experiences
Hands On Japan - 15 Days - Booking

Single supplement from US$350
Day 1-3

Eat dinner on a yakatabune riverboat, learn some taiko drumming and see a sumo tournament in Tokyo.

On arrival at Tokyo's Narita Airport you will be met by your driver and travel by shared shuttle bus to your hotel. Your tour leader will be waiting in the lobby to meet you as you arrive, and in the evening you'll head out for a delicious meal at a local restaurant with your group.
On day two you'll begin with a lesson in taiko drumming, a mixture of choreographed dance and drumming that always provides an invigorating start to the day!
Next you'll relax as you take a river bus to Hamarikyu Gardens, a beautiful park in the centre of Tokyo's skyscraper district. Here you'll stop for a cup of matcha green tea before going on to visit the eccentric shopping district of Harajuku and finally Meiji Shrine, set in the midst of a forested park. Dinner and drinks this evening will take place on a traditional yakatabune riverboat floating serenely along the Sumida River.
Day three will begin bright and early with a visit to Tsukiji Fish Market – the largest of its kind in the world and one of Tokyo's most fascinating attractions. Here you'll wander stalls selling all manner of fresh seafood and see skillful fishmongers slicing up tuna before you tuck into a delicious sushi brunch.
*Please note that as of October 2018, Tsukiji's Inner Market relocated to a new site in Toyosu. The Outer Market, home to dozens of restaurants and market stalls, has remained and is still very much in use.
After brunch you'll have some free time to explore the city before you meet with your group to see a sumo tournament at Tokyo's Ryogoku Kokugikan Stadium. Your tour leader will be able to explain the strict rituals and religious background of this fascinating sport as you enjoy the action. Then, after the bouts conclude, you'll head out to a nearby restaurant for some delicious chanko nabe hotpot – real sumo food!

Overnight: Ryogoku View

Day 4-5

Sleep in a traditional ryokan, go canoeing and make your own sushi lunch in the beautiful alpine village of Togari Nozawa Onsen.

Today you'll hop aboard the shinkansen bullet train and watch the skyscrapers melt away as you speed into the Japanese Alps, arriving in Nagano at around midday.
Nagano is famous as the location of the 1998 Winter Olympics and as the home of Zenko-ji, Japan's most important Zen temple. Today you will pay a visit to the temple, where visitors are invited to search for the "key to paradise" in a pitch-dark tunnel underneath the main hall. If you find the key, legend has it that you will find your way to Buddhist heaven.
After your visit to Nagano you'll catch the train to the lovely alpine village of Togari Nozawa Onsen, where you'll spend the next two nights in a traditional ryokan inn with a delicious kaiseki dinner included on both evenings.
On day five of your tour you'll be up early to help out on the local farm before making your own bamboo leaf sushi for lunch. Later, if the weather is good, you'll make your way up to the beautiful Lake Hokuryu for a bit of canoeing with a local instructor. If it's raining you'll stay indoors and learn the traditional way to make a pair of chopsticks.

Overnight: Shikisai no Yado Kanoe Ryokan

Day 6-7

Visit the "Black Crow" castle, learn to make wasabi pickles and marvel at the world's largest collection of ukiyo-e woodblock prints in Matsumoto.

Leaving the rural Togari Nozawa Onsen behind, today you'll head to the small alpine city of Matsumoto – famous for its original "Black Crow" samurai castle. Entrance to the castle will be included today, and you'll have a chance to explore the wooden corridors, narrow staircases and hidden floor of this wonderfully preserved historical monument. Dinner will be included tonight at one of your tour leader's favourite Matsumoto restaurants.
On day seven of your trip you'll be heading back into the countryside as you make your way by train to the Daio Wasabi Farm. Here you'll see how Japan's famous spicy green horseradish is cultivated and have a chance to try all kinds of wasabi-flavoured treats – including wasabi ice cream! Lunch will be included.
Later in the day you'll visit Matsumoto's superb ukiyo-e museum, home to the world's largest collection of traditional woodblock prints, and the nearby Court Museum, housed in the only wooden courthouse building left in Japan.

Overnight: Kagetsu

Day 8-10

Throw a pot, explore a traditional merchant house and spend the afternoon with a geisha in Kyoto, Japan's ancient imperial capital.

On your first afternoon in the city you'll enjoy an exclusive audience with one of Kyoto's maiko, or trainee geisha, giving you a rare and privileged window into this famously secretive world. Afterwards, your tour leader will take you to one of their favourite local restaurants for a delicious evening meal.
On your second day in Kyoto you'll begin by heading to the Higashiyama district of Kyoto, where you'll try your hand at pottery. Whilst in Higashiyama you'll have a chance to explore the Sanjusangendo temple – a hall filled with one thousand life-sized statues of the temple's deity.

With one final day left in Japan's "City of Ten Thousand Temples", you'll head to the Tondaya Machiya, a Meiji period (1868–1912) merchant house where you'll take a tour of the house, learn the correct way to wear a kimono, participate in the tea ceremony ritual and sit down to a delicious bento-style lunch. You will also be able to try a roketsu cloth-dyeing experience – a technique unique to this area.

Overnight: Karasuma Kyoto

Day 11

Explore Kyoto for one more day or take an excursion by shinkansen and watch the landscape whizz past you.

Today you will have a free day in which to continue exploring Kyoto, or to take a day trip out of the city. You might choose to take the bullet train to Hiroshima, visit the nearby ancient city of Nara to marvel at the giant Buddha, or perhaps head to the exciting city of Osaka with its fabulous street food and outgoing inhabitants. Either way, they will be happy to help you plan your day.



Overnight: Karasuma Kyoto

Day 12-13

Visit the lovely town of Takefu for a chance to try your hand at paper-making, knife-sharpening soba noodle-making.

After breakfast, today you'll make your way by train to Takefu, a small town in Fukui Prefecture known for its arts and crafts.
Today you'll be having a lesson in making soba noodles, a speciality of the area – and you will of course get to eat the end result! This afternoon you'll visit the Takefu Knife Village, where you'll have the opportunity to sharpen a knife and take it home as a souvenir. Considering Japan's illustrious history of blade-making, this is sure to provide a great insight into the skill.
Tonight you'll stay at a local Japanese-style hotel known for its friendly staff and excellent seafood – which you'll have the privilege to sample for dinner.
Our second day in Takefu offers you the chance to try your hand at papermaking and to clear your mind with a guided zazen meditation session. To make the most of the day you'll have a private coach at your disposal for the whole day.
The making of washi, Japanese traditional paper, is one of Takefu's signature crafts and to start the day you'll visit a local workshop for a hands-on papermaking session with a local expert. After this you'll stop by a charming local restaurant for lunch before heading on to Daianzen-ji temple for zazen meditation guidance from one of the temple's monks.
Dinner will be provided at your accommodation again this evening.

Overnight: Akaboshitei Hotel

Day 14-15

Return to Tokyo for a chance to do some last-minute shopping and bid farewell to your group with a delicious final meal in the vibrant Shinjuku district.

On day 14 of your trip you will catch the train back to Tokyo for a final full day in the nation's capital. Your accommodation will be in the heart of the Shinjuku district, known for its bright neon signage, towering skyscrapers and vibrant nightlife. With such a vast array of entertainment options on your doorstep, this is the perfect place to spend your last day in Japan.
This evening, your tour leader will take you and your group to one of the city's thousands of excellent restaurants for a final meal and a chance to reflect on the fantastic experiences of the past two weeks.
Finally your adventures must come to an end, and on your last morning you will say goodbye to your group and make your way to the airport by shared limousine bus.

Overnight: JR Kyushu Blossom Shinjuku
View all days
Day 1-3

Eat dinner on a yakatabune riverboat, learn some taiko drumming and see a sumo tournament in Tokyo.

On arrival at Tokyo's Narita Airport you will be met by your driver and travel by shared shuttle bus to your hotel. Your tour leader will be waiting in the lobby to meet you as you arrive, and in the evening you'll head out for a delicious meal at a local restaurant with your group.
On day two you'll begin with a lesson in taiko drumming, a mixture of choreographed dance and drumming that always provides an invigorating start to the day!
Next you'll relax as you take a river bus to Hamarikyu Gardens, a beautiful park in the centre of Tokyo's skyscraper district. Here you'll stop for a cup of matcha green tea before going on to visit the eccentric shopping district of Harajuku and finally Meiji Shrine, set in the midst of a forested park. Dinner and drinks this evening will take place on a traditional yakatabune riverboat floating serenely along the Sumida River.
Day three will begin bright and early with a visit to Tsukiji Fish Market – the largest of its kind in the world and one of Tokyo's most fascinating attractions. Here you'll wander stalls selling all manner of fresh seafood and see skillful fishmongers slicing up tuna before you tuck into a delicious sushi brunch.
*Please note that as of October 2018, Tsukiji's Inner Market relocated to a new site in Toyosu. The Outer Market, home to dozens of restaurants and market stalls, has remained and is still very much in use.
After brunch you'll have some free time to explore the city before you meet with your group to see a sumo tournament at Tokyo's Ryogoku Kokugikan Stadium. Your tour leader will be able to explain the strict rituals and religious background of this fascinating sport as you enjoy the action. Then, after the bouts conclude, you'll head out to a nearby restaurant for some delicious chanko nabe hotpot – real sumo food!

Overnight: Ryogoku View

Day 4-5

Sleep in a traditional ryokan, go canoeing and make your own sushi lunch in the beautiful alpine village of Togari Nozawa Onsen.

Today you'll hop aboard the shinkansen bullet train and watch the skyscrapers melt away as you speed into the Japanese Alps, arriving in Nagano at around midday.
Nagano is famous as the location of the 1998 Winter Olympics and as the home of Zenko-ji, Japan's most important Zen temple. Today you will pay a visit to the temple, where visitors are invited to search for the "key to paradise" in a pitch-dark tunnel underneath the main hall. If you find the key, legend has it that you will find your way to Buddhist heaven.
After your visit to Nagano you'll catch the train to the lovely alpine village of Togari Nozawa Onsen, where you'll spend the next two nights in a traditional ryokan inn with a delicious kaiseki dinner included on both evenings.
On day five of your tour you'll be up early to help out on the local farm before making your own bamboo leaf sushi for lunch. Later, if the weather is good, you'll make your way up to the beautiful Lake Hokuryu for a bit of canoeing with a local instructor. If it's raining you'll stay indoors and learn the traditional way to make a pair of chopsticks.

Overnight: Shikisai no Yado Kanoe Ryokan

Day 6-7

Visit the "Black Crow" castle, learn to make wasabi pickles and marvel at the world's largest collection of ukiyo-e woodblock prints in Matsumoto.

Leaving the rural Togari Nozawa Onsen behind, today you'll head to the small alpine city of Matsumoto – famous for its original "Black Crow" samurai castle. Entrance to the castle will be included today, and you'll have a chance to explore the wooden corridors, narrow staircases and hidden floor of this wonderfully preserved historical monument. Dinner will be included tonight at one of your tour leader's favourite Matsumoto restaurants.
On day seven of your trip you'll be heading back into the countryside as you make your way by train to the Daio Wasabi Farm. Here you'll see how Japan's famous spicy green horseradish is cultivated and have a chance to try all kinds of wasabi-flavoured treats – including wasabi ice cream! Lunch will be included.
Later in the day you'll visit Matsumoto's superb ukiyo-e museum, home to the world's largest collection of traditional woodblock prints, and the nearby Court Museum, housed in the only wooden courthouse building left in Japan.

Overnight: Kagetsu

Day 8-10

Throw a pot, explore a traditional merchant house and spend the afternoon with a geisha in Kyoto, Japan's ancient imperial capital.

On your first afternoon in the city you'll enjoy an exclusive audience with one of Kyoto's maiko, or trainee geisha, giving you a rare and privileged window into this famously secretive world. Afterwards, your tour leader will take you to one of their favourite local restaurants for a delicious evening meal.
On your second day in Kyoto you'll begin by heading to the Higashiyama district of Kyoto, where you'll try your hand at pottery. Whilst in Higashiyama you'll have a chance to explore the Sanjusangendo temple – a hall filled with one thousand life-sized statues of the temple's deity.

With one final day left in Japan's "City of Ten Thousand Temples", you'll head to the Tondaya Machiya, a Meiji period (1868–1912) merchant house where you'll take a tour of the house, learn the correct way to wear a kimono, participate in the tea ceremony ritual and sit down to a delicious bento-style lunch. You will also be able to try a roketsu cloth-dyeing experience – a technique unique to this area.

Overnight: Karasuma Kyoto

Day 11

Explore Kyoto for one more day or take an excursion by shinkansen and watch the landscape whizz past you.

Today you will have a free day in which to continue exploring Kyoto, or to take a day trip out of the city. You might choose to take the bullet train to Hiroshima, visit the nearby ancient city of Nara to marvel at the giant Buddha, or perhaps head to the exciting city of Osaka with its fabulous street food and outgoing inhabitants. Either way, they will be happy to help you plan your day.



Overnight: Karasuma Kyoto

Day 12-13

Visit the lovely town of Takefu for a chance to try your hand at paper-making, knife-sharpening soba noodle-making.

After breakfast, today you'll make your way by train to Takefu, a small town in Fukui Prefecture known for its arts and crafts.
Today you'll be having a lesson in making soba noodles, a speciality of the area – and you will of course get to eat the end result! This afternoon you'll visit the Takefu Knife Village, where you'll have the opportunity to sharpen a knife and take it home as a souvenir. Considering Japan's illustrious history of blade-making, this is sure to provide a great insight into the skill.
Tonight you'll stay at a local Japanese-style hotel known for its friendly staff and excellent seafood – which you'll have the privilege to sample for dinner.
Our second day in Takefu offers you the chance to try your hand at papermaking and to clear your mind with a guided zazen meditation session. To make the most of the day you'll have a private coach at your disposal for the whole day.
The making of washi, Japanese traditional paper, is one of Takefu's signature crafts and to start the day you'll visit a local workshop for a hands-on papermaking session with a local expert. After this you'll stop by a charming local restaurant for lunch before heading on to Daianzen-ji temple for zazen meditation guidance from one of the temple's monks.
Dinner will be provided at your accommodation again this evening.

Overnight: Akaboshitei Hotel

Day 14-15

Return to Tokyo for a chance to do some last-minute shopping and bid farewell to your group with a delicious final meal in the vibrant Shinjuku district.

On day 14 of your trip you will catch the train back to Tokyo for a final full day in the nation's capital. Your accommodation will be in the heart of the Shinjuku district, known for its bright neon signage, towering skyscrapers and vibrant nightlife. With such a vast array of entertainment options on your doorstep, this is the perfect place to spend your last day in Japan.
This evening, your tour leader will take you and your group to one of the city's thousands of excellent restaurants for a final meal and a chance to reflect on the fantastic experiences of the past two weeks.
Finally your adventures must come to an end, and on your last morning you will say goodbye to your group and make your way to the airport by shared limousine bus.

Overnight: JR Kyushu Blossom Shinjuku
Close all days
Tour Reviews
Small Group Tour Hands On Japan

The tour was extremely well run. The attention to detail to ensure a quality experience for the customer to get to Japan, enjoy the tour, and to get back from Japan…

Read more >

Small Group Tour Hands On Japan

Hands On Japan was a wonderful tour, so many quality activities, paper making, knife sharpening, pottery and rice harvesting to name a few, icing on the cake for me was…

Read more >
Latest from Twitter
Celiac (Coeliac) disease sufferer Megan shares her tips and favourite restaurants for a fuss-free gluten-free trip… twitter.com/i/web/status/1…
Kyoto
Mount Koya
Tokushima
Takamatsu
Kotohira
Matsuyama
Hiroshima
Kyoto

Discover the road less travelled

12 nights: US$5145 Read more >

Tokyo
Hakone
Kyoto
Hiroshima
Osaka
Tokyo

Witness ancient collide with modern as you discover Japan's exuberant pop culture and celebrated traditional heritage.

10 nights: US$3325 Read more >

Kyoto
Mount Mitoku
Misasa Onsen
Oki Islands
Matsue
Hagi
Hiroshima
Kyoto

An adventurous Small Group Tour for those who want to discover a beautiful yet little-visited rural area of Japan away from the tourist trail.

13 nights: US$5593 Read more >