All-In Japan
12 Nights: from US$6760
Trip Code: AIJ
Sometimes, a holiday should just be a holiday: a chance to relinquish all responsibilities, make no decisions, and worry about absolutely nothing. On All-In Japan, you'll do just this. Leaving every aspect of your trip to us, from your lunch to your luggage, you'll be free to concentrate on immersing yourself in Japanese culture - safe in the knowledge that you don't have a penny to pay on the ground.
This tour is an exhilarating journey through Japan's history and traditions, from the refined geisha houses of Kyoto to Tokyo's exuberant taiko drumming workshops. Tour the ancient temples of Kyoto, visit the biggest original castle in Japan at Himeji, and experience zazen meditation at a beautiful temple deep in Fukui Prefecture.
Try your hand at confectionery-making in Kanazawa, visit the fascinating Peace Memorial Park and Museum at Hiroshima, and ride the cable car to the top of Mount Misen for spectacular views over the Seto Inland Sea. Forget the tour bus bubble - we'll take you to meet the artisans, restaurateurs and small business owners who make all this possible.
It's not all temples and tradition, however, and we'll make sure you're well-acquainted with modern Japan - a tour of Tokyo's fashionable Omotesando and Aoyama districts with its many architecturally interesting buildings to Kanazawa's outstanding 21st Century Art Museum.
One of the great features of this tour is the wide range of excellent evening entertainment, and you'll try a huge range of cuisines in all sorts of settings - including do-it-yourself okonomiyaki pancakes, multi-course kaiseki meals, plus an evening dinner with a dance performance from a trainee geisha.
All-In Japan is all about comfort and peace of mind, but don't let that fool you - this is all-inclusive as you've never seen it before: full-on, fast-paced, and packed full of action.
Important Tour Information
The accommodation listed is for the 2023 departures.
Group Size: 6 - 16

Single Supplement: Single rooms are guaranteed at all night stops on this tour through payment of a mandatory single supplement.
Fitness: Even when not using public transport, sightseeing in Japan often involves walking between sights, climbing up steps in temples and being 'on the go' for much of the day. To enjoy any of our Small Group Tours you should be of moderate fitness, able to walk and climb stairs without difficulty and able to maintain a pace that is comfortable for the majority of the group.
Meals & Dietary Requirements: Breakfast, lunch and dinner are included on every full day of your tour, plus dinner on your first day and breakfast on your last day.
Drinks: at lunch one drink is included, at dinner two drinks will be included (or an all-you-can-drink option in some locations). You will be able to choose from a selection of beverages. If you wish to purchase extra beverages you will have to pay for them locally.
Please let us know in advance if you have any special dietary requirements and we will try to ensure that included meals meet these needs.
In addition, please note that dietary requirements (such as vegetarianism, gluten-free diets and even some allergies) are very uncommon in Japan so meals for those with specific requirements may be simpler and less varied. Restaurants or ryokan (Japanese-style inns) will not always be able to alter their menus to fully exclude specific allergens or to cater for strict dietary requirements.
Check-in: Upon arrival you will probably be tired after a long international flight. Please note that rooms at the Tokyo hotel are only available from 3pm.
Hotels in Japan operate strict check-in policies. If you have an early arrival you can either book an extra night for any-time check-in, or the hotel will be happy to securely store your luggage for you whilst you go for a drink or explore the local area.
The tour leader will be staying at the first hotel for two nights before the tour starts so they will be available for advice if you choose to book pre-tour nights. We recommend booking at least one extra night to check in and relax before the tour begins.
Transport: Please note that most transfers are by public transport making use of Japan's first-rate transport network. This tour uses a mixture of trains, taxis, public buses and boats, as well as private coaches for some transfers and sightseeing.
Luggage: Luggage handling between all destinations is included but we still recommend that you pack reasonably light to make your stay more enjoyable. Although there is often a porter service available at hotels, large suitcases might be an inconvenience to you. A small case or bag with wheels or a rucksack are most appropriate for this tour when you will have to carry your bags through the hotel's escalators or elevators/lifts.

Accommodation: All accommodation on this tour has full ensuite bathroom facilities. The accommodation in Kaga Onsen and Kanazawa also offers shared natural hot-spring baths.
Please note that in Japan, twin rooms are very much the norm, and there are far fewer double rooms available. Please understand that we will not be able to offer a double in every hotel on this tour.
International Flights: This tour starts and finishes in Tokyo for arrivals and departures at Tokyo Narita Airport or Tokyo Haneda Airport. Please note that the included meet-and-greet and airport transfer to the first hotel is ONLY available from these two airports.
What's included
An experienced InsideJapan tour leader will be there all day every day, making sure everything goes to plan

Sleep soundly in our selection of handpicked accommodation (12 nights)

Arrive hungry! Breakfast, lunch and dinner every day (as well as a selection of drinks) are included

Don't worry about seat reservations, from bullet train to boat rides, all domestic transport is included

Touch down to see a friendly face with airport transfers

Forget searching for small change on the subway, your IC transport card has 2,500 yen credit for city transport

Lighten the load with luggage forwarding from Tokyo to Hiroshima, Hiroshima to Kyoto and Kanazawa to Tokyo

Learn about local life and history with full-day private guides in Tokyo and Kyoto, and entrance to some of Japan's most famous sights

Make some noise at a taiko drumming masterclass in Tokyo

Get to the heart of recent Japanese history with tickets to the Hiroshima Peace Park & Museum

Discover contemporary Japanese culture with tickets to the non-verbal theatre at GEAR in Kyoto and the 21st Century Art Museum in Kanazawa

Learn about Japanese feudal history with entrance to Himeji Castle

Have a once in a lifetime experience sipping afternoon tea with a maiko (trainee geisha)

Find your spiritual side with a zazen meditation session with a monk

Satisfy your sweet tooth with a delicious wagashi confectionary making session

Keep connected with shared portable Wi-Fi access throughout
What's NOT included:
International flights

Any extra transport, entrance fees, activities or meals not mentioned in the day-by-day itinerary

Other items of a personal nature (souvenirs, laundry etc)
2023
Tour Price:

From US$6760

Single Supplement:

From US$897
Extra Nights
Pre-Tour:

Twin Share From US$208 pp

Single From US$273 pp

Post-Tour:

Twin Share From US$195 pp

Single From US$299 pp
2024
Tour Price:

From US$7774

Single Supplement:

From US$923
Extra Nights
Pre-Tour:

Twin Share From US$221 pp

Single From US$286 pp

Post-Tour:

Twin Share From US$208 pp

Single From US$325 pp
Please note: Prices displayed above are all "From" prices as individual prices vary depending on the tour departure date.
Tour Highlights
Have a go at traditional confectionery-making in Kanazawa

Visit Himeji, Japan's largest original feudal castle

Enjoy a private audience with a trainee geisha

Try your hand at traditional taiko drumming
Visit Miyajima Island for its "floating" torii and friendly local deer

Visit the sobering Hiroshima Peace Park and museum

Learn about zazen meditation at Daianzen-ji Temple
For more information email us: [email protected] or call: + 44 117 244 3380
What, where, when and how...
All-In Japan - 13 Days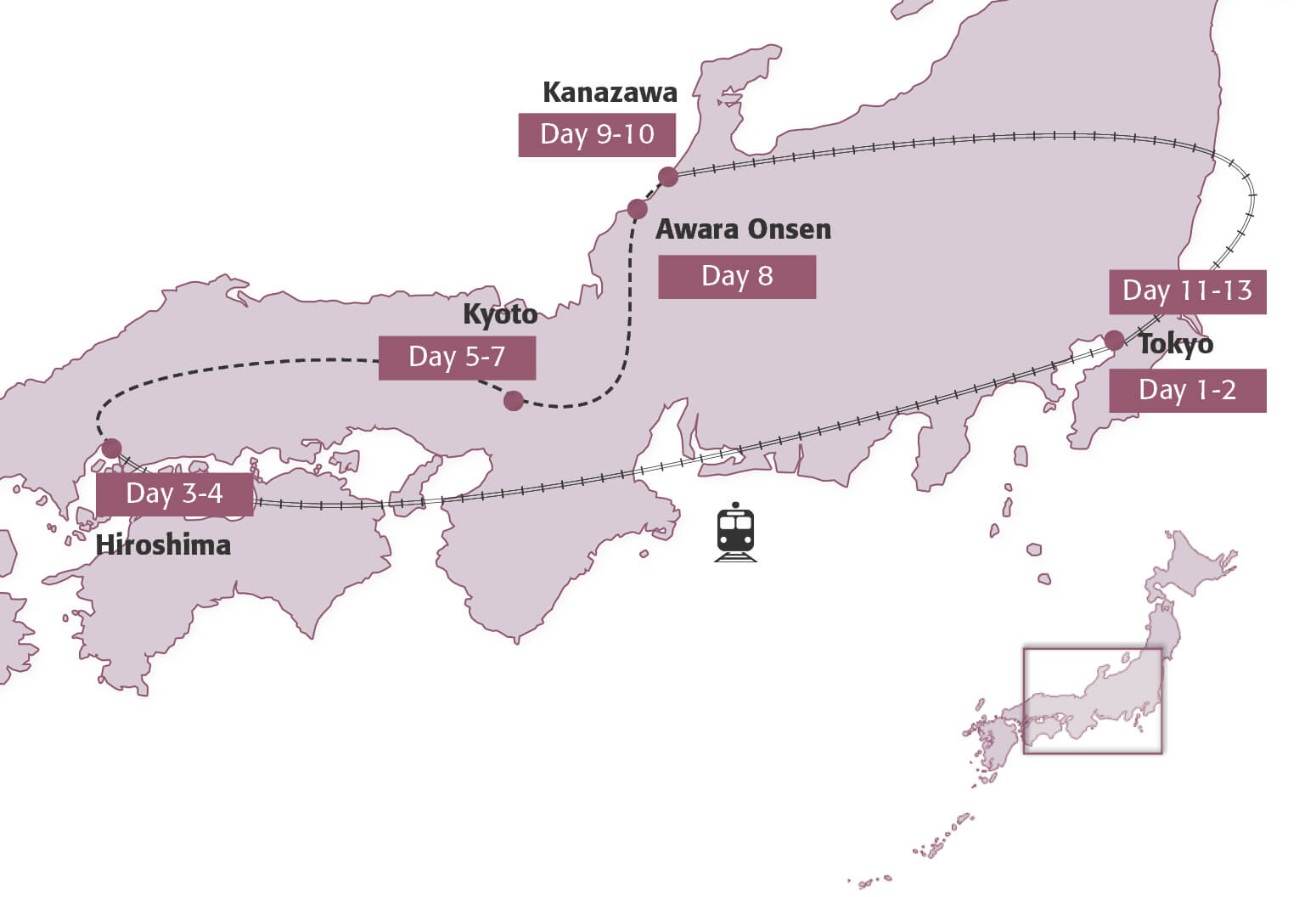 All-In Japan - 13 Days - Day by Day
All-In Japan - 13 Days - Accommodation
All-In Japan - 13 Days - Experiences
All-In Japan - 13 Days - Booking
Single supplement from US$923
Day 1-2

Begin your all-inclusive adventure in Tokyo, Japan's capital and the most populous city in the world.

On arrival at Tokyo's airport you will be picked up for your shared shuttle back to your hotel in the heart of the city. Your tour leader will be waiting to meet you and answer any questions, and this evening you'll be able to begin getting to know your group over a delicious welcome meal.

On day two we hope you'll be well-rested and raring to discover Tokyo. With a private coach at our disposal today, we'll start by heading to our taiko drumming lesson where you will be introduced to the energetic, choreographed movements of Japan's traditional drumming. After that, we'll make our way to the historic Meiji Shrine then get a glimpse of the city's amazing architecture in the trendy Aoyama and Omotesando districts. This afternoon we will explore the old-world streets and market stalls of the Asakusa district. This is the most traditional area in the city, and home to its oldest temple: Senso-ji.



Overnight: Hotel Niwa

Day 3-4

Shoot cross-country on the bullet train to Hiroshima, one of western Japan's most vibrant cities.

On day three it's time to make our way west to Hiroshima, a city notorious for its catastrophic role in the events of World War II – yet determined not to be overshadowed by its tragic past. Leave your luggage at the front desk of the hotel this morning and we'll have it forwarded to your next hotel.

This morning we'll hop on the shinkansen, Japan's world-famous bullet train, for a speedy journey westwards. For lunch we'll sample the typical fare of the Japanese traveller – an ekiben "station lunchbox" – complete with included origami set to keep you entertained. In just under five hours, we'll have travelled over 800 kilometres across Japan to Hiroshima.

On arrival in Hiroshima, we'll travel by private coach from the station to our hotel and have a chance to freshen up before we head to the Peace Memorial Park and Museum to learn a little more about the events of 6th August 1945. This evening, we'll lighten the mood with a bit of cookery: learn how to make okonomiyaki, the cabbage or noodle-based pancake typical of this part of Japan.

On day four, we'll jump on a boat at the Peace Park for the 45-minute journey across Hiroshima Bay to the island of Miyajima, a beautiful island on the Seto Inland Sea. Though Miyajima is most famous for its World Heritage Shrine and "floating" torii gate, you're sure to enjoy the traditional town centre and its friendly local deer.


Overnight: Rihga Royal Hiroshima

Day 5-7

Travel via Himeji Castle to Kyoto, Japan's cultural heartland and "City of Ten Thousand Temples".

This morning we'll leave Hiroshima behind and head east toward Kyoto, Japan's former capital and cultural heart. Travelling once again by shinkansen, we'll stop off along the way in Himeji for a visit to one of Japan's finest castles.

Himeji is one of just a handful of original feudal castles left in Japan, and it's the biggest of all. After a five-year facelift, it's never looked so impressive! Finally, arriving in Kyoto, we'll check in to our hotel and have time to relax and freshen up before an evening that is sure to be one of the trip highlights. We'll be joined at dinner this evening by a maiko (trainee geisha) who will give a dance performance followed by time for photos and questions, giving us a rare insight into this secretive world.

On day six we'll have a full day of sightseeing in Kyoto with the help of local guides, giving you an in-depth introduction to this historic city. Travelling by private coach, we'll stop at the Golden Pavilion at Kinkaku-ji, the Zen rock garden at Ryoan-ji Temple, and some other of the city's hidden sites.

On day seven, we'll have another day to explore Kyoto and its impressive cultural heritage. Today's sightseeing will include visits to Gion, the old geisha quarter and Kennin-ji Temple, one of the five most important Zen temples in Kyoto. Finally, to round off our first busy day in Kyoto, we'll head out this evening to GEAR - an exciting, non-verbal theatre show that will provide an interesting modern counterpoint to Kyoto's more traditional arts!



Overnight: Okura Hotel Kyoto

Day 8

Get off the beaten track as we travel by private bus to Awara Onsen, a hot spring town in Fukui Prefecture.

On the way to Awara Onsen, we'll visit the partially reconstructed ruins of Ichijodani Castle Town, which was burned to the ground by Oda Nobunaga in 1573, and stop off at the beautiful temple of Daianzen-ji, where we'll enjoy a lesson in zazen meditation under the tutelage of a temple priest – all the better to appreciate the quiet beauty of our surroundings.

This evening we'll spend the night at a traditional Japanese inn, or ryokan, sleeping on comfortable futon bedding laid out on tatami-mat flooring, with sliding paper screens and an included dinner of fine kaiseki cuisine. Don't miss the chance to try out the hot spring baths – an integral part of any ryokan stay!

Overnight: Haiya Ryokan

Day 9-10

Discover the charms of Kanazawa – or "Little Kyoto" – one of Japan's best-preserved traditional cities.

On day nine enjoy a leisurely start to the morning, sleep in or rise early for another dip in the onsen baths, before taking our private coach on to our next destination: Kanazawa. Kanazawa retains some of Japan's best-preserved old-town districts, has one of the top 3 Japanese gardens in the country and is know for its rich artistic traditions. On arrival we will visit the outstanding 21st Century Museum and the garden placed in the top 3 of best gardens in Japan: Kenroku-en. We will then head to our hotel to check in and refresh before the included dinner served at our accommodation tonight.

Today, start the morning with sightseeing in the old-town districts of Higashi chaya and Nagamachi, to see these beautifully preserved areas and pay a visit to the Nomura Samurai House as well. This afternoon we will get the chance to make delicate Japanese confectionery with a local expert, before heading back to the hotel. This evening is at leisure for you to relax and take at your own pace.

Overnight: Nikko Hotel Kanazawa

Day 11-13

Return to Tokyo for a final two nights in one of the world's most exciting cities.

On day 11 it's time to jump back on the bullet train for the return journey to Tokyo, where you'll spend your final two nights in Japan. Arriving around lunchtime, we'll have plenty of time for an afternoon of sightseeing by public transport and on foot – including the lovely East Gardens of the Imperial Palace, Tokyo Tower (13 metres taller than its doppelganger, the Eiffel Tower), and Zozo-ji Temple – which X-Men fans will recognise as the set of the film Wolverine.

With a final full day in Tokyo, we'll have the morning at leisure on day 12 – giving you time to do a bit of last-minute shopping or fit in anything you haven't yet had time to do. Otherwise, your tour leader will be on hand to take you to the National Museum of Emerging Science and Innovation on Odaiba Island, a man-made island in Tokyo Bay, so feel free to join them if you choose.

This afternoon you're in for another afternoon of sightseeing by public transport and on foot, taking in the upmarket Ginza district as well as several other interesting sights before your final dinner of the tour.

At last your tour must come to an end on day 13, and you will be taken by shared shuttle back to the airport for your flight home.

Overnight: The Royal Park Hotel Shiodome
View all days
Day 1-2

Begin your all-inclusive adventure in Tokyo, Japan's capital and the most populous city in the world.

On arrival at Tokyo's airport you will be picked up for your shared shuttle back to your hotel in the heart of the city. Your tour leader will be waiting to meet you and answer any questions, and this evening you'll be able to begin getting to know your group over a delicious welcome meal.

On day two we hope you'll be well-rested and raring to discover Tokyo. With a private coach at our disposal today, we'll start by heading to our taiko drumming lesson where you will be introduced to the energetic, choreographed movements of Japan's traditional drumming. After that, we'll make our way to the historic Meiji Shrine then get a glimpse of the city's amazing architecture in the trendy Aoyama and Omotesando districts. This afternoon we will explore the old-world streets and market stalls of the Asakusa district. This is the most traditional area in the city, and home to its oldest temple: Senso-ji.



Overnight: Hotel Niwa

Day 3-4

Shoot cross-country on the bullet train to Hiroshima, one of western Japan's most vibrant cities.

On day three it's time to make our way west to Hiroshima, a city notorious for its catastrophic role in the events of World War II – yet determined not to be overshadowed by its tragic past. Leave your luggage at the front desk of the hotel this morning and we'll have it forwarded to your next hotel.

This morning we'll hop on the shinkansen, Japan's world-famous bullet train, for a speedy journey westwards. For lunch we'll sample the typical fare of the Japanese traveller – an ekiben "station lunchbox" – complete with included origami set to keep you entertained. In just under five hours, we'll have travelled over 800 kilometres across Japan to Hiroshima.

On arrival in Hiroshima, we'll travel by private coach from the station to our hotel and have a chance to freshen up before we head to the Peace Memorial Park and Museum to learn a little more about the events of 6th August 1945. This evening, we'll lighten the mood with a bit of cookery: learn how to make okonomiyaki, the cabbage or noodle-based pancake typical of this part of Japan.

On day four, we'll jump on a boat at the Peace Park for the 45-minute journey across Hiroshima Bay to the island of Miyajima, a beautiful island on the Seto Inland Sea. Though Miyajima is most famous for its World Heritage Shrine and "floating" torii gate, you're sure to enjoy the traditional town centre and its friendly local deer.


Overnight: Rihga Royal Hiroshima

Day 5-7

Travel via Himeji Castle to Kyoto, Japan's cultural heartland and "City of Ten Thousand Temples".

This morning we'll leave Hiroshima behind and head east toward Kyoto, Japan's former capital and cultural heart. Travelling once again by shinkansen, we'll stop off along the way in Himeji for a visit to one of Japan's finest castles.

Himeji is one of just a handful of original feudal castles left in Japan, and it's the biggest of all. After a five-year facelift, it's never looked so impressive! Finally, arriving in Kyoto, we'll check in to our hotel and have time to relax and freshen up before an evening that is sure to be one of the trip highlights. We'll be joined at dinner this evening by a maiko (trainee geisha) who will give a dance performance followed by time for photos and questions, giving us a rare insight into this secretive world.

On day six we'll have a full day of sightseeing in Kyoto with the help of local guides, giving you an in-depth introduction to this historic city. Travelling by private coach, we'll stop at the Golden Pavilion at Kinkaku-ji, the Zen rock garden at Ryoan-ji Temple, and some other of the city's hidden sites.

On day seven, we'll have another day to explore Kyoto and its impressive cultural heritage. Today's sightseeing will include visits to Gion, the old geisha quarter and Kennin-ji Temple, one of the five most important Zen temples in Kyoto. Finally, to round off our first busy day in Kyoto, we'll head out this evening to GEAR - an exciting, non-verbal theatre show that will provide an interesting modern counterpoint to Kyoto's more traditional arts!



Overnight: Okura Hotel Kyoto

Day 8

Get off the beaten track as we travel by private bus to Awara Onsen, a hot spring town in Fukui Prefecture.

On the way to Awara Onsen, we'll visit the partially reconstructed ruins of Ichijodani Castle Town, which was burned to the ground by Oda Nobunaga in 1573, and stop off at the beautiful temple of Daianzen-ji, where we'll enjoy a lesson in zazen meditation under the tutelage of a temple priest – all the better to appreciate the quiet beauty of our surroundings.

This evening we'll spend the night at a traditional Japanese inn, or ryokan, sleeping on comfortable futon bedding laid out on tatami-mat flooring, with sliding paper screens and an included dinner of fine kaiseki cuisine. Don't miss the chance to try out the hot spring baths – an integral part of any ryokan stay!

Overnight: Haiya Ryokan

Day 9-10

Discover the charms of Kanazawa – or "Little Kyoto" – one of Japan's best-preserved traditional cities.

On day nine enjoy a leisurely start to the morning, sleep in or rise early for another dip in the onsen baths, before taking our private coach on to our next destination: Kanazawa. Kanazawa retains some of Japan's best-preserved old-town districts, has one of the top 3 Japanese gardens in the country and is know for its rich artistic traditions. On arrival we will visit the outstanding 21st Century Museum and the garden placed in the top 3 of best gardens in Japan: Kenroku-en. We will then head to our hotel to check in and refresh before the included dinner served at our accommodation tonight.

Today, start the morning with sightseeing in the old-town districts of Higashi chaya and Nagamachi, to see these beautifully preserved areas and pay a visit to the Nomura Samurai House as well. This afternoon we will get the chance to make delicate Japanese confectionery with a local expert, before heading back to the hotel. This evening is at leisure for you to relax and take at your own pace.

Overnight: Nikko Hotel Kanazawa

Day 11-13

Return to Tokyo for a final two nights in one of the world's most exciting cities.

On day 11 it's time to jump back on the bullet train for the return journey to Tokyo, where you'll spend your final two nights in Japan. Arriving around lunchtime, we'll have plenty of time for an afternoon of sightseeing by public transport and on foot – including the lovely East Gardens of the Imperial Palace, Tokyo Tower (13 metres taller than its doppelganger, the Eiffel Tower), and Zozo-ji Temple – which X-Men fans will recognise as the set of the film Wolverine.

With a final full day in Tokyo, we'll have the morning at leisure on day 12 – giving you time to do a bit of last-minute shopping or fit in anything you haven't yet had time to do. Otherwise, your tour leader will be on hand to take you to the National Museum of Emerging Science and Innovation on Odaiba Island, a man-made island in Tokyo Bay, so feel free to join them if you choose.

This afternoon you're in for another afternoon of sightseeing by public transport and on foot, taking in the upmarket Ginza district as well as several other interesting sights before your final dinner of the tour.

At last your tour must come to an end on day 13, and you will be taken by shared shuttle back to the airport for your flight home.

Overnight: The Royal Park Hotel Shiodome
Close all days
Tour Reviews
From the initial contact with Holly to our experience in Japan and Fergal's expertise,we've been delighted with the service we have received.

Read more >

Expectations were as described

Read more >
Tour Reviews
From the initial contact with Holly to our experience in Japan and Fergal's expertise,we've been delighted with the service we have received.

Read more >

Expectations were as described

Read more >
4.7 out of 5 from 18 reviews Show all All-In Japan Reviews