Seven Night Taster
7 Nights: from US$2665
Trip Code: 17JPH
Tokyo and Kyoto are Japan's two great cities: one an international byword for modernity, the other an ancient cultural giant whose history goes back more than a millennium.
In between Tokyo and Kyoto you'll visit Kanazawa on the western coast, a small but beautifully preserved city with lamp-lit streets and one of the best gardens in Japan. Here you'll spend the night in a traditional ryokan inn, where the floors are matted with tatami and you'll sleep on traditional futon beds. Don't miss the natural onsen hot spring baths, an integral part of Japanese culture and the perfect end to a day of sightseeing.
This tour gives you ample time to explore, with the opportunity to take day trips from Kyoto using the included Japan Rail Pass at no extra cost: take the shinkansen bullet train all the way to Hiroshima and its neighbour, the stunning island of Miyajima, and the castle town of Himeji.
Your expert InsideJapan tour leader will accompany you throughout the holiday, staying in the same hotels, so please feel free to ask for help or advice at any time. They are available pretty much all day every day and will even be happy to accompany tour members out at night on occasion! If you would like to break away from the group and do something different, they will be available to give you advice, and help you plan your day.
Your tour leader will introduce you to fantastic experiences and local restaurants - many of which would be impossible to find by yourself or intimidating to enter alone.
Important Practical Information
We recommend booking at least one extra night to check in and relax before the tour begins.
Group Size: 4 - 14
Accommodation: Six nights accommodation in well located, three star hotels in Tokyo and Kyoto. One night accommodation at a traditional Japanese ryokan inn in Kanazawa.
Single Supplement: This tour has a single supplement. This guarantees a single room at the Western style hotels (6 nights). However, solo travellers will be asked to share with another group member of the same sex at the Japanese ryokan inn (1 night).
Fitness: Even when not using public transport, sightseeing in Japan often involves walking between sights, climbing up steps in temples and being 'on the go' for much of the day. To enjoy this tour you should be of moderate fitness, able to walk and climb stairs without difficulty and able to maintain a pace that is comfortable for the majority of the group.
Transport: Please note that most transfers are by public transport making use of Japan's first-rate transport network.
Luggage: We highly recommend that to make your stay more enjoyable you pack reasonably light. Large suitcases will be an inconvenience to you. One small case or bag with wheels or a rucksack are most appropriate for this tour as you will have to carry your bags for short distances and some stations do not have escalators or elevators/lifts. During the tour we also take advantage of next-day luggage forwarding; therefore, you will also need a small overnight bag for use when your main suitcase has been forwarded ahead.
International Flights: This tour starts in Tokyo for arrivals at Tokyo Narita Airport or Tokyo Haneda Airport. The tour finishes in Kyoto for departures from Osaka Kansai Airport.
Check-in: Please note that rooms at the Tokyo hotel are only available from 3pm. (You can, however, securely leave your luggage at the front desk at any time).
What's included
Full-time services of your InsideJapan tour leader

Six nights' hotel accommodation in Tokyo and Kyoto, and one night accommodation at a traditional Japanese ryokan inn in Kanazawa

Tea Ceremony and Private guide service for one day in Kyoto

Selected sightseeing in Tokyo, Kanazawa and Kyoto

Day trips to Hiroshima, Miyajima and Himeji

Arrival and departure airport transfers by shared shuttle bus

All transport between each destination

Seven-day Japan Rail Pass, Kyoto 2 Day Pass

IC transport card with 2,500 yen credit for city transport

Breakfast everyday plus one dinner

Luggage forwarding from Tokyo to Kyoto

Your InsideJapan Info-Pack
What's NOT included:
International flights

Entrance fees including those for temples, shrines and museums unless otherwise specified

Any local transport (subways, taxis, buses) unless covered by the included passes

Baggage handling & luggage forwarding unless otherwise specified

Travel Insurance - one of our conditions of booking is that you have insurance to cover you for medical costs in Japan.
Tour Price Information
Tour Price:

From US$2665

Single Supplement:

From US$455
Extra Nights
Pre-Tour:

Twin Share From US$97 pp

Single From US$143 pp

Post-Tour:

Twin Share From US$110 pp

Single From US$149 pp
Disclaimer Message: Please note: Prices displayed above are all "From" prices as individual prices vary depending on time of year travelling. For full pricing information on specific departures please speak to your Travel Consultant.
Tour Highlights
Explore the metropolis of Tokyo and a Sumida River Cruise

Explore one of Japan's top 3 landscape gardens; Kenrokuen in Kanazawa and the traditional Nagamachi Samurai district

Learn about the atomic bombing in Hiroshima and visit nearby Miyajima Island
Take part in a traditional tea ceremony in the cultural hub of Kyoto

Stay in a traditional Ryokan

Visit the largest castle in Japan in Himeji
For more information email us: [email protected] or call: 303 952 0379
What, where, when and how...
Seven Night Taster - 8 Days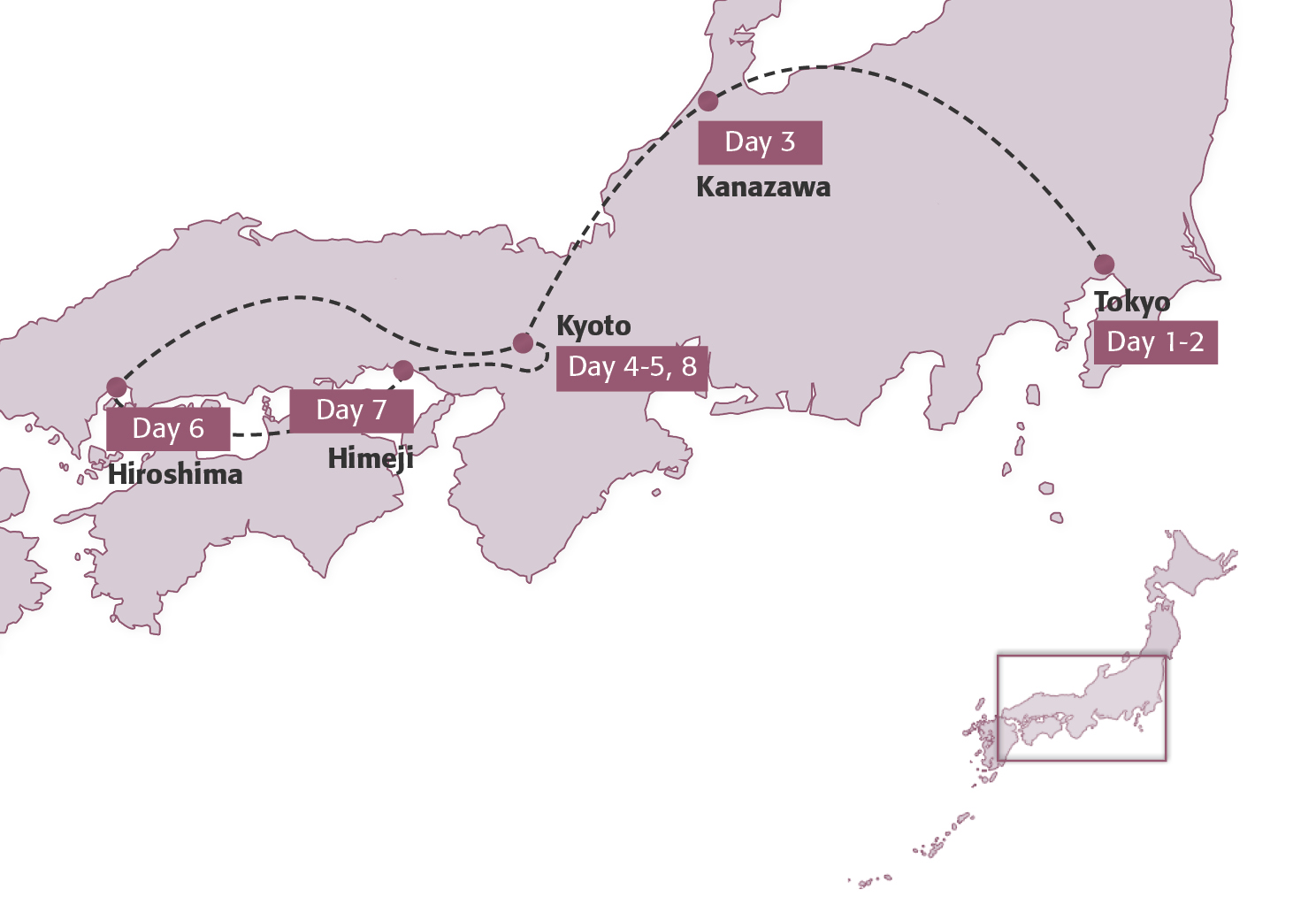 Seven Night Taster - 8 Days - Day by Day
Seven Night Taster - 8 Days - Accommodation

Seven Night Taster - 8 Days - Experiences
Seven Night Taster - 8 Days - Booking
Please contact us to get all the latest booking and date information
No single supplement! Guaranteed single room in Western style hotels.
Day 1

Discover the many faces of Tokyo, one of the world's greatest cities.

You will be met on arrival at Tokyo Narita or Haneda Airport today and taken by shuttle bus to your hotel in Tokyo. This evening we have included a welcome dinner at a local restaurant. This will be a fantastic opportunity for you to get to know your tour leader and the other tour members better whilst sampling some of the delicious cuisine that Japan has to offer. Many of our customers choose to arrive a day or two early to get over jet-lag and get the most out of the tour. Whatever the case, we will be happy to make arrangements to suit your needs.

Overnight: The B Ikebukuro

Day 2

Today we will spend the day sightseeing the variety that Tokyo has to offer.

The area of Asakusa still retains the atmosphere and charm of its past as the location of exiled inhabitants of the walled city that engaged in popular culture, giving you the chance to experience just what Tokyo may have been like before the second world war. Next we will enjoy a river cruise taking in no less than 12 bridges and the surrounding scenery, before headlining to the leafy pocket of Hamarikyu Gardens, originally used by the shoguns and aristocracy for wild-duck hunting, tea ceremonies and riding practice. The impressive seasonal blossom displays and wildlife are in stark contrast to the hustle of the city.

Overnight: The B Ikebukuro

Day 3

Enjoy the beautifully preserved traditional districts of Kanazawa, home to one of Japan's top three landscape gardens.

Taking the bullet train to this garden city we will spend the day visiting one of Japan's top 3 landscape gardens; Kenrokuen. At 10 hectares this garden is an eden of 6 features (Kenroku meaning combined 6); vastness, solemnity, careful arrangement, venerability, coolness (induced by running water) and scenic charm. Another of Kanazawa's highlights is the historic Nagamachi samurai district. Once inhabited by samurai, this area retains its winding streets and tile-roofed mud walls. In particular, Nomura Samurai House is well worth a visit for its decorative garden. Enjoy staying in a traditional ryokan with a home cooked meal.

Overnight: Sumiyoshiya Ryokan

Day 4

An ancient imperial capital and home to 17 World Hertiage sites, Kyoto is Japan's most important respository of culture and history.

This morning we travel by train to the cultural centre of Japan, Kyoto. This afternoon we will explore Nijo Castle with highlights including the gorgeous details and a specially constructed 'nightingale' floor to warn of approaching visitors.

Overnight: Ibis Styles Kyoto Station

Day 5

An ancient imperial capital and home to 17 World Hertiage sites, Kyoto is Japan's most important respository of culture and history.

The highlight of today will be taking part in a tea ceremony – an insight into true Japanese culture. You will learn all about the tea ceremony, from choice of tea to the careful and deliberate movements in the different stages of preparing and serving the tea. We will also be visiting Kinkaku-ji, or the Golden Pavilion, which is perhaps the most famous temple in all Japan. It is an exact replica of the 15th century structure that was burned down in 1950 and the stunning gold façade makes a lovely reflection in the 'mirror pond'. Ryoan-ji is a world-renowned rock garden, 15 stones, which vary in shape and size, are laid out in an exquisite balance. Despite its limited size, the garden expresses infinite space. This is the supreme example of a dry landscape garden.

Overnight: Ibis Styles Kyoto Station

Day 6

Visit Hiroshima's Peace Park and Museum and spend the day on the beautiful island of Miyajima.

Today you will use your Japan Rail Pass to take a day trip down to Hiroshima and to visit the nearby island of Miyajima. Hiroshima's most famous sight is, of course, the A-Bomb Dome which stands just across the river from the Peace Memorial Park, a timeless reminder of the devastation wrought upon the city some half a century ago. The museum itself drives home its anti-atomic warfare message with a harrowing level of force and is sure to leave an impression. The nearby Island of Miyajima is famous for its "floating" torii gate, friendly deer and three imposing mountains - it's a spectacular place and especially atmospheric after dark.

Overnight: Ibis Styles Kyoto Station

Day 7

See Japan's largest castle, Himeji.

Today we take a day trip to Himeji, famous for its fabulous white castle which has remained undamaged by any warfare or natural disaster, even after the second world war. The largest extant castle in Japan, in 1993 it made was registered on UNESCO's World Heritage list. As your trip draws to a close you will enjoy one final dinner together as a group at one of our favourite restaurants back in Kyoto.

Overnight: Ibis Styles Kyoto Station

Day 8

Sayonara!

Today you will be transferring from your hotel in Kyoto to Kansai Airport located on an artificial island in Osaka Bay. Journey time from Kyoto will be in the region of 1 hour and 45 minutes.

Overnight: Ibis Styles Kyoto Station
View all days
Day 1

Discover the many faces of Tokyo, one of the world's greatest cities.

You will be met on arrival at Tokyo Narita or Haneda Airport today and taken by shuttle bus to your hotel in Tokyo. This evening we have included a welcome dinner at a local restaurant. This will be a fantastic opportunity for you to get to know your tour leader and the other tour members better whilst sampling some of the delicious cuisine that Japan has to offer. Many of our customers choose to arrive a day or two early to get over jet-lag and get the most out of the tour. Whatever the case, we will be happy to make arrangements to suit your needs.

Overnight: The B Ikebukuro

Day 2

Today we will spend the day sightseeing the variety that Tokyo has to offer.

The area of Asakusa still retains the atmosphere and charm of its past as the location of exiled inhabitants of the walled city that engaged in popular culture, giving you the chance to experience just what Tokyo may have been like before the second world war. Next we will enjoy a river cruise taking in no less than 12 bridges and the surrounding scenery, before headlining to the leafy pocket of Hamarikyu Gardens, originally used by the shoguns and aristocracy for wild-duck hunting, tea ceremonies and riding practice. The impressive seasonal blossom displays and wildlife are in stark contrast to the hustle of the city.

Overnight: The B Ikebukuro

Day 3

Enjoy the beautifully preserved traditional districts of Kanazawa, home to one of Japan's top three landscape gardens.

Taking the bullet train to this garden city we will spend the day visiting one of Japan's top 3 landscape gardens; Kenrokuen. At 10 hectares this garden is an eden of 6 features (Kenroku meaning combined 6); vastness, solemnity, careful arrangement, venerability, coolness (induced by running water) and scenic charm. Another of Kanazawa's highlights is the historic Nagamachi samurai district. Once inhabited by samurai, this area retains its winding streets and tile-roofed mud walls. In particular, Nomura Samurai House is well worth a visit for its decorative garden. Enjoy staying in a traditional ryokan with a home cooked meal.

Overnight: Sumiyoshiya Ryokan

Day 4

An ancient imperial capital and home to 17 World Hertiage sites, Kyoto is Japan's most important respository of culture and history.

This morning we travel by train to the cultural centre of Japan, Kyoto. This afternoon we will explore Nijo Castle with highlights including the gorgeous details and a specially constructed 'nightingale' floor to warn of approaching visitors.

Overnight: Ibis Styles Kyoto Station

Day 5

An ancient imperial capital and home to 17 World Hertiage sites, Kyoto is Japan's most important respository of culture and history.

The highlight of today will be taking part in a tea ceremony – an insight into true Japanese culture. You will learn all about the tea ceremony, from choice of tea to the careful and deliberate movements in the different stages of preparing and serving the tea. We will also be visiting Kinkaku-ji, or the Golden Pavilion, which is perhaps the most famous temple in all Japan. It is an exact replica of the 15th century structure that was burned down in 1950 and the stunning gold façade makes a lovely reflection in the 'mirror pond'. Ryoan-ji is a world-renowned rock garden, 15 stones, which vary in shape and size, are laid out in an exquisite balance. Despite its limited size, the garden expresses infinite space. This is the supreme example of a dry landscape garden.

Overnight: Ibis Styles Kyoto Station

Day 6

Visit Hiroshima's Peace Park and Museum and spend the day on the beautiful island of Miyajima.

Today you will use your Japan Rail Pass to take a day trip down to Hiroshima and to visit the nearby island of Miyajima. Hiroshima's most famous sight is, of course, the A-Bomb Dome which stands just across the river from the Peace Memorial Park, a timeless reminder of the devastation wrought upon the city some half a century ago. The museum itself drives home its anti-atomic warfare message with a harrowing level of force and is sure to leave an impression. The nearby Island of Miyajima is famous for its "floating" torii gate, friendly deer and three imposing mountains - it's a spectacular place and especially atmospheric after dark.

Overnight: Ibis Styles Kyoto Station

Day 7

See Japan's largest castle, Himeji.

Today we take a day trip to Himeji, famous for its fabulous white castle which has remained undamaged by any warfare or natural disaster, even after the second world war. The largest extant castle in Japan, in 1993 it made was registered on UNESCO's World Heritage list. As your trip draws to a close you will enjoy one final dinner together as a group at one of our favourite restaurants back in Kyoto.

Overnight: Ibis Styles Kyoto Station

Day 8

Sayonara!

Today you will be transferring from your hotel in Kyoto to Kansai Airport located on an artificial island in Osaka Bay. Journey time from Kyoto will be in the region of 1 hour and 45 minutes.

Overnight: Ibis Styles Kyoto Station
Close all days
Tokyo
Togarinozawa Onsen
Matsumoto
Kyoto
Takefu
Tokyo

Discover Japan's traditional arts, crafts, cuisine, nature and much more with this action-packed tour – filled with exciting, immersive experiences.

14 nights: US$5135 Read more >

Kyoto
Nagasaki
Unzen
Kumamoto
Mount Aso
Kagoshima
Yakushima
Kyoto

Get off the beaten track as you explore the cosmopolitan cities, traditional hot spring towns and primeval forests of Japan's third-biggest island.

13 nights: US$5193 Read more >

Tokyo
Hakone
Kyoto
Hiroshima
Osaka
Tokyo

Witness ancient collide with modern as you discover Japan's exuberant pop culture and celebrated traditional heritage.

10 nights: US$3373 Read more >