Exclusive Private Journey
Kyoto City & Country
4 Nights: price on request
Trip Code: EPJ600
Discover the two sides of Kyoto: a city of refined arts and culture, plus gorgeous surrounding countryside with tiny tucked-away hamlets and forests. Read more >
Kyoto is where the Japanese go to learn more about themselves. Once the capital of Japan for a thousand years, Kyoto is the epicentre of Japanese arts and tradition - including garden design, kimono textiles, ceramics and lacquerware.
The performing arts are also well-represented: Shamisen music, fan dancing and the tea ceremony are all practiced to perfection by the elegant geisha: mysterious denizens of the city's wood-panelled Gion district. Despite times of heady modernisation and globalisation, Kyoto clings stubbornly to its heritage, making this one of the best places in the country to learn exactly what makes Japan so unique.
The name Kyoto extends beyond the city precincts to the wider prefecture, encompassing some really wonderful countryside that few visitors ever get to see. Those who do venture further afield discover picturesque cottages, bamboo groves, ancient forests and temples where festivals play out exactly as they have done for centuries.
On this itinerary you'll be accompanied by an extremely knowledgeable guide who'll show you the very best Kyoto has to offer - both within the city boundaries and in its rural environs. In the city you'll stay at one of Japan's top luxury hotels, while in the small village of Miyama you'll have a contrasting experience as you stay in a tiny traditional inn with just four guest rooms, tucked amid the misty cedar forest. No TV, no WiFi, just excellent, elegant service epitomising the Japanese concept of omotenashi: selfless hospitality.
Our Exclusive Private Journeys are bespoke deluxe itineraries that we can tailor in any way to suit your exact specifications. This Kyoto module is designed to inspire you with its carefully thought-out set of experiences and accommodation, but the final itinerary is entirely up to you. Why not take a look at some of our other Exclusive Private Journeys and combine a few?
Trip Highlights
Eat at Kyoto's finest restaurants including the Yoshikawa tempura restaurant

Meditate under the tutelage of a head priest

Head into the unspoilt villages of Ohara and Miyama
Enjoy a private audience with a geisha

Meet local craftspeople, skilled artisans, carpenters and ceramics experts

Experience the best of Japanese hospitality at a ryokan retreat
For more information email us: [email protected] or call: + 44 117 244 3380
What, where, when and how...
Kyoto City & Country - 5 Days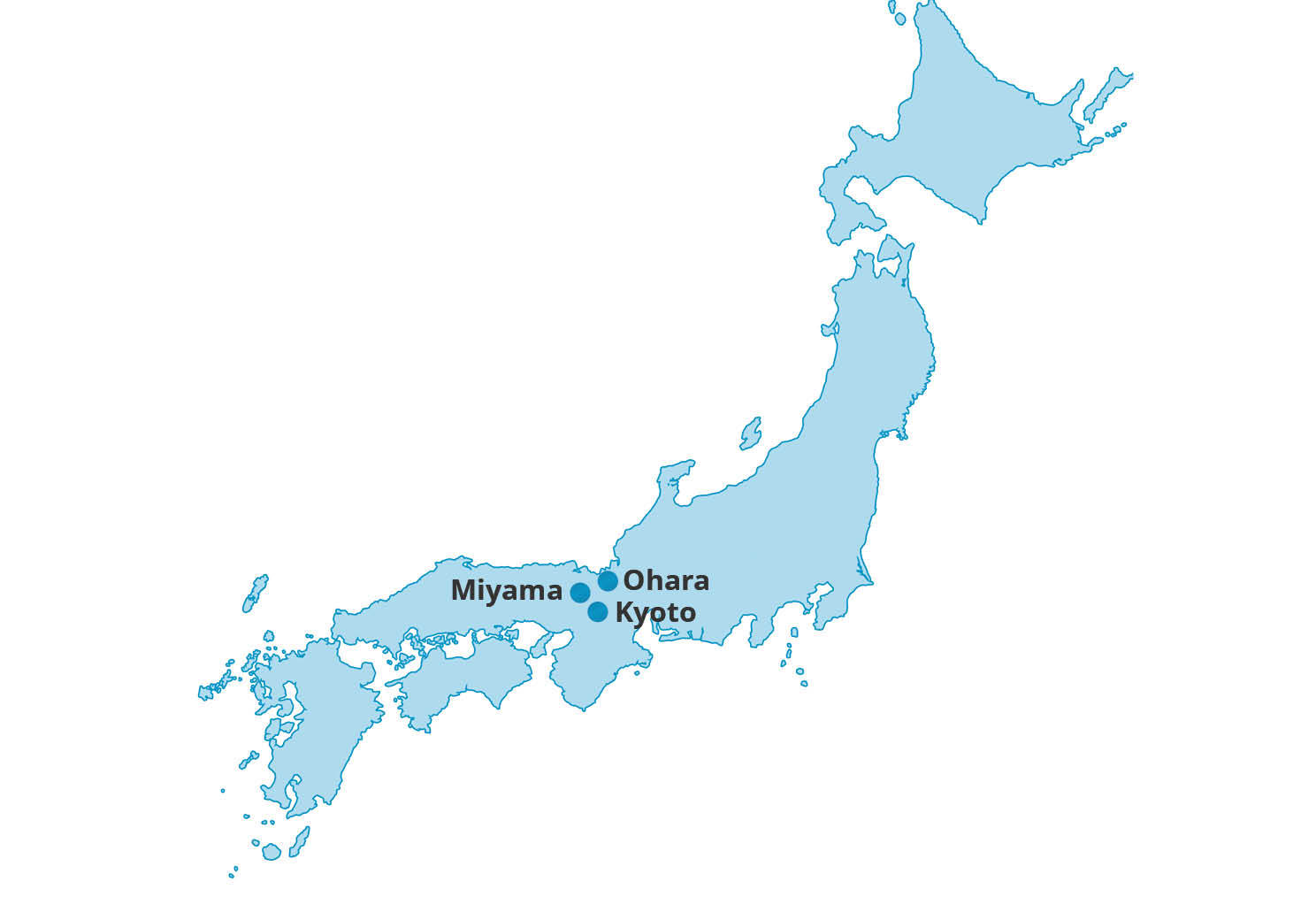 Destinations
Kyoto City & Country - 5 Days - Day by Day
Kyoto City & Country - 5 Days - Accommodation

Kyoto City & Country - 5 Days - Experiences
Day 1-3

There's simply so much to see in Kyoto; it is one of the most culturally rich cities in Asia and home to 17 separate UNESCO World Heritage Sites. So where do you start?

Accompanied by an expert guide throughout your time in Kyoto, allow us to design a sightseeing itinerary for you. Choosing a theme (or several themes) is a good place to begin.
Interested in Japanese traditions and superstitions? Visit the fascinating Higashiyama district. Famous for Kiyomizu Temple and Gion, your private guide will also take you off the beaten track to some hidden sights full of ghost stories and legends. Climbing the steps of Gojo-zaka Alley, you will see some of the few remaining traditional pottery kilns, while at Rokuhara Mitsuji we will try to bring about good fortune by washing coins in the holy water. Rokudo Chinnoji, meanwhile, is known for its deep well where spirits are still said to reside, and Yasui Konpira offers an ingenious solution to troubled love lives!
Other ideas include focussing on Kyoto's best gardens, or joining an expert potter and gallery owner for a tour of Kyoto's ceramic legacy. Other crafts to explore in Kyoto include ukiyo-e woodblock prints, yakimono pottery, Japanese doll-making, roketsu indigo dyeing or kanoko-shibori tie dyeing.
Or, perhaps you'd enjoy touring Kyoto's best sake district and the wonderful Fushimi Inari shrine dedicated to the rice gods. For more ideas and inspiration on what to see and do in Kyoto, have a look at the "experiences" tab below to begin exploring the many great activities we can arrange.

Suggested Accommodation: Ritz-Carlton Kyoto

Day 4-5

Kyoto Prefecture is more than just the city. We recommend escaping the city centre to explore pretty villages where few tourists take the time to venture.

A 30-minute drive north from your hotel takes you away from the metropolis and over the mountains to valleys and farmlands. Our first suggested stop is the hamlet of Ohara, home of Sanzen-in, a monzeki temple - one of only a few temples whose head priests used to be members of the imperial family. One of the priests will show us around the elegant temple buildings, which house an impressive calligraphy collection, antique fusuma screens and Buddha statues. Outside the temple walls there are also several charming moss gardens to be admired.
The village of Miyama lies two hours' drive north-west of Ohara. Miyama has over 200 kayabuki thatched-roof farmhouses, many of which are still residential buildings where families live and work. Compared to Shirakawago and other more famous hamlets of traditional Japanese farmhouses, Miyama feels rather more authentic - little heard-of by Western tourists as it is.

Here you can have lunch of ayu sweetfish caught locally from the Yura River, then explore the village museum to see traditional tools and household items from past decades. We'll also visit an indigo dyeing studio and art gallery housed in one of the old thatched-roof buildings.
If the weather allows, we recommend a walk accompanied by a nature expert through the Ashiu Forest, a protected ancient forest now accessible by permit only. We may see deer, monkeys and even bears in the forest - which also boasts the largest number of plant varieties in Japan.

Suggested Accommodation: Miyamasou
View all days
Day 1-3

There's simply so much to see in Kyoto; it is one of the most culturally rich cities in Asia and home to 17 separate UNESCO World Heritage Sites. So where do you start?

Accompanied by an expert guide throughout your time in Kyoto, allow us to design a sightseeing itinerary for you. Choosing a theme (or several themes) is a good place to begin.
Interested in Japanese traditions and superstitions? Visit the fascinating Higashiyama district. Famous for Kiyomizu Temple and Gion, your private guide will also take you off the beaten track to some hidden sights full of ghost stories and legends. Climbing the steps of Gojo-zaka Alley, you will see some of the few remaining traditional pottery kilns, while at Rokuhara Mitsuji we will try to bring about good fortune by washing coins in the holy water. Rokudo Chinnoji, meanwhile, is known for its deep well where spirits are still said to reside, and Yasui Konpira offers an ingenious solution to troubled love lives!
Other ideas include focussing on Kyoto's best gardens, or joining an expert potter and gallery owner for a tour of Kyoto's ceramic legacy. Other crafts to explore in Kyoto include ukiyo-e woodblock prints, yakimono pottery, Japanese doll-making, roketsu indigo dyeing or kanoko-shibori tie dyeing.
Or, perhaps you'd enjoy touring Kyoto's best sake district and the wonderful Fushimi Inari shrine dedicated to the rice gods. For more ideas and inspiration on what to see and do in Kyoto, have a look at the "experiences" tab below to begin exploring the many great activities we can arrange.

Suggested Accommodation: Ritz-Carlton Kyoto

Day 4-5

Kyoto Prefecture is more than just the city. We recommend escaping the city centre to explore pretty villages where few tourists take the time to venture.

A 30-minute drive north from your hotel takes you away from the metropolis and over the mountains to valleys and farmlands. Our first suggested stop is the hamlet of Ohara, home of Sanzen-in, a monzeki temple - one of only a few temples whose head priests used to be members of the imperial family. One of the priests will show us around the elegant temple buildings, which house an impressive calligraphy collection, antique fusuma screens and Buddha statues. Outside the temple walls there are also several charming moss gardens to be admired.
The village of Miyama lies two hours' drive north-west of Ohara. Miyama has over 200 kayabuki thatched-roof farmhouses, many of which are still residential buildings where families live and work. Compared to Shirakawago and other more famous hamlets of traditional Japanese farmhouses, Miyama feels rather more authentic - little heard-of by Western tourists as it is.

Here you can have lunch of ayu sweetfish caught locally from the Yura River, then explore the village museum to see traditional tools and household items from past decades. We'll also visit an indigo dyeing studio and art gallery housed in one of the old thatched-roof buildings.
If the weather allows, we recommend a walk accompanied by a nature expert through the Ashiu Forest, a protected ancient forest now accessible by permit only. We may see deer, monkeys and even bears in the forest - which also boasts the largest number of plant varieties in Japan.

Suggested Accommodation: Miyamasou
Close all days