Exclusive Private Journey
Hokuriku Highlights
4 Nights: price on request
Trip Code: EPJ300
This very special Exclusive Private Journey module introduces the Hokuriku region, where you'll stay in some of Japan's finest accommodation in the garden city of Kanazawa and the hot spring region of Kaga Onsen. Read more >
With a wonderful hand-picked guide plus a car and driver on hand, this Exclusive Private Journey module whisks you along the scenic roads of the higher Japanese Alps to reach Shirakawago, one of Japan's most picturesque rural communities. Shirakawago is famous for its collection of centuries-old, thatched-roof farmhouses, which are inscribed on the UNESCO World Heritage list.
While exploring the Japan Alps, a visit to Eihei-ji can also be included. Eihei-ji is a unique temple complex hidden amid a cedar forest where we can arrange for you to observe the day-to-day lives and rituals of the local monks, and even join them in meditation and sutra-copying. This is an experience not to be found at many other locations in Japan, and one that is certainly not soon forgotten.
As you move on to the garden city of Kanazawa, a place of deep samurai history and rich artistic heritage, you'll have the chance to try your hand at kaga-yuzen dyeing, gold leaf work and ceramics under the tutelage of local experts.
A short distance south from Kanazawa is the hot spring area of Kaga Onsen, where you'll stay in a gorgeous ryokan inn. This is some of the best in traditional Japanese accommodation, and your meals will be served kaiseki banquet style and feature some of the region's best seafood.
This rural Exclusive Private Journey is designed to introduce a traditional side of Japan away from the big cities, showing off some of the nation's loveliest countryside. We recommend that you consider combining this module with some other ideas to create your own tailored Exclusive Private Journey in consultation with one of our expert travel consultants.
Trip Highlights
Travel in the bullet train's luxury "Gran Class"

Taste Hokuriku's best seafood prepared by the region's top chefs

Enjoy fabulous hot spring baths in Kaga Onsen
Discover the secrets of Japanese garden design at Kenrokuen

Learn from masters in the crafts of lacquerware, ceramics and gold leaf

Take the scenic Hakusan Super Rindo road to the alpine village of Shirakawago
For more information email us: [email protected] or call: 303 952 0379
What, where, when and how...
Hokuriku Highlights - 5 Days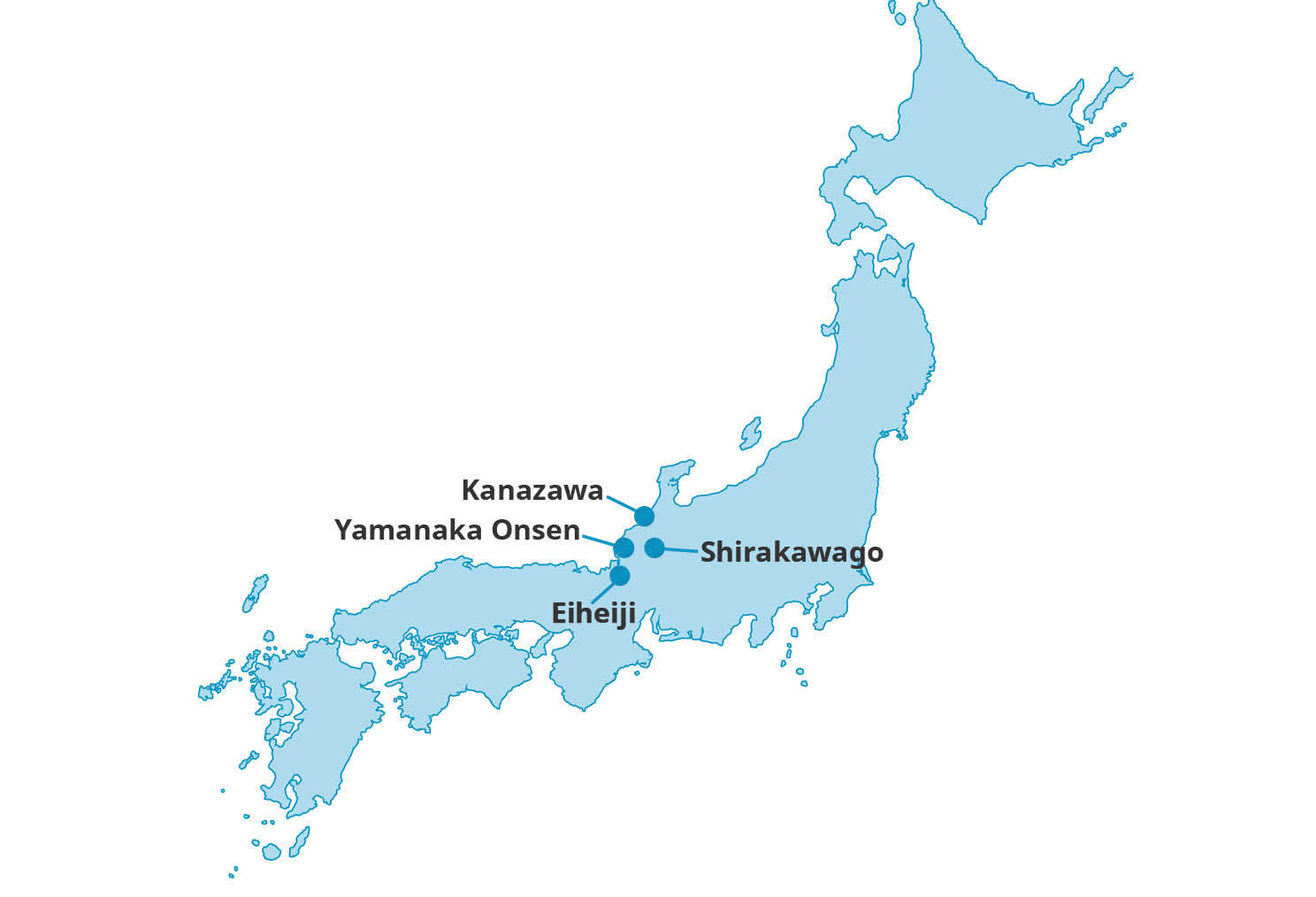 Destinations
Hokuriku Highlights - 5 Days - Day by Day
Hokuriku Highlights - 5 Days - Accommodation

Hokuriku Highlights - 5 Days - Experiences
Day 1-2

Hop on Japan's newest bullet train in Tokyo and just 2.5 hours later you'll be 460km away in the garden city of Kanazawa. We'll book you seats in the bullet train's luxurious "gran class" car with reclining leather chairs.

Welcome to Kanazawa, or "marsh of gold" as its name means in Japanese; a city with a rich historical legacy and a wealth of arts and crafts. Our top recommendation in Kanazawa is to see Kenrokuen, one of Japan's finest gardens, where your expert local guide will take you to meet the head gardener to learn about the religious symbolism that informs the garden's layout and design.
If you'd like to focus on Kanazawa's artistic heritage, let us arrange introductions with master craftsmen specialising in gold leaf work and lacquerware, including a visit to a traditional pottery kiln. Alternatively you might choose to try your hand at kaga-yuzen silk dyeing, a regional technique that uses materials harvested from plum trees.

If you prefer collecting art to making it, we are also happy to help you buy and ship artworks home.

Suggested Accommodation: Nikko Hotel Kanazawa

Day 3-5

Your next two nights will be spent in a beautiful ryokan inn in the hot spring resort town of Kaga.

From Kaga Onsen your guide and driver will take you on a day trip across the spectacular Hakusan Super Rindo road, weaving high up into the Japanese Alps - up to 1,400 metres above sea level.

Today you'll have the opportunity to explore the distinctive thatched-roof farmhouses of Shirakawago, a scenic alpine village that has been designated a UNESCO World Heritage Site in its entirety. Ogimachi is the most visited area of Shirakawago – but we recommend that you venture to the far quieter and prettier hamlets of Suganuma and Ainokura for a more authentic experience.

Whilst in the area, be sure to stop for a lunch home cooked by locals and served privately around an irori open hearth in one of the old farmhouses, washed down by a cup or two of the region's famous sake.
The temple complex of Eihei-ji is another tremendous day trip option available to you on your journey through the mountains. A vast temple precinct hidden deep in an atmospheric cedar forest and home to seven monasteries, this is your chance to meet the local monks for a guided meditation experience or sutra recitation.

Suggested Accommodation: Beniya Mukayu
View all days
Day 1-2

Hop on Japan's newest bullet train in Tokyo and just 2.5 hours later you'll be 460km away in the garden city of Kanazawa. We'll book you seats in the bullet train's luxurious "gran class" car with reclining leather chairs.

Welcome to Kanazawa, or "marsh of gold" as its name means in Japanese; a city with a rich historical legacy and a wealth of arts and crafts. Our top recommendation in Kanazawa is to see Kenrokuen, one of Japan's finest gardens, where your expert local guide will take you to meet the head gardener to learn about the religious symbolism that informs the garden's layout and design.
If you'd like to focus on Kanazawa's artistic heritage, let us arrange introductions with master craftsmen specialising in gold leaf work and lacquerware, including a visit to a traditional pottery kiln. Alternatively you might choose to try your hand at kaga-yuzen silk dyeing, a regional technique that uses materials harvested from plum trees.

If you prefer collecting art to making it, we are also happy to help you buy and ship artworks home.

Suggested Accommodation: Nikko Hotel Kanazawa

Day 3-5

Your next two nights will be spent in a beautiful ryokan inn in the hot spring resort town of Kaga.

From Kaga Onsen your guide and driver will take you on a day trip across the spectacular Hakusan Super Rindo road, weaving high up into the Japanese Alps - up to 1,400 metres above sea level.

Today you'll have the opportunity to explore the distinctive thatched-roof farmhouses of Shirakawago, a scenic alpine village that has been designated a UNESCO World Heritage Site in its entirety. Ogimachi is the most visited area of Shirakawago – but we recommend that you venture to the far quieter and prettier hamlets of Suganuma and Ainokura for a more authentic experience.

Whilst in the area, be sure to stop for a lunch home cooked by locals and served privately around an irori open hearth in one of the old farmhouses, washed down by a cup or two of the region's famous sake.
The temple complex of Eihei-ji is another tremendous day trip option available to you on your journey through the mountains. A vast temple precinct hidden deep in an atmospheric cedar forest and home to seven monasteries, this is your chance to meet the local monks for a guided meditation experience or sutra recitation.

Suggested Accommodation: Beniya Mukayu
Close all days