Chuson-ji golden temple
Hiraizumi is one of the most recent places in Japan to achieve UNESCO World Heritage status, and the wonderful golden temple is well worth a look.
The beautiful town of Hiraizumi's most famous temple is Chuson-ji. Similar to Kinkaku-ji Temple in Kyoto, Chuson-ji's main hall is covered entirely in gold leaf. The hall, known as Konjikido and which dates back to 1124, is enclosed inside another building for safe keeping.
Measuring just 5.5m on each side and 8m tall, the small hall is dedicated to Amida Nyorai, the Buddha of infinite light and inside the hall includes the golden statues of several bodhisattvas.
In the 12th century Hiraizumi was once the heart of the Fujiwara shogun. When the clan fell, Hiraizumi's influence waned and the golden hall is one of the few remaining structures from this period causing the haiku master Matsuo Basho to write:

The summer grass
is all that's left
of ancient warriors' dreams.
In 2011 just a few months after the Tohoku tsunami, Hiraizumi was awarded UNESCO World Heritage status.
Make an Enquiry
For more information email us: [email protected] or call: + 61 7 3186 8800
Important notice: We are pleased to be able to offer so many amazing experiences in Japan. However, we are sorry that we can only include these as a part of a full Japan holiday package which includes your accommodation and transport alongside the experiences presented in this section of the web site.

Chuson-ji golden temple
located in Hiraizumi
Read more >
Interested in this Experience? It is included in this tour:
Discover the highlights of rural Tohoku in this week-long add-on itinerary - samurai towns, hot spring villages, and sacred mountains.

Journey north into lesser-known Tohoku to discover the highlights this area has to offer. From samurai towns to temple lodgings on sacred mountains, to soaking in hot springs and tucking into local cuisine at izakaya restaurants, this itinerary makes a perfect add-on to any of our Japan trips.
Take a boat trip to see the mysterious island of Gunkanjima - aka 'Battle Ship Island'.

Get your holiday on the right track with a lesson in survival Japanese.

Experience the old town Tokyo atmosphere in the Shitamachi district.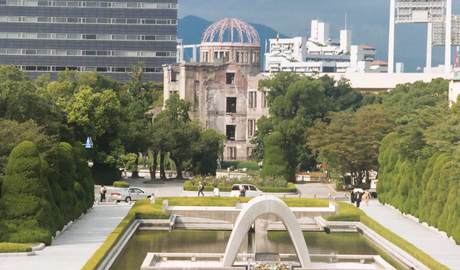 Take a sobering tour of Hiroshima's Peace Park with a volunteer from an NPO that provides support to A-bomb survivors.