Gunkanjima cruise
Take a boat trip to see the mysterious island of Gunkanjima - aka 'Battle Ship Island'.
A small island off the coast of Nagasaki, Gunkanjima (or 'Battle Ship Island') has a fascinating history. After coal was discovered on the island, managers, workers and their families flocked to Gunkanjima in search of riches. With one half of the island occupied by the mine, a self-sufficient society was established on the other half including shops, schools, a public bath, and a hospital, until Gunkanjima became the most densely populated island in the world. However in 1974 the mine was suddenly closed and the island was abandoned in some haste for reasons still unknown?

For years nobody set foot on the island and since the evacuation it was left at the mercy of typhoons, causing the buildings to deteriorate crumble. Now all that remains are eerie shells of the huge buildings that once housed the island's dense population, creating a haunting, mysterious atmosphere. So mysterious in fact, that Gunkanjima is said to be the inspiration behind the villain Raoul Silva's lair in the 2012 Bond film Skyfall.

Sightseeing tours to Gunkanjima are available enabling you to see this compelling piece of Japanese history up close. Currently there are no stops on the island after recent typhoon damage and fears of further building collapse, but the cruise will complete a circuit of the island so you can see it from all angles.

Make an Enquiry
For more information email us: [email protected] or call: + 61 7 3186 8800
Important notice: We are pleased to be able to offer so many amazing experiences in Japan. However, we are sorry that we can only include these as a part of a full Japan holiday package which includes your accommodation and transport alongside the experiences presented in this section of the web site.

Interested in this Experience? It is included in this tour:
Discover the impressive landscapes and vibrant cities of Kyushu on this journey from the forests of Yakushima to Kurokawa Onsen's hot springs

Discover the vibrant cities and impressive natural landscapes of the Kyushu region, from Kurokawa Onsen's hot springs to the primeval forests of Yakushima, staying in superior accommodation and enjoying some of the finest in Japanese cuisine.
Take a sobering tour of Hiroshima's Peace Park with a volunteer from an NPO that provides support to A-bomb survivors.

Get your holiday on the right track with a lesson in survival Japanese.

Experience the old town Tokyo atmosphere in the Shitamachi district.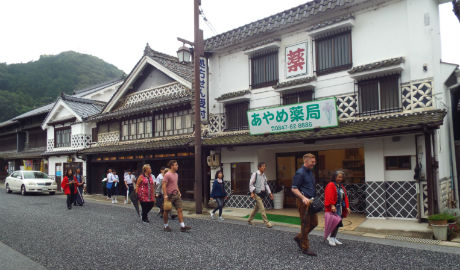 Step back in time a hundred years with a visit to the little-known town of Joge.