"Lost stones of Iseki"
Could this be the remains of a long-lost civilisation? We'll let you decide!
Discovered in 1987, these strange rock formations - with clean, geometric lines and smooth, flat surfaces - lie on the ocean floor off the coast of Yonaguni Island. If the rocks are indeed man-made, not simply a result of erosion, they would pre-date the pyramids. Either way this site makes for a fascinating dive.
Make an Enquiry
For more information email us: [email protected] or call: + 61 7 3186 8800
Important notice: We are pleased to be able to offer so many amazing experiences in Japan. However, we are sorry that we can only include these as a part of a full Japan holiday package which includes your accommodation and transport alongside the experiences presented in this section of the web site.

Take a boat trip to see the mysterious island of Gunkanjima - aka 'Battle Ship Island'.

Get your holiday on the right track with a lesson in survival Japanese.

Experience the old town Tokyo atmosphere in the Shitamachi district.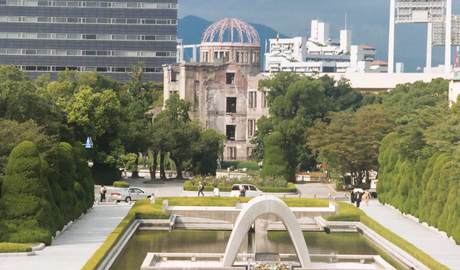 Take a sobering tour of Hiroshima's Peace Park with a volunteer from an NPO that provides support to A-bomb survivors.