Mount Koya
The history of Mount Koya stretches back some 1,200 years to the ninth century, when a monastic retreat was set up atop the mountain to serve members of the Shingon sect of Buddhism. Today it is one of the most atmospheric and peaceful places that you can visit in Japan.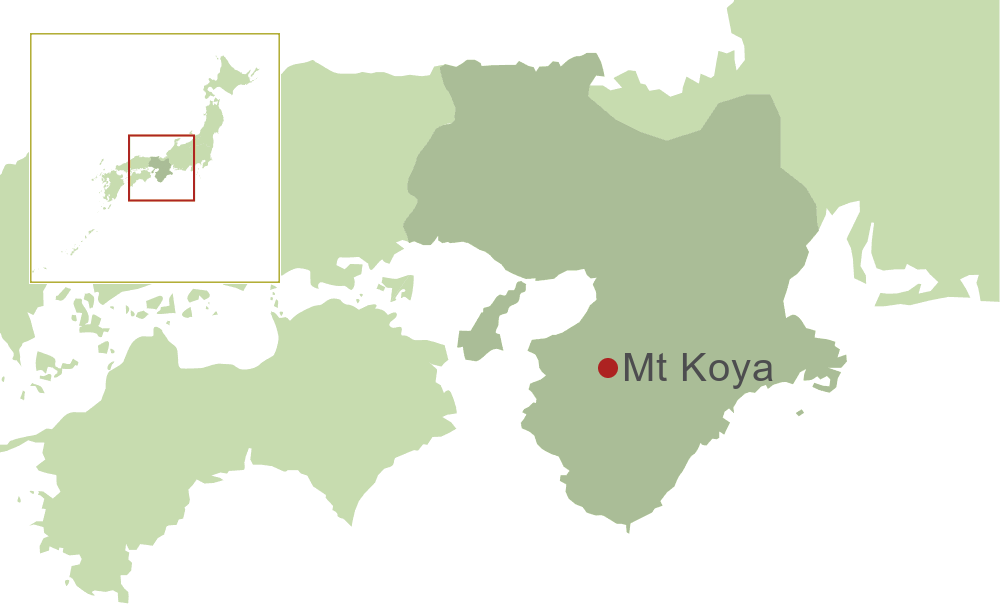 "Of all the myriad of amazing experiences to be had in Japan, perhaps one of the most moving and memorable is a stay in a temple lodging at Mt. Koya; the smell of the incense, the peaceful stillness of morning meditation and fantastic Buddhist vegetarian cuisine."
Simon King, Director
Unlike most places in Japan, which are becoming more and more easily accessible thanks to always-improving transport links, Mount Koya still retains some degree of seclusion. Reachable only by a succession of slow, countryside trains and a funicular railway, this means that despite its relative proximity to Osaka, Mount Koya can take quite some time to reach! Nevertheless, the journey is an experience in itself and the destination well worth the effort.
One of the main reasons to seek out Mount Koya is to stay in a temple lodging, or shukubo. Shukubo have a long history of sheltering weary pilgrims throughout Japan, and a stay at one of those in Mount Koya will provide a really authentic experience that you certainly won't find replicated anywhere else.
Accommodation at a shukubo is in simple tatami-mat rooms, with little adornment or furniture other than a low table and perhaps some thin floor cushions. You should certainly not expect luxury! Meals are served in a communal dining room and the food is traditional Buddhist fare: a kind of vegetarian cuisine known in Japanese as shojin ryori. But don't worry, beer is permitted!
The highlight of a stay at a shukubo comes early the following morning, when guests are invited to join the resident monks in morning prayers. Prayers usually take place in an ornately decorated hall where you'll find an altar decorated with offerings of flowers and fruit, gently smoking incense sticks and any number of elaborate bronze ornaments. The service is (of course) conducted in Japanese, but the experience is an atmospheric one nonetheless, and we highly advise that you do not miss this integral part of a stay at Koya-san!
During the daytime, you will have the opportunity to explore the religious sites of Koya. There are a great many temples on Mount Koya and all are important in their own way, but the most famous is Kongosan-mai Temple, which was founded in 1223 by Hojo Masako; the widow of Minamoto Yoritomo (head of the Genji clan). The temple was built in memory of her husband and son, and is decorated with beautiful depictions of elephants, lions and a flock of exotic birds.
Surrounding Okunoin Temple, meanwhile, is Koya's most impressive site, the Okunoin necropolis: a huge cemetery with more than 200,000 stone stupas commemorating the deceased. This is the final resting place of the monk Kukai (also known as Kobo Daishi), founder of Shingon Buddhism, who is said not to have died but to sit here in eternal meditation. The impressive Torodo Hall (Hall of Lamps) built in front of his mausoleum contains over 10,000 lanterns kept perpetually lit, while the basement contains 50,000 tiny statues donated to the temple in 1984.
Besides Kobo Daishi, there are many thousands of others commemorated at Okunoin - including several famous historical figures (General Oda Nobunaga and the Buddhist monks Nichiren, Honan and Shinran, for example); some more recent celebrities; and even a memorial erected by a pest extermination company to commemorate the lives of the insects it had killed!
It is difficult to grasp the vast scale and spiritual atmosphere of Okunoin without seeing it for yourself, but to many it is one of the most incredible sites in all of Japan, and this alone makes a visit to Koya-san worth the journey. The best time to visit the graveyard is in the early morning or late afternoon when the mist descends and the peace and quiet gives the area something of a spooky aura.
Recommended Accommodation in Mount Koya
In our opinion, the only way to experience Mount Koya is to stay in a shukubo, or temple lodging, where you'll sleep on tatami, eat vegetarian Buddhist cuisine and join the temple monks at morning prayers. This is a unique experience not to be found anywhere else in the world!

Experiences in Mount Koya
As an ancient religious community, the way to experience Mount Koya is by visiting its many beautiful temples, spending the night in a traditional pilgrim's lodging, and by wandering the vast and atmospheric Okunoin cemetery at dawn or dusk.
Weather in Mount Koya
The Climate Guide for Mount Koya, Japan is perfect for planning your holiday. Monthly weather averages give the best indication of what the weather is usually like for every month of the year including figures for temperature, rainfall and sunshine.
Jan
Feb
Mar
Apr
May
Jun
Jul
Aug
Sep
Oct
Nov
Dec
Max Daytime Temperature (°C)
6
6
10
16
20
23
26
28
24
19
14
8
Min Night-time Temperature (°C)
-2
-2
1
7
11
16
19
21
17
11
6
1
Hours of Sunshine (Daily)
5
5
5
6
6
5
5
6
5
5
5
5
Hours of Daylight (Daily)
10
11
12
13
14
14
14
13
12
11
10
10
Heat and Humidity Discomfort
None
None
None
None
None
None
Moderate
Moderate
None
None
None
None
Days with some Rainfall
18
18
19
17
16
20
20
19
19
15
14
15
Monthly Rainfall (mm)
49
75
133
198
213
315
304
254
319
181
118
41
UV Index (Maximum)
3
4
6
8
9
11
11
10
9
6
4
3
Featured trips including Mount Koya
Tokyo
Matsumoto
Hida Furukawa
Kanazawa
Kyoto
Mount Koya
Osaka

A superior 14-night gastronomic adventure introducing you to the best of Japan's food culture, from the Alps to Osaka.

14 nights: from US$6084 pp (twin share) Read more >

Tokyo
Nikko
Kyoto
Mount Koya
Himeji
Hiroshima
Kanazawa
Tokyo

Discover Japan's most important monuments on this superior 17-night trip, including the temples of Nikko, Hiroshima's Peace Park, and Himeji Castle.

17 nights: from US$7566 pp (twin share) Read more >

Tokyo
Matsumoto
Hida Furukawa
Kanazawa
Kyoto
Mount Koya
Osaka

A classic 14-night itinerary that promises a mouthwatering introduction to Japanese cuisine, from sushi to soba and everything in between.

14 nights: from US$3978 pp (twin share) Read more >