Arima Onsen
Arima Onsen is one of the oldest hot spring resorts in Japan, along with Shirahama Onsen in Wakayama Prefecture and Dogo Onsen on Shikoku Island.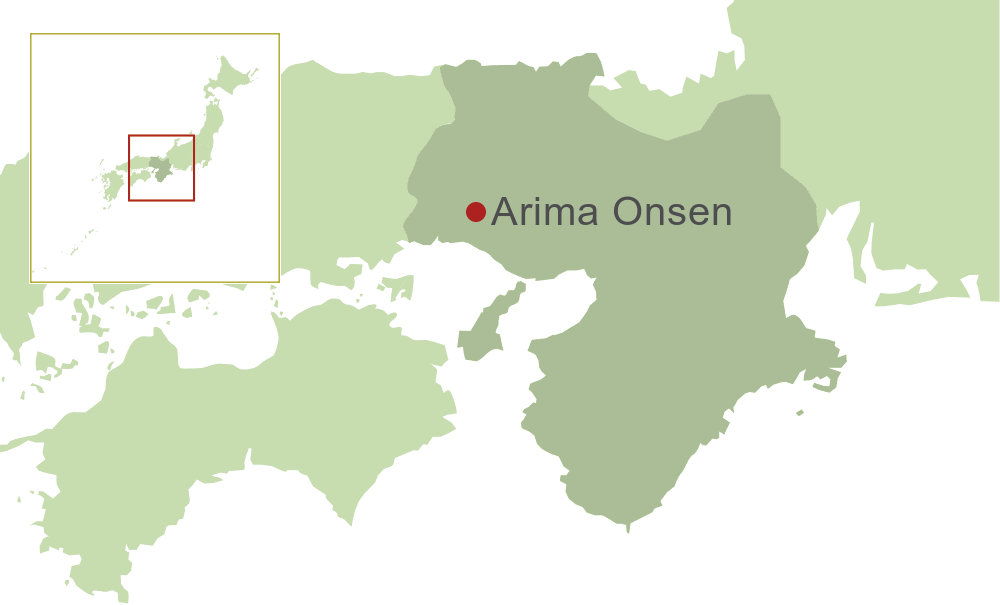 "Arima Onsen near my hometown of Kobe is famous for its special 'gold and silver' spa waters. Go there for the beautiful mountain views"
Arima onsen has been mentioned in documents dating back to the 8th century when the healing properties of the natural spa waters were first noticed by Buddhist monks who built a sanatorium on the site.
Today Arima Onsen is a popular destination for those wanting to exchange the hustle and bustle of urban life for a bit of relaxation. The resort is technically part of Kobe city, but is separated from the main metropolis by Mount Rokko. The mountain itself boasts stunning views of the city and the sea beyond.
Visitors to Arima Onsen can indulge in the many bathhouses. The Japanese love their baths and when they are on holiday take several dips a day. Men and women bath separately and, yes, everyone goes naked! You must first take off all your clothes, sit on a bath stool and wash yourself from head to toe. Then, squeaky clean, you can get into the hot bath, sit back and unwind. While onsen bathing can seem a little scary at first, we're sure you'll soon find it a liberating and worthwhile experience!
There are two types of spa water in Arima Onsen: ?Kinsen' is the gold water, so called for its yellow-brown colour due to the high iron and salt content. The silver water or ?ginsen' is colourless and contains carbonated radium water. Don't let all these chemical names put you off; the waters are the perfect antidote for tired muscles and jetlag and are also very good for your skin.
Although the town essentially has a modern face, Arima Onsen centres on old wooden streets of souvenir shops and traditional guest houses. The town's compact size means it can be explored on foot and makes a lovely break from Kansai's big cities.
Recommended Accommodation in Arima Onsen
The following are our favourites from among the western-style hotels and Japanese-style inns of Arima Onsen.

Weather in Arima Onsen
The Climate Guide for Arima Onsen, Japan is perfect for planning your holiday. Monthly weather averages give the best indication of what the weather is usually like for every month of the year including figures for temperature, rainfall and sunshine.
Jan
Feb
Mar
Apr
May
Jun
Jul
Aug
Sep
Oct
Nov
Dec
Max Daytime Temperature (°C)
8
8
12
18
23
26
30
31
27
21
16
11
Min Night-time Temperature (°C)
1
1
3
8
13
18
22
23
19
13
8
3
Hours of Sunshine (Daily)
4
4
5
6
6
5
5
6
5
5
4
4
Hours of Daylight (Daily)
10
11
12
13
14
14
14
13
12
11
10
10
Heat and Humidity Discomfort
None
None
None
None
None
Low
High
High
Moderate
None
None
None
Days with some Rainfall
19
19
20
16
15
18
17
15
17
14
14
16
Monthly Rainfall (mm)
45
59
98
127
142
207
171
98
186
107
68
35
UV Index (Maximum)
3
4
6
8
9
10
11
10
8
6
3
2