Nachi
The town of Nachi-Katsuura has the warm waters of the Pacific Ocean on its south side and the evergreen hills and peaks of the Kii peninsula on its north. A permanent home for just a few thousand people, it is a pilgrimage destination for many more.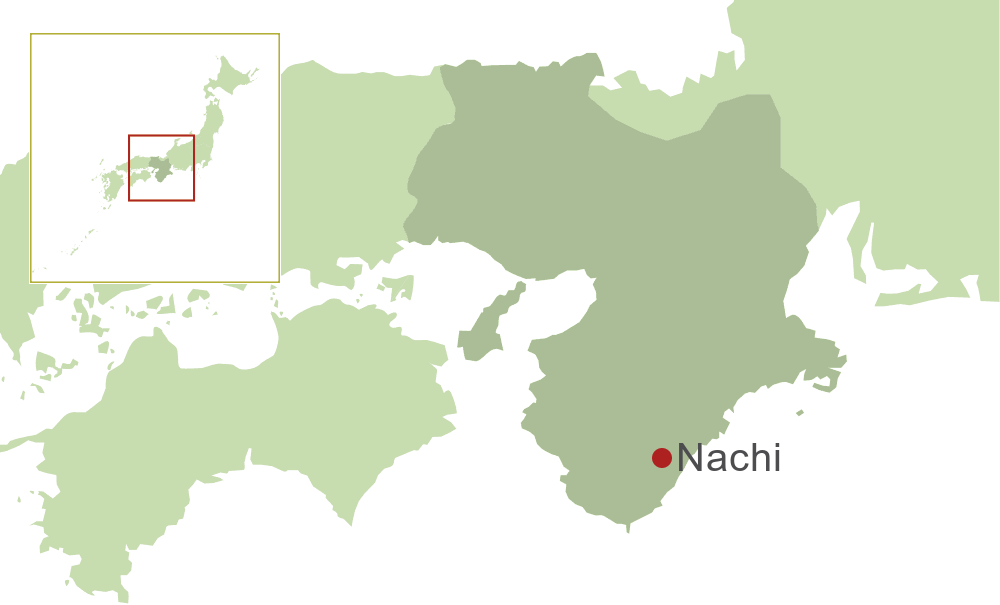 "Japan's tallest waterfall and a Kumano Kodo trail power-spot that has inspired and invigorated weary travellers for over 1,000 years"
Most come to visit the Nachi Taisha Shrine, part of the UNESCO-designated World Heritage Sacred Sites and Pilgrimage Routes in the Kii Mountain Range. It's long been recognised as a power-spot, a place holding mystical powers. Since the shrine's founding over 1,000 years ago, retired Emperors, nobles and commoners from all across Japan have come here to ask for blessings.
The towering Nachi waterfall, at 133metres the tallest in Japan, is a stunning, not-to-be-missed site.
Down by the seashore, you could do some whale-watching, go swimming with dolphins or without them, try sea-kayaking or even visit the morning tuna auction
Nachi is on the World Heritage Kumano Kodo trail and a great stopping point on long (or short) hikes.
Recommended Accommodation in Nachi
The following are our favourites from among the western-style hotels and Japanese-style inns of Nachi.

Featured trips including Nachi
Tokyo
Matsumoto
Tsumago
Narai
Kyoto
Yunomine Onsen
Koguchi
Nachi
Osaka

From sacred pilgrimage trails to ancient samurai routes, this itinerary showcases some of the best multi-day hiking routes in Japan.

14 nights: from US$3458 pp (twin share) Read more >

Tokyo
Kyoto
Mount Koya
Kawayu Onsen
Yunomine Onsen
Nachi
Ise
Tokyo

Join the ranks of the junreisha, or pilgrims, as you explore Ise, Mount Koya and the ancient paths of the Kumano Kodo on this classic trip.

14 nights: from US$4108 pp (twin share) Read more >

Yunomine Onsen
Koguchi
Nachi

Add this advanced hiking module to a longer trip and discover the ancient pilgrimage trails of the Kumano Kodo.

3 nights: from US$910 pp (twin share) Read more >