Nara
Nara is perhaps Japan's friendliest and greenest city. The quiet town sits on the edge of a sprawling park providing a picture perfect backdrop for the magnificent temples and shrines including Todaiji, home of the huge Dai-butsu statue of Buddha.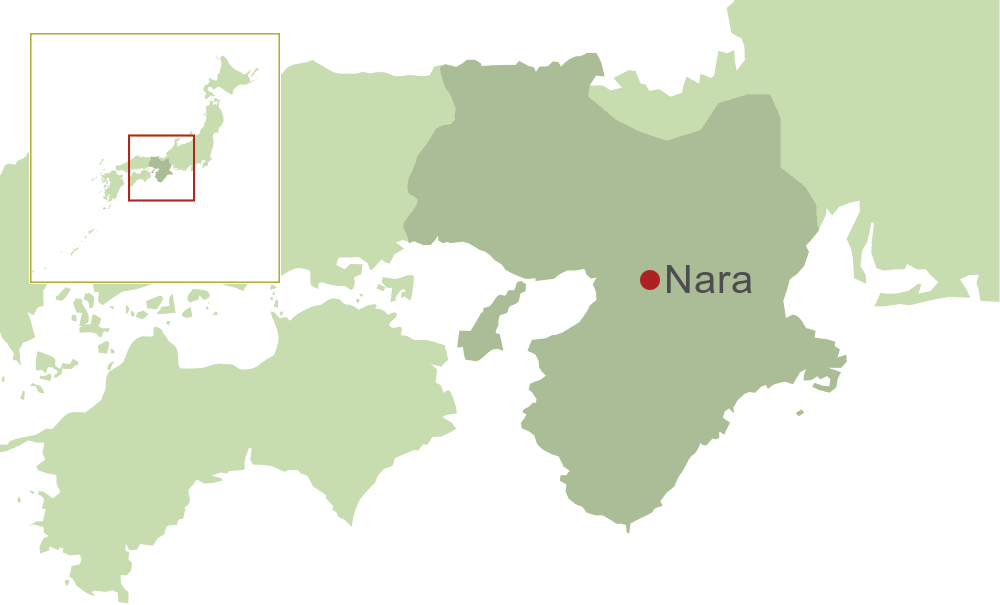 "If beautiful pagodas and magnificent statues of Buddha enchant you, then Nara park is the perfect place to stroll between them"
Simon King, Director
Yet Nara wasn't always so peaceful and laid-back. The city's turbulent history began in the 700s when the city was founded under Tang Dynasty China. As the final destination on the Silk Road, Nara rapidly absorbed ideas form China, Central Asia and Persia becoming the grand diocese of Buddhism in Japan. Perhaps inevitably for a place of such religious importance, Nara was many times the victim of warring samurai clans and monk disputes with several great fires razing the city.
Today, the most famous tourist attraction is Todai-ji Temple; the world's largest wooden building which houses a mighty bronze daibutsu or giant Buddha statue. More than 2,600,000 people are believed to have helped build Todai-ji during Nara's brief 74 year reign as Japan's capital. The project nearly bankrupted Japan at the time, using most of the nation's bronze supply.
While the impressive Buddha casts a serene aura across the temple, a more amusing sight is just around the corner. One of the Great Hall's supporting posts has a hole through the base said to be the same size as one of the daibutsu's nostrils. According to legend, those who squeeze through the hole will be blessed with enlightment in their next life. A word of warning from experience though: Only the skinny should apply!
Regular sized people, please fear not. Visit any of Nara's shrines to make a prayer. After throwing a five yen coin in the altar box, ring the bell to wake the gods. Bow twice, clap your hands twice while thinking about your wish and then bow once more. Apparently more specific wishes are better than vague ones!
Nara's most infamous inhabitants are the 1,200 shika or deer, believed to be messengers of the gods. Today the deer are protected by city law and wander freely around Nara Park happily feeding on deer biscuits bought by tourists or brazenly interrupting family picnics! The deer have become Nara's symbol; even Hello Kitty models deer antlers on Nara souvenirs.
Experiences in Nara
Nara offers a wealth of exciting experiences that will help you get beneath the surface of Japan's fascinating culture. See below for a few of our favourites
Weather in Nara
The Climate Guide for Nara, Japan is perfect for planning your holiday. Monthly weather averages give the best indication of what the weather is usually like for every month of the year including figures for temperature, rainfall and sunshine.
Jan
Feb
Mar
Apr
May
Jun
Jul
Aug
Sep
Oct
Nov
Dec
Max Daytime Temperature (°C)
8
8
12
18
23
26
30
31
27
21
16
10
Min Night-time Temperature (°C)
0
0
2
8
12
17
21
22
19
12
7
2
Hours of Sunshine (Daily)
4
4
5
6
6
5
5
6
5
5
4
4
Hours of Daylight (Daily)
10
11
12
13
14
14
14
13
12
11
10
10
Heat and Humidity Discomfort
None
None
None
None
None
Low
High
High
Low
None
None
None
Days with some Rainfall
19
19
20
17
15
18
19
17
18
14
14
15
Monthly Rainfall (mm)
43
60
103
123
135
212
206
120
186
109
66
33
UV Index (Maximum)
3
4
6
8
9
10
11
10
8
6
3
2
Featured trips including Nara
Tokyo
Mount Fuji
Kyoto
Nara
Osaka
Tokyo

Welcome to one of the most wheelchair-friendly countries in the world. Explore Tokyo, Kyoto, Osaka and more on this exciting 10-night adventure.

10 nights: from US$5434 pp (call us to discuss to requirements) Read more >