Self-Guided Adventure
World Heritage
17 Nights: from US$4485 per person (twin share)
Trip Code: WHRTGC
This journey combines Japan's best World Heritage Sites, including ancient pilgrimage routes, mountaintop settlements and beautiful shrines and temples to provide a comprehensive overview of Japan's long history and beautiful natural countryside. Read more >
This is a fast-paced itinerary designed to give you an idea of what you can fit into a trip centered around the most iconic World Heritage sites in Japan. If you want to chop and change the itinerary to leave off a few destinations and spend more time somewhere else, we can tailor it to suit you.
You will begin in Tokyo, the beating, neon-lit heart of Japan and a city racing headlong into the future. From here you will head to the mountains of Tochigi to find Nikko, a world apart from modern Japan with its stunning natural surroundings and some of the most ornate religious architecture in the country.
No World Heritage trip to Japan would be complete without a visit to Kyoto, Japan's cultural heart and its imperial capital for over a thousand years, and this is the next destination on your itinerary. Kyoto is a city where the legacy of the past is constantly present, with temples and shrines hidden down every backstreet and exquisite gardens concealed behind sliding wooden doors.
The city of Kanazawa on the Japan Sea Coast also offers plenty of historical delights, having been spared bombing during World War Two thanks to its important cultural heritage. Here you'll have the chance to explore wood-panelled streets in the geisha and samurai quarters, as well as exploring the beautiful Kenrokuen - one of Japan's finest landscape gardens.
Your adventures will also take you to Mount Koya in the Kii Mountains, where you'll have a chance to participate in a timeless, religious way of life that has spanned the centuries; Himeji, where you'll admire Japan's largest and most impressive original samurai castle; Hiroshima, where you'll be haunted by shadows of World War Two; and to Shirakawago - a village in the Japan Alps where you'll stay in a traditional thatched-roof farmhouse.
What's included
17 nights' accommodation (five nights Japanese style)

15 breakfasts, one lunch, and four dinners

Airport transfers

All transport between destinations in Japan

Six-hour private guide service in Nikko including lunch

Eight-hour private guide service in Tokyo and Kyoto

Manaca transport pass with 2,500 yen credit for city transport

Nikko Free Pass for transport in the Nikko region

Kansai Thru Pass for transport in the Kansai region

14-day Japan Rail Pass

Pocket WiFi device

Your personalised InsideJapan Info-Pack
What's NOT included:
International flights

Any extra local transport (buses, subways, taxis) at any destination unless otherwise specified

Any entrance fees including those for shrines, temples and museums (except for Nikko)

Baggage handling and luggage forwarding
Trip Highlights
Stay at a temple lodging in Mount Koya

Admire Japan's largest and most impressive samurai castle

Visit Tokugawa Ieyasu's mausoleum at Nikko
Explore the shrines and gardens of Kyoto

Take a day trip to Miyajima Island

Spend a night in a traditional thatched-roof farmhouse in Shirakawago
For more information email us: [email protected] or call: 303 952 0379
What, where, when and how...
World Heritage - 18 Days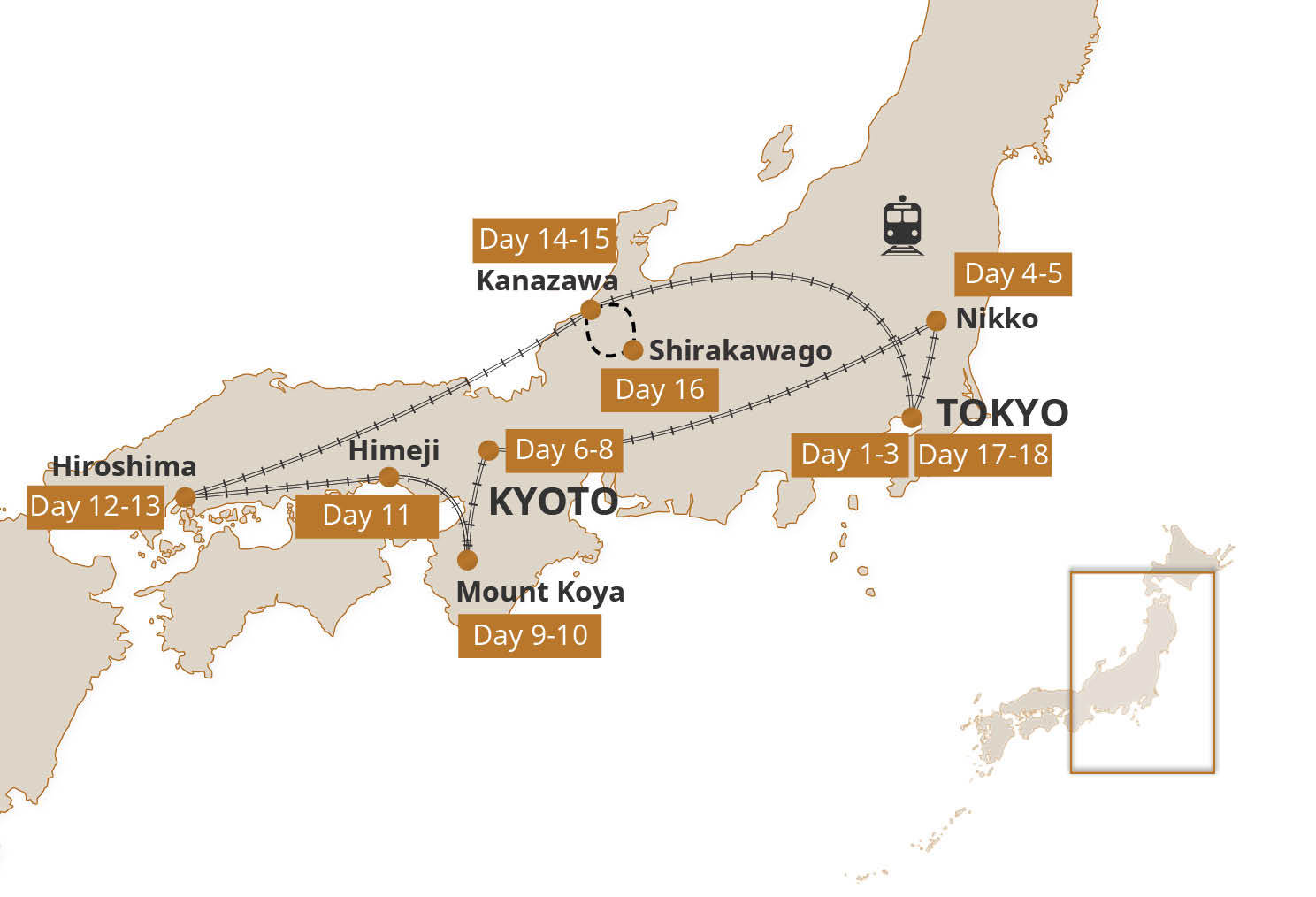 World Heritage - 18 Days - Day by Day
World Heritage - 18 Days - Accommodation
Day 1-3

Begin your journey with three nights in Asakusa, where the bustling markets around Senso-ji Temple will give you a taste of pre-war Tokyo.

The rest of your first day will be free for you to explore this area or to hop on the subway to Akihabara's "electric town" for a very different experience. Your personalised Info-Pack will include lots of suggestions as to what to do with your time today.
To help you get the most out of your time in Japan's capital, day two of your itinerary will be spent with a professional private guide who will take you to some of Tokyo's most famous sights as well as some lesser-known places of interest. Travelling around Tokyo by the efficient public transport network, this is your chance to get beneath the surface of the capital city with a knowledgeable local to answer any questions you may have.
On day three you will have another full day to explore Tokyo independently. From tasting sushi at Tsukiji Fish Market to testing the latest technology at the Sony Building, you won't run out of things to do! See the skyscrapers from the water as you cruise down the Sumida River from Asakusa, take in some high culture at the elegant Kabuki-za Theatre or lose yourself in translation amid the glittering neon of Shinjuku.

Overnight: Gracery Asakusa Hotel

Day 4-5

Explore the elaborate religious buildings of Nikko and take some time to appreciate of the area's astounding natural beauty.

Speeding through the Tokyo suburbs on the Shinkansen bullet train, today you will travel north into the Japanese countryside to the town of Nikko. Here you will be met by one of our local tour guides who will take you on a tour of Nikko's treasures.
You'll stop at Toshogu, Japan's most lavishly decorated shrine complex and the mausoleum of the founding father of the Tokugawa shogunate. Look out for the original wood carving of three "see-no-evil" monkeys.
Nikko, meaning "sunlight," is located in a national park on a volcanic plateau dotted with lakes, waterfalls and hot springs surrounded by stunning mountain scenery. We suggest that on your second day in the area you pull on your hiking boots and explore the many trails that snake across the park. Lake Chuzenji is particularly beautiful when surrounded by autumn foliage, and at the east end of the lake Kegon Falls, cascading 96 metres into the Daiya River, is a wonderful sight.

Overnight: Nikko Station Classic

Day 6-8

Pick and choose amongst a staggering 17 World Heritage Sites as you discover the ancient heartbeat of the "City of Ten Thousand Temples".

Today you will make your way by limited express and Shinkansen bullet train to Kyoto at the heart of the Kansai region. Arriving at the futuristic station building you'd be forgiven for thinking that Kyoto is just another modern, glass-and-concrete city, but scratch the surface and you'll soon find the true heartbeat of this ancient capital.
Thanks to the mysterious geisha, ritualised tea ceremonies, time-honoured festivals and all those World Heritage Sites, you're never far from the unique and the spectacular as you explore this wonderful city.
On your first full day in Kyoto you will have the services of a private guide at your disposal to help you discover some of the city's most famous locations as well as a few hidden gems that most tourists don't get the chance to visit. Be sure to use this time to ask any questions you may have about Kyoto and Japanese life in general!
With another full day at leisure in Kyoto, we recommend making a day trip to one of the great destinations within easy reach of the rail network. Nearby Nara is another excellent World Heritage city, famous for its giant seated Buddha and friendly resident deer, whilst Osaka is a buzzing metropolis with a reputation for great food and excellent nightlife.

Overnight: Vista Premio Kyoto Kawaramachi

Day 9-10

Wander through the vast and eerily atmospheric Okunoin cemetery before spending the night at an authentic shukubo temple lodging at sacred Mount Koya.

Mount Koya was established in 816 by the monk Kobo Daishi and is home to a wonderful collection of temples and shrines. Here you will spend two nights at an authentic shukubo temple lodging, where you'll have the chance to participate in the life and rituals of the temple and sample some traditional vegetarian shojin ryori cuisine for dinner.
On your second day in Mount Koya you'll have the opportunity to relax and reflect, strolling to the great gate on the Western edge of Koya and visiting the treasure house, which holds over 5,000 paintings, statues and other Buddhist relics.
For the more adventurous, follow any of the trails that lead out of the village and up to the peaks of the Kii Mountains. Dinner will be included at your shukubo this evening.

Overnight: Eko-in Shukubo

Day 11

Admire Japan's most impressive original samurai castle in Himeji.

Today it's time to head to Himeji in Hyogo Prefecture. Himeji is home to the famous "White Heron" Castle, one of only 12 surviving original castles from the feudal era in all of Japan. Of these 12, Himeji is certainly the most impressive with its extensive ramparts and dramatic keep rising up above the city.
Just outside the castle grounds you can find Koko-en gardens, a haven of tranquillity with a range of different garden styles. The central teahouse provides an opportunity to sit down, relax, rest your feet and contemplate. Just outside of the city, half an hour bus ride away, you will find Engyoji - a temple complex located on the top of Mount Shosha. Untouched for hundreds of years, this is a view of a lost nation; the closing point of a day of discovery that will take you closer to the age of the samurai and the romance of old Japan.


Overnight: Dormy Inn Himeji

Day 12-13

Head west to Hiroshima, forever infamous for the tragic events of 1945.

Today you will make your way by bullet train to Hiroshima, a city that needs little introduction. It is of course the site of one of two atomic bombs dropped on Japan at the end of the Second World War. Despite it's tragic past, Hiroshima is now a bustling and vibrant city which has risen phoenix-like from the ashes.
The Peace Park and Museum are a poignant reminder of the reason for Hiroshima's fame and everyone should spend an afternoon in this part of town. Other attractions in Hiroshima include Hiroshima Castle and the baseball stadium. Shukkei-en Garden is well worth an afternoon stroll with a number of teahouses dotted about the grounds. The Hiroshima Prefectural Museum of Art contains some wonderful paintings by both Japanese and Western artists.
On day 13 you will have the chance to make a day trip across the bay to Miyajima, a beautiful island in the Seto Inland Sea that is famous for its red torii gate, which appears to float on the water out in the bay. Whilst on the island we recommend doing some souvenir shopping in the quaint little town centre, paying a visit to some of the beautiful local temples, and perhaps even making it to the top of Mount Misen (on foot or by cable car) for spectacular views across the area.

Overnight: Mitsui Garden Hotel Hiroshima

Day 14-15

Head to the Japan Sea Coast to Kanazawa, another beautifully preserved historic city.

Like Kyoto, Kanazawa was spared bombing during World War Two thanks to its impressive collection of historical and cultural assets – many of which survive to the present day as a result. There are several small geisha districts and one where you can go inside an old teahouse and see where the clients were entertained and even take tea yourself (sadly no longer served by geisha!). There are also samurai houses, a "ninja" temple and the city's most famous sight – the beautiful Kenrokuen Garden – rated as one of the three best landscape gardens in the whole of Japan.
On your second day in the city we'll include a cooking class with our favourite Kanazawa chefs. You'll learn about local cuisine that specializes in vegan-friendly dishes, and then tuck into your creation for lunch.
Rather than a standard hotel, you'll be staying a lovingly restored traditional 'machiya' townhouse, which allows you to feel like a local! The city is easy to get around either by public transport or by using taxis which are plentiful and for journeys between the major sights, very reasonable indeed.

Overnight: Machiya Residence

Day 16

Spend the night in a traditional thatched-roof farmhouse in a lovely World Heritage village in the Japan Alps.

Surrounded by pine tree covered mountains situated along the picturesque Shokawa River, Shirakawago is to be found in the heart of the Hakusan National Park. Besides the beautiful scenery, the unique Japanese thatched-roof farmhouses or gassho-zukuri (literally "praying hands houses") are the main attraction.
The buildings get their name from the steeply sloping roofs which reach down almost to the ground and were designed to cope with the extremely heavy snowfall that affects this region every winter. There are approximately 180 thatched farmhouses, sheds, and barns, most of which were built about 200-300 years ago.
You'll be spending the night in one of these original farmhouses – a uniquely Japanese experience that is sure to be one of the highlights of your trip. A home-cooked meal of traditional alpine fare will be served at your accommodation this evening.

Overnight: Gassho Minshuku Ootaya

Day 17-18

Round off your trip with a stay in the hyper-modern, high-rise entertainment district of Shinjuku – the perfect contrast to the traditional sights of the past two weeks.

Leaving behind the Japan Alps, today you will return to Tokyo for a final day that will truly highlight the contrasts that make Japan the diverse country it is today.
Your last night in Japan will be spent amid the bright neon lights and buzzing entertainment establishments of Shinjuku, the perfect place for some last-minute shopping, a great meal out and an evening of karaoke if you fancy it!
Sadly your adventure must come to an end, and on the final day of your itinerary you will be catching the Narita Express train to the airport for your departure. We wish you a pleasant flight home.

Overnight: JR Kyushu Blossom Shinjuku
View all days
Day 1-3

Begin your journey with three nights in Asakusa, where the bustling markets around Senso-ji Temple will give you a taste of pre-war Tokyo.

The rest of your first day will be free for you to explore this area or to hop on the subway to Akihabara's "electric town" for a very different experience. Your personalised Info-Pack will include lots of suggestions as to what to do with your time today.
To help you get the most out of your time in Japan's capital, day two of your itinerary will be spent with a professional private guide who will take you to some of Tokyo's most famous sights as well as some lesser-known places of interest. Travelling around Tokyo by the efficient public transport network, this is your chance to get beneath the surface of the capital city with a knowledgeable local to answer any questions you may have.
On day three you will have another full day to explore Tokyo independently. From tasting sushi at Tsukiji Fish Market to testing the latest technology at the Sony Building, you won't run out of things to do! See the skyscrapers from the water as you cruise down the Sumida River from Asakusa, take in some high culture at the elegant Kabuki-za Theatre or lose yourself in translation amid the glittering neon of Shinjuku.

Overnight: Gracery Asakusa Hotel

Day 4-5

Explore the elaborate religious buildings of Nikko and take some time to appreciate of the area's astounding natural beauty.

Speeding through the Tokyo suburbs on the Shinkansen bullet train, today you will travel north into the Japanese countryside to the town of Nikko. Here you will be met by one of our local tour guides who will take you on a tour of Nikko's treasures.
You'll stop at Toshogu, Japan's most lavishly decorated shrine complex and the mausoleum of the founding father of the Tokugawa shogunate. Look out for the original wood carving of three "see-no-evil" monkeys.
Nikko, meaning "sunlight," is located in a national park on a volcanic plateau dotted with lakes, waterfalls and hot springs surrounded by stunning mountain scenery. We suggest that on your second day in the area you pull on your hiking boots and explore the many trails that snake across the park. Lake Chuzenji is particularly beautiful when surrounded by autumn foliage, and at the east end of the lake Kegon Falls, cascading 96 metres into the Daiya River, is a wonderful sight.

Overnight: Nikko Station Classic

Day 6-8

Pick and choose amongst a staggering 17 World Heritage Sites as you discover the ancient heartbeat of the "City of Ten Thousand Temples".

Today you will make your way by limited express and Shinkansen bullet train to Kyoto at the heart of the Kansai region. Arriving at the futuristic station building you'd be forgiven for thinking that Kyoto is just another modern, glass-and-concrete city, but scratch the surface and you'll soon find the true heartbeat of this ancient capital.
Thanks to the mysterious geisha, ritualised tea ceremonies, time-honoured festivals and all those World Heritage Sites, you're never far from the unique and the spectacular as you explore this wonderful city.
On your first full day in Kyoto you will have the services of a private guide at your disposal to help you discover some of the city's most famous locations as well as a few hidden gems that most tourists don't get the chance to visit. Be sure to use this time to ask any questions you may have about Kyoto and Japanese life in general!
With another full day at leisure in Kyoto, we recommend making a day trip to one of the great destinations within easy reach of the rail network. Nearby Nara is another excellent World Heritage city, famous for its giant seated Buddha and friendly resident deer, whilst Osaka is a buzzing metropolis with a reputation for great food and excellent nightlife.

Overnight: Vista Premio Kyoto Kawaramachi

Day 9-10

Wander through the vast and eerily atmospheric Okunoin cemetery before spending the night at an authentic shukubo temple lodging at sacred Mount Koya.

Mount Koya was established in 816 by the monk Kobo Daishi and is home to a wonderful collection of temples and shrines. Here you will spend two nights at an authentic shukubo temple lodging, where you'll have the chance to participate in the life and rituals of the temple and sample some traditional vegetarian shojin ryori cuisine for dinner.
On your second day in Mount Koya you'll have the opportunity to relax and reflect, strolling to the great gate on the Western edge of Koya and visiting the treasure house, which holds over 5,000 paintings, statues and other Buddhist relics.
For the more adventurous, follow any of the trails that lead out of the village and up to the peaks of the Kii Mountains. Dinner will be included at your shukubo this evening.

Overnight: Eko-in Shukubo

Day 11

Admire Japan's most impressive original samurai castle in Himeji.

Today it's time to head to Himeji in Hyogo Prefecture. Himeji is home to the famous "White Heron" Castle, one of only 12 surviving original castles from the feudal era in all of Japan. Of these 12, Himeji is certainly the most impressive with its extensive ramparts and dramatic keep rising up above the city.
Just outside the castle grounds you can find Koko-en gardens, a haven of tranquillity with a range of different garden styles. The central teahouse provides an opportunity to sit down, relax, rest your feet and contemplate. Just outside of the city, half an hour bus ride away, you will find Engyoji - a temple complex located on the top of Mount Shosha. Untouched for hundreds of years, this is a view of a lost nation; the closing point of a day of discovery that will take you closer to the age of the samurai and the romance of old Japan.


Overnight: Dormy Inn Himeji

Day 12-13

Head west to Hiroshima, forever infamous for the tragic events of 1945.

Today you will make your way by bullet train to Hiroshima, a city that needs little introduction. It is of course the site of one of two atomic bombs dropped on Japan at the end of the Second World War. Despite it's tragic past, Hiroshima is now a bustling and vibrant city which has risen phoenix-like from the ashes.
The Peace Park and Museum are a poignant reminder of the reason for Hiroshima's fame and everyone should spend an afternoon in this part of town. Other attractions in Hiroshima include Hiroshima Castle and the baseball stadium. Shukkei-en Garden is well worth an afternoon stroll with a number of teahouses dotted about the grounds. The Hiroshima Prefectural Museum of Art contains some wonderful paintings by both Japanese and Western artists.
On day 13 you will have the chance to make a day trip across the bay to Miyajima, a beautiful island in the Seto Inland Sea that is famous for its red torii gate, which appears to float on the water out in the bay. Whilst on the island we recommend doing some souvenir shopping in the quaint little town centre, paying a visit to some of the beautiful local temples, and perhaps even making it to the top of Mount Misen (on foot or by cable car) for spectacular views across the area.

Overnight: Mitsui Garden Hotel Hiroshima

Day 14-15

Head to the Japan Sea Coast to Kanazawa, another beautifully preserved historic city.

Like Kyoto, Kanazawa was spared bombing during World War Two thanks to its impressive collection of historical and cultural assets – many of which survive to the present day as a result. There are several small geisha districts and one where you can go inside an old teahouse and see where the clients were entertained and even take tea yourself (sadly no longer served by geisha!). There are also samurai houses, a "ninja" temple and the city's most famous sight – the beautiful Kenrokuen Garden – rated as one of the three best landscape gardens in the whole of Japan.
On your second day in the city we'll include a cooking class with our favourite Kanazawa chefs. You'll learn about local cuisine that specializes in vegan-friendly dishes, and then tuck into your creation for lunch.
Rather than a standard hotel, you'll be staying a lovingly restored traditional 'machiya' townhouse, which allows you to feel like a local! The city is easy to get around either by public transport or by using taxis which are plentiful and for journeys between the major sights, very reasonable indeed.

Overnight: Machiya Residence

Day 16

Spend the night in a traditional thatched-roof farmhouse in a lovely World Heritage village in the Japan Alps.

Surrounded by pine tree covered mountains situated along the picturesque Shokawa River, Shirakawago is to be found in the heart of the Hakusan National Park. Besides the beautiful scenery, the unique Japanese thatched-roof farmhouses or gassho-zukuri (literally "praying hands houses") are the main attraction.
The buildings get their name from the steeply sloping roofs which reach down almost to the ground and were designed to cope with the extremely heavy snowfall that affects this region every winter. There are approximately 180 thatched farmhouses, sheds, and barns, most of which were built about 200-300 years ago.
You'll be spending the night in one of these original farmhouses – a uniquely Japanese experience that is sure to be one of the highlights of your trip. A home-cooked meal of traditional alpine fare will be served at your accommodation this evening.

Overnight: Gassho Minshuku Ootaya

Day 17-18

Round off your trip with a stay in the hyper-modern, high-rise entertainment district of Shinjuku – the perfect contrast to the traditional sights of the past two weeks.

Leaving behind the Japan Alps, today you will return to Tokyo for a final day that will truly highlight the contrasts that make Japan the diverse country it is today.
Your last night in Japan will be spent amid the bright neon lights and buzzing entertainment establishments of Shinjuku, the perfect place for some last-minute shopping, a great meal out and an evening of karaoke if you fancy it!
Sadly your adventure must come to an end, and on the final day of your itinerary you will be catching the Narita Express train to the airport for your departure. We wish you a pleasant flight home.

Overnight: JR Kyushu Blossom Shinjuku
Close all days
Other trips you may like
Experience a world-class music festival with great bands, DJs and all manner of outlandish entertainments in a stunning mountain setting.

7 nights: from US$1599 pp (twin share) Read more >

Nagasaki
Kagoshima
Yakushima
Kirishima National Park
Kumamoto
Kurokawa Onsen
Fukuoka

Discover the impressive landscapes and vibrant cities of Kyushu on this journey from the forests of Yakushima to Kurokawa Onsen's hot springs

13 nights: from US$5252 pp (twin share) Read more >

Iiyama
Togarinozawa Onsen

Lace up your hiking boots for a three-day hike along the Sekida Mountain's Shin-Etsu Trail.

3 nights: from US$1040 pp (twin share) Read more >