Self-Guided Adventure
Nakasendo Way (Group Tour Add-On)
4 Nights: from US$988 per person (twin share)
Trip Code: AONWC
Extend your Japan adventure with a scenic hike along the route between the old postal towns of Magome and Tsumago, followed by a stay in Japan's exciting capital city. Read more >
During your Kyushu Elements Small Group Tour you've explored Japan's southern island and you've seen the sights in Kyoto, so why not extend your trip with a Self-Guided trip along the historic Nakasendo Way and onwards to the dazzling capital, Tokyo?

This extension will allow you to travel independently from Kyoto to the historical postal towns of Tsumago and Magome for a one night stay in a traditional minshuku inn, then onwards east to Tokyo for three nights. The contrast between your tranquil walk along the Nakasendo Way in the Kiso Valley past rice fields and charming wooden villages, and the shining lights and bustling streets of Tokyo is captivating.

After spending a night in Tsumago in a lovely family-run traditional minshuku inn, you will journey east to Tokyo on the bullet train via Nagoya. Tokyo is the direct opposite of rural life in the Kiso Valley - it's bold, exciting, and brimming with energy, and makes for a fantastic end to your holiday in Japan. Tokyo can seem quite daunting when you first arrive, so we've arranged for you to have a private tour of the city with a local professional guide who will lead you beyond the crowds to the best places and secret spots.

Due to the sheer size of the city it's impossible to see absolutely everything in a few days, but if you want some recommendations for must-see places and activities, have a look in your personalised Info-Pack. It's chock full of all of our favourite places for shopping, eating, and sightseeing. If you want to add on any other experiences or cultural activities, don't hesitate to get in touch with us!

On your final morning, we'll arrange a shared shuttle bus to take you to Narita Airport. If you'd prefer to fly from Haneda Airport, do let us know and we can arrange a different transfer.
Notes
This extension package is designed to be bolted on to one of our Small Group Tours. It works best when combined with Kyushu Elements. Please note that the extension is Self-Guided. This means you will not be travelling in a group or with a tour leader, but full instructions including details of your journeys and directions to your accommodation will be included in your complimentary InsideJapan Tours' Info-Pack.
What's included
Four nights' accommodation

Breakfast every day and one evening meal

All transport between destinations

8 hours private guide in Tokyo

Airport transfer to Narita Airport at the end of your trip

Your personalised InsideJapan Info-Pack
What's NOT included:
International flights

Local transport (buses, subways, taxis) at any destinations

Any entrance fees including those for shrines, temples and museums

Baggage handling - you will be expected to carry your own bags for the duration of the trip
Trip Highlights
Head east into the hills for a hike along the historic Nakasendo Way

Stay in a traditional family-run inn

Shop for crafts, textiles and souvenirs in the quaint Yanaka shopping district
Spend a day with a local professional guide to see the sites of Tokyo

Rub elbows with the locals in the Golden Gai bar district

Visit beautiful gardens tucked in between modern skyscrapers
For more information email us: [email protected] or call: + 44 117 244 3380
What, where, when and how...
Nakasendo Way (Group Tour Add-On) - 5 Days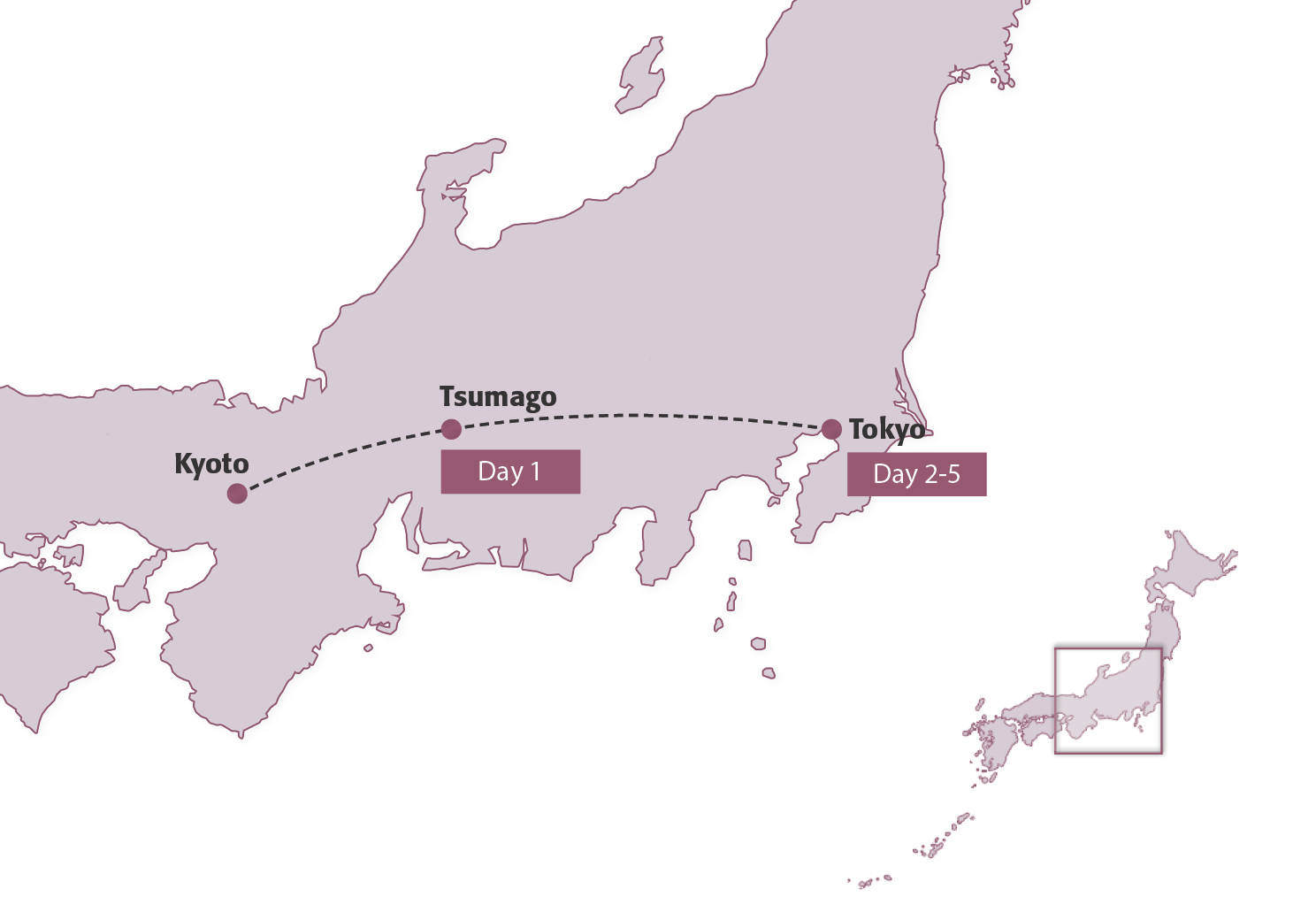 Destinations
Nakasendo Way (Group Tour Add-On) - 5 Days - Day by Day
Nakasendo Way (Group Tour Add-On) - 5 Days - Accommodation

Nakasendo Way (Group Tour Add-On) - 5 Days - Experiences
Day 1

Head east to the charming post town of Magome to start your leisurely walk along the historic Nakansendo Way

Today you'll part with your tour leader and group in Kyoto before making your way by train to Nakatsugawa. We'll provide reserved seat train tickets for this journey. From Nakatsugawa it's another 30 minutes bus ride through the picturesque countryside to the little postal town of Magome, your first stop on the route. Magome has lots of traditional, local shops to have a look in and small restaurants where you can stop for lunch before starting your walk. The trail to Tsumago only takes 3 hours so you can enjoy a leisurely pace as you take in the peaceful scenery of rural life in Japan.
Daikichi, where you will spend the night in Tsumago, is an authentic family-run inn and it provides a wonderful contrast with the fast-paced life of Tokyo which you'll get a taste of the following day.

Overnight: Daikichi Minshuku

Day 2-5

Leave rural life behind and journey east to the metropolis of Tokyo to explore the neon lights of the skyscrapers, the unexpected pockets of tranquility at temples and gardens, and the plethora of amazing restaurants. You might never want to leave!

Your journey on the Nakansendo Way isn't quite over yet; after breakfast at your inn you'll hike the last hour from Tsumago to Nagiso. It's possible to do this leg of the journey by taxi or bus, but if the weather is on your side it makes for a beautiful walk. From Nagiso you'll retrace your steps back to Nagoya, then onwards on the bullet train to Tokyo, passing the famously shy Mount Fuji on the way, so keep an eye out for a glimpse of it from the left side of the train.
No trip to Japan is complete without a stay in the capital. The hotel in Shinjuku which will be your base for the next three nights is in a fantastic location for getting out and about to see the sights. There is so much to do in Tokyo that it's hard to choose where to go first, so be sure to delve into your personalised Info-Pack on the first afternoon.
Your second day in Tokyo will be spent with a professional guide who knows all the best places and secret spots the locals love. Don't forget to ask your guide for some recommendations of what to do on the following day when you will have the whole day to do as you please. Shopping in glitzy Ginza, squeezing into cosy bars in Shinjuku's Golden Gai for a few drinks, visiting Asakusa to see Senso-ji Temple, the oldest temple in Tokyo, or simply walking through the beautiful Hamarikyu gardens - the choice is yours. Alternatively if you'd prefer to do a day trip, perhaps southwest to the seaside town of Kamakura, which was the political capital of Japan from the late 12th to 14th centuries, or north to the UNESCO World Heritage Site of Nikko, we can help you make plans so please let us know.
On your final day we will arrange a shared shuttle bus service from your hotel to Narita Airport in plenty of time for your flight. If you'd prefer to fly out of Haneda Airport, don't hesitate to tell us and we can alter the arrangements to suit you.

Overnight: JR Kyushu Blossom Shinjuku
View all days
Day 1

Head east to the charming post town of Magome to start your leisurely walk along the historic Nakansendo Way

Today you'll part with your tour leader and group in Kyoto before making your way by train to Nakatsugawa. We'll provide reserved seat train tickets for this journey. From Nakatsugawa it's another 30 minutes bus ride through the picturesque countryside to the little postal town of Magome, your first stop on the route. Magome has lots of traditional, local shops to have a look in and small restaurants where you can stop for lunch before starting your walk. The trail to Tsumago only takes 3 hours so you can enjoy a leisurely pace as you take in the peaceful scenery of rural life in Japan.
Daikichi, where you will spend the night in Tsumago, is an authentic family-run inn and it provides a wonderful contrast with the fast-paced life of Tokyo which you'll get a taste of the following day.

Overnight: Daikichi Minshuku

Day 2-5

Leave rural life behind and journey east to the metropolis of Tokyo to explore the neon lights of the skyscrapers, the unexpected pockets of tranquility at temples and gardens, and the plethora of amazing restaurants. You might never want to leave!

Your journey on the Nakansendo Way isn't quite over yet; after breakfast at your inn you'll hike the last hour from Tsumago to Nagiso. It's possible to do this leg of the journey by taxi or bus, but if the weather is on your side it makes for a beautiful walk. From Nagiso you'll retrace your steps back to Nagoya, then onwards on the bullet train to Tokyo, passing the famously shy Mount Fuji on the way, so keep an eye out for a glimpse of it from the left side of the train.
No trip to Japan is complete without a stay in the capital. The hotel in Shinjuku which will be your base for the next three nights is in a fantastic location for getting out and about to see the sights. There is so much to do in Tokyo that it's hard to choose where to go first, so be sure to delve into your personalised Info-Pack on the first afternoon.
Your second day in Tokyo will be spent with a professional guide who knows all the best places and secret spots the locals love. Don't forget to ask your guide for some recommendations of what to do on the following day when you will have the whole day to do as you please. Shopping in glitzy Ginza, squeezing into cosy bars in Shinjuku's Golden Gai for a few drinks, visiting Asakusa to see Senso-ji Temple, the oldest temple in Tokyo, or simply walking through the beautiful Hamarikyu gardens - the choice is yours. Alternatively if you'd prefer to do a day trip, perhaps southwest to the seaside town of Kamakura, which was the political capital of Japan from the late 12th to 14th centuries, or north to the UNESCO World Heritage Site of Nikko, we can help you make plans so please let us know.
On your final day we will arrange a shared shuttle bus service from your hotel to Narita Airport in plenty of time for your flight. If you'd prefer to fly out of Haneda Airport, don't hesitate to tell us and we can alter the arrangements to suit you.

Overnight: JR Kyushu Blossom Shinjuku
Close all days
Other Active trips you may like
Tokyo
Matsumoto
Takayama
Kyoto
Osaka
Tokyo

The whole family can get stuck in to Japanese culture with this hands-on activity holiday.

12 nights: from US$11648 (per family) Read more >

Takahara
Nonaka
Yunomine Onsen
Koguchi
Kii-Katsuura

A challenging five-night walking module introducing the ancient trails of the Kumano Kodo pilgrimage network.

5 nights: from US$1781 pp (twin share) Read more >

Tokyo
Kyoto
Mount Koya
Kawayu Onsen
Yunomine Onsen
Kii-Katsuura
Ise
Tokyo

Follow in the footsteps of Japanese royalty as you tread the pilgrimage paths of the Kumano Kodo, with superior accommodation and cuisine included.

14 nights: from US$7735 pp (twin share) Read more >