Rural Japan Explorer
13 Nights: from US$5193
Trip Code: RJE
The highlights of Rural Japan Explorer are many and varied: temples built into cliff faces; healing hot springs; a renowned landscape garden; historic castles; Japan's oldest and most important shrine; and an island believed to be home to the gods - to name but a few.
This IJT Classic tour of Japan commences and concludes in Kyoto, considered by many to be the cultural heart of the country. Having served as Japan's imperial capital for over a millennium, Kyoto's plethora of ancient temples, shrines and gardens is enough to keep even the most enthusiastic visitor busy indefinitely.
In between city stays in Kyoto, Matsue and Hiroshima, we will be exploring the natural elements of Honshu Island, in locations that provide a vivid and powerful counterpoint to city life.
These will include Hagi, a picturesque historic town; Mount Mitoku, a remote mountain in the depths of Tottori Prefecture; the lush Oki Islands off the coast of Matsue; and finally the picturesque hot spring town of Misasa Onsen.
Rural Japan Explorer is a varied, fascinating and original tour that promises a mixture of classic sights and little-visited gems that lie far from the beaten path - perfect for any traveller who wants to see a side of Japan that most tourists miss.
If this sounds good and makes you want to see even more, why not extend your tour in Japan!
Important Tour Information:
Group Size: 4 - 14
Single Supplement: This tour has a single supplement. This guarantees a single room for all nights except one at the temple lodgings, where we will do our best to secure single rooms for all single travellers. However under certain circumstances, single travellers may need to share with another traveller of the same sex (maximum one night).
Fitness: Even when not using public transport, sightseeing in Japan often involves walking between sights, climbing up steps in temples and being 'on the go' for much of the day. To enjoy any of our Small Group Tours you should be of moderate fitness, able to walk and climb stairs without difficulty and able to maintain a pace that is comfortable for the majority of the group.
Check-in: Please note that rooms at the Kyoto hotel are only available from 3pm. (You can, however, securely leave your luggage at the front desk at any time).

The tour leader will be staying at the first hotel for two nights before the tour starts so they will be available for advice if you choose to book pre-tour nights. We recommend booking at least one extra night to check in and relax before the tour begins.
Transport: Please note that this tour uses a mixture of public transport, such as trains, boats, taxis, trams. These transfers make the most of Japan's first-rate transport network. We'll also use private coaches during the tour for ease and convenience for some transfers and sightseeing. All the hotels and ryokan have been chosen for their location close to the nearest station.
Luggage: We highly recommend that to make your stay more enjoyable you pack reasonably light. Large suitcases will be an inconvenience to you. A small case or bag with wheels or a rucksack are most appropriate for this tour as you will have to carry your bags for short distances and some stations do not have escalators or elevators/lifts. You will also need a small overnight bag (for up to two nights) for use when we forward our main bags to the next location.
Accommodation: All of the accommodation except for the stay in Mount Mitoku has full en-suite facilities. In Mount Mitoku we are staying at a temple lodging and the facilities are simple although still very clean and comfortable. Baths are shared (single sex) and toilets are not attached to the rooms. In Misasa Onsen the rooms have toilets but baths are shared (single sex).
Please note that in Japan, twin rooms are very much the norm, and there are far fewer double rooms available. Please understand that even if you are being booked in a double, this will only be in the hotels where there is availability.
International flights: This tour starts and finishes in Kyoto for arrivals and departures at Osaka, Kansai or Itami airports.
What's included
13 nights' accommodation

All transport between destinations in Japan including airport transfers

Meet and greet on arrival at Osaka Kansai Airport

Breakfast every day, eight evening meals and three lunches

Afternoon tea with a maiko in Kyoto

A day of hands-on experiences in Misasa Onsen

Full day private guide service in the Oki Islands

Entrance to Matsue's Adachi Museum

Private coaches for ease of transport in Mount Mitoku, Misasa Onsen and Akiyoshi-dai

Entrance to Hiroshima Peace Park and Museum

Luggage forwarding from Kyoto to Misasa Onsen, Misasa Onsen to Matsue & Matsue to Hiroshima

Full-time services of your InsideJapan tour leader

Your InsideJapan Tours Info-Pack

Shared portable Wi-Fi access throughout trip

Night cruise in the Oki islands

Izumo Taisha shrine entrance fee

Local guide & cultural experiences in Joge with a private coach
What's NOT included:
International flights

Local transport (buses, subways, taxis) unless otherwise specified

Entrance fees unless otherwise specified

Baggage handling and luggage forwarding unless otherwise specified
Tour Price Information
Tour Price:

From US$5193

Single Supplement:

From US$403
Extra Nights
Pre-Tour:

Twin Share From US$201 pp

Single From US$275 pp

Post-Tour:

Twin Share From US$201 pp

Single From US$275 pp
Disclaimer Message: Please note: Prices displayed above are all "From" prices as individual prices vary depending on time of year travelling. For full pricing information on specific departures please speak to your Travel Consultant.
Tour Highlights
Take afternoon tea with a maiko (trainee geisha)

Take a guided community tour of historic Joge

Take a dip in the hot spring baths at Misasa Onsen

If all this sounds great and makes you want to see even more, why not extend your stay in Japan!
See bioluminescent plankton on an Oki Islands night cruise

Visit Japan's best landscape garden at the Adachi Museum

Stay in remote temple lodgings on Mount Mitoku
For more information email us: [email protected] or call: 303 952 0379
What, where, when and how...
Rural Japan Explorer - 14 Days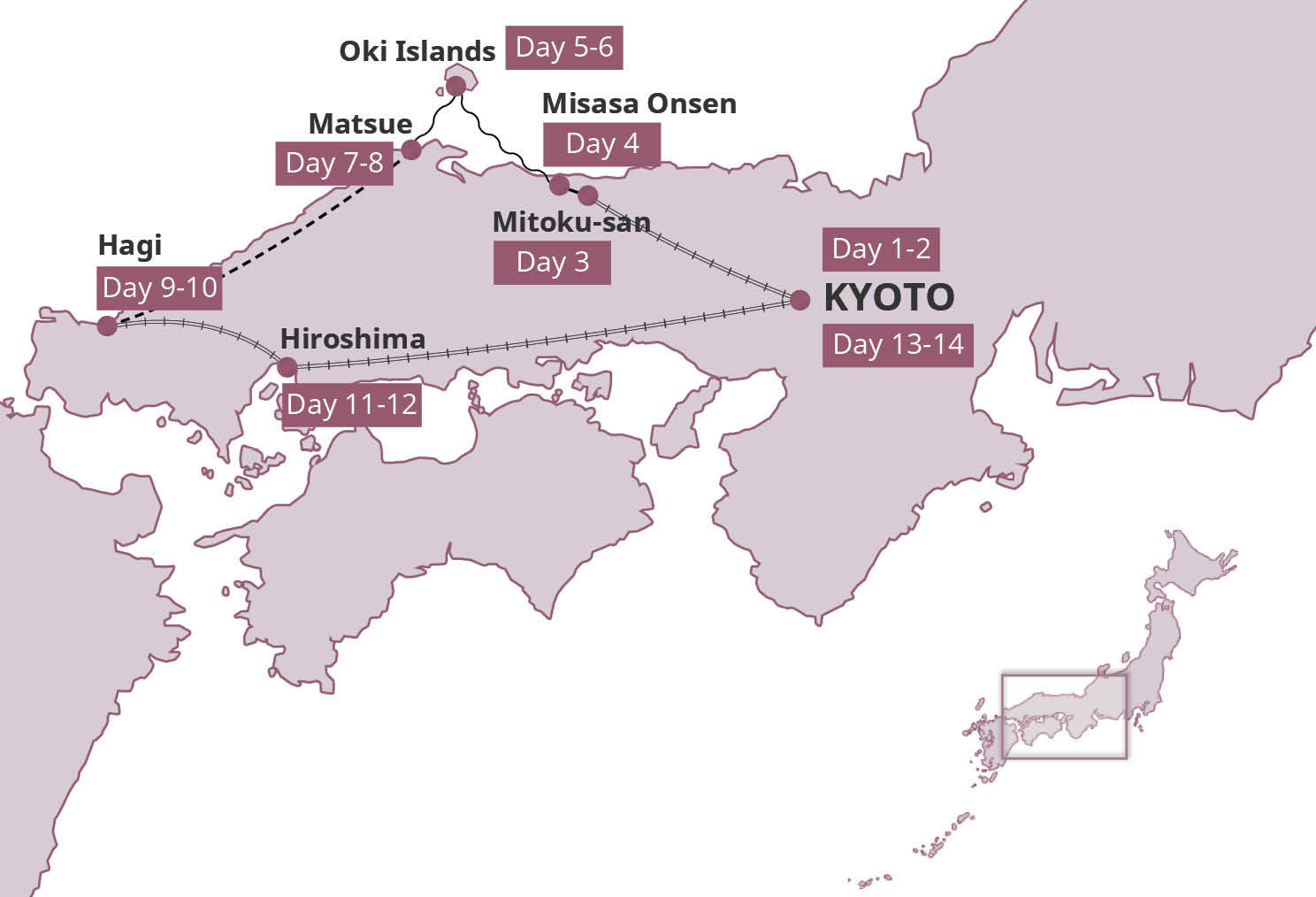 Rural Japan Explorer - 14 Days - Day by Day
Rural Japan Explorer - 14 Days - Accommodation
Rural Japan Explorer - 14 Days - Experiences
Rural Japan Explorer - 14 Days - Booking
Please contact us to get all the latest booking and date information
No single supplement! Guaranteed single room in Western style hotels.
Day 1-2

The tour commences in the historical city of Kyoto.

Upon arrival at the airport you will be met by our representative and take a shared taxi transfer to your hotel in Kyoto. Your tour leader will be waiting to greet you in the lobby and help with checking in and first orientation.

For those who choose to arrive early, there's a plethora of temples, shrines and museums waiting for you to explore. Dinner is included at a local restaurant and provides a great chance for you meet your fellow adventurers and sample some of the delicious local cuisine.

On day two your tour leader will take the group on a tour of Kyoto using public transport and introduce you to a few of their favourite locations. You can stroll along the Philosophers' Path or perhaps gaze at Ginkakuji's resplendent Silver Pavilion to name a few highlights. In the afternoon you will be a privileged guest, attending a traditional tea ceremony, performed by a genuine Gion maiko (trainee geisha). There will be plenty of opportunity for questions and photos after some traditional dance performances. This is a rare and fascinating opportunity to learn more this enigmatic world.

Overnight: The Royal Park Hotel Kyoto Sanjo

Day 3

Today we'll head deep into the Japanese countryside by train and private bus to Mount Mitoku.

The journey will take us through Tottori Prefecture, offering great views of the stunning countryside along the way. On arrival we'll visit the historic warehouse area in Kurayoshi before travelling on to Mitoku Temple complex, where we'll be staying the night.

Here we can hike up through the forest to Nageiredo, a beautiful and mysterious temple built into the cliff face, before a delicious included dinner of shojin ryori: traditional Buddhist cuisine.

Overnight: Sanbutsu-ji Shukubo

Day 4

It's an early start today as you rise to observe the morning rituals and partake in some zazen meditation with the monks of the temple.

After breakfast we'll spend the day visiting local traditional houses, storehouses and businesses, trying our hand at various arts and crafts along the way. Amongst other experiences, we'll take a cooking class, learn how to weave, and dress up in traditional handmade samurai armour!

Overnight: Ryokan Kiya

Day 5

Today we'll enjoy a leisurely start before heading by private bus and ferry to the Oki Islands.

The journey will take us through the stunning Daisen-Oki National Park, dominated by Mount Daisen – a volcano formerly known as Okami-take: "Mountain of the Great God". If you are looking for something "off the beaten track", you'll find it in the sparsely populated Oki Islands.

Tonight we'll stay on Nishinoshima Island in a Japanese inn that has a great bathhouse with sea views. After another delicious included dinner, you'll board a private night cruise. You'll be amazed not only at the brightness of the stars out here in the countryside, but by the brightness of the ocean – which glows with special kind of fluorescent plankton, providing a spectacular natural light show.

Overnight: Kuniga-so

Day 6

On our second day in the Oki Islands we'll explore the region's rich nature and history with a local guide.

We can follow a glorious coastal path to take in natural formations such as Matengai Cliff and capture the perfect shot at the beautiful Akao Lookout. Later in the day, we will have the chance to sample the area's sake and learn about the production of Japan's most famous drink! Then we hop over to Dogo Island for an overnight stay.



Overnight: Oki Plaza Hotel

Day 7-8

On the morning of day seven it's time for some more sightseeing and scenic walks on Dogo Island before you continue your journey by ferry and bus to Matsue.

In Matsue, we will be staying in a western style hotel and your tour leader will no doubt be able to take you out for a lively night in town.

Situated between Lakes Nakaumi and Shinji, on the banks of the Ohashi River, it's not difficult to see why Matsue is sometimes known as "The Water City".

One of Matsue's most prominent attractions is its impressive castle, one of only 12 remaining original feudal castles in Japan, often known as the "Black Castle" or "Plover Castle".

On day eight we'll explore historic Matsue and its environs. Starting by taking in the views from the top of the castle keep, next we'll stroll through its attractive grounds to the former residence of one of the city's most famous sons: the writer Patrick Lafcadio Hearn. Also known by his Japanese name, Koizumi Yakumo, Hearn is best known for his collections of Japanese legends and ghost stories.

After lunch we'll head a little way out of Matsue to visit the Adachi Museum of Art. Though the art collection is impressive, what Adachi is best known for is its award winning garden – voted the best in Japan every year since 2003. We think you'll understand why!

Overnight: Route Inn Hotel Matsue

Day 9-10

On the morning of day nine we will head west along the Sea of Japan in the direction of Izumo Taisha (Izumo Grand Shrine) by private bus.

Often considered to be the oldest shrine in Japan, it is not known exactly when Izumo Taisha was built. What is clear from historical chronicles is that it was in existence from at least the early 700s.

Okuninushi no Okami, the deity believed to have created Japan, is enshrined here. Therefore, it also one of the most important Shinto shrines for the Japanese.

After a few hours of exploration and contemplation, our journey continues to the former castle town of Hagi. Hagi was once the capital and home of the Mori Clan, one of the most powerful clans of the feudal age.

On day ten we'll have the chance to explore this former castle town on foot, admiring the remarkably well preserved samurai district, visiting some old samurai residences and strolling through the white-walled streets to get a taste of how life must have been for this world-famous warrior class. Our meal tonight will once again be included at our accommodation.



Overnight: Hagi Honjin

Day 11-12

Next stop is the infamous city of Hiroshima.

In the morning we set off by bus to visit the spectacular Akiyoshido Cave, the nation's longest and largest limestone cave, packed with impressive stalagmites and stalactites. Then it's time to bid goodbye to the Sea of Japan and head inland by bullet train to Hiroshima.

Despite its association with one of the darkest days in mankind's history, modern Hiroshima is a vibrant, attractive city with wide boulevards, lots of art museums and a bustling downtown area.

Join your tour leader tonight for Hiroshima's most famous dish, okonomiyaki: a kind of as-you-like-it savoury pancake cooked on a grill in front of you. On day twelve of your tour you'll pay a visit to the haunting Peace Memorial Museum and surrounding Peace Park, which commemorate the devastating effects of the atomic bomb and Hiroshima's remarkable recovery.

Following this you'll catch the fifteen-minute ferry to nearby Miyajima Island, a beautiful, sacred location famous for its shrines, temples and friendly resident deer. Here we'll catch the cable car to the top of the island's highest peak, Mount Misen, which has been worshipped by locals since as far back as the sixth century, and admire the island's most recognizable sight: the "floating" torii gate of Itsukushima Shrine.

**Please note the torii gate at Itsukushima Shrine will undergo renovation work from June 2019 to August 2020 to repair salt water damage. The shrine may be partially covered with vinyl sheets during this work.**

Overnight: Sotetsu Grand Fresa Hiroshima Hotel

Day 13-14

On day thirteen you'll make your way back to the former capital in style, whizzing through the countryside on the Shinkansen bullet train.

Before heading back to Kyoto, we will drop by Joge, a historic town rarely visited by foreign tourists. Joge is renowned for its fine examples of original Meiji & Taisho era architecture and a walk down the main street really does feel like stepping back in time. We've arranged a full day of cultural activities with local guides and you will have plenty of opportunities to meet and interact with members of the local community. Late in the afternoon you'll be whisked back to Kyoto on a super-fast Nozomi shinkansen bullet train, leaving you time to freshen up and head out to a local izakaya for an (optional) farewell evening meal with your tour leader and group.

On day 14 it's time to say sayonara to Japan! A shared taxi will take you from Kyoto to the airport.

Overnight: The Royal Park Hotel Kyoto Sanjo
View all days
Day 1-2

The tour commences in the historical city of Kyoto.

Upon arrival at the airport you will be met by our representative and take a shared taxi transfer to your hotel in Kyoto. Your tour leader will be waiting to greet you in the lobby and help with checking in and first orientation.

For those who choose to arrive early, there's a plethora of temples, shrines and museums waiting for you to explore. Dinner is included at a local restaurant and provides a great chance for you meet your fellow adventurers and sample some of the delicious local cuisine.

On day two your tour leader will take the group on a tour of Kyoto using public transport and introduce you to a few of their favourite locations. You can stroll along the Philosophers' Path or perhaps gaze at Ginkakuji's resplendent Silver Pavilion to name a few highlights. In the afternoon you will be a privileged guest, attending a traditional tea ceremony, performed by a genuine Gion maiko (trainee geisha). There will be plenty of opportunity for questions and photos after some traditional dance performances. This is a rare and fascinating opportunity to learn more this enigmatic world.

Overnight: The Royal Park Hotel Kyoto Sanjo

Day 3

Today we'll head deep into the Japanese countryside by train and private bus to Mount Mitoku.

The journey will take us through Tottori Prefecture, offering great views of the stunning countryside along the way. On arrival we'll visit the historic warehouse area in Kurayoshi before travelling on to Mitoku Temple complex, where we'll be staying the night.

Here we can hike up through the forest to Nageiredo, a beautiful and mysterious temple built into the cliff face, before a delicious included dinner of shojin ryori: traditional Buddhist cuisine.

Overnight: Sanbutsu-ji Shukubo

Day 4

It's an early start today as you rise to observe the morning rituals and partake in some zazen meditation with the monks of the temple.

After breakfast we'll spend the day visiting local traditional houses, storehouses and businesses, trying our hand at various arts and crafts along the way. Amongst other experiences, we'll take a cooking class, learn how to weave, and dress up in traditional handmade samurai armour!

Overnight: Ryokan Kiya

Day 5

Today we'll enjoy a leisurely start before heading by private bus and ferry to the Oki Islands.

The journey will take us through the stunning Daisen-Oki National Park, dominated by Mount Daisen – a volcano formerly known as Okami-take: "Mountain of the Great God". If you are looking for something "off the beaten track", you'll find it in the sparsely populated Oki Islands.

Tonight we'll stay on Nishinoshima Island in a Japanese inn that has a great bathhouse with sea views. After another delicious included dinner, you'll board a private night cruise. You'll be amazed not only at the brightness of the stars out here in the countryside, but by the brightness of the ocean – which glows with special kind of fluorescent plankton, providing a spectacular natural light show.

Overnight: Kuniga-so

Day 6

On our second day in the Oki Islands we'll explore the region's rich nature and history with a local guide.

We can follow a glorious coastal path to take in natural formations such as Matengai Cliff and capture the perfect shot at the beautiful Akao Lookout. Later in the day, we will have the chance to sample the area's sake and learn about the production of Japan's most famous drink! Then we hop over to Dogo Island for an overnight stay.



Overnight: Oki Plaza Hotel

Day 7-8

On the morning of day seven it's time for some more sightseeing and scenic walks on Dogo Island before you continue your journey by ferry and bus to Matsue.

In Matsue, we will be staying in a western style hotel and your tour leader will no doubt be able to take you out for a lively night in town.

Situated between Lakes Nakaumi and Shinji, on the banks of the Ohashi River, it's not difficult to see why Matsue is sometimes known as "The Water City".

One of Matsue's most prominent attractions is its impressive castle, one of only 12 remaining original feudal castles in Japan, often known as the "Black Castle" or "Plover Castle".

On day eight we'll explore historic Matsue and its environs. Starting by taking in the views from the top of the castle keep, next we'll stroll through its attractive grounds to the former residence of one of the city's most famous sons: the writer Patrick Lafcadio Hearn. Also known by his Japanese name, Koizumi Yakumo, Hearn is best known for his collections of Japanese legends and ghost stories.

After lunch we'll head a little way out of Matsue to visit the Adachi Museum of Art. Though the art collection is impressive, what Adachi is best known for is its award winning garden – voted the best in Japan every year since 2003. We think you'll understand why!

Overnight: Route Inn Hotel Matsue

Day 9-10

On the morning of day nine we will head west along the Sea of Japan in the direction of Izumo Taisha (Izumo Grand Shrine) by private bus.

Often considered to be the oldest shrine in Japan, it is not known exactly when Izumo Taisha was built. What is clear from historical chronicles is that it was in existence from at least the early 700s.

Okuninushi no Okami, the deity believed to have created Japan, is enshrined here. Therefore, it also one of the most important Shinto shrines for the Japanese.

After a few hours of exploration and contemplation, our journey continues to the former castle town of Hagi. Hagi was once the capital and home of the Mori Clan, one of the most powerful clans of the feudal age.

On day ten we'll have the chance to explore this former castle town on foot, admiring the remarkably well preserved samurai district, visiting some old samurai residences and strolling through the white-walled streets to get a taste of how life must have been for this world-famous warrior class. Our meal tonight will once again be included at our accommodation.



Overnight: Hagi Honjin

Day 11-12

Next stop is the infamous city of Hiroshima.

In the morning we set off by bus to visit the spectacular Akiyoshido Cave, the nation's longest and largest limestone cave, packed with impressive stalagmites and stalactites. Then it's time to bid goodbye to the Sea of Japan and head inland by bullet train to Hiroshima.

Despite its association with one of the darkest days in mankind's history, modern Hiroshima is a vibrant, attractive city with wide boulevards, lots of art museums and a bustling downtown area.

Join your tour leader tonight for Hiroshima's most famous dish, okonomiyaki: a kind of as-you-like-it savoury pancake cooked on a grill in front of you. On day twelve of your tour you'll pay a visit to the haunting Peace Memorial Museum and surrounding Peace Park, which commemorate the devastating effects of the atomic bomb and Hiroshima's remarkable recovery.

Following this you'll catch the fifteen-minute ferry to nearby Miyajima Island, a beautiful, sacred location famous for its shrines, temples and friendly resident deer. Here we'll catch the cable car to the top of the island's highest peak, Mount Misen, which has been worshipped by locals since as far back as the sixth century, and admire the island's most recognizable sight: the "floating" torii gate of Itsukushima Shrine.

**Please note the torii gate at Itsukushima Shrine will undergo renovation work from June 2019 to August 2020 to repair salt water damage. The shrine may be partially covered with vinyl sheets during this work.**

Overnight: Sotetsu Grand Fresa Hiroshima Hotel

Day 13-14

On day thirteen you'll make your way back to the former capital in style, whizzing through the countryside on the Shinkansen bullet train.

Before heading back to Kyoto, we will drop by Joge, a historic town rarely visited by foreign tourists. Joge is renowned for its fine examples of original Meiji & Taisho era architecture and a walk down the main street really does feel like stepping back in time. We've arranged a full day of cultural activities with local guides and you will have plenty of opportunities to meet and interact with members of the local community. Late in the afternoon you'll be whisked back to Kyoto on a super-fast Nozomi shinkansen bullet train, leaving you time to freshen up and head out to a local izakaya for an (optional) farewell evening meal with your tour leader and group.

On day 14 it's time to say sayonara to Japan! A shared taxi will take you from Kyoto to the airport.

Overnight: The Royal Park Hotel Kyoto Sanjo
Close all days
Tokyo
Tsurui
Rausu
Abashiri
Sapporo
Kyoto
Yudanaka
Tokyo

Japan in the winter is a magical destination, blanketed in snow and free from the crowds that throng the cultural hotspots in summer.

14 nights: US$5583 Read more >

Tokyo
Hakone
Osaka
Kyoto
Takayama
Kamikochi
Tokyo

Classic Japan is a two-week trip that promises to introduce you to Japan's most iconic destinations and experiences.

13 nights: US$4673 Read more >

Kyoto
Mount Koya
Tokushima
Takamatsu
Kotohira
Matsuyama
Hiroshima
Kyoto

Discover the road less travelled

12 nights: US$4777 Read more >