Japan Enchantment
14 Nights: from US$7930
Trip Code: JE
You'll begin and end the trip in Tokyo, icon of high modernity and a city of bewildering size and scope. Your first dinner at a local restaurant will provide you with a relaxed yet invaluable introduction to Japanese food and etiquette, and is the perfect way to get to know your tour leader and group.
Kyoto is Japan's other great city: imperial capital for over a thousand years and packed with architectural treasures. The highlight of your stay here is a private audience with a maiko (trainee geisha). Such experiences are rarely available to foreigners, giving you an exclusive window into this mysterious and captivating profession.
Complementing the city stays, you'll also get a tantalising taste of rural Japan. In the Fuji-Hakone-Izu National Park you'll cruise across Lake Ashi under the watchful gaze of Mount Fuji, explore the outstanding Hakone Open-Air Museum and rest your legs in volcanic hot spring baths.
In thickly forested Nikko you'll be privy to the most lavish religious architecture in all of Japan, whilst in Karuizawa you'll take a soba noodle-making class in of one of the country's finest mountain resorts.
The cities of Kanazawa and Nagano, contrasting as they are, offer yet more remarkable variety. High in the Japanese Alps, Nagano is your gateway to the famous onsen-bathing snow monkeys of Yudanaka. Kanazawa offers beautifully preserved samurai house districts, one of the very best Japanese gardens and a plethora of traditional craft workshops.
If this sounds good and makes you want to see even more, why not extend your tour in Japan!
Important Tour Information
The accommodation listed is for the 2023 departures.
Group Size: 4 - 14
Single Supplement: This tour has a single supplement. This guarantees a single room throughout the tour.
Fitness: Even when not using public transport, sightseeing in Japan often involves walking between sights, climbing up steps in temples and being 'on the go' for much of the day. To enjoy any of our Small Group Tours you should be of moderate fitness, able to walk and climb stairs without difficulty and able to maintain a pace that is comfortable for the majority of the group.
Check-in: Please note that rooms at the Tokyo hotel are only available from 3pm. (You can, however, securely leave your luggage at the front desk at any time).
The tour leader will be staying at the first hotel for two nights before the tour starts so they will be available for advice if you choose to book pre tour nights. We recommend booking at least one extra night to check in and relax before the tour begins.
Transport: We will have the use of a private minibus in Tokyo (half day), Nikko, Karuizawa, Kyoto, and for our transfer to our Hakone hotel. For all other transfers, we will be making use of Japan's first-rate transport network.

Luggage: We highly recommend that to make your stay more enjoyable you pack reasonably light. Although there is often a porter service available at hotels, large suitcases will be an inconvenience to you. A small case or bag with wheels or a rucksack are most appropriate for this tour as you will have to carry your bags for short distances and some stations do not have escalators or elevators/lifts. You will also need a small overnight back-pack (for up to two nights) for use when we forward our main bags to the next location.
Accommodation: All accommodation on this tour has full en-suite bathroom facilities. The accommodation in Hakone and Karuizawa also offer shared natural hot-spring baths for your enjoyment.
Please note that in Japan, twin rooms are very much the norm, and there are far fewer double rooms available. Please understand that even if you are being booked in a double, this will only be in the hotels where there is availability.
International Flights: This tour starts and finishes in Tokyo for arrivals and departures at Tokyo Narita Airport or Tokyo Haneda Airport.
What's included
An experienced InsideJapan tour leader will be there all day every day, making sure everything goes to plan

Touch down to see a friendly face with private airport transfers

Sleep soundly in our selection of handpicked accommodation (14 nights)

Get your day off to a great start with breakfast every day

Enjoy our favourite eateries with six lunches and six evening meals

Forget searching for small change on the subway, your IC transport card has 2,500 yen credit for city transport

See Tokyo's calmer side with tickets for a cruise on the serene Sumida river and entrance to the beautiful Hamarikyu Gardens

Meet the local artisans of the Kyotango Peninsula

Visit the Hiroshima Peace park and Museum

See the awe-inspiring view of the Miyazu bay sandbar

Have a once in a lifetime experience sipping afternoon tea with a maiko (trainee geisha)

See ground-breaking contemporary art with tickets to Hakone Open-Air Museum, and explore the Hakone area using the 2-day Hakone Free Pass

Lighten the load with luggage forwarding from Tokyo to Kyoto to Hiroshima and back to Tokyo

Keep connected with shared portable Wi-Fi access throughout
What's NOT included:
International flights

Any local transport (subways, taxis, buses) unless covered by the included transport passes

Entrance fees (including those for temples, shrines and museums) unless otherwise specified

Baggage handling and luggage forwarding unless otherwise specified
2023
Tour Price:

From US$7930

Single Supplement:

From US$1911
Extra Nights
Pre-Tour:

Twin Share From US$221 pp

Single From US$273 pp

Post-Tour:

Twin Share From US$195 pp

Single From US$299 pp
Please note: Prices displayed above are all "From" prices as individual prices vary depending on the tour departure date.
Tour Highlights
See nocturnal flying squirrels in their natural habitat

Discover each city with the help of expert local guides

Enjoy an exclusive audience with a trainee geisha
Visit Kenrokuen, one of Japan's most beautiful gardens

See the famous "snow monkeys" of Yudanaka

If all this sounds great and makes you want to see even more, why not extend your stay in Japan!
For more information email us: [email protected] or call: + 44 117 244 3380
What, where, when and how...
Japan Enchantment - 15 Days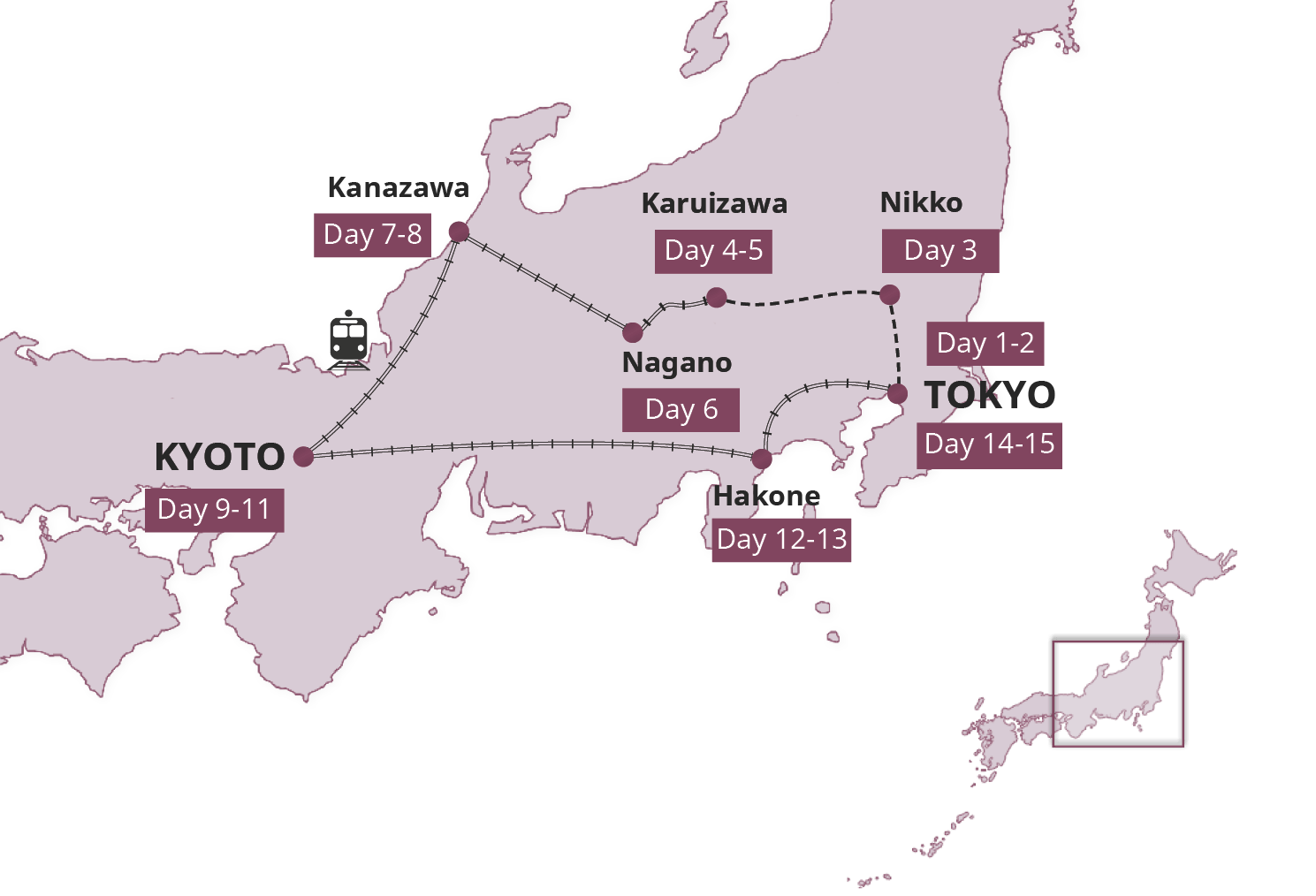 Japan Enchantment - 15 Days - Day by Day
Japan Enchantment - 15 Days - Accommodation
Japan Enchantment - 15 Days - Experiences
Japan Enchantment - 15 Days - Booking
Please contact us to get all the latest booking and date information
No single supplement! Guaranteed single room in Western style hotels.
Day 1-2

Gain a fascinating insight into Japan's capital city with the help of your tour leader and an expert local guide.

Today you will touch down in Tokyo, Japan's capital and the tenth most populous city in the world. On arrival in Tokyo you'll be met by your driver and make your way by private taxi to your hotel in the traditional Asakusa district of the city, where your tour leader will be waiting to welcome you in the lobby.
This evening you will join your group for an orientation meeting before heading out to one of the area's excellent restaurants for a first-night meal – a great introduction to Japanese food and dining etiquette.
The second day will begin with a ride on the Sumida river bus, concluding with a leisurely stroll in the lovely Hamarikyu Gardens - a real oasis amongst the skyscraper. Then you will be joined by an expert InsideJapan guide, with great knowledge they will be able to give you fantastic depth of insight into the famous landmarks and lesser known spots you'll be visiting today.

Overnight: Gate Hotel Tokyo

Day 3

Explore the dazzling temples and shrines of Nikko, the site of Japan's most ornate religious architecture.

Today you will make the relatively short journey from the capital to Nikko, the final resting place of Japan's most famous shogun: Tokugawa Ieyasu. Ieyasu was the founder of the Tokugawa shogunate, which ruled Japan from 1600 until the Meiji Restoration in 1868. Nikko, the site of his mausoleum, is known throughout Japan for its dazzlingly ornate architecture – quite different from the spare, clean style traditional of Japanese architecture.
Here you will discover the renowned temple and shrine complex in its forest setting with a local guide to introduce you to some of the history of the area. Don't forget to look out for the famous "three wise monkeys" warning all comers to "see no evil, speak no evil, hear no evil"!


Overnight: Kanaya Hotel

Day 4-5

Explore Karuizawa and take a lesson in soba noodle-making.

After breakfast, you'll head out with your tour leader on a private coach for a half day of exploration. Your first stop will be the national park surrounding Nikko, which is home to some spectacular waterfalls, lakes and beautiful forests. Moving on, you will make your way to Karuizawa, an upmarket mountain resort famous as a holiday retreat for the well-heeled – including the Japanese royal family. you will arrive to the hotel in the late afternoon before meeting some of Karuizawa's nocturnal inhabitants when joining a guided flying squirrel watching tour! The day will be round off with an included high-quality evening meal at the hotel.
On day five you will be joined by another knowledgeable local guide as you visit some of Karuizawa's attractions - including the Shaw Memorial Church. Included today will be a lesson in soba noodle-making, a speciality of the region. You will, of course, have the chance to eat the fruit of your labours for lunch!
A top-quality dinner will be included tonight at a local restaurant.

Overnight: Karuizawa Marriott

Day 6

Visit the onsen-bathing snow monkeys of Yudanaka.

Today you travel from Karuizawa to Nagano, an alpine city famous as the home of Zenko-ji, Japan's most important Zen temple, and as the host city of the 1998 Winter Olympics.
Today you will make the trip to Yudanaka, a tiny onsen town that has become famous all over the world for its hot spring-bathing "snow monkeys". Tickets to the monkey park are included in your tour, and you'll walk through the forest to reach the monkeys as they keep warm in their onsen bath.
Before returning to Nagano we will pay a visit to the Hokusai Art Gallery in nearby Obuse. A great chance to get up close and personal with a variety of works by this iconic artist.
This evening we recommend taking a leaf out of the monkeys' book and heading to the nearby bathhouse for a nice soak before bed.

Overnight: Metropolitan Hotel

Day 7-8

Take a tour of Kanazawa, one of Japan's most beautifully preserved historical cities.

This morning you will have the chance to explore Zenko-ji Temple before leaving Nagano. You will rise early to join the monks in morning prayers, before being invited to search for the "key to paradise" in a pitch-dark passage underneath the main hall of the temple. It's said that grasping the key is equivalent to shaking hands with Buddha, and those who find it will find their way to Buddhist paradise!
Following this you will leave the Alps behind and make your way by limited express train to the city of Kanazawa on the Japan Sea Coast. Like Kyoto, Kanazawa was spared bombing during World War Two thanks to its impressive collection of religious sites and important cultural assets – meaning that today it is one of Japan's best-preserved historical cities. The rest of the afternoon will be free for you to explore the city under your own steam.
On day eight you will be joined by a local guide as well as your tour leader for an extensive tour of Kanazawa's best sights. This is sure to include the wood-panelled geisha districts, the preserved houses of the samurai quarter, a traditional gold leaf workshop and – of course – Kanazawa's top attraction: Kenrokuen.
Kenrokuen is lauded as one of Japan's top three landscape gardens and is well worth taking the time to appreciate. You might also wish to visit the local fish market, or the local modern art museum – one of the finest in Japan.

Overnight: Hyatt Centric Kanazawa

Day 9-11

Discover Kyoto, home to the Golden Pavilion of Kinkaku-ji, Ryoan-ji Rock Garden and Arashiyama's bamboo grove.

If Tokyo is Japan's beacon of modernity, Kyoto is its repository of history. Serving as imperial capital for over a thousand years, Kyoto is home to a staggering 17 World Heritage Sites and a litany of ancient shrines, temples and gardens.
On the day of your arrival you'll be free to begin exploring some of these attractions, whilst later in the day you'll join your tour leader and head to Gion, the heart of Japanese geisha culture. Here you'll have the chance to take part in a traditional tea ceremony, performed by a genuine Gion maiko (trainee geisha). A delicious evening meal at one of Kyoto's many outstanding restaurants will be included tonight.
On day ten you will be joined by a local Kyoto expert and travel by private coach to some of Kyoto's most famous sights. Kyoto has so much to offer that it would take you years to see it all, but with your tour leader and expert guide on hand you'll certainly see a great selection. You'll start with the Bamboo Grove of Arashiyama, then the rock Garden at Ryoan-ji and more.
On day 11 you will have a choice: continue exploring Kyoto or head out of the city on an excursion to one of the many exciting destinations within easy reach of the rail network. Your tour leader can advise you on wherever you'd like to visit – perhaps the ancient capital of Nara with its giant Buddha and friendly deer, or the spectacular samurai castle at Himeji.


Overnight: Granvia

Day 12-13

Relax in hot spring baths, admire world-class artworks and perhaps catch a glimpse of iconic Mount Fuji as you spend two nights in Hakone National Park.

Today you will jump aboard the bullet train and speed east to Hakone, a beautiful national park just a stone's throw from Tokyo. Today we have included tickets to the outstanding Hakone Open-Air Museum, where you'll have the chance to wander amongst masterpieces by artist such as Moore and Rodin, set against a stunning mountainous backdrop. A top-quality evening meal will be included in your tour tonight.
On day 13 you will have a full day to enjoy everything that Hakone has to offer. Hitch a pirate ship ride across Lake Ashi, eat a black egg boiled in volcanic hot spring waters, take a cable car up the mountainside and bask in some of the area's famous hot spring baths. Best of all, Hakone is the home of Mount Fuji – and if the weather is favourable you will be treated to truly spectacular views of Japan's most famous mountain.

Overnight: Hyatt Regency Hakone

Day 14-15

Toast the end of your trip with a final-night meal at one of Tokyo's top restaurants.

On day 14 it's time to climb aboard the bullet train for one last journey – back to Tokyo. Use this time in the capital to head into the pumping heart of Tokyo's shopping and entertainment scene, Shinjuku. You might like to use this time in the capital to get some last-minute shopping done at one of the district's many department stores, or stroll the beautiful Shinjuku Gyoen Park. Whatever you choose to do, Tokyo is bound to provide you will a fantastic final afternoon in Japan.
This evening you'll join your tour leader and group for an included final-night meal at one of the city's superb restaurants – the perfect way to toast the end of your trip in style.
On your final morning it's time to say sayonara to Japan as you return to the airport by private car in time for your flight home.

Overnight: Century Southern Tower
View all days
Day 1-2

Gain a fascinating insight into Japan's capital city with the help of your tour leader and an expert local guide.

Today you will touch down in Tokyo, Japan's capital and the tenth most populous city in the world. On arrival in Tokyo you'll be met by your driver and make your way by private taxi to your hotel in the traditional Asakusa district of the city, where your tour leader will be waiting to welcome you in the lobby.
This evening you will join your group for an orientation meeting before heading out to one of the area's excellent restaurants for a first-night meal – a great introduction to Japanese food and dining etiquette.
The second day will begin with a ride on the Sumida river bus, concluding with a leisurely stroll in the lovely Hamarikyu Gardens - a real oasis amongst the skyscraper. Then you will be joined by an expert InsideJapan guide, with great knowledge they will be able to give you fantastic depth of insight into the famous landmarks and lesser known spots you'll be visiting today.

Overnight: Gate Hotel Tokyo

Day 3

Explore the dazzling temples and shrines of Nikko, the site of Japan's most ornate religious architecture.

Today you will make the relatively short journey from the capital to Nikko, the final resting place of Japan's most famous shogun: Tokugawa Ieyasu. Ieyasu was the founder of the Tokugawa shogunate, which ruled Japan from 1600 until the Meiji Restoration in 1868. Nikko, the site of his mausoleum, is known throughout Japan for its dazzlingly ornate architecture – quite different from the spare, clean style traditional of Japanese architecture.
Here you will discover the renowned temple and shrine complex in its forest setting with a local guide to introduce you to some of the history of the area. Don't forget to look out for the famous "three wise monkeys" warning all comers to "see no evil, speak no evil, hear no evil"!


Overnight: Kanaya Hotel

Day 4-5

Explore Karuizawa and take a lesson in soba noodle-making.

After breakfast, you'll head out with your tour leader on a private coach for a half day of exploration. Your first stop will be the national park surrounding Nikko, which is home to some spectacular waterfalls, lakes and beautiful forests. Moving on, you will make your way to Karuizawa, an upmarket mountain resort famous as a holiday retreat for the well-heeled – including the Japanese royal family. you will arrive to the hotel in the late afternoon before meeting some of Karuizawa's nocturnal inhabitants when joining a guided flying squirrel watching tour! The day will be round off with an included high-quality evening meal at the hotel.
On day five you will be joined by another knowledgeable local guide as you visit some of Karuizawa's attractions - including the Shaw Memorial Church. Included today will be a lesson in soba noodle-making, a speciality of the region. You will, of course, have the chance to eat the fruit of your labours for lunch!
A top-quality dinner will be included tonight at a local restaurant.

Overnight: Karuizawa Marriott

Day 6

Visit the onsen-bathing snow monkeys of Yudanaka.

Today you travel from Karuizawa to Nagano, an alpine city famous as the home of Zenko-ji, Japan's most important Zen temple, and as the host city of the 1998 Winter Olympics.
Today you will make the trip to Yudanaka, a tiny onsen town that has become famous all over the world for its hot spring-bathing "snow monkeys". Tickets to the monkey park are included in your tour, and you'll walk through the forest to reach the monkeys as they keep warm in their onsen bath.
Before returning to Nagano we will pay a visit to the Hokusai Art Gallery in nearby Obuse. A great chance to get up close and personal with a variety of works by this iconic artist.
This evening we recommend taking a leaf out of the monkeys' book and heading to the nearby bathhouse for a nice soak before bed.

Overnight: Metropolitan Hotel

Day 7-8

Take a tour of Kanazawa, one of Japan's most beautifully preserved historical cities.

This morning you will have the chance to explore Zenko-ji Temple before leaving Nagano. You will rise early to join the monks in morning prayers, before being invited to search for the "key to paradise" in a pitch-dark passage underneath the main hall of the temple. It's said that grasping the key is equivalent to shaking hands with Buddha, and those who find it will find their way to Buddhist paradise!
Following this you will leave the Alps behind and make your way by limited express train to the city of Kanazawa on the Japan Sea Coast. Like Kyoto, Kanazawa was spared bombing during World War Two thanks to its impressive collection of religious sites and important cultural assets – meaning that today it is one of Japan's best-preserved historical cities. The rest of the afternoon will be free for you to explore the city under your own steam.
On day eight you will be joined by a local guide as well as your tour leader for an extensive tour of Kanazawa's best sights. This is sure to include the wood-panelled geisha districts, the preserved houses of the samurai quarter, a traditional gold leaf workshop and – of course – Kanazawa's top attraction: Kenrokuen.
Kenrokuen is lauded as one of Japan's top three landscape gardens and is well worth taking the time to appreciate. You might also wish to visit the local fish market, or the local modern art museum – one of the finest in Japan.

Overnight: Hyatt Centric Kanazawa

Day 9-11

Discover Kyoto, home to the Golden Pavilion of Kinkaku-ji, Ryoan-ji Rock Garden and Arashiyama's bamboo grove.

If Tokyo is Japan's beacon of modernity, Kyoto is its repository of history. Serving as imperial capital for over a thousand years, Kyoto is home to a staggering 17 World Heritage Sites and a litany of ancient shrines, temples and gardens.
On the day of your arrival you'll be free to begin exploring some of these attractions, whilst later in the day you'll join your tour leader and head to Gion, the heart of Japanese geisha culture. Here you'll have the chance to take part in a traditional tea ceremony, performed by a genuine Gion maiko (trainee geisha). A delicious evening meal at one of Kyoto's many outstanding restaurants will be included tonight.
On day ten you will be joined by a local Kyoto expert and travel by private coach to some of Kyoto's most famous sights. Kyoto has so much to offer that it would take you years to see it all, but with your tour leader and expert guide on hand you'll certainly see a great selection. You'll start with the Bamboo Grove of Arashiyama, then the rock Garden at Ryoan-ji and more.
On day 11 you will have a choice: continue exploring Kyoto or head out of the city on an excursion to one of the many exciting destinations within easy reach of the rail network. Your tour leader can advise you on wherever you'd like to visit – perhaps the ancient capital of Nara with its giant Buddha and friendly deer, or the spectacular samurai castle at Himeji.


Overnight: Granvia

Day 12-13

Relax in hot spring baths, admire world-class artworks and perhaps catch a glimpse of iconic Mount Fuji as you spend two nights in Hakone National Park.

Today you will jump aboard the bullet train and speed east to Hakone, a beautiful national park just a stone's throw from Tokyo. Today we have included tickets to the outstanding Hakone Open-Air Museum, where you'll have the chance to wander amongst masterpieces by artist such as Moore and Rodin, set against a stunning mountainous backdrop. A top-quality evening meal will be included in your tour tonight.
On day 13 you will have a full day to enjoy everything that Hakone has to offer. Hitch a pirate ship ride across Lake Ashi, eat a black egg boiled in volcanic hot spring waters, take a cable car up the mountainside and bask in some of the area's famous hot spring baths. Best of all, Hakone is the home of Mount Fuji – and if the weather is favourable you will be treated to truly spectacular views of Japan's most famous mountain.

Overnight: Hyatt Regency Hakone

Day 14-15

Toast the end of your trip with a final-night meal at one of Tokyo's top restaurants.

On day 14 it's time to climb aboard the bullet train for one last journey – back to Tokyo. Use this time in the capital to head into the pumping heart of Tokyo's shopping and entertainment scene, Shinjuku. You might like to use this time in the capital to get some last-minute shopping done at one of the district's many department stores, or stroll the beautiful Shinjuku Gyoen Park. Whatever you choose to do, Tokyo is bound to provide you will a fantastic final afternoon in Japan.
This evening you'll join your tour leader and group for an included final-night meal at one of the city's superb restaurants – the perfect way to toast the end of your trip in style.
On your final morning it's time to say sayonara to Japan as you return to the airport by private car in time for your flight home.

Overnight: Century Southern Tower
Close all days
Tokyo
Kanazawa
Kyoto
Kinosaki Onsen
Hiroshima
Hakone
Tokyo

Coastal cities, hot-spring towns, urban giants and national parks

14 nights: US$9490 Read more >