Historic Mountain Trails
13 Nights: from US$4053
Trip Code: HMT
On this hiking tour you'll follow in the footsteps of samurai and pilgrims as you wind your way along the ancient Nakasendo Way, passing through lush rice paddies, cooling off under the glorious Metaki and Otaki waterfalls. In the Chubu Sangaku National Park you'll scale the towering, craggy peaks and stay in lodges high on Mount Hotaka.
Most impressive of all, however, you'll climb one of the most majestic peaks in the world: Mount Fuji. We run our tour to coincide with the Fuji climbing season, and as you reach your mountain hut at sundown you'll marvel at the giant shadow that Fuji casts across the Kanto plain. Rising early, you'll complete your final ascent in time to watch the sun rise from the summit.
Though the focus of this trip is hiking, it wouldn't be doing justice to this fascinating country without considerable culture interspersed throughout. In Tokyo you'll find soaring peaks replaced with equally vertiginous architecture, and lush green forest supplanted by eye-popping neon.
Glimpse Japan's traditional side in Kyoto as you gaze on grand temples, explore markets packed with delicacies and perhaps even catch sight of a geisha as you walk through the wood-panelled streets of Gion. Even here you're not too far from nature; Kyoto boasts some lovely forest trails and atmospheric bamboo groves.
For an in-depth experience of rural and urban Japan with an expert tour leader, Historic Mountain Trails can't be beaten. Be prepared for tough hikes covering distances of up to 20 km (12 mi) with some scrambling. Please see the 'fitness' section below for further information and prerequisites.
If this sounds good and makes you want to see even more, why not extend your tour in Japan!
Important Tour Information
Group Size: 4 - 14
Fitness: Please note that this is a challenging hiking tour - you will need to have a good level of fitness and have recent hiking experience (preferably at altitudes of 3,000 m/9,800 ft) to take part.
Be prepared for tough hikes covering distances of up to 20 km (12 mi). Technical mountaineering experience is not a prerequisite, but this tour is physically challenging with early starts, snow patches, scrambling and steep ascents & descents. Please discuss with your Travel Consultant if you are unsure.
Please do make sure to read the tour dossier day-by-day in detail to make sure you'll be able to enjoy this tour safely. All hikes and climbs are described in detail in the tour dossier (terrain, altitude, etc.)
Travel Insurance: Make sure to check you do have coverage in your travel insurance for Helicopter Evacuation, or have it added. Rescue helicopter would be the only way to get badly injured people out of the higher areas of the Northern Alps, from where they are often flown to Matsumoto Hospital.
As you can imagine, these costs are said to be very high, easily running into several thousands of pounds per hour, so it is imperative that you have the right insurance in place.

Single Supplement: There is no single supplement for this tour. Single travellers will have a single room free of charge at all of the western style hotels (at least 8 nights). They will be asked to share with another single traveller of the same sex at the Japanese style stays (maximum 5 nights).
Weather and clothing: You will need to bring all your own gear, including, hiking boots (not 'hiking trainers/sneakers), crampons (preferably 8 spikes, rubber microspike are fine), hiking poles and a mountaineering helmet. The tour takes place in the summer and it will be hot in Tokyo and Kyoto. Temperatures in the Japanese Alps and on Mount Fuji, however, can still drop to below zero degrees centigrade. You will need good outdoor clothing and plenty of layers to stay warm and dry.
Transport and luggage: This is a hiking tour and transfers are made by public transport or on foot. You will need one main bag which can be either a large rucksack or a moderately sized suitcase. This bag will be sent from the Kiso area to Matsumoto. For your three nights in Kamikochi you will need to have a 50 litre rucksack for hiking (with space to hold at least two litres of water and hiking essentials such as fleeces, wet weather kit, hiking poles and snacks. A full kit list will be provided). A simple day pack is not sufficient for this hike.
Check-in: Please note that rooms at the Tokyo hotel are only available from 2pm. (You can, however, securely leave your luggage at the front desk at any time).
We recommend booking at least one extra night to check in and relax before the tour begins.

Accommodation: The western-style hotels all have full en suite facilities. Mountain huts and lodges have limited washing facilities. The other stays have shared (single sex) facilities. Rooming will be twin or single rooms at the western-style hotels but at the mountain huts and lodges we will be using multi-person rooms.
Please note that in Japan, Twin rooms are very much the norm, and there are far fewer Double rooms available. Please understand that even if you are being booked in a Double, this will only be in the hotels where there is availability.
International Flights: This tour starts and finishes in Tokyo for arrivals and departures at Tokyo Narita or Tokyo Haneda Airport.
What's included
Full-time services of your InsideJapan tour leader

13 nights' accommodation

Breakfast every day and eight evening meals

Geisha district walking tour in Kyoto

Half-day cycling tour of Kyoto

Mount Fuji mountain hut and transport arrangements

Luggage forwarding from Kiso area to Matsumoto and from Kyoto to Hakone

IC transport card with 4,500yen credit for city transport

3-day Hakone Free Pass for transport in the Hakone area

All transportation between destinations in Japan

Your InsideJapan Tours Info-Pack

Shared portable Wi-Fi access throughout trip

Entrance and tickets to Asakusa, Sumida River Cruise, Hamarikyu Gardens, Harajuku & Meiji Shrine
What's NOT included:
International flights

Additional local transport unless covered by the included passes (in Tokyo and Hakone)

Entrance fees including those for temples, shrines and museums unless otherwise specified

Baggage handling and luggage forwarding unless otherwise specified
Tour Price Information
Tour Price:

From US$4053

No single supplement! Guaranteed single room in Western style hotels.
Extra Nights
Pre-Tour:

Twin Share From US$117 pp

Single From US$207 pp

Post-Tour:

Twin Share From US$123 pp

Single From US$182 pp
2020
Tour Price:

From US$4270

No single supplement! Guaranteed single room in Western style hotels.
Extra Nights
Pre-Tour:

Twin Share From US$126 pp

Single From US$210 pp

Post-Tour:

Twin Share From US$135 pp

Single From US$215 pp
Disclaimer Message: Please note: Prices displayed above are all "From" prices as individual prices vary depending on time of year travelling. For full pricing information on specific departures please speak to your Travel Consultant.
Tour Highlights
Walk the ancient Nakasendo Way between Tsumago and Magome

Watch the sun rise from the summit of Mount Fuji

Wander through Hakone's Open Air Museum

Feel the thrill of achievement as you complete the challenging circuit hike at Mount Hotaka
Visit Kamikochi National Park, one of the most beautiful places in Japan and summit Japan's 3rd highest peak; Hotaka Dake

Geisha district walking tour in Kyoto

See Matsumoto's "Black Crow" castle

If all this sounds great and makes you want to see even more, why not extend your stay in Japan!
For more information email us: [email protected] or call: 303 952 0379
What, where, when and how...
Historic Mountain Trails - 14 Days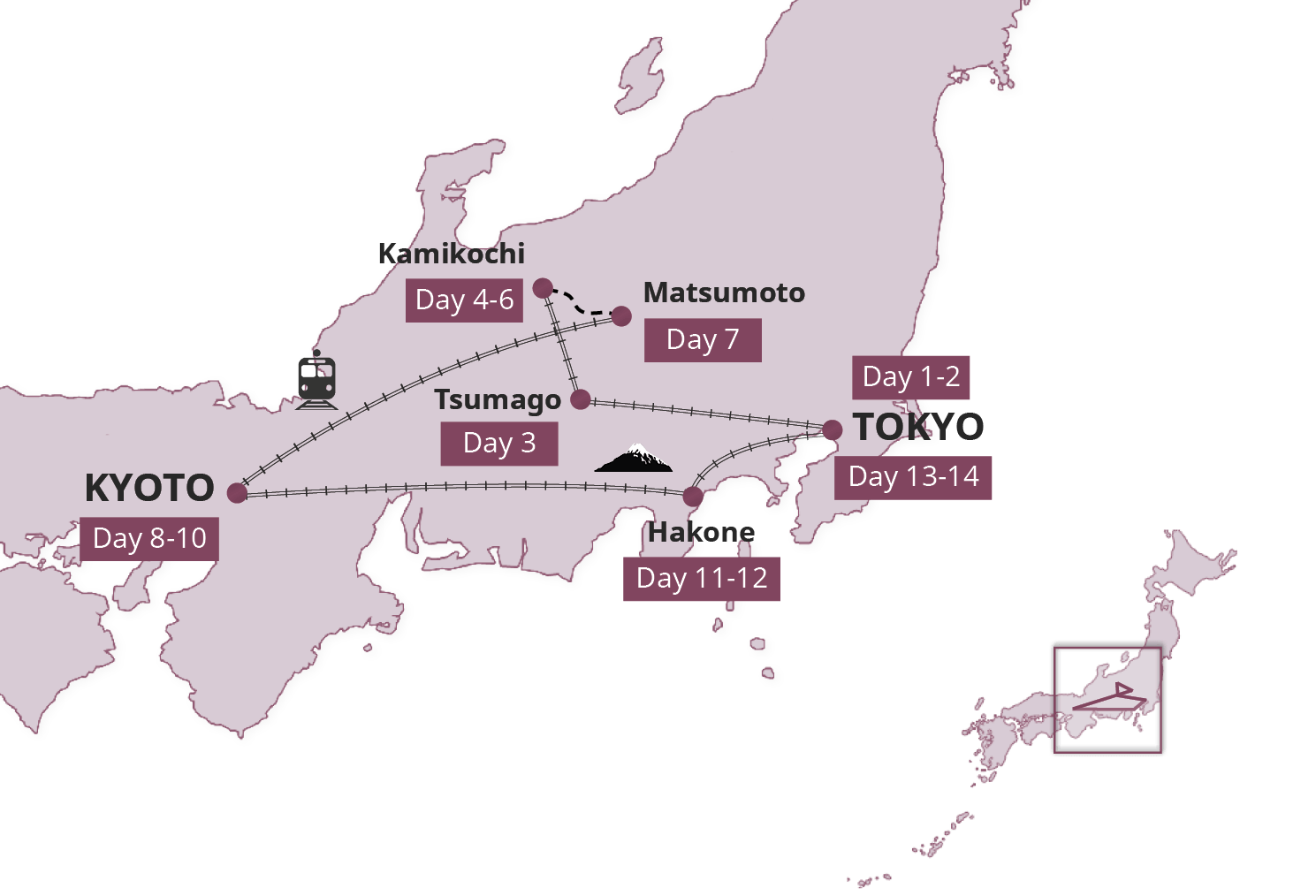 Historic Mountain Trails - 14 Days - Day by Day
Historic Mountain Trails - 14 Days - Accommodation
Historic Mountain Trails - 14 Days - Experiences
Historic Mountain Trails - 14 Days - Booking

No single supplement! Guaranteed single room in Western style hotels.
Day 1-2

Tour Tokyo's famous sights, from the wooded precincts of Meiji Shrine to the eclectic fashions of the Harajuku district.

Welcome to Japan! On arrival at one of Tokyo's airports you will use your included IC transport card to take the train into the centre of the city, where your hotel is located. This evening you will join your tour leader at a welcome meeting and head out for a great first-night meal at one of the many fantastic restaurants nearby – the perfect way to begin getting to know your group.
After a much-needed night's sleep there's no better way to tackle the jet-lag than by getting stuck in to sightseeing, and on day two your tour leader will be taking you all on a tour of some of the city's most famous sights. These will include Meiji Shrine; a trip through the candy-coloured shopping district of Harajuku; a visit to Senso-ji Temple at the heart of traditional Asakusa; and a relaxing ride on the Sumida river bus.
If you prefer to explore the city under your own steam, feel free to break away from the group and discover some of the many other attractions. Tokyo has so much to offer that it'd be impossible to do it all in a day!

Overnight: Shiba Park

Day 3

Discover the charming, traditional post towns of Magome and Tsumago, once stations on the ancient Nakasendo way.

Today you'll be up bright and early to catch the bullet train to Nagoya, from which point you'll board an express train to the rural Kiso Valley. The Kiso Valley is home to the beautifully preserved post towns of Magome and Tsumago, once stations on the ancient Nakasendo way – an old trade route that ran between Edo (modern-day Tokyo) and Kyoto.
This afternoon you'll make the leisurely, three- to four-hour hike between the two towns, taking undulating paths through the forest and stopping to cool off under the refreshing Otaki waterfall on the way.
The residents of Magome and Tsumago have made a collective effort to preserve the historical atmosphere of the area, so the streets here are lined with charming wooden buildings and rural shops. Tonight you'll be staying at a traditional ryokan inn, with a delicious multi-course dinner included and a chance to soak in some soothing hot spring baths.

Overnight: Fuki-no-Mori

Day 4

Journey to Kamikochi in the Chubu Sangaku National Park.

Today you'll travel by train and bus to Kamikochi, one of the most spectacularly beautiful places in Japan and one of our favourite hiking spots. Look out for the famous Japanese macaque monkeys as you begin your three- to four-hour trail along the Azusa River and through the forest to the mountain lodge, where dinner will be included tonight.

Overnight: Yokoo Sanso

Day 5

Begin your ascent of Hotaka Dake, Japan's third-highest peak and one of the most beautiful hiking locations in the country.

On day five you'll start early, allowing plenty of time for the six- to eight-hour hike up Hotaka Dake. This is a challenging hike that will see you tackle a great variety of terrain, from river walking and rocky sections to snowfields (yes, even in summer!) and scrambling with hands and feet – amid weather conditions that can change at the drop of a hat.
Covering an ascent of 1,500 m (4,900 ft), this exciting hike offers an incredible sense of achievement (and stupendous views!) for those who complete it. After the day's exertions you'll be rewarded with great food and warm hospitality at a mountain hut at 3,000 m (9,800 ft) where you'll have a chance to recharge your batteries for the day ahead.

Overnight: Hotaka Dake Sanso

Day 6

Tackle the Oku-hotaka summit, Japan's third-highest peak.

Day six will see you rise with the sun in order to reach the Oku-Hotaka summit, Japan's third-highest peak at 3190 m (10,466 ft). From here you'll follow the ridgeline to Mae-Hotaka Peak before dropping steeply down into the Dakesawa Valley, renowned for its glorious views. After making the tricky, eight- to ten-hour descent back down the mountain to the Azusa River, a hot bath, delicious meal and warm futon mattress await at your riverside accommodation tonight.

Overnight: Gosenjaku Lodge

Day 7

Explore the original "Black Crow" castle and admire the world's largest collection of ukiyo-e woodblock prints in Matsumoto.

Today you'll exchange the beautiful mountain scenery of Kamikochi for the modern city of Matsumoto, located on a plateau surrounded by the Japanese Alps. Matsumoto is most famous for its wonderfully preserved original samurai castle, nicknamed the "Black Crow", whose wooden donjon and narrow staircases you'll explore today. There is also an interesting museum and a preserved merchants' quarter within five minutes' walk of your hotel.
Whilst in Matsumoto, art lovers may be interested in heading a little out of town to the ukiyo-e museum, which houses a collection of traditional woodblock prints by artists such as Hokusai, Hiroshige and Kitagawa. Despite containing the largest collection of ukiyo-e in the world, there are rarely any crowds here and we highly recommend that you take the time to visit.

Overnight: Kagetsu

Day 8-10

Cycle through Ginkaku-ji Temple, wander through the gardens surronding the Imperial Palace, and explore Nanzenji temple, all in Kyoto – Japan's ancient capital.

On day eight of your tour you'll speed by express and bullet train to Kyoto; Japan's cultural and historical heartland. Though your first experience of Kyoto will be the gigantic, steel-and-glass station complex – you'll soon discover that this is a city with an ancient heartbeat.
Your tour leader will take you around the city and show you few of the most impressive sights. Later in the day you'll wander the traditional Gion district with a local expert, and learn about the secretive world of the geisha, before heading out for an included group meal at one of the city's excellent restaurants.
On your second day in Kyoto you'll have the opportunity to participate in a half-day cycling tour of Kyoto's famous and lesser-known haunts with a local guide and cycling enthusiast: Imperial Palace grounds, Silver Pavilion, Nanzenji temple and Heian Shrine. After lunch you'll have more time to explore the city at your pace, or relax with a coffee. At dusk you have an appointment with a local guide who will take you arround for a walking tour in the Gion Geisha district.
With a third and final day to spend in Kyoto, you'll have a great number of options to keep you busy. You might wish to visit the Golden Pavilion at Kinkaku-ji Temple; take a boat ride down the Hozugawa River; explore the bamboo groves of Arashiyama; or just peruse the city's museums and galleries. You might even decide to go on a day trip to nearby Osaka or Nara, another former ancient capital.

Overnight: Karasuma Kyoto

Day 11

Begin your ascent of Mount Fuji via the Subashiri Trail.

After forwarding your main luggage, you'll leave Japan's ancient capital behind and head eastwards by train to the Fuji-Hakone-Izu National Park. Here you'll begin your ascent of Mount Fuji by the lesser-trodden, greener Subashiri Trail, taking in the surrounding scenery and, if the weather is clear, marvelling at Fuji's giant evening shadow as it stretches out across the Kanto plain.
Today's hike will take five to six hours over loose scree and solidified lava trail, with considerable altitude gain and variable weather conditions. Tonight you'll be staying at one of Fuji's mountain huts, giving you the chance to rest before the early morning final push to the summit. Dinner will be included.

Overnight: Goraikokan Mountain Hut

Day 12

Watch the sun rise from the top of Mount Fuji, Japan's tallest peak and one of the world's most iconic mountains.

After a night on the mountain, you'll rise before the sun in order to reach the summit of Fuji just before daybreak – ensuring a spectacular start to the day. Following this you'll begin your three- to four-hour descent via the Subashiri Trail and catch the bus back to your accommodation in Hakone.
If you have the energy, an afternoon visit to the world-class Hakone open-air museum is highly recommended. Here you'll have the chance to wander amongst works by Miro', Picasso, Moore and Rodin surrounded by the mountains and forest of the national park. Dinner will be included once again at your accommodation this evening.

Overnight: Resorpia Hakone

Day 13-14

Return to Tokyo for some last-minute shopping and a final night dinner in the vibrant skyscraper district of Shinjuku.

Today you'll hop aboard the bullet train for one more ride as you zip across the countryside to Tokyo. This is your chance to do a bit of last-minute shopping and sightseeing before you head out for a final dinner with your tour leader in the electric Shinjuku district of the city. This is the perfect way to reflect on the highlights of what will have been two weeks of adventure, personal challenge and team-orientated immersion in Japan's urban and cultural landscapes.
Finally it's time to say sayonara to Japan. Your tour leader will ensure you have all the information you need to reach the airport in plenty of time for your flight home.

Overnight: Ibis Tokyo Shinjuku
View all days
Day 1-2

Tour Tokyo's famous sights, from the wooded precincts of Meiji Shrine to the eclectic fashions of the Harajuku district.

Welcome to Japan! On arrival at one of Tokyo's airports you will use your included IC transport card to take the train into the centre of the city, where your hotel is located. This evening you will join your tour leader at a welcome meeting and head out for a great first-night meal at one of the many fantastic restaurants nearby – the perfect way to begin getting to know your group.
After a much-needed night's sleep there's no better way to tackle the jet-lag than by getting stuck in to sightseeing, and on day two your tour leader will be taking you all on a tour of some of the city's most famous sights. These will include Meiji Shrine; a trip through the candy-coloured shopping district of Harajuku; a visit to Senso-ji Temple at the heart of traditional Asakusa; and a relaxing ride on the Sumida river bus.
If you prefer to explore the city under your own steam, feel free to break away from the group and discover some of the many other attractions. Tokyo has so much to offer that it'd be impossible to do it all in a day!

Overnight: Shiba Park

Day 3

Discover the charming, traditional post towns of Magome and Tsumago, once stations on the ancient Nakasendo way.

Today you'll be up bright and early to catch the bullet train to Nagoya, from which point you'll board an express train to the rural Kiso Valley. The Kiso Valley is home to the beautifully preserved post towns of Magome and Tsumago, once stations on the ancient Nakasendo way – an old trade route that ran between Edo (modern-day Tokyo) and Kyoto.
This afternoon you'll make the leisurely, three- to four-hour hike between the two towns, taking undulating paths through the forest and stopping to cool off under the refreshing Otaki waterfall on the way.
The residents of Magome and Tsumago have made a collective effort to preserve the historical atmosphere of the area, so the streets here are lined with charming wooden buildings and rural shops. Tonight you'll be staying at a traditional ryokan inn, with a delicious multi-course dinner included and a chance to soak in some soothing hot spring baths.

Overnight: Fuki-no-Mori

Day 4

Journey to Kamikochi in the Chubu Sangaku National Park.

Today you'll travel by train and bus to Kamikochi, one of the most spectacularly beautiful places in Japan and one of our favourite hiking spots. Look out for the famous Japanese macaque monkeys as you begin your three- to four-hour trail along the Azusa River and through the forest to the mountain lodge, where dinner will be included tonight.

Overnight: Yokoo Sanso

Day 5

Begin your ascent of Hotaka Dake, Japan's third-highest peak and one of the most beautiful hiking locations in the country.

On day five you'll start early, allowing plenty of time for the six- to eight-hour hike up Hotaka Dake. This is a challenging hike that will see you tackle a great variety of terrain, from river walking and rocky sections to snowfields (yes, even in summer!) and scrambling with hands and feet – amid weather conditions that can change at the drop of a hat.
Covering an ascent of 1,500 m (4,900 ft), this exciting hike offers an incredible sense of achievement (and stupendous views!) for those who complete it. After the day's exertions you'll be rewarded with great food and warm hospitality at a mountain hut at 3,000 m (9,800 ft) where you'll have a chance to recharge your batteries for the day ahead.

Overnight: Hotaka Dake Sanso

Day 6

Tackle the Oku-hotaka summit, Japan's third-highest peak.

Day six will see you rise with the sun in order to reach the Oku-Hotaka summit, Japan's third-highest peak at 3190 m (10,466 ft). From here you'll follow the ridgeline to Mae-Hotaka Peak before dropping steeply down into the Dakesawa Valley, renowned for its glorious views. After making the tricky, eight- to ten-hour descent back down the mountain to the Azusa River, a hot bath, delicious meal and warm futon mattress await at your riverside accommodation tonight.

Overnight: Gosenjaku Lodge

Day 7

Explore the original "Black Crow" castle and admire the world's largest collection of ukiyo-e woodblock prints in Matsumoto.

Today you'll exchange the beautiful mountain scenery of Kamikochi for the modern city of Matsumoto, located on a plateau surrounded by the Japanese Alps. Matsumoto is most famous for its wonderfully preserved original samurai castle, nicknamed the "Black Crow", whose wooden donjon and narrow staircases you'll explore today. There is also an interesting museum and a preserved merchants' quarter within five minutes' walk of your hotel.
Whilst in Matsumoto, art lovers may be interested in heading a little out of town to the ukiyo-e museum, which houses a collection of traditional woodblock prints by artists such as Hokusai, Hiroshige and Kitagawa. Despite containing the largest collection of ukiyo-e in the world, there are rarely any crowds here and we highly recommend that you take the time to visit.

Overnight: Kagetsu

Day 8-10

Cycle through Ginkaku-ji Temple, wander through the gardens surronding the Imperial Palace, and explore Nanzenji temple, all in Kyoto – Japan's ancient capital.

On day eight of your tour you'll speed by express and bullet train to Kyoto; Japan's cultural and historical heartland. Though your first experience of Kyoto will be the gigantic, steel-and-glass station complex – you'll soon discover that this is a city with an ancient heartbeat.
Your tour leader will take you around the city and show you few of the most impressive sights. Later in the day you'll wander the traditional Gion district with a local expert, and learn about the secretive world of the geisha, before heading out for an included group meal at one of the city's excellent restaurants.
On your second day in Kyoto you'll have the opportunity to participate in a half-day cycling tour of Kyoto's famous and lesser-known haunts with a local guide and cycling enthusiast: Imperial Palace grounds, Silver Pavilion, Nanzenji temple and Heian Shrine. After lunch you'll have more time to explore the city at your pace, or relax with a coffee. At dusk you have an appointment with a local guide who will take you arround for a walking tour in the Gion Geisha district.
With a third and final day to spend in Kyoto, you'll have a great number of options to keep you busy. You might wish to visit the Golden Pavilion at Kinkaku-ji Temple; take a boat ride down the Hozugawa River; explore the bamboo groves of Arashiyama; or just peruse the city's museums and galleries. You might even decide to go on a day trip to nearby Osaka or Nara, another former ancient capital.

Overnight: Karasuma Kyoto

Day 11

Begin your ascent of Mount Fuji via the Subashiri Trail.

After forwarding your main luggage, you'll leave Japan's ancient capital behind and head eastwards by train to the Fuji-Hakone-Izu National Park. Here you'll begin your ascent of Mount Fuji by the lesser-trodden, greener Subashiri Trail, taking in the surrounding scenery and, if the weather is clear, marvelling at Fuji's giant evening shadow as it stretches out across the Kanto plain.
Today's hike will take five to six hours over loose scree and solidified lava trail, with considerable altitude gain and variable weather conditions. Tonight you'll be staying at one of Fuji's mountain huts, giving you the chance to rest before the early morning final push to the summit. Dinner will be included.

Overnight: Goraikokan Mountain Hut

Day 12

Watch the sun rise from the top of Mount Fuji, Japan's tallest peak and one of the world's most iconic mountains.

After a night on the mountain, you'll rise before the sun in order to reach the summit of Fuji just before daybreak – ensuring a spectacular start to the day. Following this you'll begin your three- to four-hour descent via the Subashiri Trail and catch the bus back to your accommodation in Hakone.
If you have the energy, an afternoon visit to the world-class Hakone open-air museum is highly recommended. Here you'll have the chance to wander amongst works by Miro', Picasso, Moore and Rodin surrounded by the mountains and forest of the national park. Dinner will be included once again at your accommodation this evening.

Overnight: Resorpia Hakone

Day 13-14

Return to Tokyo for some last-minute shopping and a final night dinner in the vibrant skyscraper district of Shinjuku.

Today you'll hop aboard the bullet train for one more ride as you zip across the countryside to Tokyo. This is your chance to do a bit of last-minute shopping and sightseeing before you head out for a final dinner with your tour leader in the electric Shinjuku district of the city. This is the perfect way to reflect on the highlights of what will have been two weeks of adventure, personal challenge and team-orientated immersion in Japan's urban and cultural landscapes.
Finally it's time to say sayonara to Japan. Your tour leader will ensure you have all the information you need to reach the airport in plenty of time for your flight home.

Overnight: Ibis Tokyo Shinjuku
Close all days
Tokyo
Hakone
Kyoto
Hiroshima
Miyajima

A compact tour visiting some of the best cultural and modern cities that Japan has to offer, during the popular Spring season presenting the possibility to see the famous Cherry Blossom bloom.

7 nights: US$2240 Read more >

Tokyo
Kamakura
Hakone
Kyoto
Tokyo

Our original great value Japan tour

9 nights: US$2513 Read more >

Tokyo
Nagano
Matsumoto
Takayama
Kanazawa
Hiroshima
Kurashiki
Kyoto
Tokyo

A fast-paced tour packing in a great variety of destinations, with minimum inclusions allowing for maximum flexibility.

13 nights: US$3633 Read more >