Exclusive Private Journey
Japan Past & Present
4 Nights: price on request
Trip Code: EPJ100
This itinerary module takes you from the founding of Shingon Buddhism by Kobo Daishi in the 9th century to the cataclysmic events of 1945. Explore Japanese history past and present in Hiroshima and sacred Miyajima Island. Read more >
The Western tip of Japan's main island is home to two of the most fascinating and contrasting destinations in the whole country: the great city of Hiroshima and the beautiful neighbouring island of Miyajima.
This four-night module presents a selection of the exclusive sightseeing experiences we can offer in these locations, with expert guides to fill you in on the finer points of local history and culture along the way. Meanwhile, a stay in Hiroshima's finest hotel will be complemented by three nights at a gorgeous Japanese-style inn on nearby Miyajima, where you will experience the impeccable service and warmth of true Japanese hospitality.
A visit to Hiroshima is imperative if you wish to get to grips with recent Japanese history. Forever scarred by the "Little Boy" atomic bomb, which was deployed over the city centre at 8.15am on 6th August 1945, flattening everything within a two-kilometre radius; today it is a bright and exciting modern city that looks toward the future without forgetting the lessons of its past. On this module you'll have the sobering privilege of meeting a hibakusha - atomic bomb survivor - to hear their personal testimonies of the tragic events as they unfolded.
A short hop across Hiroshima Bay will bring you to the sacred island of Miyajima, a peaceful, mountainous island that played an important role in the development of Japanese Buddhism. Here you'll have the opportunity to admire one of the "top three views" in Japan from Itsukushima Shrine, gaze out across the Seto Inland Sea from the top of Mount Misen, and meet some of the local community's most respected artisans for an introduction to traditional Japanese crafts and culture.
This brief module is designed to provide a fascinating and in-depth look at the span of Japanese history, from the truly ancient to the modern, and can be included as part of a longer exploration of Japan tailored to suit your tastes and requirements. Please don't hesitate to get in touch to begin planning your Exclusive Private Journey.
Trip Highlights
Be accompanied by a charismatic, experienced guide

Eat as the locals do in an okonomiyaki restaurant

Enjoy Miyajima oysters and Chablis
Meet a survivor of the Hiroshima A-bomb

Visit craft workshops on Miyajima Island

Stay in deluxe accommodation throughout
For more information email us: [email protected] or call: + 44 117 244 3380
What, where, when and how...
Japan Past & Present - 5 Days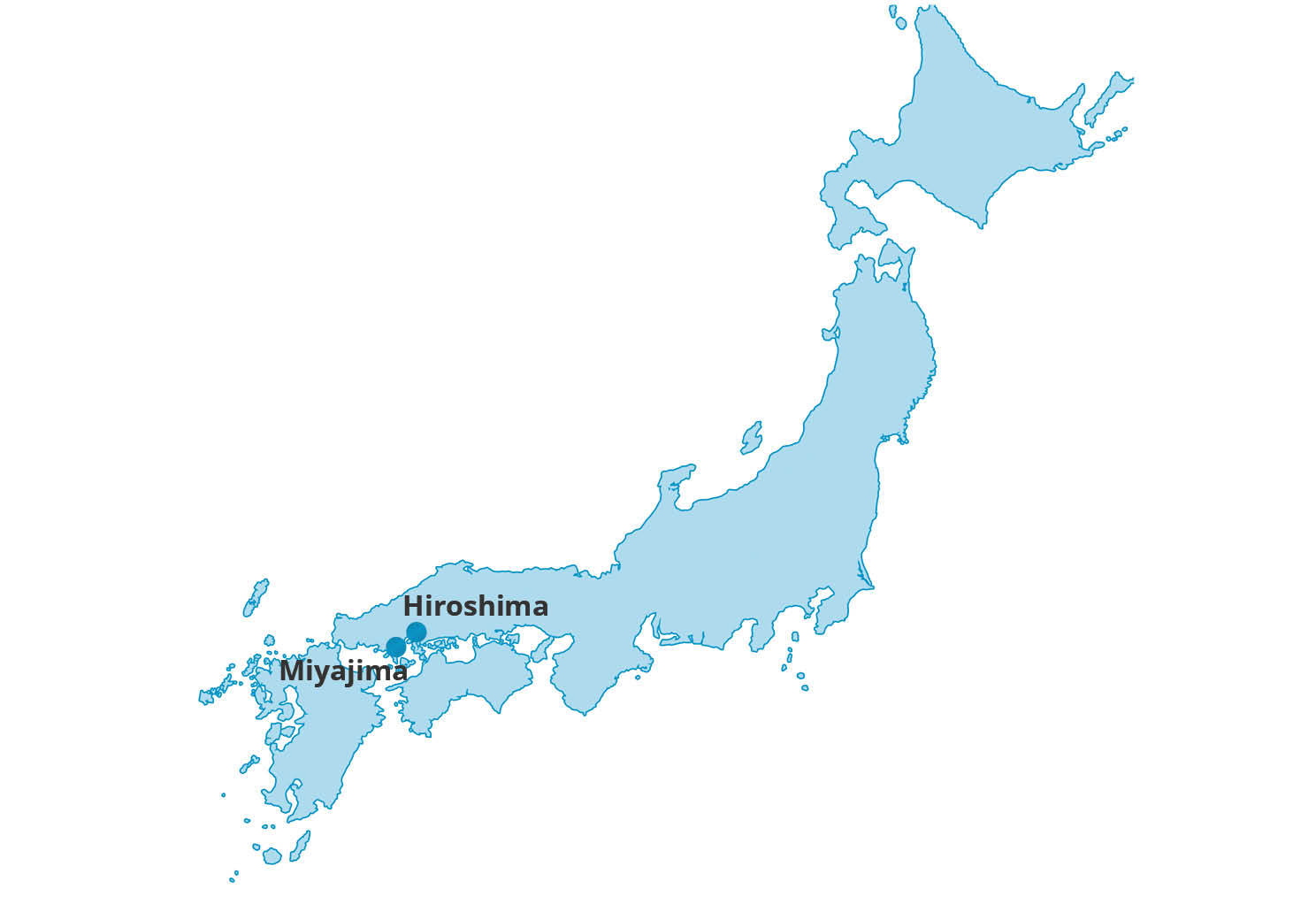 Destinations
Japan Past & Present - 5 Days - Day by Day
Japan Past & Present - 5 Days - Accommodation

Japan Past & Present - 5 Days - Experiences
Day 1-2

To truly understand the Japanese psyche, one must really visit Hiroshima – site of the horrific atomic bombing at the end of World War Two.

The Peace Park and Museum in the city centre are unmissable – but to enhance your experience we would be delighted to arrange for you to meet a hibakusha – an elderly survivor of the bombing who can talk you through the events of 6th August 1945 from a personal perspective. This is a truly rare and humbling experience that will stay with you long after your visit to the city.
Despite the remnants of its violent past, today's Hiroshima is a lively, bustling city with a great array of restaurants, shopping and nightlife. Other exclusive experiences we can arrange in Hiroshima include an informative visit to the sake breweries of the Saijo district (including an informative tasting session, of course!); a fascinating and unusual guided tour of the Mazda manufacturing plant with a chief engineer; or an evening baseball game in Hiroshima's city centre stadium. Here you'll cheer on the Hiroshima Carp – currently the nation's beloved underdogs - accompanied by some of Japan's most loyal baseball supporters.

Suggested Accommodation: Hilton Hiroshima

Day 3-5

Just across the water from Hiroshima is Miyajima, famous for its beautiful waterfront shrine.

Our top recommendation here is to travel as the pilgrims used to: by wooden boat through the vermillion torii gate (a traditional purification ritual) to reach the island itself at the wooden dock of Itsukushima Shrine.
For many, an architectural tour of the island's religious sites is fascinating. Discover the blend of Chinese and Japanese design in the 27 m five-tiered pagoda and visit Shingon Buddhism's sacred Daisho-in temple, beloved of the Dalai Lama himself. We can arrange for you to meet the head priest for a private meditation session, or take part in sutra recitation and a calligraphy class if this is something you'd like to do.
Oysters are the island's culinary speciality, and you mustn't leave without trying some. We'll arrange a guided visit to the island's oyster farms where you can learn about how these shellfish are produced, followed by oysters and Chablis at your fabulous ryokan accommodation this evening.

Suggested Accommodation: Grand Hotel Arimoto
View all days
Day 1-2

To truly understand the Japanese psyche, one must really visit Hiroshima – site of the horrific atomic bombing at the end of World War Two.

The Peace Park and Museum in the city centre are unmissable – but to enhance your experience we would be delighted to arrange for you to meet a hibakusha – an elderly survivor of the bombing who can talk you through the events of 6th August 1945 from a personal perspective. This is a truly rare and humbling experience that will stay with you long after your visit to the city.
Despite the remnants of its violent past, today's Hiroshima is a lively, bustling city with a great array of restaurants, shopping and nightlife. Other exclusive experiences we can arrange in Hiroshima include an informative visit to the sake breweries of the Saijo district (including an informative tasting session, of course!); a fascinating and unusual guided tour of the Mazda manufacturing plant with a chief engineer; or an evening baseball game in Hiroshima's city centre stadium. Here you'll cheer on the Hiroshima Carp – currently the nation's beloved underdogs - accompanied by some of Japan's most loyal baseball supporters.

Suggested Accommodation: Hilton Hiroshima

Day 3-5

Just across the water from Hiroshima is Miyajima, famous for its beautiful waterfront shrine.

Our top recommendation here is to travel as the pilgrims used to: by wooden boat through the vermillion torii gate (a traditional purification ritual) to reach the island itself at the wooden dock of Itsukushima Shrine.
For many, an architectural tour of the island's religious sites is fascinating. Discover the blend of Chinese and Japanese design in the 27 m five-tiered pagoda and visit Shingon Buddhism's sacred Daisho-in temple, beloved of the Dalai Lama himself. We can arrange for you to meet the head priest for a private meditation session, or take part in sutra recitation and a calligraphy class if this is something you'd like to do.
Oysters are the island's culinary speciality, and you mustn't leave without trying some. We'll arrange a guided visit to the island's oyster farms where you can learn about how these shellfish are produced, followed by oysters and Chablis at your fabulous ryokan accommodation this evening.

Suggested Accommodation: Grand Hotel Arimoto
Close all days