Our team at Inside Japan Tours
The sun never sets on the InsideJapan Tours team (well, maybe on Sundays) as we have offices in Bristol (UK), Broomfield, (USA), Brisbane (Australia) and Nagoya (Japan). On this page you can meet the people behind our Japan tours and holidays.
We have a wide range of backgrounds and interests, but you can be sure that the one thing that ties us all together is a love of Japan, Japanese culture and a passionate desire to share that with other people.
From the accounts department, through the travel consultant teams to the tour leaders and guides on the ground, you can rest assured that everything we do is to make sure you have the best possible experience of Japan.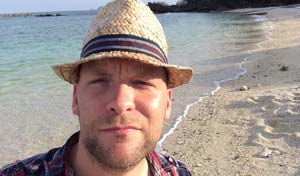 Jim "Miracle Baby" Mundy has three passions in life: his kids, West Ham and Japan! 2015 will mark his tenth year with InsideJapan Tours, and he is as enthusiastic about Japan today as when he first joined the team.
James has had an interest in Asia for many years. After travelling through Southeast Asia (including Indonesia, Thailand, Vietnam, Burma and the Philippines, amongst others), he applied to the JET programme out of a desire to experience life in a very different Asian culture: Japan.
After living for a while in the mountains of rural Gunma Prefecture as an English teacher, he then spent a year in Tokyo, where he occasionally signed autographs as Bruce Willis and auditioned to become the presenter of a UK culture show in Japan - getting as far as being interviewed and screen tested! Unfortunately for him (but fortunately for us), his reading kanji off the autocue put a halt to his career on the silver screen, and instead he became a tour leader for InsideJapan.
Like so many people who have lived in Japan, Jim cites onsen hot springs, incredible food and super friendly people as the three main reasons that he loves the country so much. He is also interested in modern and early modern Japanese history - as well as a bit of Japanese comedy. Downtown, a Japanese comedy double act, is a particular favourite.
Jim's top advice to those planning a visit to Japan is to make sure you stay at a ryokan (Japanese-style inn). This is an experience you can only get in Japan, and is not to be missed!
These days, Jim is based in Bristol with his two boys - Max and Dexter - and manages the PR and marketing side of InsideJapan. He really loves cheese.

Where is your favourite place in Japan, and why?
"Gunma Prefecture, where I lived when I was in Japan. I love it for the mountains, hot spring baths and the general rural experience. Soaking in an onsen is unbeatable for relaxation - and sitting in an outdoor hot spring bath overlooking the mountains (whether in the snowy winter or the green of spring) is even better.
"Kusatsu Onsen, located in Gunma Prefecture, is one of the most famous onsen in Japan and sits at 1,200 m above sea level on the side of Mount Shirane volcano. I definitely recommend it!"