IC-Card
*** Currently we do not have any IC card stock available. Apologies for any inconvenience caused. ***
Travel like a local with an IC Transport Card.
IC Transport Cards are also the essential companion to your Japan Rail Pass.
The Japan Rail Pass is great for travelling long distances, giving you unlimited travel on many trains across the country – including almost all bullet trains. What the Japan Rail Pass doesn't cover is most subway networks and other public transport, and it can often be time-consuming and confusing trying to work out which ticket to buy for which train line when they are all owned by different companies.
IC Transport Cards are an easy and efficient way to resolve this issue, and are valid on almost every subway line, monorail, train, and most buses in Tokyo, as well as almost all public transport in the city areas shown on the map below. Notable exceptions are Kyoto buses, and trams in Hiroshima and Nagasaki.
IC cards are branded under 10 different names depending upon the city in which they were issued, but they are all interchangeable and can be used countrywide. You will see PASMO, Suica, and Icoca – but since our Japan office is based in Nagoya, we will provide you with Manaca.
IC cards can be purchased once you arrive in Japan.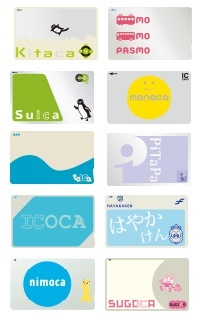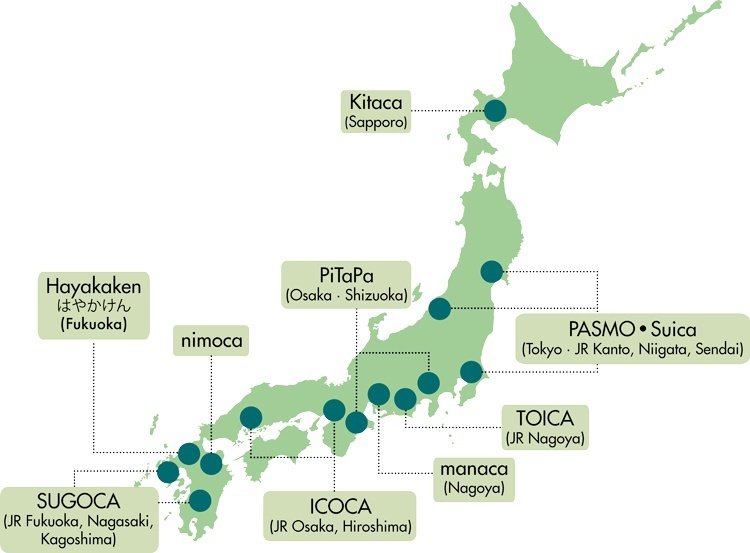 We guarantee this card will make your time in Japan more enjoyable, more relaxing and more productive.
The manaca card means you don't need to think about which ticket to buy or which line is owned by which company, giving you more time to enjoy your sightseeing. It also includes the following benefits:
Simple tap-in, tap-out system
Pre-loaded with 3500yen and ready for use
Can be used for most airport transfers
Accepted on virtually every train and subway line in and around Tokyo, plus buses
It can even be used in some taxis, shops and vending machines
Valid for greater Tokyo region - Nikko, Kamakura, Hakone, Yokohama etc
Can be used in such tourist centres as Osaka, Nagoya, Nagasaki, Kagoshima, Sendai and Sapporo
Simple top-up at automatic machines, in English
Please note that you are only able to get a refund on unused credit and/or the 500 yen deposit on the card in the Nagoya area. You cannot get a refund in Tokyo or other areas. Please be sure to consider this when topping up your card. Please also be aware that we are unable to offer a refund on unused or returned cards.
For more information email us: [email protected] or call: 303 952 0379
Tokyo
Hakone
Kyoto
Hiroshima
Osaka
Takayama
Tokyo

An essential two-week itinerary featuring some of Japan's classic sights, including Tokyo, Kyoto and Mount Fuji.

14 nights: from US$2565 pp (twin share) Read more >

This classic itinerary introduces the best of Japan with a manga and anime twist - from Studio Ghibli and Maid Cafes to Kyoto's Toei Movie Village.

10 nights: from US$2929 pp (twin share) Read more >

The best of Japan – with a manga and anime twist. Visit the Ghibli Museum, wander Kyoto's temples and explore "electric town" on this essential trip.

10 nights: from US$2200 pp (twin share) Read more >