Shimoda
Shimoda town at the southern point of the Izu Peninsula is a beautiful destination, offering hot springs, historic sights and good beaches.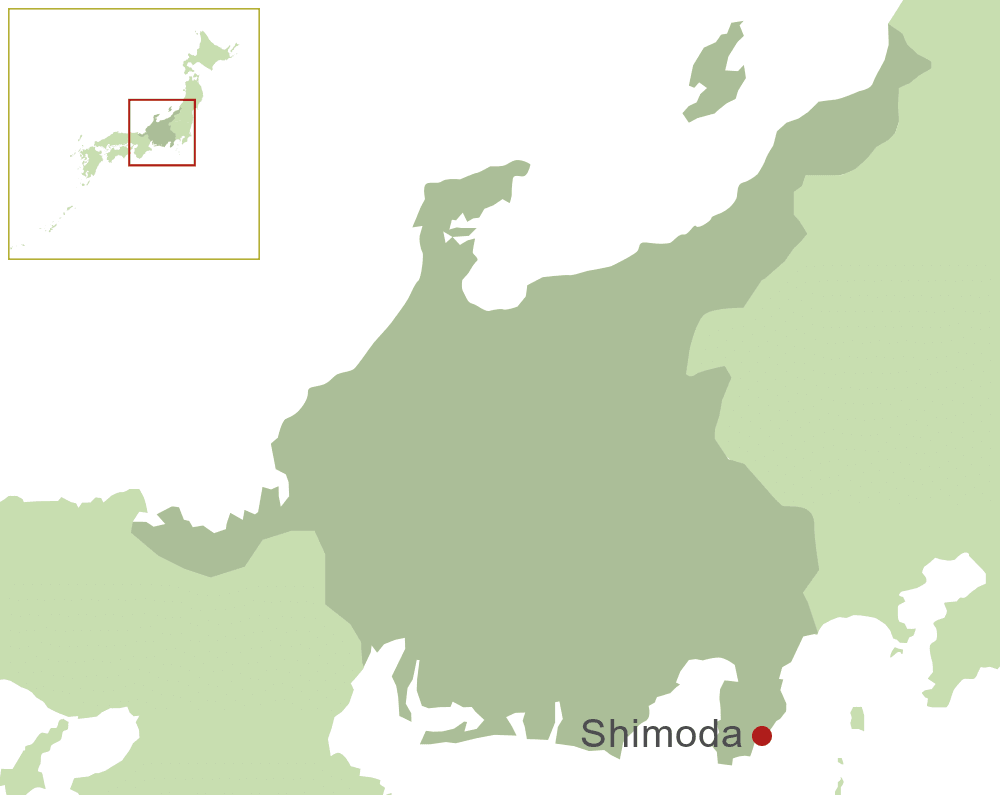 "The train rides to and from historic Shimoda are some of the most scenic in the country, and the beaches at nearby Shirahama are the perfect place to spend a summer's day"
Alastair Donnelly, Director
Shimoda and the surrounding area is popular amongst Tokyoites for a weekend break as the peninsula is only just over an hour from Yokohama by Shinkansen, and then another hour's scenic ride down to Shimoda on a local train that runs right by the coastline. During the working week it is relatively quiet and is the perfect place for travellers to escape to for one or two nights.
The town has enjoyed a vibrant role in Japanese history as it was an important port of call on the trade route between Kamigata (Osaka) and the old capital city of Edo. It was here that Commodore Perry and representatives of the Tokugawa Shogunate signed the seminal Convention of Kanagawa trade and amity agreement in 1854, Perry having used a show of military strength to force open negotiations in Edo the year before. It wasn't long after the treaty was signed that the first American consul, Townsend Harris, opened a consulate here.
Today Shimoda is a great place to relaxing, and the remarkable emerald green of the placid Pacific here has to be seen to be believed. On the journey back, continue by local bus up the west side of the peninsula, stopping off to take a boat ride past the exposed rock layers of sheer cliffs and through the sunlit caves of Dogashima. The bus then takes a memorable winding route through the hills to the handicraft centre of Shuzen-ji, and if you glance back you will get the most incredible views of the pale Izu hills fading into the background like a water colour painting.
From here, the picturesque seven waterfalls of Kawazu town are a short ride away. There are a number of great onsen in this area which makes it popular with the Japanese, such as the Amaso ryokan where you can relax after dinner in outdoor baths right beside the plunge pool of one of the waterfalls.
Weather in Shimoda
The Climate Guide for Shimoda, Japan is perfect for planning your holiday. Monthly weather averages give the best indication of what the weather is usually like for every month of the year including figures for temperature, rainfall and sunshine.
Jan
Feb
Mar
Apr
May
Jun
Jul
Aug
Sep
Oct
Nov
Dec
Max Daytime Temperature (°C)
9
9
12
18
21
24
28
29
25
21
16
11
Min Night-time Temperature (°C)
1
1
4
9
13
17
21
22
19
14
8
3
Hours of Sunshine (Daily)
6
5
5
5
6
4
5
6
5
4
5
5
Hours of Daylight (Daily)
10
11
12
13
14
14
14
13
12
11
10
10
Heat and Humidity Discomfort
None
None
None
None
None
None
Moderate
High
Low
None
None
None
Days with some Rainfall
14
15
18
17
16
20
20
18
19
17
14
12
Monthly Rainfall (mm)
75
86
164
169
171
243
232
203
302
222
140
64
UV Index (Maximum)
3
4
6
8
9
10
10
10
8
6
4
3