Magome
In the heart of the Japanese Alps, nestled in the Kiso valley, far away from fast moving trains and neon lights, lies a slice of old Japan. Surrounded by the stunning natural beauty of central Japan's Chubu region, this quiet post town has been referred to as a woodblock print come to life.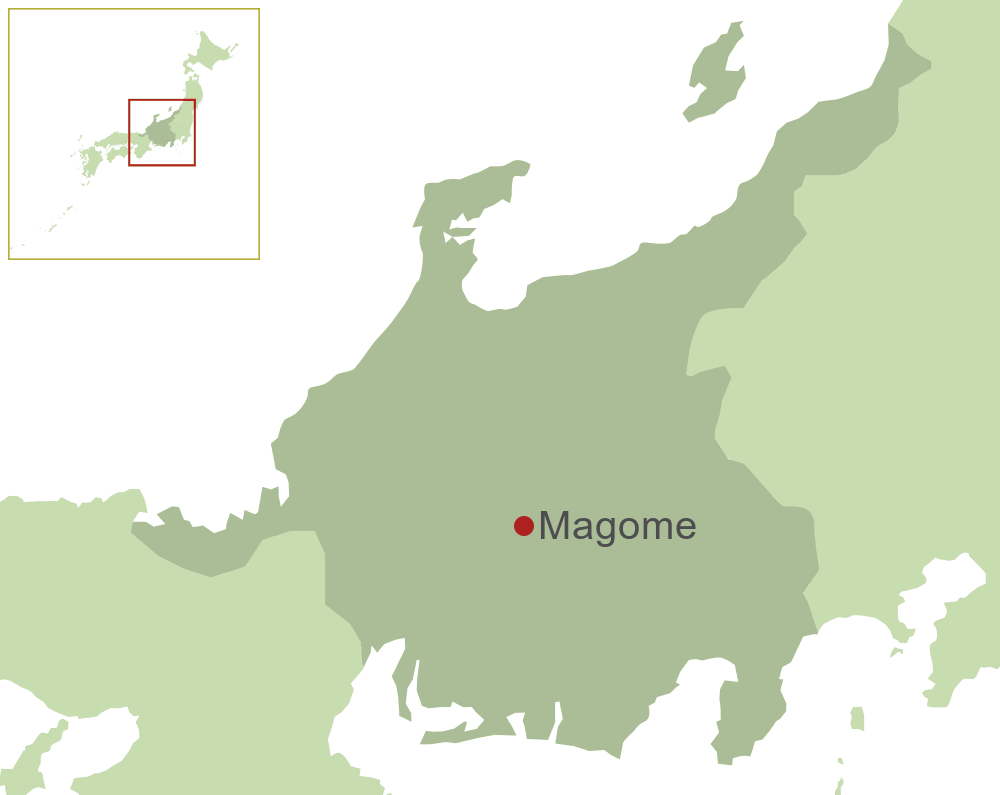 "Magome has managed to retain that elusive atmosphere of traditional Japan that is slowly slipping away from much of the country"
Magome offers a side of Japan that many travellers never get to see, a mountain town where water wheels spin slowly in front of Japanese Inns and the bells of Buddhist monks collecting alms from shopkeepers echo through the narrow streets as afternoon approaches. If you are lucky enough to make it here, a visit to Magome is sure to be a highlight of your trip to Japan.
In the days of the Edo period Magome flourished as the forty-third of sixty nine stops on an ever winding path known as the Nakasendo road, a trail stretching from Kyoto to Tokyo that cuts through the heart of central Japan. Warlords and Daimyo forged this trail at the behest of Japan's military ruler, the Tokugawa Shogun who ruled from modern day Tokyo. Weary travelers stopped along the way at post towns like Magome for a few cups of sake and a respite from the cold or spent the night in the rustic elegance of one of the town's many ryokan. During this period (Edo period, 1603-1868) many of the most important families in Japan passed through Magome on their mandatory visits to the Shogun and Magome continued to thrive. Unfortunately all good things come to an end and when the Tokugawa shogun was overthrown by samurai, Japan began its path towards modernization and Magome fell from prominence. It has only been in recent times that the lure of tourism has managed to restore Magome to its former glory.
Magome rests in the shadow of Mt. Ena in one direction and, in the other, looks out over a checkerboard of rice paddies that spread out towards the small city of Nakatsugawa far below. A wander through Magome reveals tiny museums and shops of local handicrafts, restaurants serving local delicacies and gardens sprouting from in between buildings. The people of Magome are never too busy to sit down and talk so make sure you pop in to one of the local restaurants at least once while you're here. (And don't forget your phrasebook!)
If you are looking for a truly unforgettable experience, the two hour walk along the ancient Nakasendo through some of Japan's most beautiful scenery to the tranquil post town of Tsumago is sure to leave you satisfied. The stone path twists through dense forests, next to waterfalls, past shrines, and over rivers just as it has for hundreds of years. As you approach the peaceful hamlet of Tsumago and leave the towering trees behind you, the Kiso valley spreads out in a display of grandeur that is sure to leave you grasping for your camera. Finish off by exploring Tsumago, a picture perfect village known throughout Japan for its beautiful wooden buildings.
Recommended Accommodation in Magome
The following are our favourites from among the western-style hotels and Japanese-style inns of Magome.

Weather in Magome
The Climate Guide for Magome, Japan is perfect for planning your holiday. Monthly weather averages give the best indication of what the weather is usually like for every month of the year including figures for temperature, rainfall and sunshine.
Jan
Feb
Mar
Apr
May
Jun
Jul
Aug
Sep
Oct
Nov
Dec
Max Daytime Temperature (°C)
-2
-1
3
10
15
18
22
23
19
13
7
1
Min Night-time Temperature (°C)
-10
-10
-6
0
4
10
14
15
11
4
-2
-7
Hours of Sunshine (Daily)
5
5
6
6
6
5
5
6
4
5
5
5
Hours of Daylight (Daily)
10
11
12
13
14
14
14
13
12
11
10
10
Heat and Humidity Discomfort
None
None
None
None
None
None
None
None
None
None
None
None
Days with some Rainfall
22
20
20
17
16
20
24
21
19
15
15
19
Monthly Rainfall (mm)
33
61
121
152
160
248
298
239
266
135
77
23
UV Index (Maximum)
2
4
6
8
9
10
11
10
8
6
3
2