Obuse
With its museums, sake breweries and local cuisine Obuse is a great place for all art and food lovers. The small town with its narrow streets and traditional charm is renowned for the painter Hokusai who is best known for "Wave of the Coast at Kanagawa" and several museums are dedicated to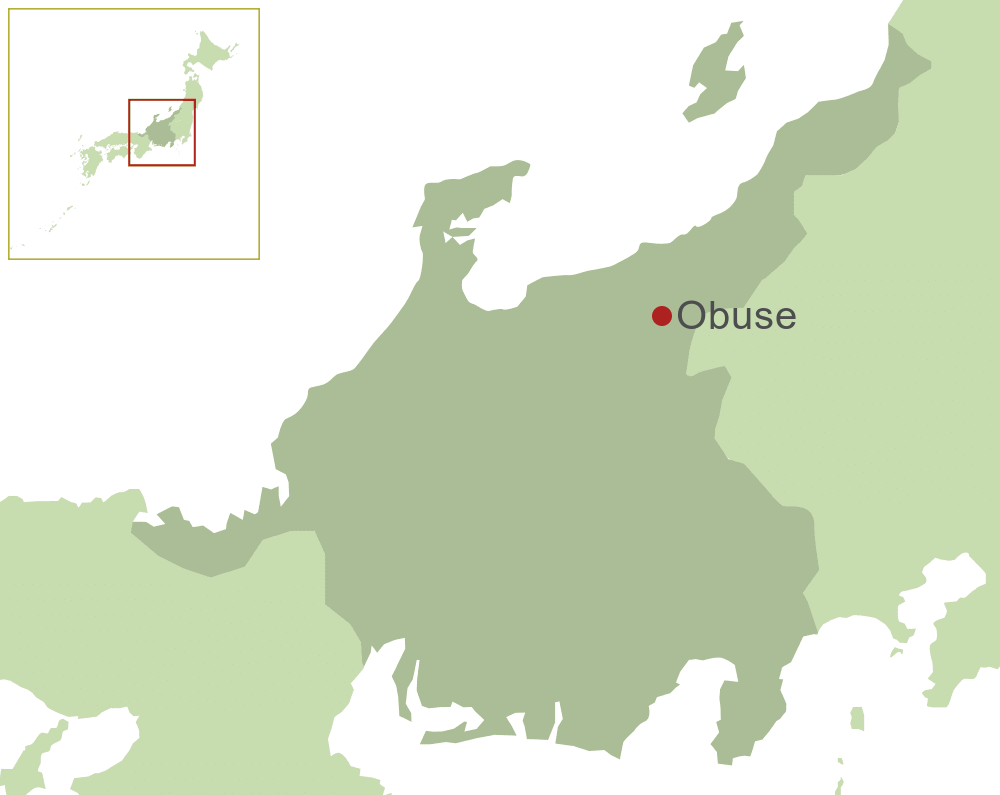 "Obuse was a real surprise highlight of this area. Wandering through the quiet, traditional streets between the art galleries and breweries was a welcome break from the cities. I highly recommend the local specialities: chestnut rice and chestnut ice cream."
Vivienne Boyack, Sales Manager
Obuse is a small, charming town in Nagano Prefecture, 20 minutes down the tracks from Yudanaka, well known as the retirement home for the famous Japanese painter Katsushika Hokusai. You have probably seen his most famous work, the "Wave off the Coast at Kanagawa". Obuse is also well know for it's unique but delicious local cuisine. From home-made soba noodles to restaurants specializing in chestnut cuisine, Obuse is sure to have something that tickles your fancy!
There are three major art museums in Obuse: the Hokusai-kan, the Nakajima contemporary art museum, and the Takaikozan that are well worth a visit.
Recommended Accommodation in Obuse
The following are our favourites from among the western-style hotels and Japanese-style inns of Obuse.

Experiences in Obuse
Obuse offers a wealth of exciting experiences that will help you get beneath the surface of Japan's fascinating culture. See below for a few of our favourites
Weather in Obuse
The Climate Guide for Obuse, Japan is perfect for planning your holiday. Monthly weather averages give the best indication of what the weather is usually like for every month of the year including figures for temperature, rainfall and sunshine.
Jan
Feb
Mar
Apr
May
Jun
Jul
Aug
Sep
Oct
Nov
Dec
Max Daytime Temperature (°C)
0
1
5
13
18
20
24
26
21
15
9
3
Min Night-time Temperature (°C)
-8
-8
-5
1
6
11
15
17
13
5
-1
-5
Hours of Sunshine (Daily)
4
4
5
6
7
5
5
6
4
5
4
4
Hours of Daylight (Daily)
10
11
12
13
14
15
14
14
12
11
10
10
Heat and Humidity Discomfort
None
None
None
None
None
None
None
Low
None
None
None
None
Days with some Rainfall
25
22
21
17
17
20
22
20
20
16
17
22
Monthly Rainfall (mm)
54
56
72
93
116
195
197
168
195
103
73
49
UV Index (Maximum)
2
3
5
7
9
10
10
10
8
5
3
2
Featured trips including Obuse
Tokyo
Kawaguchiko
Matsumoto
Obuse
Kanazawa
Kyoto
Tsumago
Tokyo

Journey across Honshu Island to visit the towns and landscapes depicted in the ukiyo-e woodblock prints of Hokusai and Hiroshige.

15 nights: from US$6448 pp (twin share) Read more >