Fuji Five Lakes
A perfect base from which to conquer Fuji-san, or merely gaze up in wonder from below - Fuji Five Lakes is a great place to visit at any time of year.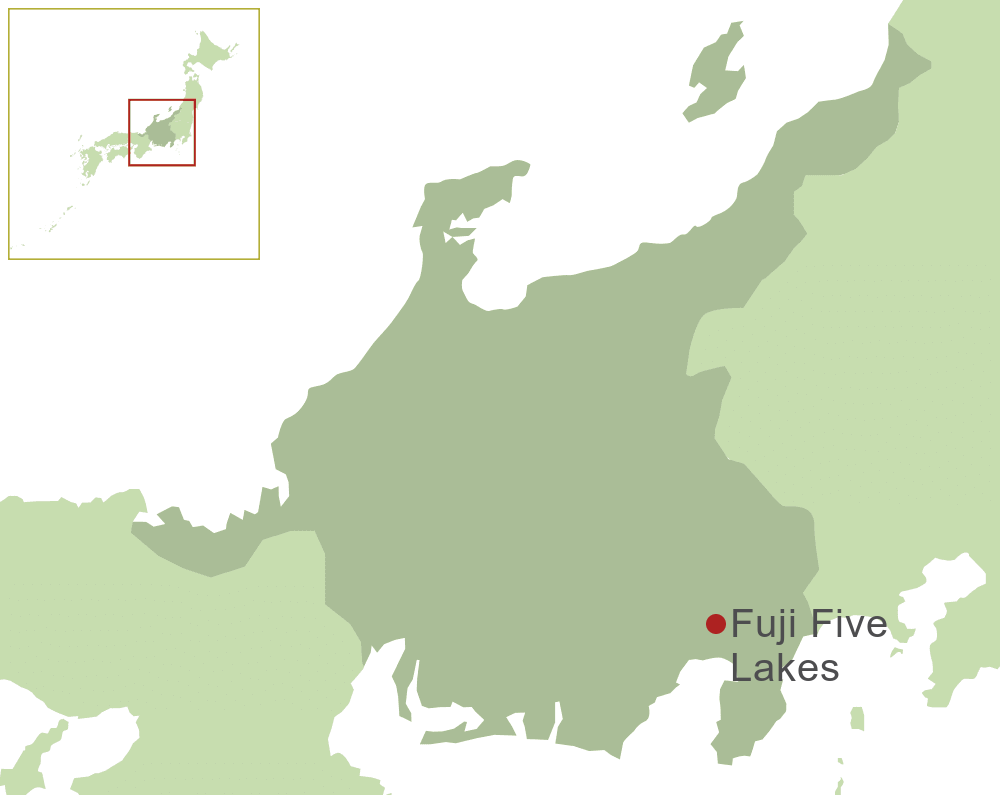 "Fantastic views of Mount Fuji in a beautiful setting."
James Mundy, PR Manager
As the name suggests, the Fuji Five Lakes area encompasses five lakes: Lake Kawaguchiko (the most visited and the most developed in terms of tourist infrastructure), Yamanakako (the largest and located furthest east), Lake Saiko (very underdeveloped), Lake Shojiko (the smallest) and Lake Motosuko (whose Fuji view appears on the back of the 1,000 yen note!).
Fuji Five Lakes is, of course, dominated by the majestic Mount Fuji. Most people visit this area either to climb to the peak of this amazing volcano or merely to gaze up in wonder from below. At 3776 m (12,388 ft), Mount Fuji is Japan's tallest most sacred mountain and it's easy to see why it was once believed to be a divine being.
Lying dormant since its last eruption in 1707, Fuji is a stratovolcano (also known as a composite volcano), built up by many layers of hardened lava into an almost perfect cone. Although statistically unlikely, the jury is still out on whether or not it could erupt again in the future!
Fuji-san is truly an amazing mountain and a must-see on any visit to Japan. It is best to visit this area in October to May as Fuji is at her most beautiful draped in snow (and she is much less likely to be hiding behind the clouds, as she often is in summer!).
To climb Fuji from this side is to follow in the footsteps of the pilgrims of ancient Japan who would hike from Tokyo to the summit as a form of worship - but those without extensive experience ought only to attempt this during the official climbing season (July-August).
There is plenty to do and see in the area, meaning that Fuji Five Lakes is a great place to visit at any time of year. Hiking, camping, snow sports, hot springs, museums and the record-breaking Fuji-Q amusement park reside between the lakes, providing plenty of amusement even when the weather decides not to oblige.
Experiences in Fuji Five Lakes
Fuji Five Lakes offers a wealth of exciting experiences that will help you get beneath the surface of Japan's fascinating culture. See below for a few of our favourites
Weather in Fuji Five Lakes
The Climate Guide for Fuji Five Lakes, Japan is perfect for planning your holiday. Monthly weather averages give the best indication of what the weather is usually like for every month of the year including figures for temperature, rainfall and sunshine.
Jan
Feb
Mar
Apr
May
Jun
Jul
Aug
Sep
Oct
Nov
Dec
Max Daytime Temperature (°C)
7
7
10
16
20
23
26
28
24
19
14
9
Min Night-time Temperature (°C)
-4
-3
0
6
10
15
18
19
16
10
4
-1
Hours of Sunshine (Daily)
6
6
6
6
6
4
4
5
4
4
5
6
Hours of Daylight (Daily)
10
11
12
13
14
14
14
13
12
11
10
10
Heat and Humidity Discomfort
None
None
None
None
None
None
Low
Moderate
None
None
None
None
Days with some Rainfall
10
12
16
16
15
19
21
17
19
15
11
8
Monthly Rainfall (mm)
51
68
132
143
143
204
222
250
249
153
88
37
UV Index (Maximum)
3
4
6
8
9
10
11
10
8
6
3
2