Noto Peninsula
The Noto Hanto, known in Japan as 'The Crooked Finger', is a 100km peninsula that juts into the Sea of Japan between Kanazawa and Toyama in northern Ishikawa Prefecture.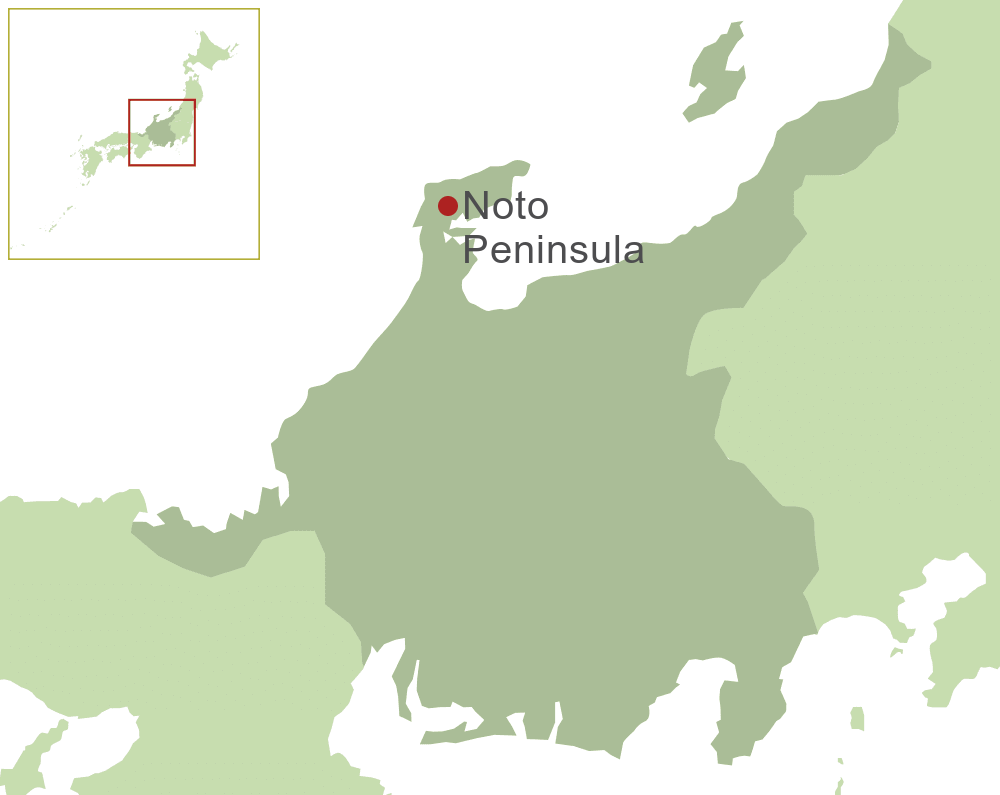 "Dynamic and wild: two words that best describe the rugged coastlines of the Noto Penisula. Get truly off the beaten track and discover dramatic cliffs and unusual rock formations"
Mark Johnson, Expert Travel Consultant
On the eastern side of the peninsula tiny fishing villages nestle along calm rolling beaches. In contrast the western side displays weather beaten rugged landscapes and dramatic rock formations. The peninsula has been designated a quasi-national park.
The Noto Hanto is best explored by hire car allowing you to meander up the coastline at a gentle pace fitting to this relaxed, rural region. The port town of Wakura Onsen is a good base with a range of accommodation, while we recommend a morning trip to Wajima to see the daily, colourful market. From there the Sosogi coastline up to the Rokko-zaki cape is the perfect place to hike over the dynamic craggy geology. At Senmaida, thousands of rice paddies cling to the slopes in terraces climbing down to the ocean. On the gentler east coast, Tsukumo-wan is a pretty bay of inlets and islands.
Driving along the coast here is an experience of Japan far removed from the major cities of the eastern seaboard. The pace of life is slow and the people warm and friendly. Foreign visitors are still something of a novelty in this region and visitors are treated with the hospitality of a returning family member. The economic input of tourists is also greatly valued as the Noto Peninsula has suffered for its isolation.
The Noto Peninsula is a beautiful and isolated destination that will be a highlight of any visit to Japan.
Weather in Noto Peninsula
The Climate Guide for Noto Peninsula, Japan is perfect for planning your holiday. Monthly weather averages give the best indication of what the weather is usually like for every month of the year including figures for temperature, rainfall and sunshine.
Jan
Feb
Mar
Apr
May
Jun
Jul
Aug
Sep
Oct
Nov
Dec
Max Daytime Temperature (°C)
4
5
10
17
22
25
29
31
26
20
14
7
Min Night-time Temperature (°C)
-4
-3
0
6
11
16
21
22
17
10
4
-1
Hours of Sunshine (Daily)
1
2
4
6
7
5
5
6
5
4
3
2
Hours of Daylight (Daily)
10
11
12
13
14
15
14
14
12
11
10
10
Heat and Humidity Discomfort
None
None
None
None
None
Low
Moderate
High
Low
None
None
None
Days with some Rainfall
18
17
17
14
14
17
19
16
17
13
14
16
Monthly Rainfall (mm)
54
54
58
68
115
173
180
125
173
100
75
65
UV Index (Maximum)
2
3
5
7
8
9
10
9
7
5
3
2
Featured trips including Noto Peninsula
Tokyo
Kanazawa
Noto Peninsula
Japan Alps
Nagano
Kusatsu
Minakami
Lake Chuzenji
Tokyo

Pile into your rental car for an unforgettable family adventure around Japan, including the Japan Alps, and the outdoor adventure mecca of Minakami.

14 nights: from US$17719 (per family) Read more >