Like this post? Help us by sharing it!
There is no "best" time to visit Japan. There are numerous reasons to travel in any of the four seasons, but there's no denying that the spring cherry blossom is the most popular by far. Autumn, meanwhile, is the second-most popular – thanks to a large extent to its stunning autumn leaves.
Japan is extremely proud of its seasons (seriously, you'd think nowhere else in the world had them), and for good reason. There are few places on earth where the differences between each passing season are so pronounced, and possibly no other place where they play such a vital role in a nation's culture – from festivals to cuisine.
From mid-September until the beginning of November, Japan's deciduous trees begin to change colour, painting mountains, parks and forests with a vibrant palette of reds, brown, oranges, golds and yellows. Just as in spring the parks and countryside are packed with revellers gathering for hanami (blossom-viewing) parties, during these months the Japanese flock to their favourite spots to appreciate the autumn leaves – called koyo or momiji (two readings of the same characters: 紅葉).
---
---
Like the cherry blossom front, the koyo front sweeps along the length of the country over the course of a few weeks – but in reverse, beginning in northern Hokkaido and travelling southwards, lighting up the mountainsides first before descending into valleys and city parks. Unlike the cherry blossom, fall colors aren't found everywhere (they prefer cooler northern climes and high altitudes), and they tend to stick around for a little longer – making them rather more reliable than their pink counterparts.
Every Japanese person will have their own favourite fall leaf-peeping spot, but for those who haven't had a lifetime to decide, we've put together a list of our top 10 favourite places to see the turning leaves:
1. Kyoto's temples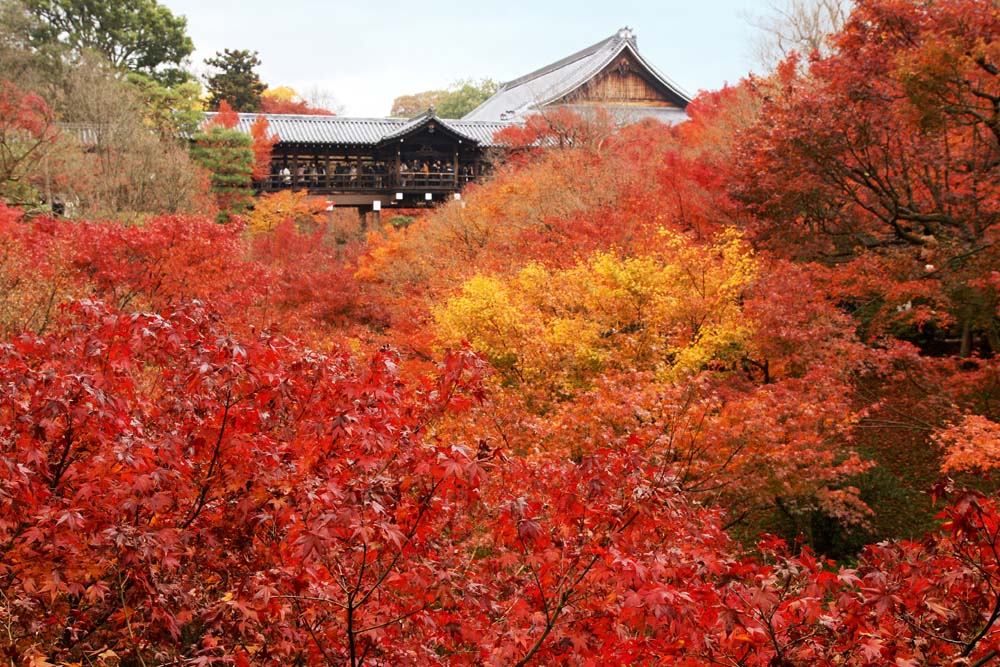 Top of our fall colors list (and probably top of most people's lists) is Kyoto: a city steeped in culture and history. It's not for nothing that Kyoto is known as the "City of Ten Thousand Temples", and it is at these temples, shrines, and gardens that you'll see some of Japan's finest autumn leaves. The colours begin to come out in around mid-November, and can last until early December. Evening is often the best time to visit, as the trees are lit up to their best advantage.
Some of the best places temples at which to see the fall colors are Tofuku-ji, Kiyomizu-dera, Yoshimine-dera, and Eikando. We also highly recommend heading out into the Arashiyama district on the outskirts of Kyoto, where the forested mountains are particularly impressive.
Do it: Our Spirit of Honshu Small Group Tour stops off in Kyoto for the fall colors (November departure). And if our group tours are sold out, then take a look at the 'Autumn Splendour' trip for a taste of Japan and the best of the fall colours.

2. Hokkaido's national parks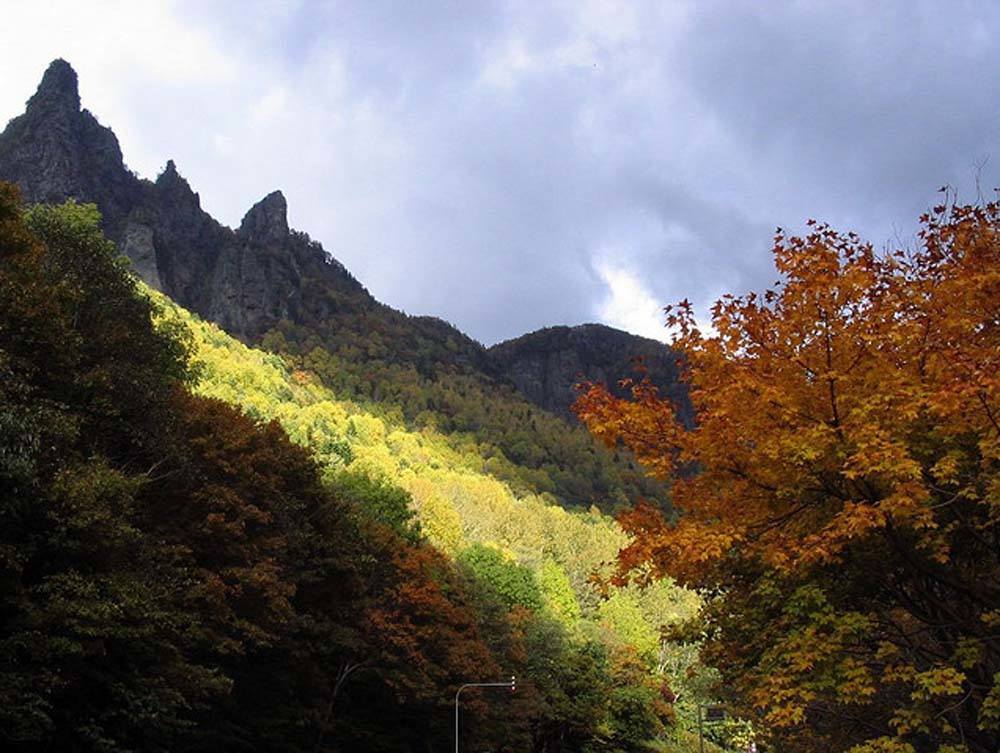 Japan's northernmost island is rarely visited by tourists, yet boasts some of the best fall colors in the country. Home to huge tracts of wilderness, mountains, volcanoes, plains, lakes and hot springs – this is a stunning place to witness autumn leaves. Our favourite spots include the Daisetsuzan National Park – the first place in Japan to see autumn colours in mid-September – and the rugged Shiretoko Peninsula.
Depending on where you go in Hokkaido, you can find autumn leaves from mid-September until late October.
Do it: Travel to Hokkaido in the fall on our Wild Hokkaido Self-Guided Adventure.
3. The Hachimantai Mountains, Tohoku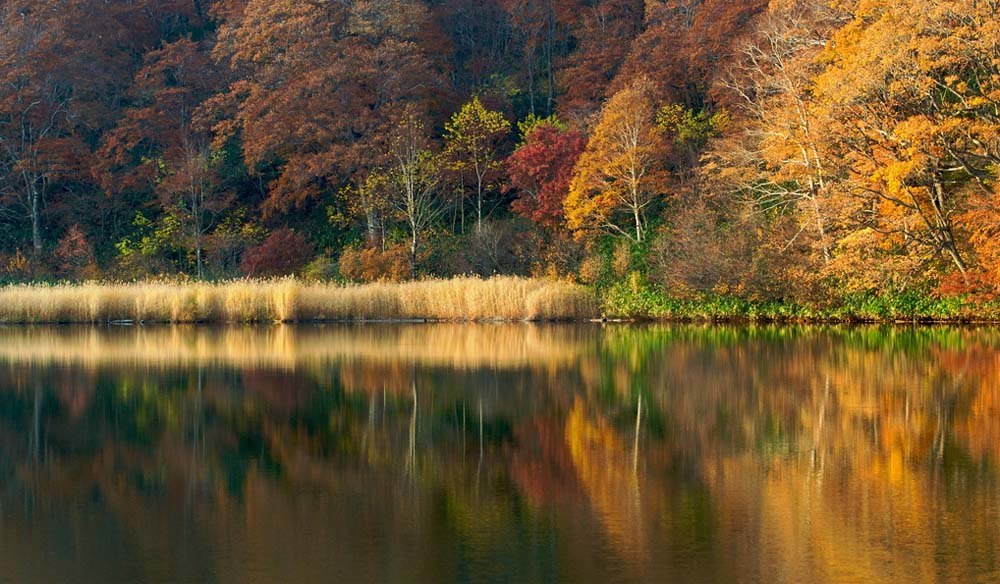 In Tohoku, the little-visited northern region of Japan's mainland, lies one of the very best fall colors spots in all of Japan. It's a little out of the way for those on just a short trip, but if you want to get off the beaten track, these mountains in the north of Akita and Iwate Prefectures are resplendent throughout October. Within the region you'll also find some fantastic onsen towns and great hiking trails – perfect for those looking for a more traditional, rural experience of Japan.
Do it: Our A Northern Soul Small Group Tour will take you to Tohoku for the autumn leaves (October departure).
4. Tokyo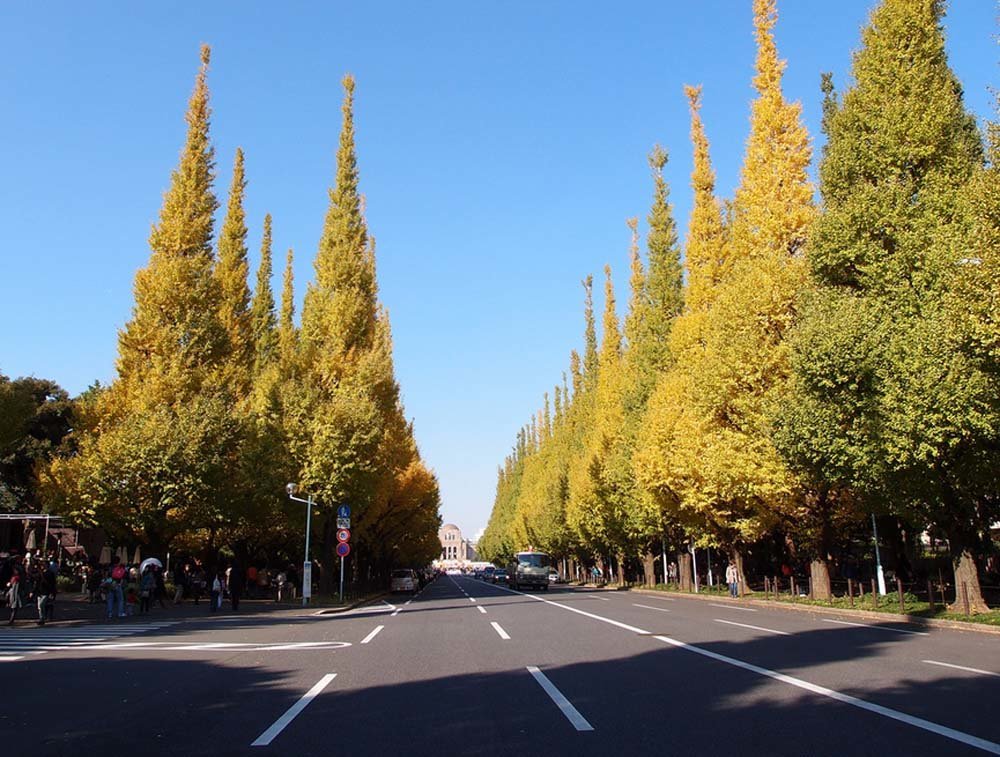 More accessible to most visitors than Tohoku or Hokkaido by far is Tokyo – the starting point of almost every Japan itinerary. Though not as vast and spectacular as the national parks of the north, it's certainly more convenient, and boasts some really excellent autumn leaves in its parks and the surrounding areas.
As well as the famous Gingko Avenue (Icho Namiki), lined with yellow-coloured gingko trees, Rikugien Park and Koishikawa Korakuen Park are excellent places to admire a variety of fall colors. A little way out of Tokyo, Mount Takao is also a popular spot – the leaves here turn slightly earlier than in the city, so if you're visiting in mid-November this is your best shout for autumn leaves. In general, the best time to see the leaves in Tokyo is from late November into early December.
Do it: Travel on our Best of Japan Self-Guided Adventure in autumn to catch the fall colors. The 'Autumn Splendour' trip gets the best of the best of Japan during the fall.

5. Lake Towada & Oirase Stream, Tohoku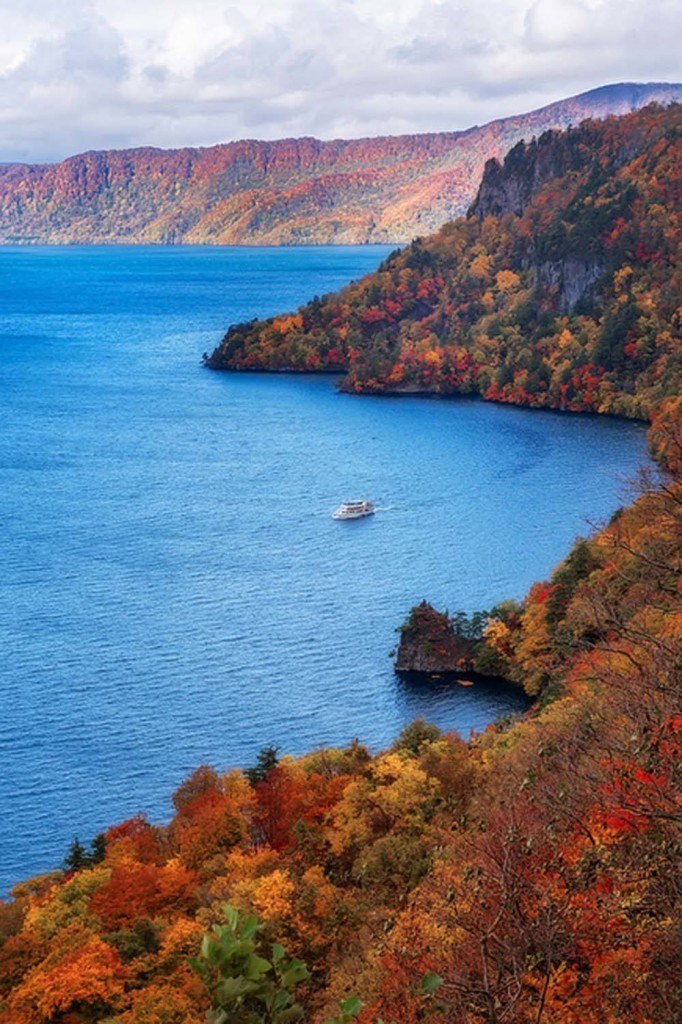 Heading up north again, the next spot on our list Tohoku's beautiful Lake Towada region, not far from the Hachimantai Mountains mentioned above. Together with nearby Oirase Stream, this is one of Japan's most famous autumn spots, displaying magnificent fall colors from late October until early November.
Do it: Get in touch with one of our expert consultants to start planning a tailor-made trip to Tohoku now.
6. Nikko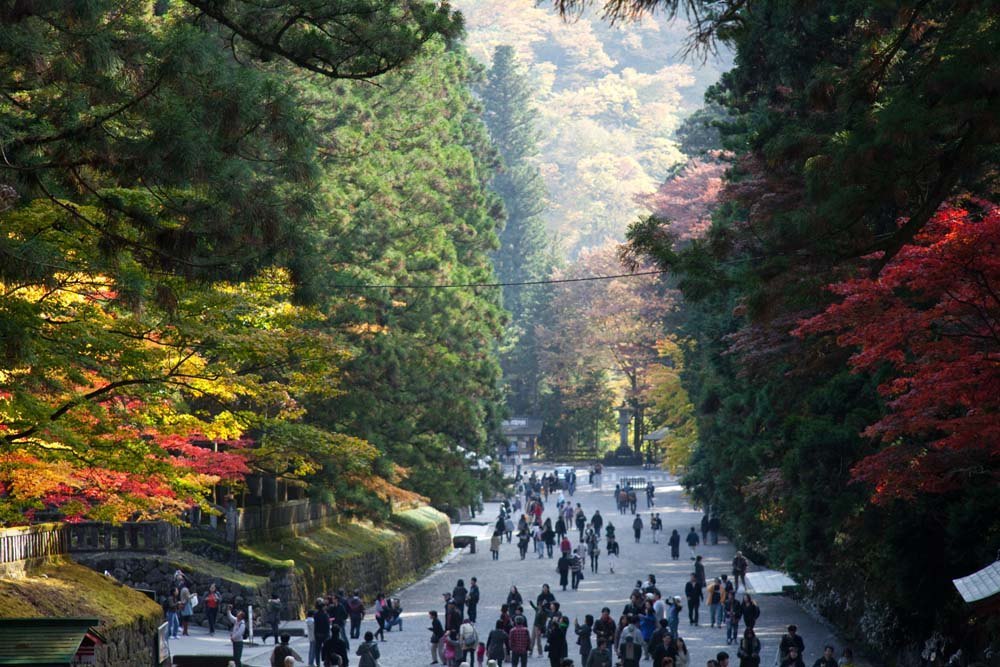 One of our favourite destinations full stop, Nikko is just a couple of hours' train ride from Tokyo and easily accessible for those on shorter visits to Japan. Home to a stunningly elaborate temple complex and the final resting place of one of Japan's most important shoguns, Nikko lies in a beautiful national park and is particularly attractive from early October until mid-November.
After you've explored the area's cultural offerings, be sure to make time to head out into the surrounding forests – especially surrounding Lake Chuzenji and the hot spring town of Yumoto Onsen, where the leaves are at their most beautiful.
Do it: Our Japan Enchantment Small Group Tour takes advantage of the autumn leaves in Nikko (September, October & November departures). Nikko also features in the 'Autumn Splendour' Self Guided Adventure.

7. Fuji Five Lakes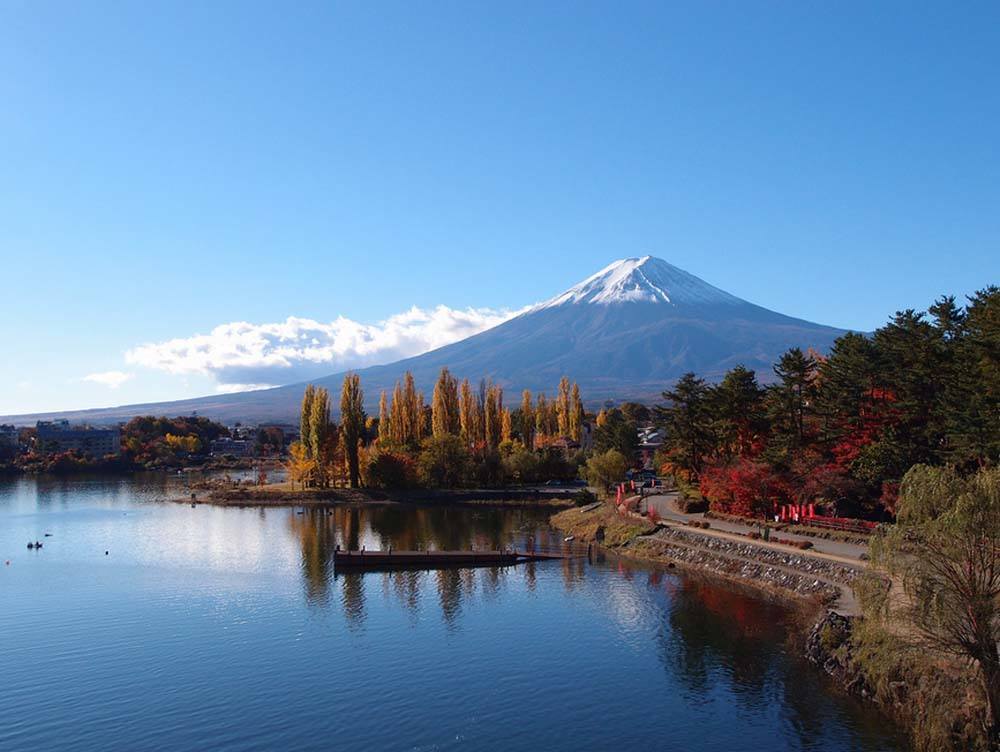 Another destination within easy reach of the capital is Fuji Five Lakes, which boasts spectacular views of Mount Fuji from the shores of Lake Kawaguchiko in particular. Though there is perhaps more to keep you occupied in Hakone, the autumn leaves at Fuji Five Lakes are definitely more impressive. Visit from late October until mid-November to catch the best of the fall colors.
Do it: Get in touch with one of our expert consultants to start planning a tailor-made trip to Fuji Five Lakes now.
8. Tateyama Kurobe Alpen Route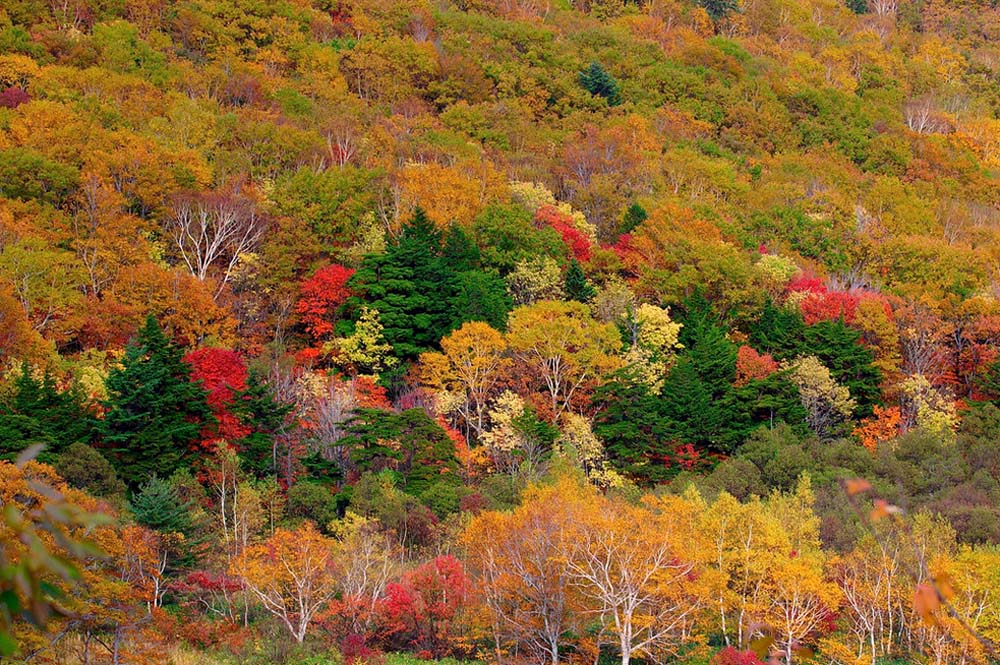 One of the more novel ways to appreciate Japan's fall colors is by travelling through the alpine scenery of the Tateyama Kurobe Alpen Route, which links Toyama City with Omachi Town via a combination of trains, cablecars, buses and ropeways. Autumn leaves love high altitudes, so along this route you'll see a wide array of different colours at different elevations. Visit any time between late September and early November and you'll be sure to see some spectacular koyo at some point along the route!
Do it: Get in touch with one of our expert consultants to start planning a tailor-made trip to include the Kurobe Alpen Route.

9. Kenrokuen Garden, Kanazawa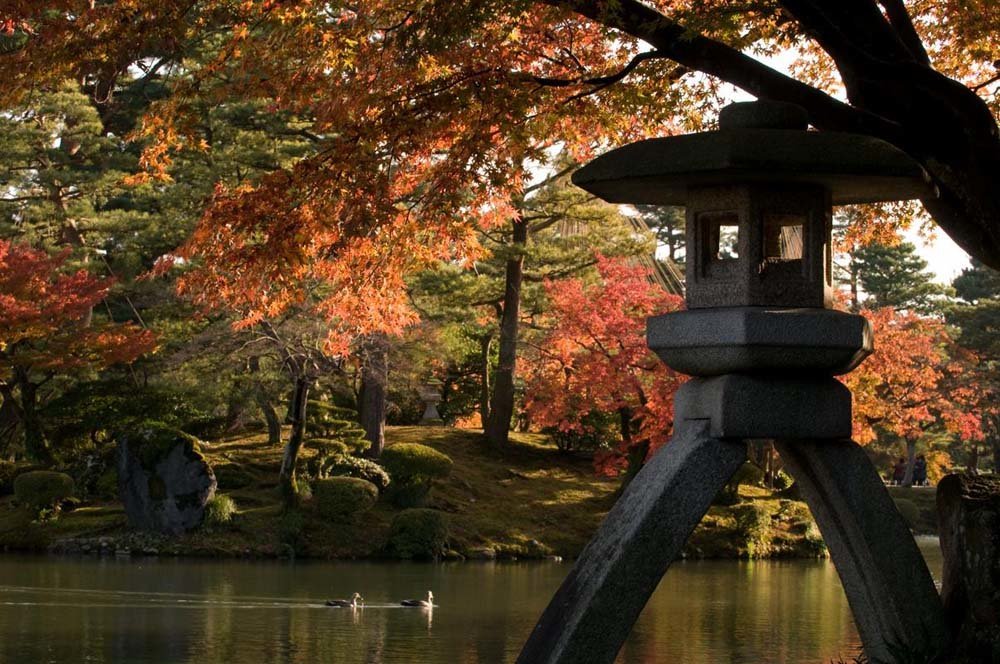 As one of the newest locations to be served by the new Hokuriku bullet train line, Kanazawa is now easier to visit than ever – and one of our personal top destinations in Japan. Known as Little Kyoto for its impressive collection of temples, shrines and gardens, Kanazawa has lots of great places to see the autumn leaves – but the best is arguably Kenrokuen Garden, acknowledged to be one of the top three landscape gardens in Japan.
Do it: Take our Traditional Japan Self-Guided Adventure during the autumn for a chance to see Kanazawa's beautiful fall colors.
10. Oze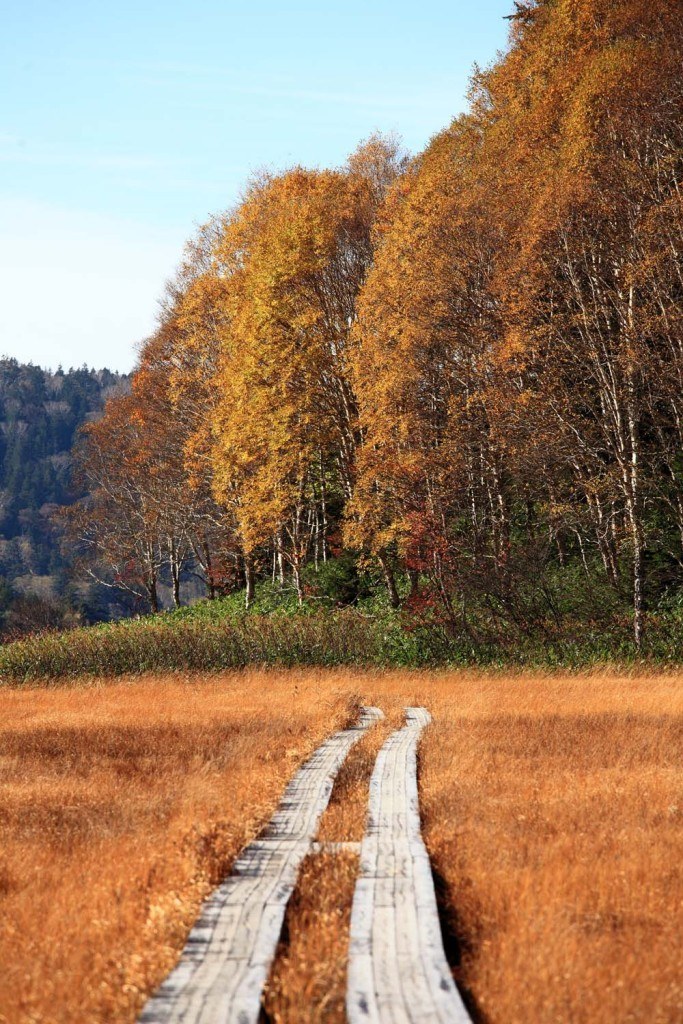 Last, but not least, Oze offers autumn colours with a twist. A national park located about 100 km north of Tokyo, this is the best place in Japan to see kusamomiji – or "autumn grass". The plains and marshland here are covered with a special type of grass that turns a beautiful colour between late September and mid-October, forming a sea of red surrounded by mountains and greenery.
Do it: Get in touch with one of our expert consultants to find out how to include Oze's autumn grass in your Japan trip.

If you want to see the best of Japan and the best of the Autumn leaves, InsideJapan has created the 13 night Autumn Splendour Self Guided Adventure.
---
Read more: Best places to see the autumn leaves by month in Japan
Save
Like this post? Help us by sharing it!