Like this post? Help us by sharing it!
Updated for 2021
Japan is extremely proud of its seasons (seriously, you'd think nowhere else in the world had them) — and for good reason. From mid-September until the beginning of November, Japan's deciduous trees begin to change colour, painting mountains, parks and forests in a vibrant palette of reds, oranges and golds.
Just as the parks and countryside are packed with revellers gathering for hanami (blossom-viewing) parties in spring, during autumn, the Japanese flock to their favourite spots to appreciate the fall foliage (called koyo or momiji – two readings of the same characters: 紅葉).
---
---
Like the cherry blossom, the koyo front sweeps along the length of the country over the course of a few weeks — but while the cherry blossom begins in Okinawa and spreads north, the autumn leaves begin in northern Hokkaido and travel south. They also tend to stick around for a little longer than the cherry blossom, making them easier to catch than their more fleeting pink counterparts.
Every Japanese person will have their own favourite autumn leaf-peeping spot. But for those who haven't had a lifetime to decide, we've put together a list of our top 10 favourite places to see the turning leaves.
1. Kyoto's temples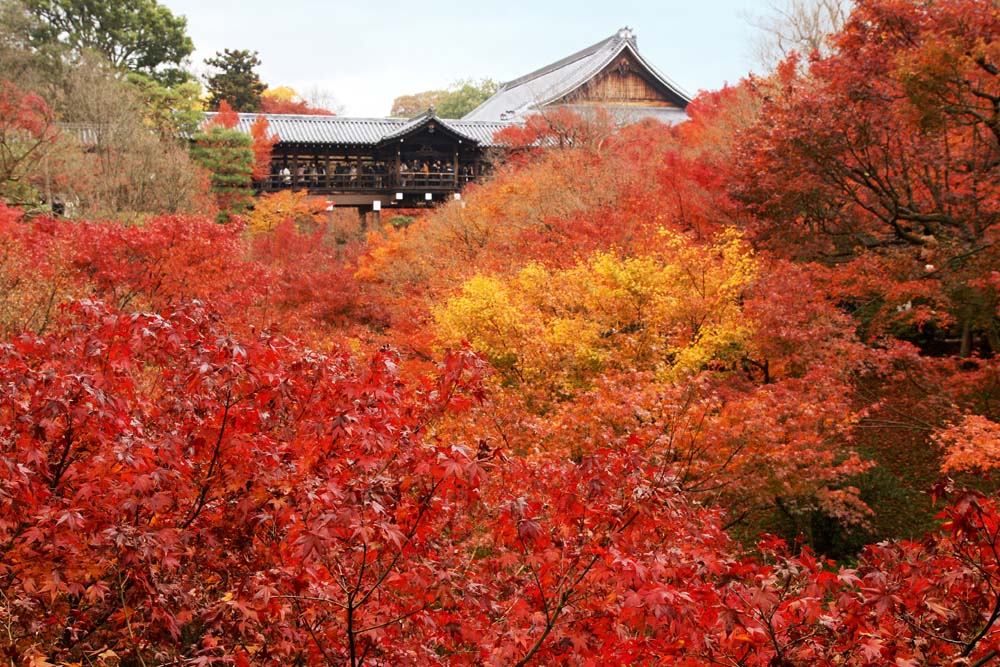 It's not for nothing that Kyoto is known as the "City of Ten Thousand Temples", and it's at these shrines and gardens that you'll see some of Japan's finest autumn leaves. The colours begin to come out in mid-November and can last until early December. The evening is often the best time to visit, when the trees are beautifully illuminated.
While most of the crowds flock to Tofuku-ji and Kiyomizu-dera, we recommend heading to Daigo-ji Temple on the outskirts of the city. One of our favourite temples at any time of year, Daigo-ji is completely stunning in the autumn, and barely known to outsiders.
Do it: Our Spirit of Honshu Small Group Tour stops off in Kyoto for the autumn colours (November departure), but if that's sold out, take a look at the 'Autumn Splendour' Self Guided Adventure.
2. Hokkaido's national parks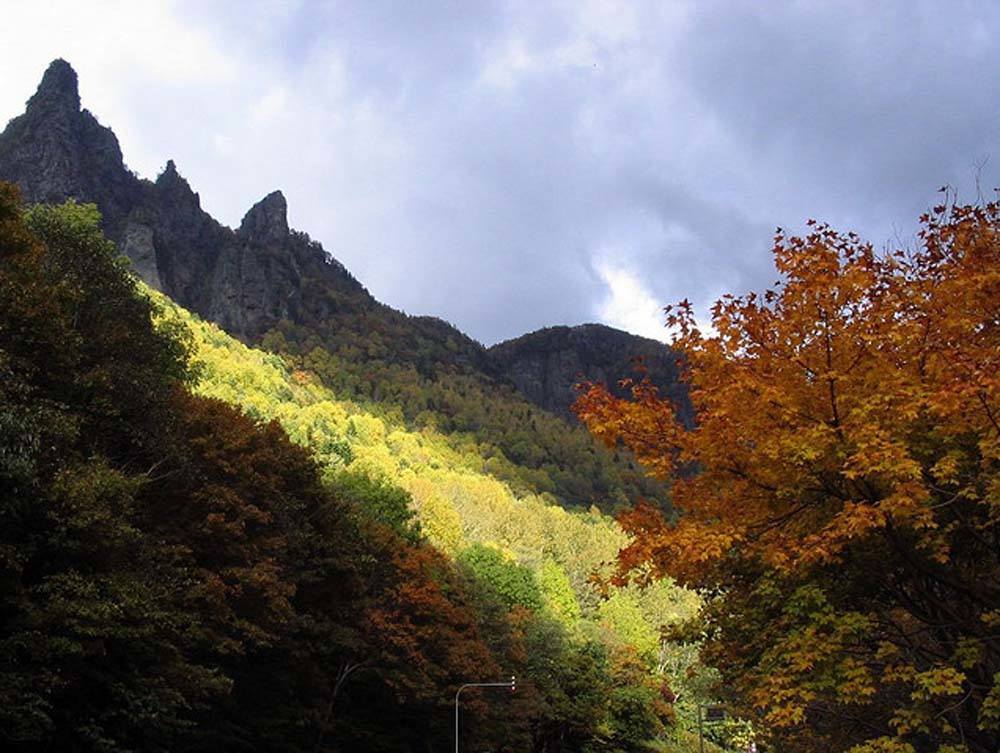 Japan's northernmost island is rarely visited by foreign tourists, yet it boasts some of the best autumn colours in the country. With huge tracts of wilderness, mountains, volcanoes, plains, lakes and hot springs, this is a stunning place to witness autumn leaves. Our favourite spots include the Daisetsuzan National Park (the first place in Japan to see autumn colours, in mid-September) and the rugged Shiretoko Peninsula.
Depending on where you go in Hokkaido, you can find autumn colours here from mid-September until late October.
Do it: Travel to Hokkaido in the autumn on our Wild Hokkaido Self-Guided Adventure.
3. The Hachimantai Mountains, Tohoku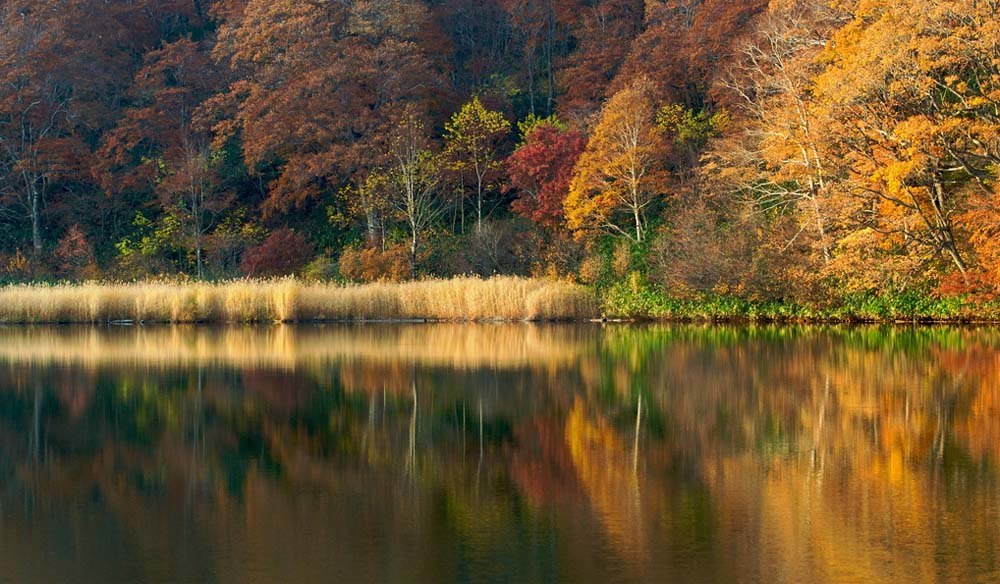 In Tohoku, the little-visited northern region of Japan's mainland, lies one of the very best autumn spots in all of Japan: the Hachimantai Mountains. They're a little bit out of the way if you're only on a short trip, but if you want to get off the beaten track, these mountains in the north of Akita and Iwate Prefectures are resplendent throughout October.
In this region you'll also find some fantastic hot spring towns and hiking trails, making it a great choice for anyone looking for a more traditional, rural experience of Japan.
Do it: Our A Northern Soul Small Group Tour will take you to Tohoku for the autumn leaves (October departure).
4. Tokyo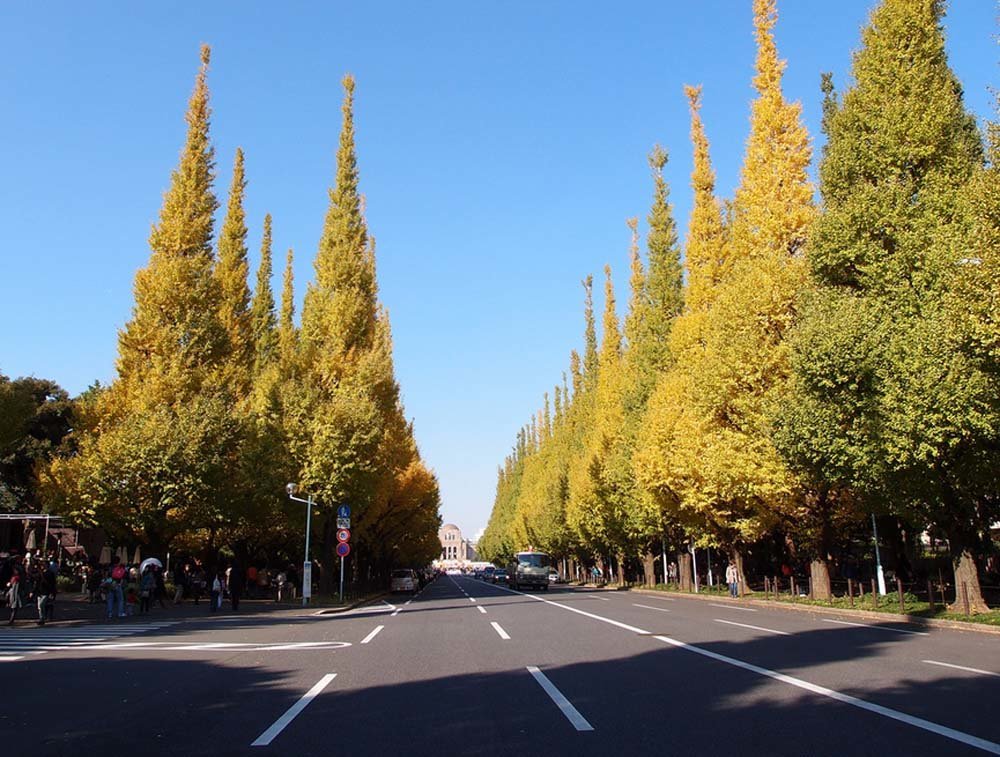 Though it's not as spectacular as the national parks of the north, Tokyo is the starting point of almost every Japan itinerary – and it boasts some excellent autumn leaves in its parks and surrounding areas.
As well as the famous Gingko Avenue (Icho Namiki), lined with yellow-leafed gingko trees, Rikugien Park and Koishikawa Korakuen Park are great places to admire a variety of autumn colours.
A little way out of Tokyo, meanwhile, Mount Takao is another popular spot. The leaves here turn slightly earlier than in the city due to the higher altitude, so if you're visiting in mid-November this is your best shout for autumn colours.
In general, the best time to see the leaves in Tokyo is from late November into early December.
Do it: Travel on our Autumn Splendour Self-Guided Adventure to experience the best of Japan in autumn.
5. Lake Towada and Oirase Stream, Tohoku
Heading up north again, the next spot on our list is Tohoku's beautiful Lake Towada, not far from the Hachimantai Mountains mentioned above. Together with nearby Oirase Stream, this is one of Japan's most famous autumn spots, displaying magnificent autumn colours from late October until early November.
Do it: Get in touch with one of our expert consultants to start planning a tailor-made trip to Tohoku now.
6. Nikko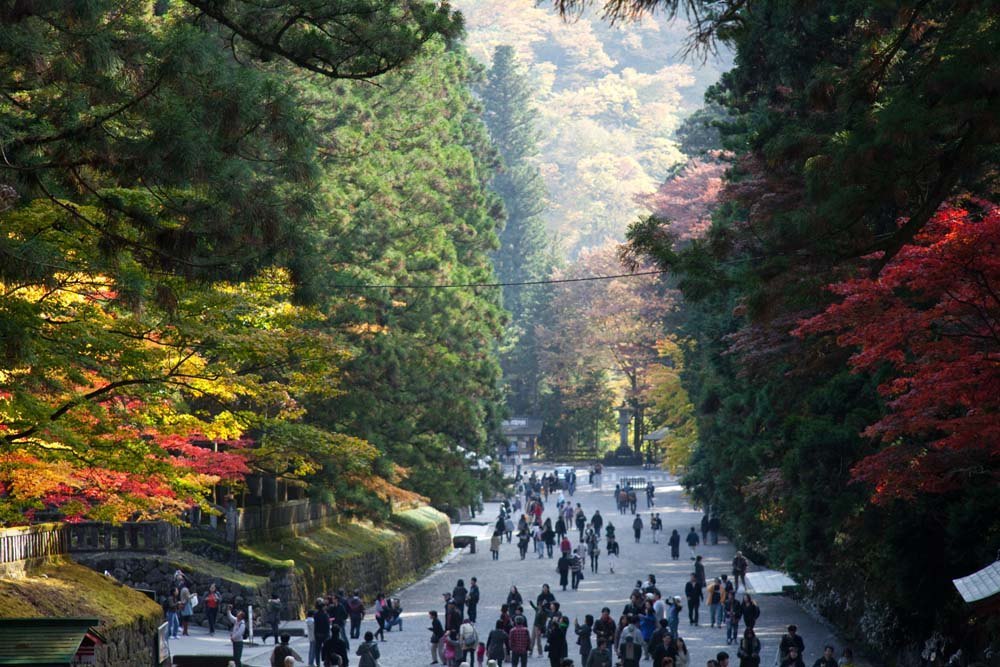 One of our favourite destinations full stop, Nikko is just a couple of hours' train ride from Tokyo, making it easily accessible even on the shortest of trips. The final resting place of Japan's most famous shogun, Nikko's elaborate temple complex is set against the backdrop of a beautiful national park and is particularly attractive from early October until mid-November.
After you've explored the region's cultural offerings, be sure to make time to head out into the surrounding forests. The area surrounding Lake Chuzenji and the hot spring town of Yumoto Onsen is where the leaves are most beautiful.
Do it: Our Japan Enchantment Small Group Tour takes advantage of the autumn leaves in Nikko (September, October and November departures). Nikko also features in our Autumn Splendour Self-Guided Adventure.
7. Kamikochi
Meaning "land of the gods", Kamikochi in the Japanese Alps really is a paradise for hikers and nature-lovers – and it's arguably at its most impressive in the autumn months.
The drive up through the mountains is stupendous, but the views in the park are even better (especially when you've just slogged to the top of a mountain for them). Reward yourself afterwards with a big bowl of noodles and a nice, long soak in an outdoor hot spring bath.
Kamikochi usually sees its autumn colours fairly early in the season, from late September to mid-October. The park closes in November, so be sure to check your dates before you travel.
Do it: Join our Classic Japan Small Group Tour to see the autumn leaves in Kamikochi (September and October departures). Alternatively, get in touch with one of our expert consultants to start planning a tailor-made trip to Kamikochi now.
8. Tateyama Kurobe Alpine Route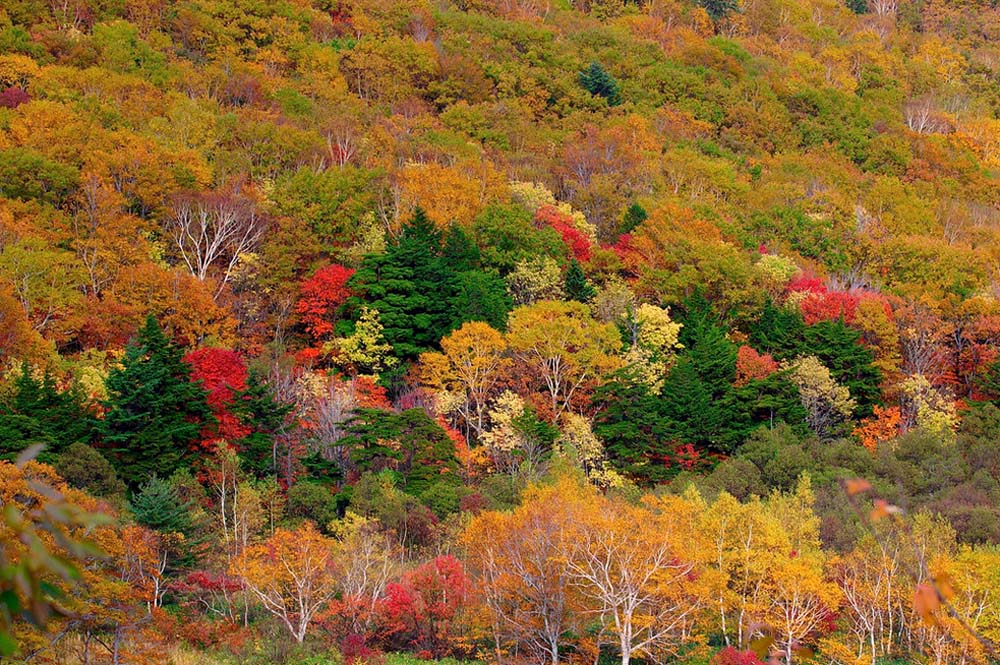 A novel way to appreciate Japan's autumn colours is to travel the Tateyama Kurobe Alpine Route, which links Toyama City with Omachi Town via a combination of trains, cable cars, buses and ropeways.
Autumn leaves love high altitudes, so along this route, you'll see a wide array of different colours at different elevations. Visit any time between late September and early November and you'll be sure to see some spectacular koyo.
Do it: Get in touch with one of our expert consultants to start planning a tailor-made trip to include the Kurobe Alpine Route. The Tateyama Kurobe Alpine Route also features in our Alpine Adventure: Family Driving Holiday Self-Guided Adventure.
9. Kenrokuen Garden, Kanazawa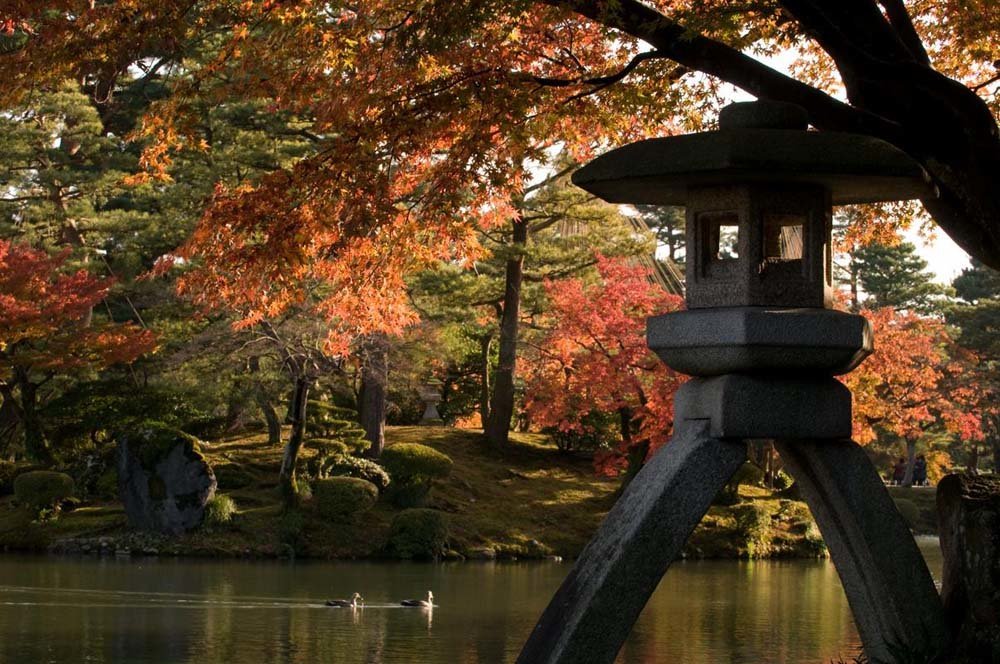 Easily accessed on the Hokuriku bullet train line, Kanazawa is one of our top destinations in Japan. Known as "Little Kyoto" for its impressive collection of temples, shrines and gardens, it has plenty of great places to see the autumn leaves – but the best is Kenrokuen, one of the top three landscape gardens in Japan.
Do it: Take our Traditional Japan Self-Guided Adventure during the autumn for a chance to see Kanazawa's beautiful autumn colours. Our Japan Unmasked and Japan Enchantment Small Group Tours also include Kanazawa and have autumn departures.
10. Miyajima
One of the most popular destinations in Japan, this tiny island across the bay from Hiroshima is famous for its friendly deer, World Heritage Shrine, and "floating" torii gate. Though it's a wonderful place to visit at any time of year, we particularly love to wander Momijidani ("Maple Valley") Park and the slopes of Mount Misen in autumn.
Miyajima usually enjoys its autumn colours from mid-October until mid-December, peaking around the 15th of November.
Do it: Our Best of Japan Self-Guided Adventure is a superb introduction to the country and includes a visit to Miyajima.
Bonus: The Shin-Etsu Trail
Last but not least, the Shin-Etsu Trail offers autumn colours with a twist. A 70-kilometre (44-mile) hiking path that follows the ridge of the Sekida Mountains between the prefectures of Niigata and Nagano, this hike will take you through dense cedar forests, peaceful beech woods, grassy marshland and knife-edge ridgelines. Compared with some of Japan's better-known hikes, it's a blissfully peaceful trail and easy to follow on your own – though we recommend enlisting a guide, at least for your first day.
The Shin-Etsu Trail makes for one of the best spots to view autumn leaves in Japan, and you'll find the trees are typically at their finest from late September through to mid-October.
Do it: Get in touch with one of our expert consultants to find out how to include all or part of the Shin-Etsu Trail on your Japan trip.
---
Read more: Best places to see the autumn leaves by month in Japan
Save
Like this post? Help us by sharing it!