Kanazawa
Kanazawa is one of Japan's best-preserved historical cities, with a wonderful samurai quarter, fascinating geisha district, all kinds of traditional crafts and one of the top three (if not the top one) landscape gardens in Japan.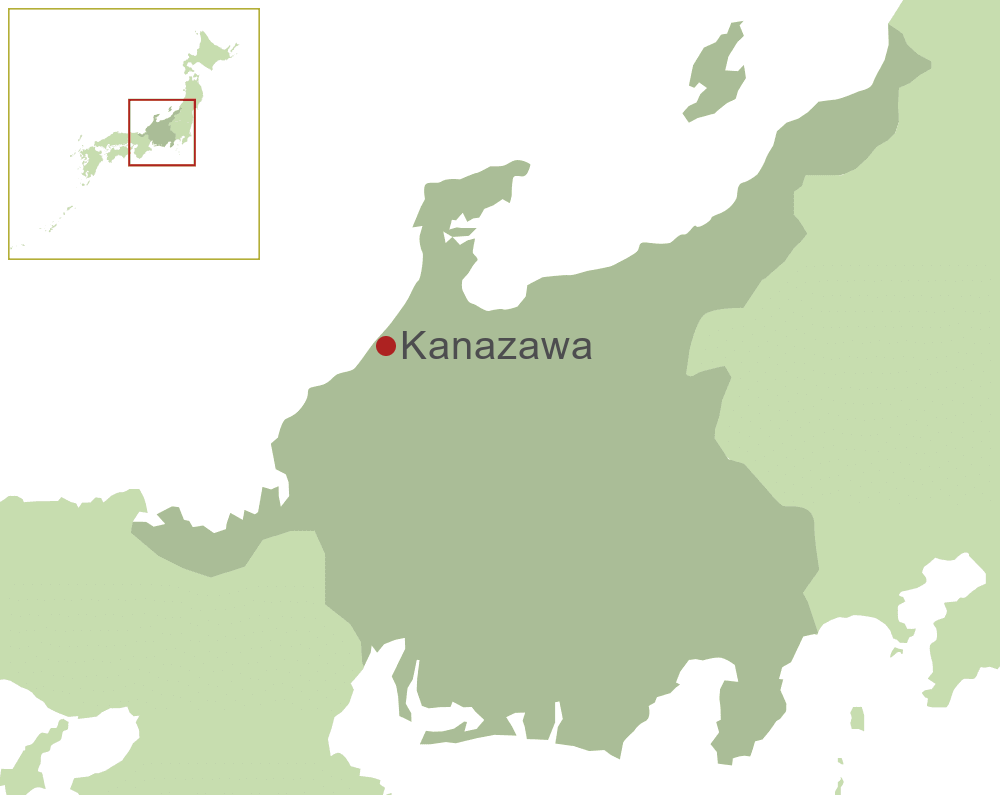 "If I had to name a 'Goldilocks Zone' in Japan, a place where everything is 'just right', Kanazawa would fit the bill. With a great balance of modern and traditional sights, there's something for everyone."
Richard Farmer, Tour Leader Team Leader & former resident of Kanazawa
Until 150 years ago, Kanazawa was the fourth-largest city in Japan, its wealth built on high rice production and long periods of peace. However, left behind by mass industrialisation, modern Kanazawa is one of Japan's smaller urban centres and has retained its charm in a way that many Japanese cities have not.
From the mid-16th century, Kanazawa was the seat of the Maeda Clan, who ruled the city and prefecture of Ishikawa for nearly three centuries. Recently dramatised for TV, the story of the Maeda Clan is one of wealth, excess, violence, and (perhaps incongruously) extensive patronage of the arts. Such was their prosperity that the period of their rule became known as the Hyakumangoku period, meaning "one million bushels of rice" - a measure of extreme wealth. Today the samurai may be long gone, but the legacy of the Maeda clan can still be seen in modern day Kanazawa - for example in the Hyakumangoku Festival, Kanazawa's biggest, which features a column of dancers several kilometres long.
Kanazawa prides itself on its refinement and heritage - and since it was spared bombing during World War Two many of its historical buildings and artifacts have been preserved to this day. A wander into any of the city's three tea districts (Higashiyama, Nishichaya-gai and Kazue-machi), the home of Kanazawa's geisha, will transport you into another world where you can slip into a teahouse and enjoy a few moments' rest and relaxation. In Nagamachi you can visit earthen-walled residences in one of the best-preserved samurai quarters in Japan, while at Kenrokuen you can spend a couple of hours strolling in what is perhaps the country's most beautiful landscape garden - a stunning sight in any season.
In addition to its historical districts, Kanazawa is known for the high quality of its traditional crafts, and in 2009 it was recognised as a city of crafts and folk art by UNESCO. Kutani pottery, kaga-yuzen silk dyeing, lacquer ware and gold leaf are still practised in small workshops across the city, and in some cases you can try your hand at these ancient arts for yourself. It's even possible to order an ice cream topped with gold leaf if you like!
Furthermore, the arts enjoyed by the Maeda clan are still very much alive. With a history stretching back over 600 years, Kanazawa is one of the few places where Noh drama still flourishes. So ingrained is it within the culture of Kanazawa that gardeners in Kenrokuen are traditionally reputed to sing Noh chants whilst trimming the trees - thus giving birth to the curious saying: "Noh chants fall from the heavens".
It may lack the crowds of Japan's bigger cities, but Kanazawa lacks none of the energy. Every morning, traders at the Omicho Market set up stalls and sell an array of fish, famous Japan-wide for its freshness and quality; the weekends see busy department stores and lively bars and restaurants in full swing. It's certainly not all quaint streets and traditional refinement either - as Kanazawa is also home to the excellent, cutting-edge 21st Century Museum of Modern Art, the outstanding Kanazawa Station (one of the most beautiful train stations in the world, apparently!), and the Katamachi district - affectionately known as "The Scramble" - packed with people, shops and restaurants.
Kanazawa is a look at the other side of Japanese city life, one where everything doesn't happen at a hundred miles an hour and where people still have time to appreciate the finest elements of the Japanese tradition.
Recommended Accommodation in Kanazawa
The following are our favourites from among the western-style hotels and Japanese-style inns of Kanazawa.
Experiences in Kanazawa
Kanazawa offers a wealth of exciting experiences that will help you get beneath the surface of Japan's fascinating culture. See below for a few of our favourites
Weather in Kanazawa
The Climate Guide for Kanazawa, Japan is perfect for planning your holiday. Monthly weather averages give the best indication of what the weather is usually like for every month of the year including figures for temperature, rainfall and sunshine.
Jan
Feb
Mar
Apr
May
Jun
Jul
Aug
Sep
Oct
Nov
Dec
Max Daytime Temperature (°C)
5
5
9
16
21
24
28
30
26
20
14
9
Min Night-time Temperature (°C)
-1
-1
1
6
11
16
21
22
18
11
6
2
Hours of Sunshine (Daily)
2
3
4
6
7
5
5
6
5
5
3
2
Hours of Daylight (Daily)
10
11
12
13
14
15
14
14
12
11
10
10
Heat and Humidity Discomfort
None
None
None
None
None
None
Moderate
High
Low
None
None
None
Days with some Rainfall
29
26
24
18
16
18
18
17
19
19
23
28
Monthly Rainfall (mm)
257
177
145
130
141
194
227
171
245
174
244
255
UV Index (Maximum)
2
3
5
7
8
9
10
9
8
5
3
2
Featured trips including Kanazawa
Tokyo
Kawaguchiko
Matsumoto
Obuse
Kanazawa
Kyoto
Tsumago
Tokyo

Journey across Honshu Island to visit the towns and landscapes depicted in the ukiyo-e woodblock prints of Hokusai and Hiroshige.

15 nights: from AU$9424 pp (twin share) Read more >

Tokyo
Kanazawa
Shirakawago
Takayama
Matsumoto
Tsumago
Kyoto
Tokyo

A classic 14-night adventure introducing the traditional side of Japan, from Japanese-style inns to time-honoured cuisine and ancient temples.

14 nights: from AU$6289 pp (twin share) Read more >

Tokyo
Kanazawa
Noto Peninsula
Japan Alps
Nagano
Kusatsu
Minakami
Lake Chuzenji
Tokyo

Pile into your rental car for an unforgettable family adventure around Japan, including the Japan Alps, and the outdoor adventure mecca of Minakami.

14 nights: from AU$25897 (per family) Read more >