Nozawa Onsen
Nozawa Onsen, located in the northern part of Nagano Prefecture, is a hot spring and ski resort village of 5000 inhabitants. Renowned for its onsen since the Edo period, the village also played a significant role in the history of skiing in Japan.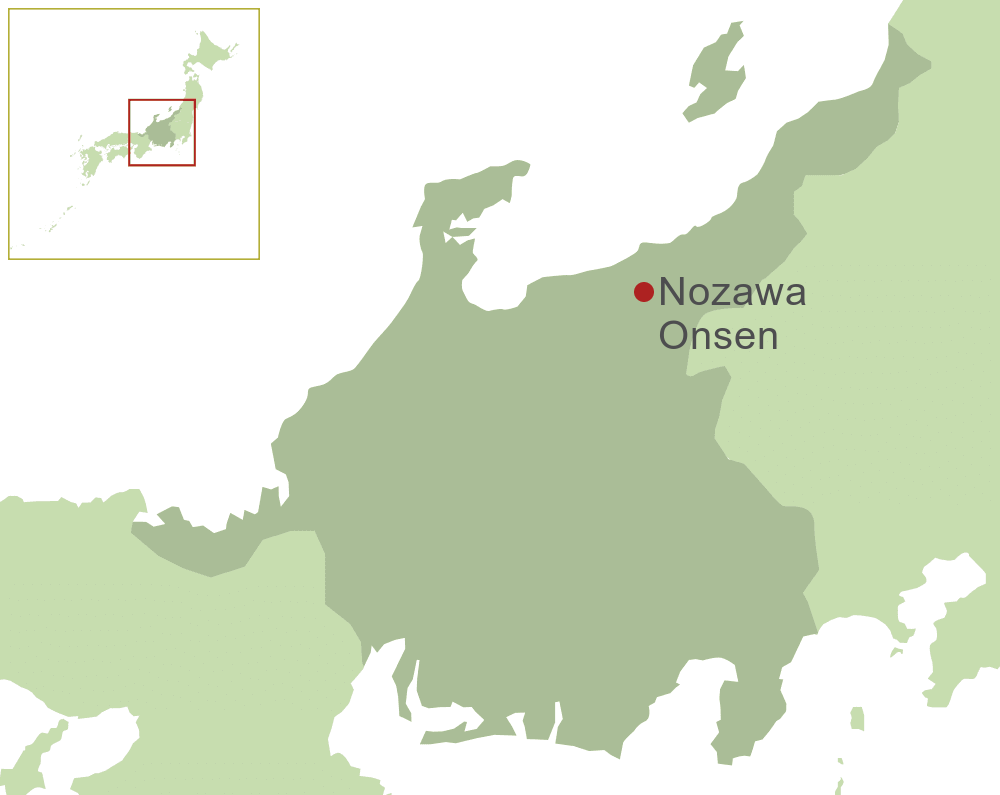 The village is located at the foot of Kenashi-yama at an altitude of 1650 metres and in beautiful natural surroundings - lush green in spring and summer, coloured leaves in autumn and of course a spectacular snow covered backdrop in winter. Nozawa Onsen strives to maintain a traditional atmosphere and manages admirably, with its numerous traditional ryokan and free onsen for relaxation after a day on the slopes. Out of the winter season the village is quiet, but as the snow arrives, so do the energy levels, as the skiers and snowboarders appear for the fresh powder snow.
Skiing was introduced to Japan in 1911 by Austrian Major Theodo von Lerch and came to Nozawa the following year. It was in 1930 that one of the founders of alpine skiing, Hannese Schneider from Austria, taught the techniques of Arlberg skiing here, which brought about the sudden rise in the enthusiasm of skiing in Nozawa Onsen. Since then, the town has always been at the top of the Japanese skiing scene, and more recently snowboarding, and it was the first place in the country to install ski lifts and also hold numerous major skiing and snowboarding tournaments.
No visit to Nozawa Onsen would be complete without taking a hot spring bath. After all, the Onsen in Nozawa Onsen is the Japanese word for hot springs! Many ryokan and a few minshuku have their own hot spring bathing facilities but everyone can enjoy free of charge any of the thirteen public hot spring baths known as sotoyu. They all have a different source with distinct characteristics that provide for a variety of different mineral baths - perfect after a long day on the slopes!