Togarinozawa Onsen
Located just over an hour away from Nagano on the local line, Togarinozawaonsen is a quiet rural town offering far more than initially meets the eye.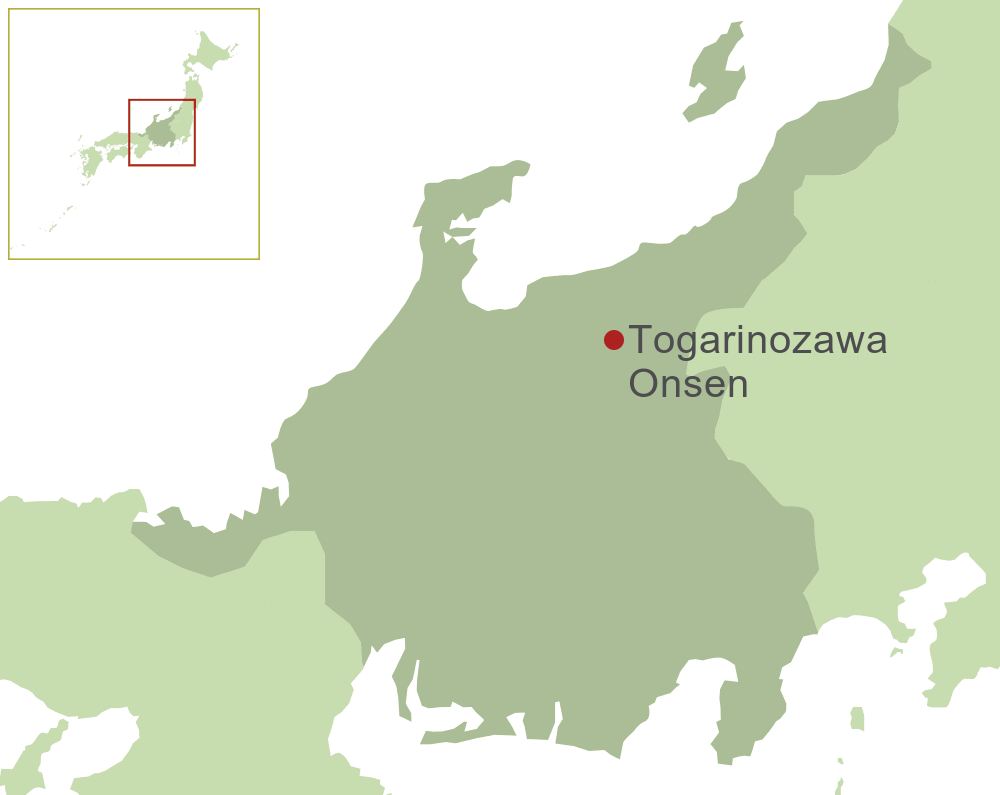 "Wandering down the deserted high street in Togarinozawa I felt as though I had stepped 20 years back in time. The laid back atmosphere, delicious local food and the stunning views across the valley are more than enough reason to spend a night or two in this sleepy but picturesque rural retreat"
Mark Johnson, Expert Travel Consultant
As a gateway to one of Japan's oldest ski resorts (Nozawa), winter sees a rush of people bypassing the town and heading straight to the ski slopes (about 15 minutes away by bus). However, there are plenty of reasons to stick around in town and to visit outside of the busy ski season.
Upon exiting the station you are presented with a seemingly uninspiring sleepy ghost town with a few shops (including one selling just alarm clocks!) and houses dotted along the short high street.
Beyond this you don't have to walk far to catch a glimpse of stunning uninterrupted views across the valley thanks to vast areas of flat farmland (quite a rare sight in Japan). Whether it's inspiration for art, meditation, local hiking or simply soaking up the surroundings, Togarinozawaonsen is a great place to relax and unwind after a hectic city stay.

Local accommodation including rural farm stays offer a host of interesting activities including helping out on nearby farmland (everything from planting peanuts to harvesting asparagus), canoeing on beautiful Lake Hokuryuko (white water rafting is also available locally for the more adventurous), chopstick making and getting involved in the kitchen preparing local dishes such as sasazushi delicately served on bamboo leaves.
As the name suggests the town is also famous for its hot spring baths which can't be missed. You will leave feeling refreshed, relaxed and inspired!
Recommended Accommodation in Togarinozawa Onsen
The following are our favourites from among the western-style hotels and Japanese-style inns of Togarinozawa Onsen.
Experiences in Togarinozawa Onsen
Togarinozawa Onsen offers a wealth of exciting experiences that will help you get beneath the surface of Japan's fascinating culture. See below for a few of our favourites
Featured trips including Togarinozawa Onsen
Iiyama
Togarinozawa Onsen

Lace up your hiking boots for a three-day hike along the Sekida Mountain's Shin-Etsu Trail.

3 nights: from AU$1520 pp (twin share) Read more >

Iiyama
Togarinozawa Onsen

Combine days of intrepid hiking along the 70km-long Shin-Etsu with a relaxing day off at a family-run inn in a rural village.

4 nights: from AU$1748 pp (twin share) Read more >

Iiyama
Togarinozawa Onsen

Feel a sense of achievement as you complete all six days and 70km of the Shin-Etsu Trail.

6 nights: from AU$2755 pp (twin share) Read more >