Itoigawa
Itoigawa is a small rustic city located on the coast of western Niigata about 350km northwest of Tokyo, where the mountains of the Northern Japanese Alps meet the Japanese sea. The area is rich in lush nature and fully experiences all four seasons, with hot summers and cold, snowy winters.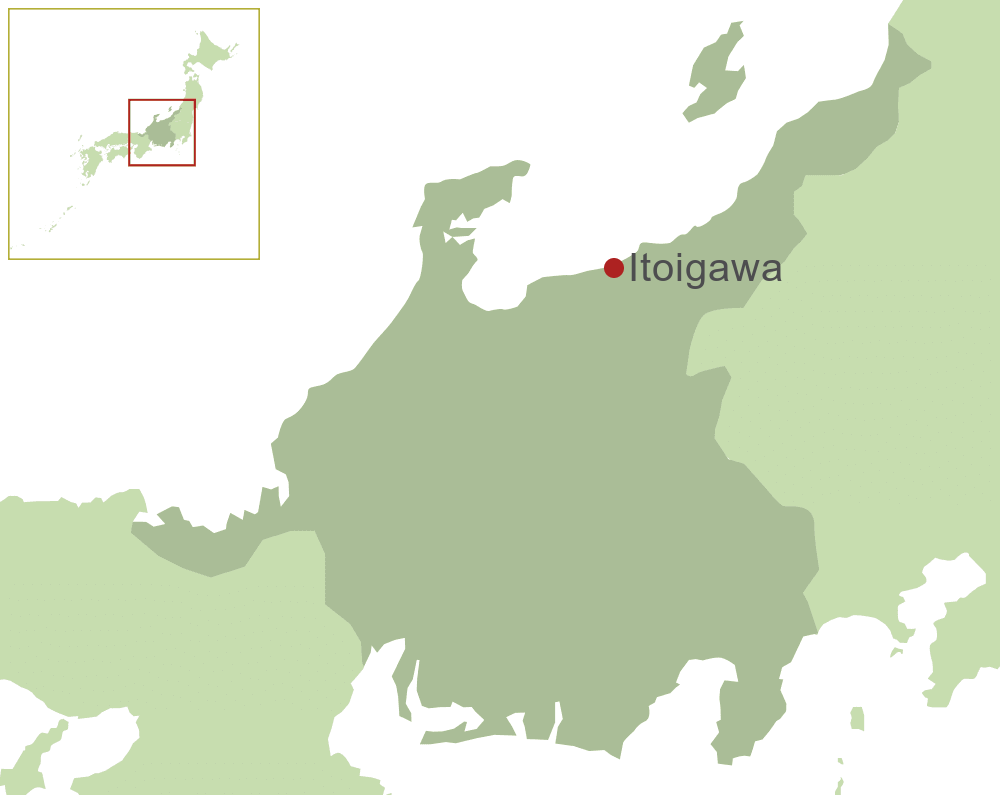 "Itoigawa surprised me. In this sleepy small town on the Sea of Japan coast you can find much of the essence of Japan, from the freshest seafood at the quayside market, to the local bonsai master tending thousand year old trees. There is more discover in this tiny area than I ever imagined."
Alastair Donnelly, Director
Located between two mountain ranges and the Sea of Japan, Itoigawa offers striking scenery. In this single city, the elevation ranges from 0m along the coast to 2,766m at the peak of Mt. Korenge. Cycling, hiking, rock climbing, skiing, swimming, fishing, and onsen hot spring bathing are just a few of the exciting outdoor activities enjoyed in Itoigawa. Of particular note for onsen enthusiasts is Renge Onsen, which includes 4 rotenburo outdoor baths located on a mountainside about 1,500m above sea level.
Home to many rice farmers, fishermen and Sake brewers, Itoigawa never fails to serve a variety of fresh local food. A number of quality restaurants and boutiques offer these delicacies daily to locals and visitors alike.
The gemstone jade is a unique symbol of the city - in Japan it can only be found here, in the stunningly beautiful Jade Gorges. Because of this and the many other geological peculiarities of the region, Itoigawa has been a member of the UNESCO-sponsored Global Network of GeoParks since 2009, the first Japanese GeoPark to earn this distinction. It is home to multiple sites of both geological and cultural interest, including the Fossa Magna Park, which features an exposed section of the tectonic fault that separates Japan into East and West.
Itoigawa is like a hidden beauty, offering many treasures of the Japanese culture and lifestyle, which can be experienced first-hand in a variety of relaxing spots. Itoigawa's varied natural and cultural treasures make it an attractive destination to visit all year long.

Weather in Itoigawa
The Climate Guide for Itoigawa, Japan is perfect for planning your holiday. Monthly weather averages give the best indication of what the weather is usually like for every month of the year including figures for temperature, rainfall and sunshine.
Jan
Feb
Mar
Apr
May
Jun
Jul
Aug
Sep
Oct
Nov
Dec
Max Daytime Temperature (°C)
4
5
9
17
22
25
29
30
25
19
13
7
Min Night-time Temperature (°C)
-5
-5
-1
5
10
16
20
21
16
9
3
-2
Hours of Sunshine (Daily)
2
3
5
6
7
5
5
6
4
4
4
3
Hours of Daylight (Daily)
10
11
12
13
14
15
14
14
12
11
10
10
Heat and Humidity Discomfort
None
None
None
None
None
Low
Moderate
High
Low
None
None
None
Days with some Rainfall
19
18
18
15
15
18
20
17
18
14
15
17
Monthly Rainfall (mm)
58
61
69
85
108
166
170
122
168
96
83
69
UV Index (Maximum)
2
3
5
7
8
9
10
9
7
5
3
2