Naruko Onsen
Naruko Onsen is a classic Japanese hot spring spa village nestled in the hills of northern Japan. It is known for the restorative effects of its fine waters which contain a variety of minerals and have been celebrated (and bathed in) for over 1000 years.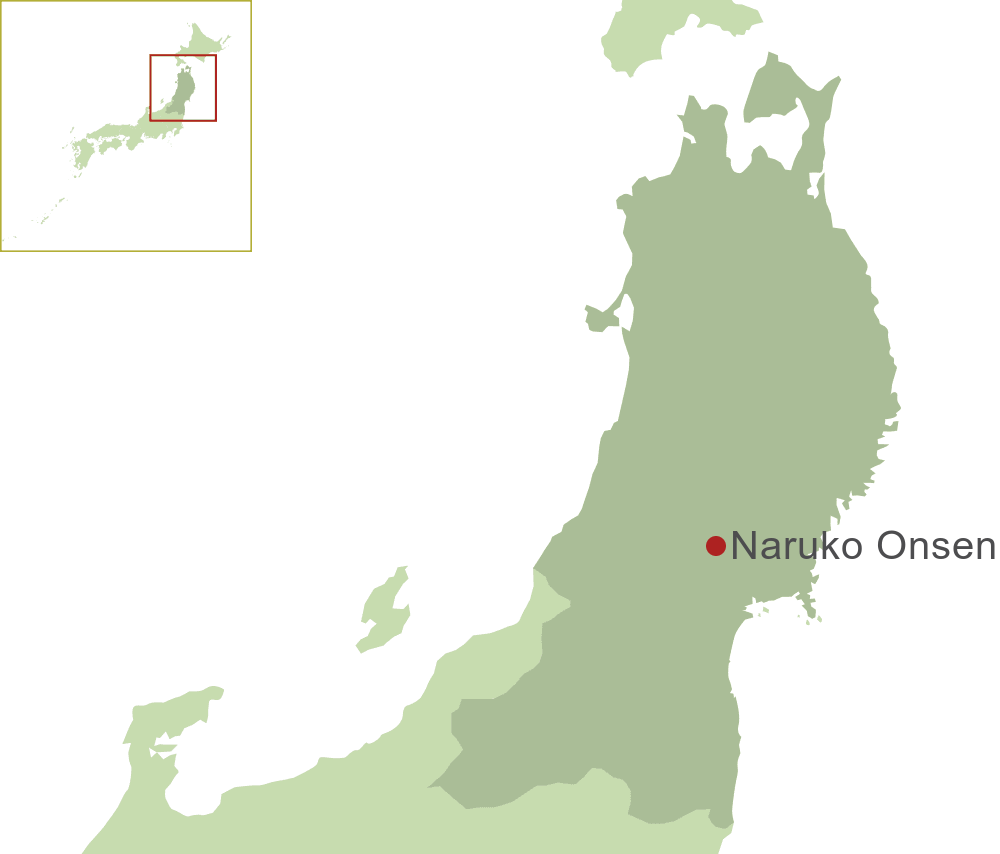 "From the first moment I arrived in Naruko and saw the rows of passengers dipping their toes in the station foot bath I felt like this was the glimpse of onsen town life I had been looking for"
Alastair Donnelly, Director
The village sits by a large ravine formed by the Ohya River, the entrance of which lies a pleasant 20 minutes on foot from Naruko station. There are some nice walking trails along the valley and a spectacular bridge crossing the gorge. This is where you'll also find the Shitomae check-point and the start of a 5 kilometre country path which was part of Matsuo Basho's poetic journey north in his book The Narrow Road to the Deep North.
Naruko Onsen is also the place to find traditional wooden Kokeshi dolls and a fine local lacquer ware which dates back 350 years. The Japan Kokeshi Centre contains about 7,000 Kokeshi dolls, which are notable for their elegant features and bright colours.
A stay here normally includes lovely meals at your Japanese style ryokan, plenty of time to soak in the baths and some good walks in the countryside. And for those with ailments, the high sulphur content is believed to relieve hardened arteries and high blood pressure and leaves the skin smooth and soft.
Recommended Accommodation in Naruko Onsen
The following are our favourites from among the western-style hotels and Japanese-style inns of Naruko Onsen.

Weather in Naruko Onsen
The Climate Guide for Naruko Onsen, Japan is perfect for planning your holiday. Monthly weather averages give the best indication of what the weather is usually like for every month of the year including figures for temperature, rainfall and sunshine.
Jan
Feb
Mar
Apr
May
Jun
Jul
Aug
Sep
Oct
Nov
Dec
Max Daytime Temperature (°C)
1
2
6
13
18
22
25
27
23
17
11
5
Min Night-time Temperature (°C)
-5
-5
-2
3
8
13
17
19
14
7
2
-2
Hours of Sunshine (Daily)
4
4
5
6
7
5
5
6
4
5
4
3
Hours of Daylight (Daily)
10
11
12
13
14
15
15
14
12
11
10
10
Heat and Humidity Discomfort
None
None
None
None
None
None
Low
Moderate
None
None
None
None
Days with some Rainfall
27
24
23
18
18
19
21
19
20
19
22
26
Monthly Rainfall (mm)
76
82
83
112
104
146
180
202
177
109
101
72
UV Index (Maximum)
2
3
4
6
8
9
10
9
7
4
2
2
Featured trips including Naruko Onsen
Tokyo
Nikko
Hiraizumi
Naruko Onsen
Ishinomaki
Sendai
Niigata
Sado Island
Tokyo

Discover the beautiful yet little-visited region of Tohoku, home to rugged national parks, historic cities, and enchanting hot spring towns.

14 nights: US$6240 Read more >