Yamagata
Only a handful of foreign visitors to Japan make it to Yamagata, but if you are one of them you can be sure of a good time and an insight into Japan beyond the bright lights and classic tourist sights.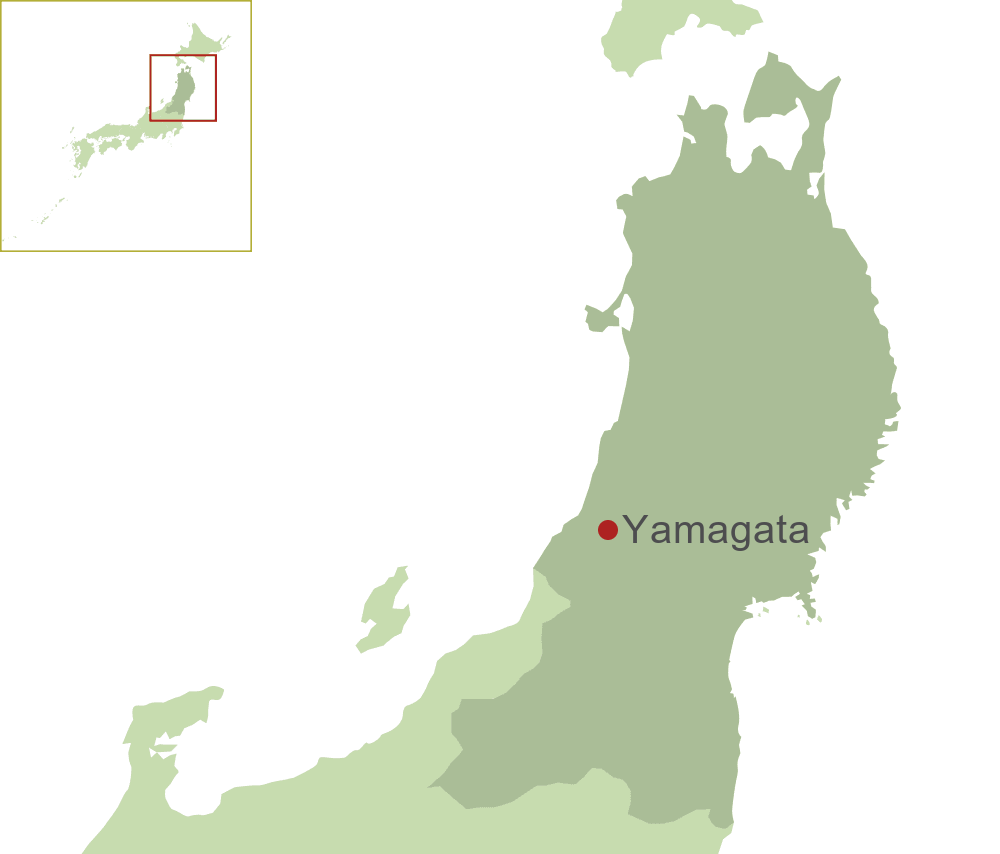 "Northern Tohoku has a reputation for being rural, laid-back and perhaps just a little bit backward. I think that Yamagata is a fine example of this – in a good way! I lived here for a year and had an amazing time indulging in unusual local foods, watching (and joining in!) colourful local festivals "
Harry Sargant, Marketing & Agents Manager
If you arrive in Yamagata from Tokyo you would be forgiven for thinking that this is a pretty tiny place with a quiet, sleepy feel to it. However Yamagata city is the largest settlement by far in the prefecture of the same name and thus serves as an administrative centre for the rest of this largely rural area, giving the city a nice blend of rural and urban. The city itself does not perhaps have a long list of classic sights to see, but you can happily spend half a day browsing the eclectic mix of shops old and new in the central Nanoka-machi, before finding out about the history of the city at the original prefectural government hall. The Hirashimizu pettery district is also worth a visit to check out the local designs and see the production process.
Within easy reach of Yamagata are variety of interesting day trips. Zao Onsen is a classic hot-spring resort high in the mountains overlooking the city below, with fantastic ski conditions in winter; Yamadera is a hillside temple complex rarely seen by foreign eyes; to the north lie the sacred mountains of Dewa Sanzan, with fine views, remote temples and some great walking and hiking opportunities.
Yamagata has received fame in recent years as a movie location, with ?Departures' (2009 Oscar winner for best foreign film) being filmed in the prefecture.
As a mainly rural prefecture Yamagata is famous for a variety of fresh foods including pears and cherries in season (the cherries fetch such a high price that one year an entire orchard's worth were stripped from the trees in the deep of night to be sold on the black market in Tokyo!) Other specialities to look out for include meltingly tender Yonezawa steak and imoni, a light stew made with local beef and potatoes. Come to Yamagata in the autumn and you can sample the largest imoni stew in Japan (therefore probably the world!); an enormous festival portion, weighing in at over 6 tons! The local residents have plenty of other ways of letting their hair down too, with some amazing summer festivals, an international film festival (every 2 years) and plenty of good local sake, crafted from the fine local rice.
Weather in Yamagata
The Climate Guide for Yamagata, Japan is perfect for planning your holiday. Monthly weather averages give the best indication of what the weather is usually like for every month of the year including figures for temperature, rainfall and sunshine.
Jan
Feb
Mar
Apr
May
Jun
Jul
Aug
Sep
Oct
Nov
Dec
Max Daytime Temperature (°C)
0
1
5
13
18
22
25
27
22
16
10
4
Min Night-time Temperature (°C)
-6
-6
-3
2
7
13
17
18
14
7
1
-3
Hours of Sunshine (Daily)
4
4
5
6
7
5
5
6
4
4
4
3
Hours of Daylight (Daily)
10
11
12
13
14
15
14
14
12
11
10
10
Heat and Humidity Discomfort
None
None
None
None
None
None
Low
Moderate
None
None
None
None
Days with some Rainfall
30
26
25
18
18
19
20
19
20
20
23
28
Monthly Rainfall (mm)
68
77
81
95
97
150
200
207
183
99
94
64
UV Index (Maximum)
2
3
4
6
8
9
10
9
7
5
3
2