Mount Haguro
Haguro-san is the lowest of the three peaks of Dewa-sanzan. Located 414 metres above sea level, a climb to the top of this peak is rewarded with fantastic views of the Japan Sea and rice fields of the Shonai Plain.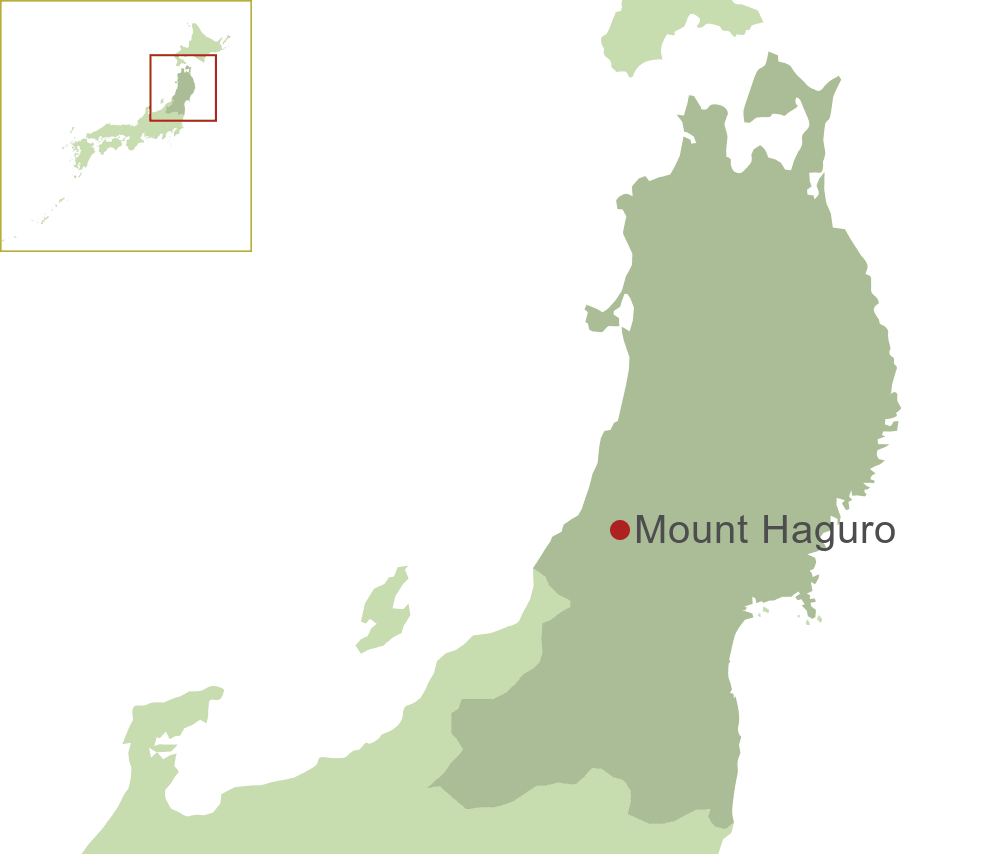 "One of the most spiritual and mysterious places in all of Japan"
Alastair Donnelly, Director
The name "Haguro" means "black wing" and the mountain got its name from a legend which recalls the story of an Imperial prince who ran away after the death of his Father. In a vision, he was guided to the peak of Haguro-san by a three-legged crow. He lived atop the mountain until aged 90 and was the first of the mountain's famed 'Yamabushi', mountain priests. Nowadays, Haguro-san is the site of religious pilgrimage although some still choose the life of austerity. This once consisted of living in a cave, eating a diet of wild nuts and garlic and meditating under icy cold waterfalls. Yamabushi are distinctive with their checked jackets, white knickerbockers and small Jimmy Cooper style hats. Occasionally a haunting cry rings out around the hills. This is the conch shell horn used by the Yamabushi to call the spirits of the mountain.
Haguro-san is a place charged with spirits and religious mysticism as well as being a challenging climb. The path is formed by three staircases which reach to the large red torii gate marking the entrance to a shrine, Gosaiden. This is the home of Dewa-sanzan's three main deities who stand guard under an impressive thatched roof. The view of Gosaiden is intensified by Kagami lake where it is purported that the spirits of the three deities can be seen reflected. The name ?Kagami? means mirror and stems from the days when only men were allowed to make the climb to Gosaiden. So they could make an offering, the women sent mirrors, which were then thrown into the lake as a votive to the spirits of the temple.
Whatever your religious persuasion, there is a strangely magical atmosphere at Haguro, which should leave you feeling moved and spiritually cleansed.
Recommended Accommodation in Mount Haguro
The following are our favourites from among the western-style hotels and Japanese-style inns of Mount Haguro.
Experiences in Mount Haguro
Mount Haguro offers a wealth of exciting experiences that will help you get beneath the surface of Japan's fascinating culture. See below for a few of our favourites
Weather in Mount Haguro
The Climate Guide for Mount Haguro, Japan is perfect for planning your holiday. Monthly weather averages give the best indication of what the weather is usually like for every month of the year including figures for temperature, rainfall and sunshine.
Jan
Feb
Mar
Apr
May
Jun
Jul
Aug
Sep
Oct
Nov
Dec
Max Daytime Temperature (°C)
3
3
7
14
19
23
27
29
24
18
12
6
Min Night-time Temperature (°C)
-3
-3
-1
4
10
15
19
21
16
9
4
0
Hours of Sunshine (Daily)
2
3
5
6
7
6
5
6
5
5
3
2
Hours of Daylight (Daily)
10
11
12
13
14
15
15
14
12
11
10
10
Heat and Humidity Discomfort
None
None
None
None
None
None
Low
Moderate
None
None
None
None
Days with some Rainfall
30
27
26
19
18
17
18
17
20
21
25
29
Monthly Rainfall (mm)
129
106
95
99
106
134
175
172
170
162
205
177
UV Index (Maximum)
2
3
4
6
8
9
9
9
7
4
2
2
Featured trips including Mount Haguro
Tokyo
Nikko
Sendai
Nyuto Onsen
Kakunodate
Mount Haguro
Tokyo

Journey through the lush rural landscapes in Tohoku, a land steeped in tradition and mystery, on this classic two-week itinerary.

13 nights: from US$3419 pp (twin share) Read more >

Kakunodate
Mount Haguro
Ginzan Onsen
Sendai
Tokyo

Discover the highlights of rural Tohoku in this week-long add-on itinerary - samurai towns, hot spring villages, and sacred mountains.

7 nights: from US$2210 pp (twin share) Read more >

Tokyo
Nikko
Sendai
Nyuto Onsen
Kakunodate
Mount Haguro
Tokyo

Journey through the lush rural landscapes of Tohoku, the region that stretches 500 miles north from Tokyo, on this superior two-week itinerary.

13 nights: from US$5512 pp (twin share) Read more >